Pricing and Payments
Accounts Receivable Collections: Strategies for Small Businesses
December 16, 2021
8 min. read
Collecting accounts receivable is no one's favorite job. But as a small business owner, late or missed payments can derail your cash flow.
In this resource, we'll break down the basics of overdue accounts receivable and debt collections for late or missed payments.
If you're dealing with clients refusing to pay for work done, check out our tips for dealing with customers who won't pay for services.
Disclaimer: This content is for informational purposes only and shouldn't be considered legal advice or a substitute for obtaining such advice specific to your business.
What is accounts receivable collections?
When a client owes you money, the invoice is in accounts receivable. Almost every business has accounts receivable, and when managed properly, accounts receivable can help you manage cash flow and build customer loyalty.
But, when that invoice passes its due date without being paid, it moves to accounts receivable collections and you need to start taking steps to recover the amount owing.
This can involve sending payment reminders, charging late fees and interest, making phone calls, registering liens, and more.
How do I collect overdue accounts receivable?
Most outstanding invoices can be handled internally as long as you create a legal and straightforward process to follow.
Here are the steps many service businesses follow when pursuing a debt:
Send a simple payment reminder via email or text
Move the account to internal collections
Involve a collection agency or professional debt collector
Pursue the debt in small claims court
Starting small is a good way to keep the situation from escalating too quickly and getting out of hand.
For example, you probably don't need to threaten a client who's 1-2 days past due with small claims court. Save that for when they're unresponsive and still haven't made any attempts to pay after 90 days.
You can also structure your collections process by time. Many service businesses have a 90-day accounts receivable process that is structured like this:
After 30 days of non-payment: the client will start to receive phone calls, emails, or overdue payment reminder letters.
After 60 days without payment: the account is officially moved to in-house collections. The client will continue to receive letters, phone calls, texts, and emails, but they are worded as requests to pay as opposed to reminders.
After 90 days without payment: the account is given to a third-party collection agency or sent to small claims court.
You may also decide to move a client to collections if the client becomes unresponsive in the middle of a job, or if they don't meet any payment milestone obligations that were outlined in the contract.
When should an account go to collections?
When you send a client's account to collections is ultimately up to you. But, there are some standards that you can follow.
Many businesses have a 90-day process in place, that is often structured like this:
After 30 days of non-payment: the client will start to receive phone calls, emails, or letters requesting payment. These letters are often worded like payment due reminders.
After 60 days without payment: the account is officially moved to in-house collections. The client will continue to receive letters, phone calls, texts, and emails, but they are worded as requests to pay as opposed to reminders.
After 90 days without payment: the account is given to a third-party collection agency or sent to small claims court.
You may also decide to move a client to collections if they become unresponsive in the middle of a job, or don't meet their payment milestone obligations that were agreed upon and outlined in the contract.
The time period above can be flexible. It's up to you to decide what timeline works for your business.
As a general best practice, you should give clients 30 days to make payment after a job has been completed.
Best practices for accounts receivable collections
When you need to collect on overdue accounts, there are some best practices that will help you to increase your chances of getting paid.
Use these tips to keep your client relationships intact while working through the accounts receivable collections process.
1. Assess the situation
Accounts receivable collections typically involves a series of escalating steps. How you approach the debt depends on the amount, the client's payment history, and how overdue the invoice is.
Before you choose how to proceed, triple-check that the debt is actually owing. For example, a client may be paying late because:
Your employees or contractors told them they could pay by a different due date
They sent you a cheque in the mail, but it got lost
You have the wrong phone number and email on file
You didn't specify the correct payment information, such as the due date, accepted payment methods, or amount, before starting the job
READ MORE: What to include on an invoice to make sure you get paid
It's a good idea to reach out to the client before taking any serious action, like contacting a debt collection agency or your lawyer. Not all clients who miss payments are doing it on purpose.
For example, residential clients may have encountered a family emergency, a banking issue, or job loss. Or commercial clients may have made a simple accounting error, experienced a staffing change, or are waiting on their own accounts receivable to pay you.
Sometimes debts are caused by extreme circumstances or human error. Find out what the problem is before you chase after the debt too aggressively.
2. Track invoices digitally
A good system for tracking invoices will show you at a glance who owes your business money, when.
You can track paid and past due invoices using spreadsheets, or using dedicated invoicing software. Just make sure you track invoices digitally, since paper invoices can easily be lost or damaged.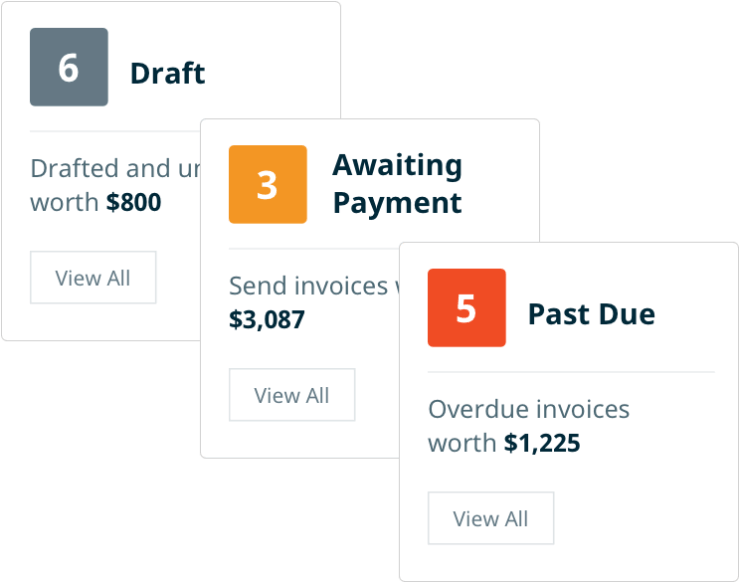 Jobber reminds you to send invoices for completed work. You'll always know which invoices have been paid, are awaiting payment and how many are past due.
3. Document client history
In addition to tracking invoices, you should track your client information and history.
If you do end up in small claims court, you'll have to prove that a debt was owed to you and that you did your best to accommodate the client while trying to collect payment.
Keep records of:
Signed quotes and contracts
Invoices and follow-ups
All correspondence, including emails, texts, and letters
Phone call recordings
Invoice payment reminders and follow-up messages
On-my-way text messages sent when you were scheduled to visit
Any other communication you, your employees, or your contractors have with the client
Digital records, like those kept in client management software, are easier to access and save.
That can make the difference between collecting your accounts receivable or having to forfeit because you lack proof.
4. Involve your lawyer
Sometimes, all it takes is a letter from a lawyer's office to encourage a client to clear their debt.
If you've tried communicating with a client and they haven't budged, a Demand Letter on your lawyer's letterhead may be enough to motivate them to pay you.
Bringing a lawyer into the process early on is also helpful if you decide to take the debt to small claims court as a last resort.
5. Offer flexible payment options
If you have a client who's missed a payment, you're probably (and understandably) frustrated. But, it's important to remember that the goal of collections is to get paid, even if that means you have to be flexible and patient with a client.
For example, explore:
Offering an overdue client a flexible payment plan, like weekly or bimonthly payments until the debt is cleared
Offering online and in-person credit card payments so that clients can make payments at their convenience
Accepting additional payment methods when clients are unable to pay online, like allowing the client to pay using cash or check
Giving the client a one-time 30-day payment extension
Talk to the client about why their invoice is overdue and work with them to find a solution that benefits both of you.
6. Be polite and professional
In any and all correspondence you have with a client, keep your emotions in check. Don't yell, swear, or make threats, no matter how heated the client becomes.
Money is often a touchy subject, especially when a payment is overdue, but it's important that you remain polite and professional throughout the process.
If you are easy to work with, the client may be more inclined to meet their financial obligations to you.
7. Prevent late payments
The best way to avoid accounts receivable collections is to prevent overdue invoices in the first place. Here are some of the ways you can reduce non-paying clients and maintain a healthy cash flow.
1. Accept credit card payments. If you don't offer credit card and online payment options, you'll be waiting for clients to pop into your office with cash payments or to send checks in the mail. That leaves a lot of room for human error and is much harder to track.
2. Require credit card information. Consider including a clause in your contract stating that clients have to have a valid credit card on file in order to book a service. Not only will this help with getting paid on time and in full, but it will also improve your efficiency.
3. Digitize client communications. Snail mail is unreliable. If you send invoices in the post, there's no way of telling whether they have been received, lost, or delayed. Use digital invoices and send them via email or text to ensure they don't go missing. Invoicing software can help you to create, send, and track invoices as well as payment reminders and follow-ups.
4. Offer early payment discounts. Many service providers offer small early payment discounts to encourage clients to pay before an invoice is due. It doesn't have to be much, a small percentage of an invoice or a standard discount of $5 to $25 can be enough of an incentive to get a client to clear an invoice quickly.
5. Advertise online payments. Keep your preferred payment methods front and center on your quotes, invoices, contracts, and website. While you don't have to exclusively accept one payment method over another, let clients know that you prefer online payments and make it easy for them to follow through by including payment instructions on your invoices and website.
6. Penalize late payments. In your contracts, include a clause about how any late payments will be penalized. For example, consider charging late payment fees after an invoice is a certain number of days overdue. This can keep would-be debtors from missing future payments since they'll understand they could end up owing even more. Just make sure to communicate your late payment terms clearly and upfront.
READ MORE: What are payment terms on an invoice? Examples and Definitions
Originally published April 2020, last updated December 2021.