Entrepreneur Inspiration
How Patriot Chimney Grew Revenue by 167% in One Year
January 15, 2020
4 min. read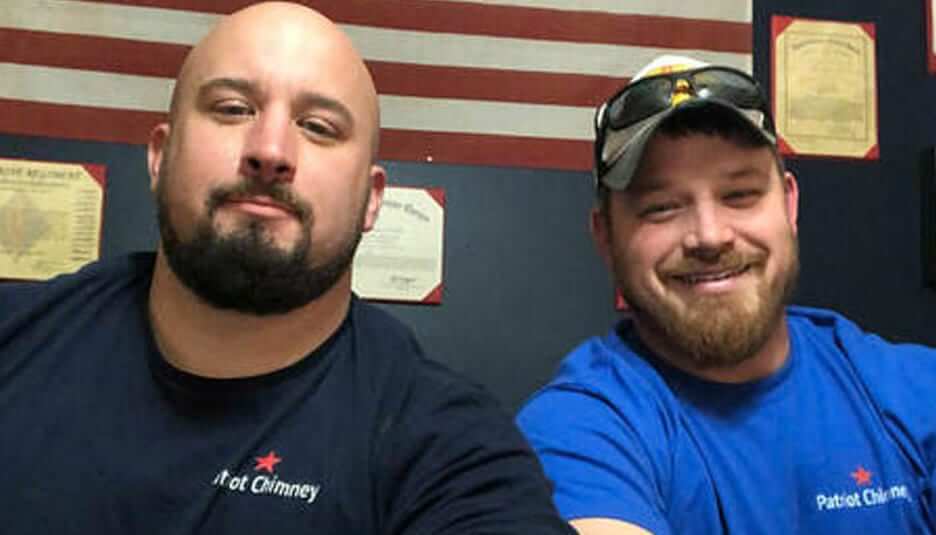 Patriot Chimney
Find out how this veteran-owned chimney cleaning business went from scrappy startup to streamlined success using Jobber.
Visit Website ››
Patriot Chimney added Jobber to their toolkit in 2018. Since then, they've been able to:
Achieve a 45% close rate on proposals
Increase revenue from $14,493 to $38,747 in one year
Streamline their quoting with a custom online booking form
Hire an administrative assistant and a sales representative
Spawn a nonprofit, Combat Boots to Top Hats, which connects combat veterans to work opportunities in the chimney trade
Manage the business remotely and while working at another full-time job
"We needed to make things easier before we burned out"
For the first few months, Patriot Chimney operated as lean as possible. "Every dollar counted," says Mitchell Blackmon, who co-founded the company with his brother Matt and friend Billy Stickney.
In between his 9-to-5 job, Mitchell worked on the company's marketing and sales processes. Meanwhile, Matt and Billy were answering the calls, scheduling the work, and "frankly doing a lot of the admin work on top of all the chimney work."
That's when things started to break down.
"They started missing calls while they were on jobs, which led to them spending a lot of time calling customers back. It also led to customers going with competitors."
To add to the growing pains, the business was running entirely on pen and paper.
"They were getting really close to complete burnout."
"Our capacity is a lot higher with Jobber"
In addition to Patriot Chimney, Mitchell runs a residential cleaning business called Town Mountain Maids.
He knew from that experience that good operations software would help him run his business remotely, handle more work requests, and get organized.
In October 2018, he implemented Jobber's field service software for Patriot Chimney.
"I really fell in love with Jobber," says Mitchell. "I could tell that we could get everything we needed and more at a great price."
Patriot Chimney uses Jobber to:
Increasing revenue 167%
"We're a lot more efficient and organized," says Mitchell.
"In October 2018, when we just got Jobber, we made $14,493.09 in revenue, while running at full swing and feeling burnt out."
"In November 2019, we made $38,747.33 in revenue, a 167.35% increase."
"I can definitely tell that our capacity is a lot higher than without Jobber. We can handle several jobs per day easily."
"But the best part is that Matt and Billy are actually able to relax at the end of the day instead of having to call customers back and continue working hours after their last job."
Here are a few of Patriot Chimney's favorite features:
Easy setup and configuration
"I didn't use any of the training because it was straightforward and simple to use. I watched a lot of the videos before getting started, which helped. But support has been awesome whenever I have a question."
A smoother quoting process
"[Our administrative assistant] Kaylin's favorite feature is how easy it is to create and send quotes. She says that the way Jobber has it set up so she can convert a quote into a job has made things run a lot smoother," says Mitchell.
An instant pulse on the business
"My favorite feature is the activities dashboard because it shows what we have on the docket and what we can win."
"We're profitable and growing"
This laser focus on setting expectations and processes has allowed Patriot Chimney to rise above industry standards.
The company has been profitable since its first year in business and has plans to expand into new products and services. They've also opened a nonprofit for veterans, Combat Boots to Top Hats. "This is a very special cause for us since 4 out of the 5 employees are veterans, and 3 are combat veterans," says Mitchell.
What's next for this fast-growing business?
"We are still growing, there are still a lot of things we need to purchase. We're trying to operate very lean without bringing on too much debt."
The plan includes updating their pricing strategy, buying material in bulk to bump profit margins, and introducing more new technology.
"In addition to Jobber, there are a few things that we can do to automate tasks," says Mitchell. "Reducing time on manual processes will allow us to put focus on other aspects of our business."