Sales and Marketing
How to Remove Reviews From Facebook and Boost Your Reputation
October 18, 2021
6 min. read
You finally made a Facebook page for your service business and you're starting to build your online reputation when out of nowhere, you're hit with a bad review.
While it certainly hurts, don't let it ruin your page. There are a few different ways you can handle negative Facebook reviews to keep your page positive and demonstrate your 5-star customer service skills. Let us walk you through your options in this guide.
How to delete a review on Facebook
Your gut instinct after receiving a negative review may be to delete it. After all, you're worried about how it may affect page visitors and whether or not potential clients book work with you.
Unfortunately, there's no way to simply delete a Facebook page review. Instead, you will either need to:
Report fake or spam reviews
Turn off your Facebook reviews
Respond to negative reviews
READ MORE: Can a company sue over a bad review?
How to determine if a Facebook review is legitimate or fake
Before you decide which route to take, you should determine whether the review is legitimate or not. Ask yourself the following questions:
Is the review specific to my company?
Do I recognize the client's name or is it in my CRM?
Does the Facebook user's profile look legitimate? (do they have a real profile picture, is their name an actual name, do they have more than one or two friends)
Do any of my employees remember working with this person or were they involved in the incident that the complaint is referring to?
Does the review make sense in relation to my services?
Is the review obviously spam?
Here's an example of a spam review on a Facebook business page. Although it's acting as a recommendation, the content has nothing to do with the business or service the Facebook page is for.
It's a good idea to have reviews like this removed even if they boost your star rating because they don't offer any value to potential customers.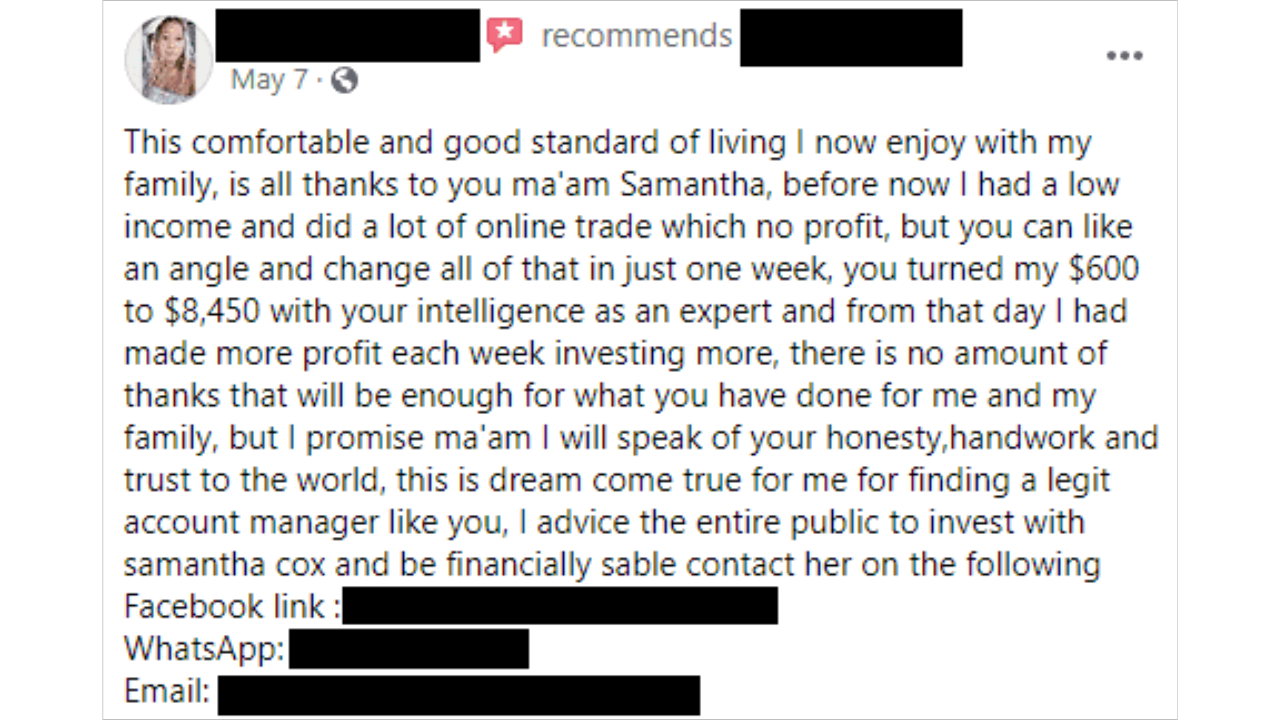 If the review is fake, you will need to report it. But, if it seems legitimate, your next step is to determine whether it goes against Facebook's Community Standards.
For example, Facebook does not allow reviews that:
Incite violence
Instigate bullying or harassment
Encourage suicide or self-injury
Include nudity
Use hate speech
Reviews that don't follow Facebook's Community Standards can also be reported, whether they're from legitimate customers or not.
It's also important to note that Facebook currently allows for both star ratings with content, and star ratings with no content. This means that you may have a low star rating and no actual reviews to report.
When this happens, you can either leave your Facebook page as-is or hide your reviews.
How to report fake Facebook reviews
If a review is fake, spam, or goes against Facebook's Community Standards, your best bet is to report it by following these steps:
Log in to your Facebook business page
Go to your Reviews tab and find the review you want to report
Click on the three dots in the top left corner of the review
Choose Report Post from the menu
Follow the prompts to report the review
Once reported, Facebook's team will review your report and determine whether to delete the content from your page. Keep in mind it can take anywhere from a day to a couple of weeks to have a review removed.
How to turn off Facebook reviews
If a bad Facebook review is legitimate, or if Facebook doesn't remove it after you file a report, your next option is to turn off reviews on your Facebook business page.
However, Facebook won't allow you to hide a single review. So, if you decide to turn off your reviews, both positive and negative comments and star ratings will be hidden from your page completely.
Once you turn your reviews back on, they will all be visible again.
To turn off your reviews on Facebook, follow these steps:
Log in to your Facebook business page
Go to your page's Settings menu, located in the top right corner
Click Edit Page
Find the Reviews heading and select the Settings button
Go to the section that says Show Reviews, and move the slider from ON to OFF
To turn them back on, follow the same instructions, but move the slider to ON.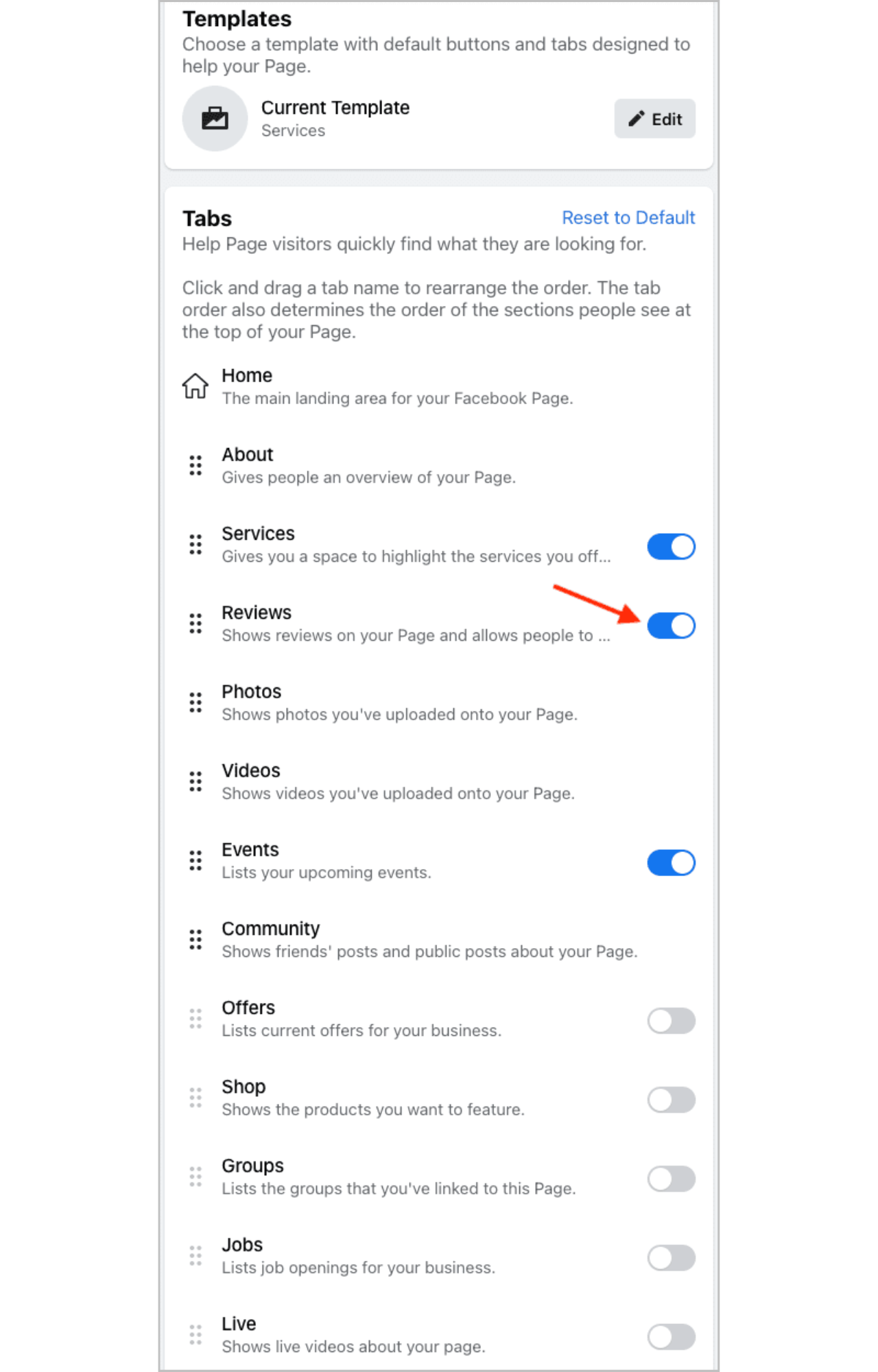 How to respond to negative Facebook reviews and resolve the situation
Reputation management isn't just about deleting or hiding negative feedback. It's also about responding directly to customer feedback. Responding to a negative review gives you a chance to clear up the issue and show your customer you care about their satisfaction.
It could just take a polite and honest response to change a bad review from a customer into a positive one.
Other times, potential clients will look at how you handle bad online reviews as a way to gauge your customer service skills and professionalism. It also shows them how you might treat them, if they decide to book with you.
If you can't report a review, and you don't want to hide your page's reviews entirely, consider responding to a customer's review. It might seem confrontational to respond (and uncomfortable) but remember it's just a part of offering good customer service.
Here are some example review response templates you can use to get started.
1. How to respond to an authentic negative review
Hi [customer name], we're so sorry to hear that you weren't satisfied with the service you received.
We take customer feedback very seriously and would like to do what we can to resolve this issue.
Please give us a call at [phone number] or email us at [email address] to discuss this in more detail.
Once the issue has been resolved, you can ask the customer to edit or update their review. But keep in mind, you should only do so if you're confident the customer is happy with the end result.
READ MORE: How to get repeat customers for your service business
2. How to respond to a fake review
Hi [customer name], thanks for reaching out. Unfortunately, we have no record of your name in our client database.
If you meant to leave this review, please reach out to our customer team at [phone number] or [email address] to discuss your experience in more detail. We would love to help you resolve this issue!
If you left this review in error, would you consider removing it? We'd greatly appreciate it. Thanks!
Get more positive Facebook page reviews
Social media platforms can be great for your business. They're a place where you can communicate with customers and build a solid online reputation. Don't let a couple of negative reviews get you down.
Instead, work on getting more positive reviews to balance things out on your Facebook page. You can try:
Sending out satisfaction surveys after completed jobs
Asking happy clients for positive reviews
Staying on top of dissatisfied clients through follow-ups and satisfaction surveys
Responding to negative reviews early and resolving the issues
Being polite, professional, and composed during all client interactions
Making good customer service part of your business
This post was originally published in November 2019. It was last updated on October 18, 2021.