How to Write an SOP (Standard Operating Procedure)
April 12, 2021
10 min. read
If you want to scale your business — or at least stop working in it and start working on it — then you need people and systems you can rely on to carry out the work for you.
That means taking the precious information that lives inside your head and systematizing it so that the quality of your work is maintained no matter who's doing it. That's where creating SOPs (standard operating procedures) comes in.
What is an SOP (standard operating procedure)?
An SOP (or standard operating procedure) is a short document that provides clear, step-by-step instructions to your employees or contractors when completing a task. It's often in the form of a step-by-step checklist.
Using an SOP helps all of your staff members to follow the same procedures and can ensure safety, consistency, and efficiency on jobs.
For example, you may create an SOP to use:
During an initial site visit to create a quote
For standard tasks that require specific steps
To implement new safety procedures or practices
To train new staff members
When introducing a new method for completing a task
To demonstrate how to operate new tools or machinery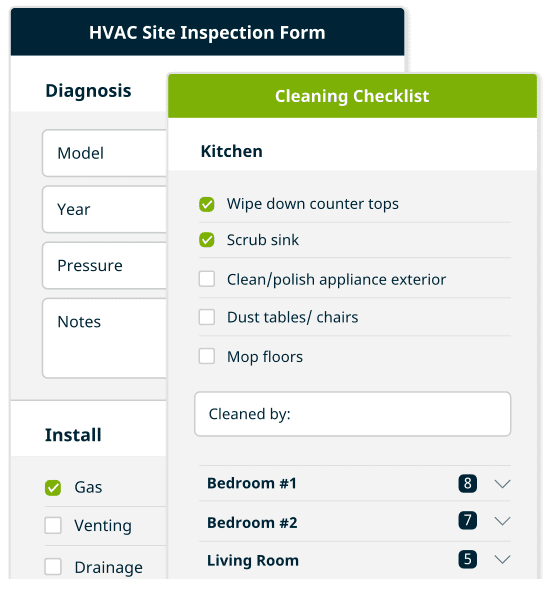 Why should I use an SOP?
SOP documents come with a lot of benefits for service businesses. For example, using an SOP can help to:
Create consistent standards for contractors and employees
Because most SOPs provide clear, step-by-step instructions for completing a task, they help to make sure that your employees and contractors are following the same guidelines for each job.
Consistent standards mean you can avoid mistakes and keep staff members from forgetting or missing important steps, saving you time, money, and resources.
Ensure safety requirements are followed
SOP documents are ideal for listing out the required steps in safety procedures and protocols.
Since SOPs are clear and straightforward, they make it easier for your employees and contractors to follow company standards by wearing safety equipment and operating machinery and power tools correctly.
This helps to prevent injuries and unsafe working conditions on the job.
Train new hires
SOPs are a useful training tool that you can use to hold all of your staff to the same high standard, ensuring excellent service across the board.
Whether your service business employs contractors or employees, they need to know how you'd like jobs to be done.
SOPs can clarify your expectations and standards when it comes to a variety of tasks, making it easier to show new hires the ropes or to introduce new procedures to your existing team.
Save time and money
Because SOPs provide consistency and clear instructions, they can save a lot of time and money.
The goal of an SOP is to outline the most efficient, safest, and best ways to get a job done, giving you an opportunity to streamline the required steps you want your staff members to take.
The less time your contractors or employees spend trying to figure out how to approach a job, the more time they can spend completing a task. And this doesn't just increase your profit, it means that your clients end up saving money, too.
Follow best practices
There's usually more than one way to get a job done, but not all of them will be efficient, effective, or follow industry standards.
Using SOPs for your service business helps you to outline the best practices for completing tasks and jobs, making sure that no one cuts corners or forgets about a new requirement, like social distancing or no-contact payments.
Strengthen quality assurance
As a home service business owner, your clients and reputation are important to you. You want each job that your company completes to be high-quality, leaving clients satisfied and willing to recommend you to friends and family members.
When you can't personally supervise every job that comes your way, SOPs are a great way to ensure that each one is high-quality, professional, and complete.
This builds your reputation as a service provider and encourages your workers to provide excellent service at every job site.
How do I write a standard operating procedure?
SOPs can be used for a variety of different tasks and jobs, but no matter what you're making one for, follow these steps to create your own:
Step 1: Choose and set goals
Every SOP needs a goal. For example, your goal could be to show staff members how to build quotes at job sites or to teach them how to follow new safety protocols.
The first step in writing a standard operating procedure is to figure out what your goal is so that you understand what your SOP should outline and explain.
Step 2: Determine who will use your SOP
The second step in writing your SOP is to determine who it's for. This will help you to use the correct terminology and plan out the most useful steps for those using it.
Different staff members are familiar with different tools, terms, and trades, so understanding who your SOP is for makes it easier to make it clear, consistent, and easy to use.
For example, the language and steps that you use to create an SOP for your front desk staff to document a new lead will be different from what you would use to outline how to prep a room for new paint or flooring.
Step 3: Choose a format
SOPs can come in a variety of formats. For example, standard operating procedures are often:
Checklists
Bullet lists
Forms
Step-by-step instructions
Detailed manuals
Which format you use depends on the type of task your SOP outlines. Checklists, bullet lists, and step-by-step instructions are ideal for straightforward tasks. Manuals are best for long, complicated procedures that require detailed information.
Most of the time, a checklist or step-by-step instructions are all you'll need for your service business.
Step 4: Write your SOP
Next, write out your SOP. It may take a few tries to get it right, but keep picking away at it until it includes all of the necessary steps to complete a task.
It's useful to physically go through the task itself and write down each step you take to complete it. When you're done, filter out any unnecessary or redundant steps and review what you have left.
Try to strike a balance between being detailed and straightforward. Focus on the steps that need to be taken to get the job done, paying special attention to anything complicated or confusing. Use clear, concise language and standard terminology to avoid misunderstandings or mistakes.
Step 5: Share it with your team
After you write out your SOP, share it with your team. Digital SOPs, such as ones you can create and share on an app, are preferred since binders and physical checklists are easier to lose and harder to update.
Remember: SOPs evolve over time. This doesn't have to be your final version. Your team can offer insight into whether it makes sense or if it needs a few adjustments. Write down any questions they have and consider how they can be used to improve or update your SOP before you make it an official company document.
Step 6: Practice your SOP
Once you have a final version, have your team practice using it in the field. It may take some time to get used to, so make sure to be available to answer questions and offer clarification when needed. For any new standard operating procedure that you implement, allow for feedback, especially in the beginning.
Once it's fleshed out, your SOPs will become second nature to your staff, making each job more efficient.
Step 7: Update as needed
To keep your SOPs relevant and useful, they should be updated any time a change is made. For example, if you purchase new equipment, add safety steps, or change the software that you use to manage clients and jobs.
If you don't keep your SOPs up-to-date, they'll quickly become irrelevant to your clients and staff members. Make sure to review them often and keep them as useful and practical as possible to get the most out of them.
SOP examples
Service businesses can use SOPs for a variety of different tasks and protocols. And since every industry is different, SOPs vary significantly from one service business to the next.
Here are some examples of SOPs from different industries to give you an idea of what you can use them for.
SOP example #1:
Mitchell Blackmon from Patriot Chimney uses SOPs help to set standards and to onboard new employees:
"A big reason that we created SOPs was so that we had consistency across the board and so that we would have a basis for training future employees. SOPs are also a great way to set expectations for each job since we know exactly what has to be done for every single step of every single job (barring any challenges or surprises that may arise, of course)."
Here's an example of an SOP that Patriot Chimney uses for their crown coat service:
Crown Coat:
Tape off entire top of chase
Brush and clean any debris & particles from crown, brush entire crown
Wash with crown coat, ensure no brick portion is exposed and material does not exceed more than a quarter inch up the flue tiles
Let dry and then remove tape.
**NOTE: USE COLD WEATHER CROWN COAT IN TEMPS BELOW 45 DEGREES**
SOP example #2:
Cleaning businesses also benefit from using SOPs to help ensure that each room is clean and that no tasks are missed or forgotten.
Here's an example of an SOP that a cleaning service business could use to clean a client's bathroom:
Bathroom cleaning checklist:
Remove all dirty towels and washcloths
Dust all surfaces, including light fixtures and decor
Clean and disinfect shower, bathtub, and sinks (inside and out)
Clean and disinfect toilet bowl, seat, lid, tank, flush handle, and base
Clean and shine all mirrors, chrome, and tile
Wipe cabinet fronts, fixtures, and countertops
Vacuum and mop floor
Replace rugs
Empty and replace wastebasket
RELATED: Get more examples of house cleaning checklists and SOPs
SOP example #3
Landscaping and lawn care businesses can use SOPs for everything from mowing and trimming to laying sod and installing drainage systems. Here's an example of an SOP that a lawn care service business could use for mowing a client's lawn:
Put on safety equipment: steel-toed boots, gloves, earmuffs, long pants, safety glasses
Notify client of your arrival
Get access to any fenced or gated areas
Ensure yard space is clear of debris and no children or dogs are in the area
Check that grass is long enough to cut (minimum ⅓ taller than mower blade)
Trim around fences, walkways, and buildings first
Set mower blade to correct height
Mow the lawn, bagging grass, or leaving on the lawn as per the client's preference
Make your own SOP template
Most basic SOPs can be created using a word processor like Google Docs or Microsoft Word, but if you're looking for something a little more functional, you can also create one using Jobber's job forms.
Job Forms can help you to create SOPs that:
Provide a checklist of specific instructions
Include job details, like who completed the tasks
Group tasks into certain areas or jobs, like how to clean a specific room or the differences between painting the interior of a home versus the exterior
Are easy to share with your team, and available instantly from their phones or tablets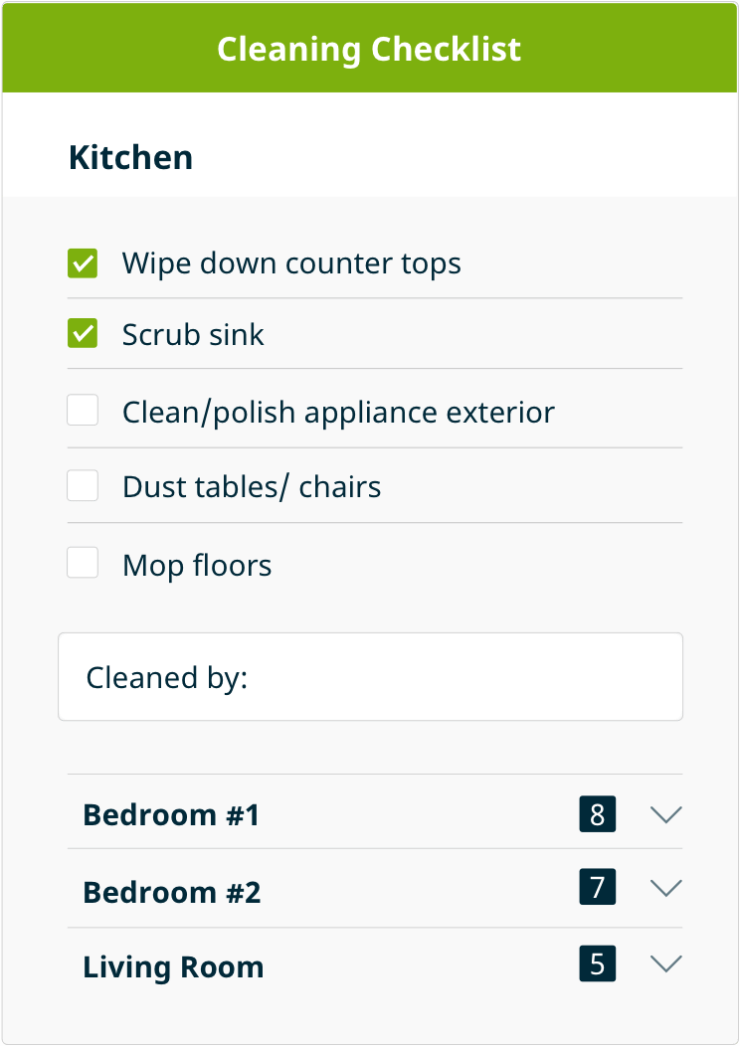 As you or your employees complete tasks, simply check them off to keep track of what has been done versus what you have left to do.
You can use Job Forms to create SOPs such as:
Instructions for specific tasks on job sites
General safety procedure or protocol checklists
Training material for new hires for basic tasks like time tracking, GPS tracking, or other standards specific to your business
Step-by-step guides for new or updated tasks, procedures, or protocols
Jobber's SOP forms can be linked to specific jobs, documenting which procedures and protocols were followed at each job site. This can be useful when it comes to invoicing, client disputes, and employee time tracking.
Knowing exactly what was done for each job and client ensures accountability and enforces your quality and safety standards, meaning jobs are faster, better quality, and have a smaller margin for error.