HVAC Van Organization: Ideas for Safe and Efficient Tool Storage
February 24, 2023
6 min. read
It's frustrating to find what you need and keep tools in good condition when your HVAC work van is cluttered and disorganized.
Creating a clean and clever HVAC van organization system will save you time, keep equipment in great shape, and make you look more professional to customers.
In this post, we'll share HVAC van setup ideas—with examples from established contractors—to help you make the most of your vehicle space.
To start, check out this Shop Talk episode to get van organization ideas from Walter Washington, owner of Washington A/C & Heating:
Why invest in organizing your HVAC van?
An organized HVAC van improves your business's productivity and makes you more prepared, efficient, and professional. Take the time to build organizational systems in your work van so you can:
Quickly equip yourself and your HVAC technicians with every tool for the job
Find spare parts, equipment, and tools faster while on the clock
Avoid losing tools and spending money on costly replacements
Protect equipment from damage while driving
Look professional to current and future customers who pass by your van
1. Install convenient shelves and cabinets
Set up a shelving system that keeps your HVAC tools, parts, and fittings organized and easier to find. Home and hardware stores sell standing shelves, but you'll get more flexibility if you build your own or purchase custom shelving.
Many HVAC technicians order shelving units from cargo management companies, like Adrian Steel and Ranger Design, to design and build shelving that fits their exact needs.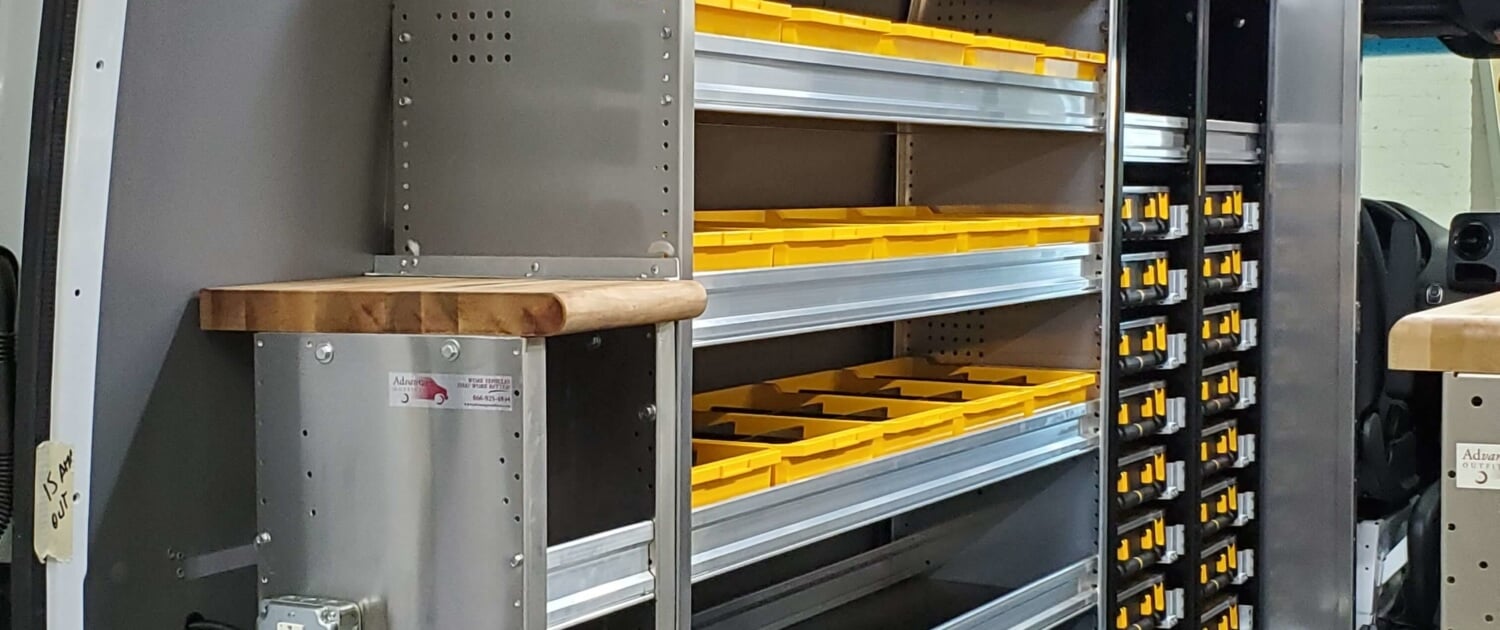 Whichever option you choose, consider these ideas to make the most of your HVAC van shelving:
Buy tilted shelves to make tools easier to see and grab
Use divider bins to neatly separate different tools and small parts
Stack bins vertically to fit more items on each shelf
Allow cabinet drawers to open outside of your van for easier access
Cut holes or slots into your shelves to hold tools upright
Install hooks to the sides of shelving units to hang larger tools
Build shelves inside your back doors to save space
Noah from HVAC Artisan built a shelf inside the back door of his service van to store PVC glue cleaner, thread cutting oil, and other aerosol cans.
HVAC contractor Andrew Greaves stores sheet metal and power tools in a steel cabinet at the back of his cargo van. When he pulls out the cabinet drawers, he can access his tools without stepping into the van.
2. Make common tools easy to access
Put your most frequently used hand tools, safety tools, and electronics where you can grab them quickly. You might keep these items in one tool bag, hanging on walls, or at the back of your driver's compartment.
Here are a few HVAC van setup ideas to make your most-used items easier to access:
1. Install tool holders on your shelves or walls. Angel from HVAC Boss has wrenches bolted to the side of his main shelving unit. This way, he can grab them and go without shuffling through toolboxes.
2. Use truck bed side storage for quick fix and repair tools. Walter from Washington A/C & Heating dedicates each side compartment to different types of work to stay organized. For instance, he uses one section for gas furnace repair tools and another for electrical repairs.
3. Keep items in your driver's compartment. Walter hooks his analog pressure gauges on the wall right behind his driver's seat. He can also grab shoe covers and gloves quickly from behind his seat before he enters a customer's house.
3. Safely store refrigerants and gas tanks
Ensure you store your refrigerants and gas tanks in a safe and accessible place. You might already have refrigerant racks—but be sure to store other gas tanks properly, too.
Use upright tank holders you can bolt to the floor to safely store your tanks of combustible gasses like acetylene. Or, build wooden bins that are sized to fit each tank.
If you have side compartments built into your truck bed, store tanks there to save space inside your truck. Walter keeps refrigerant recovery cylinders in a side compartment.
4. Use walls and ceilings for storage
Keep floor space clear in your HVAC van by using ceilings and walls to store equipment. Attaching materials to your walls and ceilings can also protect them from colliding with other equipment and getting damaged as you drive.
Use these ceiling and wall storage ideas in your work van:
Install wall hooks to hang equipment. Wall hooks are great for hanging pressure gauges, PVC piping, hoses, tool bags, and any other HVAC equipment that might take up too much floor space.
Use cargo nets to secure small parts to your ceiling. Keeping replacement parts like air filters in the ceiling keeps them clean and damage-free.
Walter installed a ladder rack in his van's ceiling to store ladders and keep them out of the way:
5. Label and color code your tool storage
Once you've decided where to keep all your HVAC equipment, tools, and parts, label the places you store them. Labeling keeps items in their place and saves you time hunting for materials.
Color coding your tool box handles can help you find inventory faster. Wrap colored tape around the handles to easily identify boxes at a glance, like Noah does in his HVAC service van:
6. Keep equipment secure from theft
Protect your tools from theft by building security into your HVAC van setup. You might not be able to protect everything, so start by storing your most important equipment in a safely locked compartment.
Keeping your most-used tools in an accessible place is still important, but while you're away from your van for long periods of time, keep them locked away.
Use physical security, like padlocks, wherever you can, and store as many tools as possible in a top chest or tool cabinet you can lock with a key.
7. Organize your files
Create a space in your HVAC work van to store paperwork, HVAC marketing materials, and other non-technical supplies you need to run your business.
Hang a filing system on one of your walls, or use a traditional file cabinet with labels to save time searching for documents.
Walter used to keep his paperwork in a filing system at the back of his van's driver's compartment. But now that he's using Jobber's HVAC business software to create estimates and invoices, he doesn't need to shuffle through paperwork in his truck anymore.
How to ensure your HVAC van stays organized
Just like the HVAC systems you service, it takes constant maintenance to keep your work vehicle in good shape. Use these tips to keep your work van organized for life:
Keep inventory of all supplies in your van. Use an inventory spreadsheet that you can update and share easily with HVAC technicians, including supply quantities, serial numbers, and notes.
Post guidelines inside the van. If you're sharing the van with a team, outline how everyone can keep it organized with a quick list of guidelines—then print it and post it.
Add van maintenance to your checklists. End off your HVAC inspection checklist with a reminder to tidy up the van and check that all inventory is in the right place.
Include van upkeep in your HVAC technician training. When training HVAC apprentices, walk them through your HVAC van organization system. Include van upkeep in your HVAC technician job description, and train new hires on how to keep things in order.