Entrepreneur Inspiration
Growing a $1.5 Million HVAC Business with Jobber
January 9, 2020
5 min. read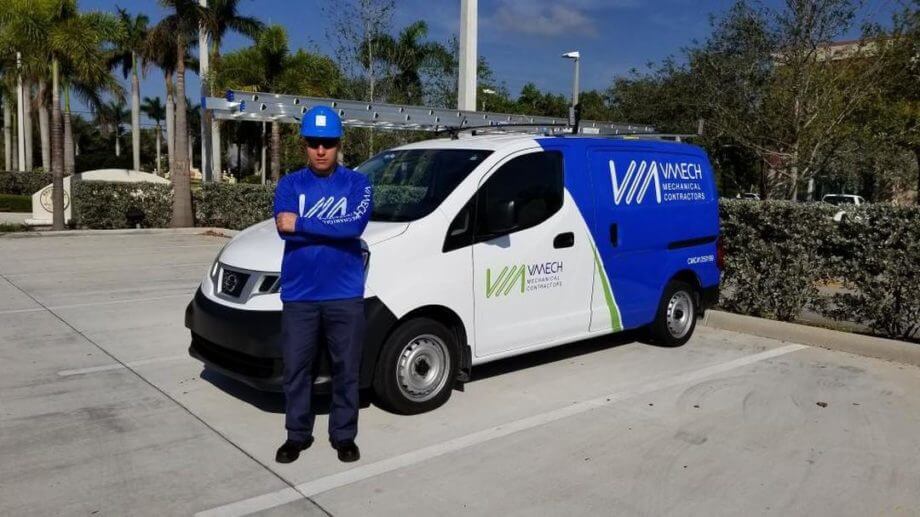 VMech Mechanical Contractors
Learn how adopting the right operations software helped this woman-owned HVAC company grow from 2 to 11 employees and generate 1.5 million dollars in sales.
Visit Website ››
Luisa Vesga and her husband, Juan, have been successfully running and growing their air-conditioning business, VMech Mechanical, over the past eight years in Miami. Last year, they generated $1.5 million in revenue.
Choosing the right field service software early on has been crucial to this success.
"We wanted to present our company as fresh, modern, available, and communicative, and it was perfect for us to do that with Jobber."
Luisa added Jobber to her business toolkit in 2017. Thanks to Jobber, VMech Mechanical is able to:
Automate their processes, which maximized their time and saved them money;
Track their technicians via live GPS and let customers know exactly when they'll arrive;
Attach photos to jobs to show clients that the home was left in good condition;
Receive payment immediately after the job has been completed.
"We needed software made for service businesses"
When Luisa and Juan first started VMech Mechanical they were a two-person team. As the President, Luisa was responsible for the business-side of the company, while Juan, a mechanical engineer by trade, worked on the technical-side as lead Project Manager and Superintendent.
"First we did it manually, then we moved to QuickBooks. But QuickBooks isn't a service software," says Luisa.
While she still found value in QuickBooks' accounting, it lacked features such as live GPS tracking and on my way text messages that could improve her scheduling and client communications.
"That's when I started looking for something that was specifically created for service businesses."
In February 2017, she found and implemented Jobber.
"Everything is faster now"
Luisa says the biggest difference she has noticed since starting with Jobber is how much faster it has made her business in terms of scheduling, client communication, and receiving payment.
"Everything's faster now. I don't have to be on the phone as much as I was before or on top of people. You see everything right there and it's clean and easy to use. I love that. "
Here are the top ways VMech Mechanical uses Jobber to speed up processes and improve communication:
GPS Tracking App and On My Way Messages
Luisa says the GPS feature was one of the key reasons she chose Jobber over other software, since it allows her to see where her techs are throughout the day. Technicians can also send 'on my way' text messages to let customers know exactly when they'll be arriving.
"It keeps people informed of what is going on in their home, because sometimes they have to rush to their home to receive one of the technicians. Some people ask for time away from their jobs to go and open the door for the technician, so I needed software that will tell customers that we're on the way."
Notes and Attachments
The technicians also use Jobber to attach photos to jobs so both the customer and Luisa can see that the home has been left tidy after the job is complete.
"I always put myself in my client's shoes. If somebody will show up in my house a mess, I won't think positive things about the person or business. Our technicians wipe everything afterwards, leave it as neat as possible, and then they have to send me pictures, always."
Credit Card Payments
With Jobber's online credit card payments, VMech's customers can pay by credit card right at the job site or pay online through client hub once the invoice is sent.
"People pay us faster because they can do everything from their phones. They just do click, click, click and that's it. They love it. We love it."
"We're not going to be the cheapest, but we're better."
Luisa and Juan pride themselves of being dependable to the customer and thorough in their installation, maintenance, or repair.
"We're here, we know who we are, we're legit. Many times in the service industry you pay, they disappear, they don't perform, etc. Many things can go wrong," says Luisa.
"I believe that if you know what you are doing; if you can show them your differentials, they won't ask for your price. We're not going to be the cheapest, but we're better."
The next steps for this growing business are to move from residential air conditioning to larger, more lucrative commercial contracts.
"Juan already has the mechanical license required to work in commercial, so now it's a matter of building a name for ourselves in a new part of the industry. It's the same business, but just a different approach."
"We started this company with zero. That's what it means to be an entrepreneur"
Having grown up in a family of entrepreneurs in Colombia, Luisa was passionate about starting up and running her own company. Now she's hoping to empower women in her community to become entrepreneurs.
"I'm a Hispanic. I came to the U.S.A. when I was 16, so I had every odd against me. I'm a woman, I'm Hispanic, I'm an immigrant, I'm a working mom. All of that can inspire someone someday I can show that it's possible, because we started this company with zero. Nobody gave us nothing, not one dime."
To Luisa, the journey of becoming an entrepreneur of a successful company has been extremely rewarding, regardless of the hardship. She believes anyone can be an accomplished entrepreneur, as long as they understand the hard work involved.
"For me, it's a beautiful path, but it's a very hard one. So, if you don't want to get out of your comfort zone, if you want to believe that everything's easy or luxurious, you're very wrong. That's what it means to be an entrepreneur. Sometimes you have to cry so much, but you have to be strong and keep on going."