Entrepreneur Inspiration
How One Junk Removal Business Used Tech to Get 500+ 5 Star Reviews
March 1, 2019
4 min. read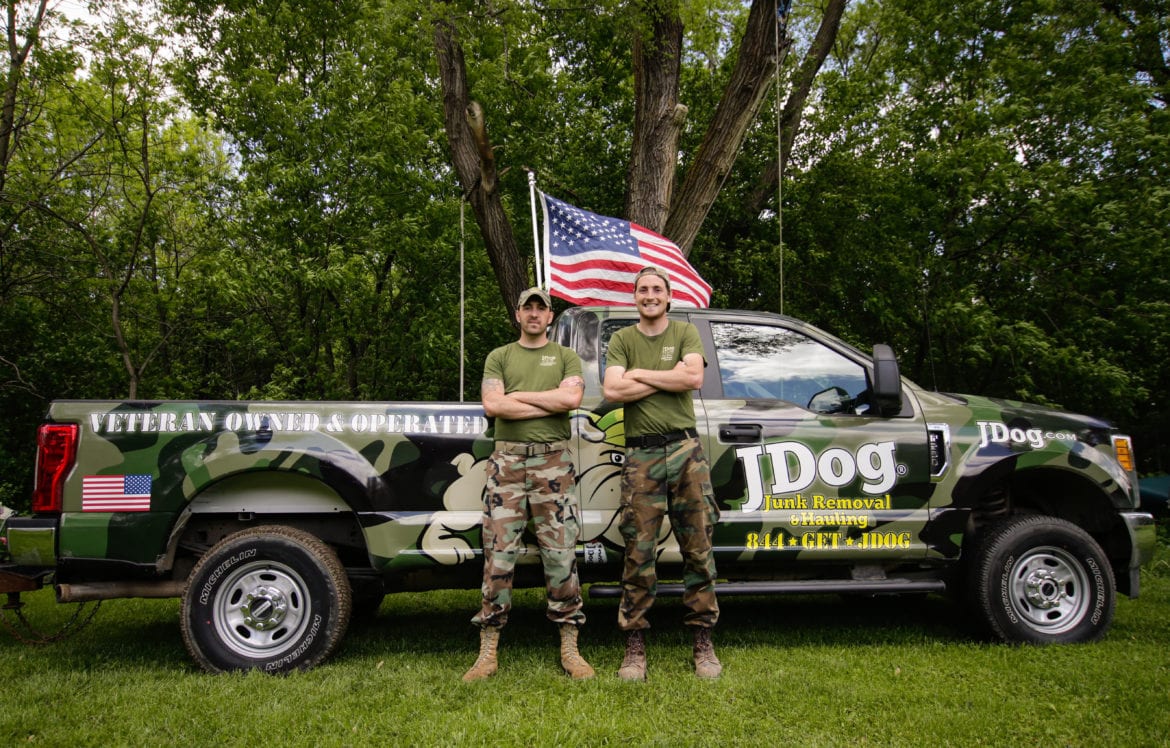 JDog Junk Removal
Learn how this junk removal business owner used tech to vault his company's positive online client reviews. He is now successfully competing against bigger and more powerful businesses with barely any marketing efforts.

Visit Website ››
Andy Weins is a U.S. Veteran and an Entrepreneur who saw outstanding success as the owner of the JDog Junk Removal & Hauling Southeastern Wisconsin franchise, and now as the owner of Camo Crew Junk Removal.
At JDog, he helped to set a new standard in the junk removal industry: empowering his team to be kind and communicate effectively on the job. It's working. Andy's customer service strategy vaulted his company's positive online client reviews, which in turn has led to his team's continued success.
Andy and his team added Jobber to their business toolkit two years ago and hasn't looked back since. Thanks to Jobber:
They have more than 500 5-star reviews online.
They keep all customer records in one place (their client information was scattered between up to four systems).
It only takes one minute to get a new client set up in their system.
His new system costs him $1 or less to maintain each customer account.
They get more done: "I can re-invest my time. More networking. More time with my daughter. I'm not spending time in the back end."
But let's take a look back before Jobber. Ten years ago, when Andy started his first business he used scrappy processes to get his exciting new venture off the ground.
Starting with pen and paper
Andy has been in business long enough to know that time is money, and when you have time, you can make more money.
When Andy started a junk removal business over ten years ago (before opening a JDog franchise), he wrote everything down. Freestyling it on a pad of paper, when the phone rang, he got from point A to B without GPS. Things were scrappy, fast-paced, and exciting.
But Andy's business started growing, and he needed a back office and employees to service more and more clients. It was obvious that pen and paper just weren't going to cut it for his business ambition.
Moving from pen and paper to technology
Up until two years ago, Andy's entire business operated on Microsoft Outlook.
It wasn't great: Andy didn't have a firm grasp on his customer accounts, nor could he organize them efficiently.
He was he entering client information up to four times in multiple systems. He was also missing crucial information for invoicing and account assessment.
Even after adopting Timetree, Andy and his team still struggled with business efficiency. They were still documenting client information multiple times.
Introducing Jobber
"It came down to entering client information twice, three, or four times, versus only entering it once in one minute with Jobber. Jobber was worth my time."
Andy explains that this new system works out to costing him $1 or less to maintain each customer account.
He uses Jobber's CRM (Client Relationship Manager) to input and track client information easily, efficiently, and in a repeatable way across his entire team.
It's simple: create a client profile once. Your team can make notes and attach photos during or after appointments, and view invoice history so you know who has paid you and what invoices are overdue.
Invoice history helped Andy's team communicate with customers in an informed and smooth way.
After each job visit is complete, Jobber reminds the team to send an invoice. Just a few clicks from the Jobber app and the invoice is sent to the client. This keeps the team on track, cash flow positive, and eliminates a lot of Andy's back-end paperwork.
"Life before Jobber was cumbersome and not well managed. Life after Jobber made operations and my whole business smoother. Jobber gives you processes that can be repeatable throughout all members of your company. It drives transparency and process."
FREE TOOL: Try our free junk removal receipt template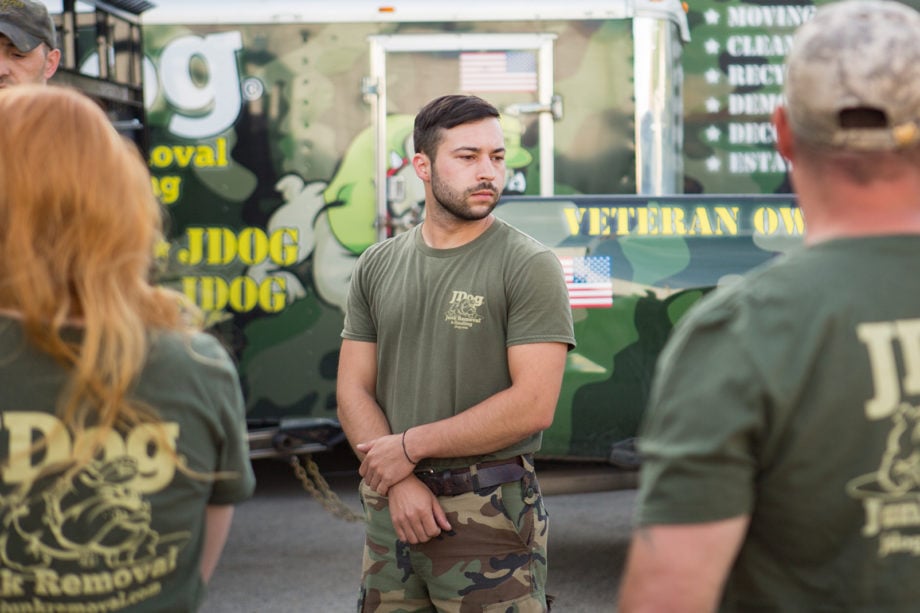 Andrew Zell, Senior Project Manager at JDog Junk Removal & Hauling Southeastern Wisconsin
Andy and Andrew have developed a genius way of communicating with clients before, during, and after a job to encourage reviews.
Here's their process:
Andy and Andrew use Jobber to send an automated follow-up email to their clients. These emails include invoices and receipts.
All follow-up emails link to a special landing page, which suggests the best review site for the client to use (based on their usage and history) such as Yelp, Google, Facebook, or Thumbtack.
Two weeks after the job has been completed, Andy's team sends the client a handwritten postcard thanking them for hiring their team.
"Reviews are huge for small business," Andrew explains. "Jobber's internal and client communication systems helped us solicit reviews on the most popular review website. This helps improve SEO, bump up organic visibility, and market your business."
Andy says that this strategy has helped his business grow "100 times over."
From scrappy beginnings to building a tech savvy team, Andy and his J Dog team are setting a new standard in the junk removal industry.