Entrepreneur Inspiration
Building a Flourishing Pond Business: Lessons From a Lifetime of Entrepreneurship
August 28, 2018
4 min. read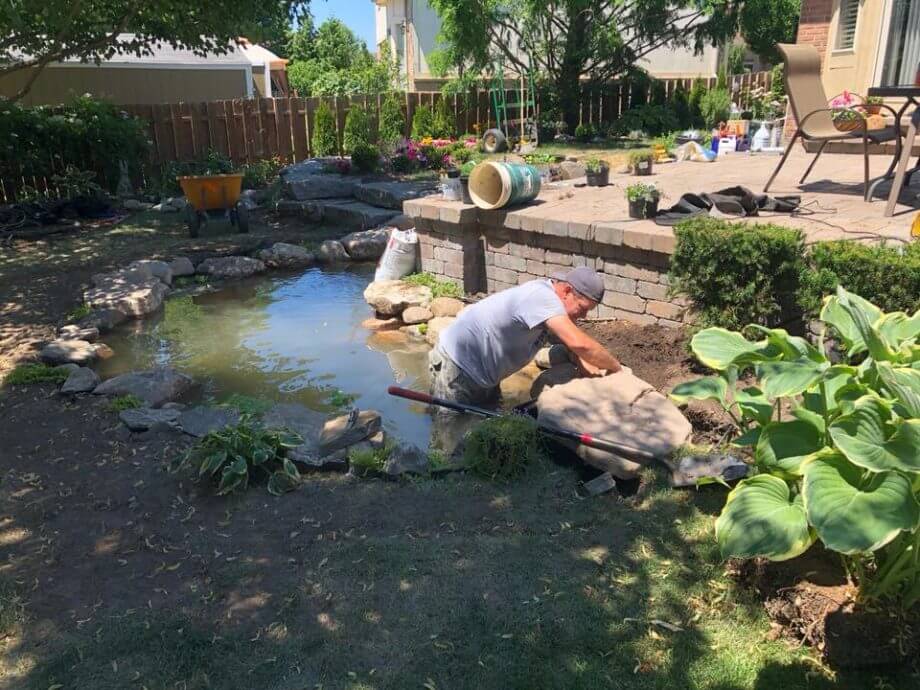 Put's Ponds
From customer service to team management to finding a supportive business community—Dan Put, owner of Put's Ponds reflects on a lifetime of entrepreneurship.
Visit Website ››
"I've always had a strong work ethic," recalls Dan Put, owner of Put's Ponds in Chesterfield, Michigan.
"When I was 10 years old, there was a paper route in my area, and you had to be 12 years old. I bugged my station manager so much that he end up giving me a paper route at 10 years old. I bought my first three cars before I even was licensed to drive at the age of 14!"
The youngest of six, Put laughs as he recalls having his older brothers and sisters drive him around in a '57 Mustang he fixed up because he didn't have his license yet.
Drawing from his entrepreneurial youth
Fast forward to the present, and lessons Dan learned during his entrepreneurial youth continue to influence his approach as a business owner.
Case in point: offering his customers options that help relieve financial stress—a throwback to when he used to leave an envelope with his paper route customers so they could put their payments in weekly, and not feel the pinch at the end of the month.
"Because we're a seasonal company, in January we send out forms to our customers for maintenance, and ask them, 'Do you want us to do a clean out for your pond come spring? Here's a list of our services, check off the ones you want, send us money before the end of January, and we'll give you a 10% discount.'" explains Dan. "We like to offer people a discount, and we also like to have money to work with come spring."
Making the mindset switch from the day-to-day to business growth
After 20 plus years working on every install, one of the biggest challengers Dan faced as a business owner was getting out of the day-to-day details to focus on business growth.
"Four years ago I sat back and I did that. It was very hard, very hard," remembers Dan. "You say to your foreman, 'okay do what I do.' And walk away, and say everything's going to be okay."
A foreman you can trust helps, says Dan. So how did he find this foreman? It's a long story, but let's just say it involves a first responders class and a childhood dream to be a fireman.
Tools for building an engaged team
Before Dan ran his business with Jobber, he relied on good 'ol pen and paper to keep track of his schedule.
"We had a calendar at the shop with the jobs—as long as you could remember to write them down. But the pencil and paper always got lost. Somehow phones in our employees hands don't get lost. People depend on the phones so much. My laptop—I haven't opened it in probably over a year," says Dan, who runs his business on Jobber almost exclusively from his phone.
He also sees the effect Jobber has on his employees.
"I'm not the only person engaged in it. It helps the employees that have Jobber on their phones. They can sit there on the weekend and say, 'oh, well what do I got coming up this week?'" explains Dan.
"And instead of me telling them five minutes before we leave the shop in the morning what's going on, they can get set up for the job, and say 'you didn't put this in Jobber, but we need to bring this tool with us as well.'"
Embracing the Aquascape community
A few years into running his business, Aquascape and their one pond a day promise hit his radar. At first he was skeptical, but all that changed once he gave the install system a shot.
"We took the plunge and we tried one of the systems. We finished it that day, and really haven't looked back," remembers Dan. "It was like the heavens parted and the sunbeam rainbow came down—it was pretty cool."
27 years later, Dan has an international community of Aquascape installers to lean on when he has an install or business question.
"We have a Facebook page, and I could put a question up and say, 'I'm having a brain fart, how do I deal with this?' And you'll get 20 responses within a half an hour," he says. "You filter through them and it's like 'that's perfect, okay got it.'"
Standing behind your work
What else has Dan learned from over 30 years in business installing and maintaining ponds?
"Don't put a pond in the lowest part of your backyard," he says with a laugh, recalling the very first pond he installed in 1985 that ended up two feet above ground after a rainstorm bubbled up the pre-form shell.
In all seriousness, Dan's experience has given him the confidence to stand behind his work no matter what. As landscapers get into the pond installation business, as the work shifts from install to maintenance, Dan is confident in the product he delivers.
"I tell people about my company, I tell them these are the services that we have," he says, making it clear that his focus is on Put's Ponds, not on his competition. "I offer lifetime leak proof warranty on our work, so try to top that in the industry."