7 Ways You Should be Marketing Your Pest Control Business
October 7, 2020
8 min. read
You went through the tricky process of starting a pest control business in a highly regulated and competitive industry. You got your certification, invested in insurance, and chose your market.
Now, it's time to grow. Whether you're starting from zero, or you're building up an existing list, marketing is a crucial skill that will bring you the steady, reliable customer base you need to stay in business.
It doesn't matter where you are in your pest control marketing journey. The following seven marketing ideas will help you grow.
Setting Up Your Marketing Strategy
Before you dive into marketing your pest control business, it's important to think about your overall business marketing strategy. Answer these five questions to start:
Who is your target audience? Where do they hang out? This will determine which methods to use (online advertising vs. offline marketing) to reach them.
Who is your competition? What makes you different? Your USP—unique selling proposition—is what makes you different from other pest control businesses in your region.
What value do you bring to customers? Think about the value you bring beyond just 'pest removal.' For example, if you specialize in residential pests, you're doing much more than getting rid of rats; you're giving clients their home back so they can sleep easy at night.
What are your marketing goals? Do you want more new customers? Or do you want your marketing to help you win larger contracts from existing clients? The answer will help determine which marketing methods will work best.
How will you know your marketing is working? Do you have a CRM, or other tool, to track where new customers are coming from? This is crucial because without tracking, you could be losing money without knowing it. Even a basic spreadsheet can work, as long as you're committed to keeping it up to date.
Once you're clear on the above, choose those pest control marketing strategies most suitable for your goals and customers from our list below.
Pro tip: Start with just 1-3 pest marketing ideas from our list. A great thing about marketing is you can start small, spend just a little, and see what works. Also, don't be afraid to adjust your plan if one strategy doesn't work. It's less risky and easier to track than trying everything at once!
Now, let's jump in.
7 Pest Control Marketing Ideas to Grow Your Business
1. Get Your Business Online for Free
The internet is where people go to find services they need. If you want your business to be found, it needs to be online.
The easiest and most inexpensive ways to market your pest control business online are Facebook and Google. They're extremely common, and virtually free.
Signing up for Google My Business will help you get found from local searches where clients are looking for pest control services in their area. Learn about setting up your Google Business Listing here.
Creating a Facebook business page is another free way to book work, and it takes less than 20 minutes to do it.
Once your Facebook Business page is set up, optimize it by including an online booking CTA, telling your story, posting photos, and boosting posts with Facebook Ads.
READ MORE: 350 pest control company names for starting your business
2. Create a Professional Pest Control Website
A website gives potential customers a way to get in touch, learn more about your business, book work online, approve quotes, and pay invoices.
But most importantly, a website makes your business look professional, so customers will want to book work with you.
Luckily, the best pest control websites are pretty simple. Just make sure you have:
your contact information and service area clearly displayed
a detailed list of services you provide
certifications, licenses and insurance
social proof (such as testimonials)
For more ideas, see our roundup of the best pest control websites from real businesses like yours.
Need help creating your pest control website? Read our 10-step guide.
FREE TOOL: Try our free pest control invoice template
3. Automate Lead Follow-Up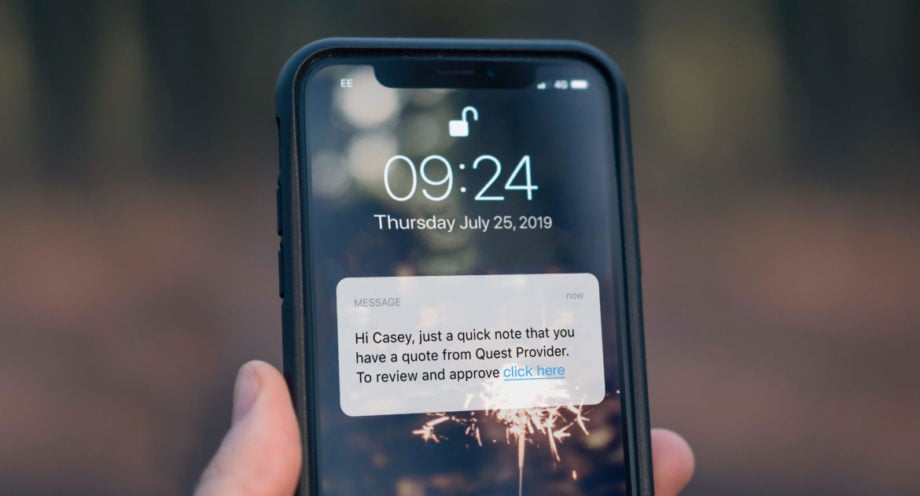 If you're competing against other pest control businesses (and you probably are) you'll want every possible advantage to stand out—and this starts with better lead management.
That's because the first company to follow-up is most likely to win the job.
The best part is, you can automate this process, so that you're always the first and you'll never forget. We recommend this two-step process for pest control companies:
When a new lead contacts you, collect their contact information in a CRM, and send them a digital quote within 24 hours. Timeliness is crucial here because once the client has a quote in their hands, you have a reason to follow-up.
Schedule an automatic quote follow-up. As soon as you send the quote, either set a calendar reminder to call the client within 48 hours, or set a quote follow-up using pest control software like Jobber. You choose what to include in your default message, the number of follow-up messages to be sent, and on what days/times you'd like them to be sent—Jobber takes care of the rest.
FREE TOOL: Try our free pest control estimate template
4. Start Networking
You're the face of your company. Nobody is going to be better at promoting it and spreading enthusiasm than you.
You don't need to stop people on the street, but you should always be prepared to talk about your company and services in a welcoming and professional way. Practice with your friends and family until the pitch comes naturally.
Also, make sure you always carry business cards with you. They are an inexpensive and professional way to leave an impression and keep you your business top-of-mind.
There are many online services that will design, print, and deliver business cards for you at an affordable price. For example, I made this business card in just a few minutes, by using a template from Vista Print: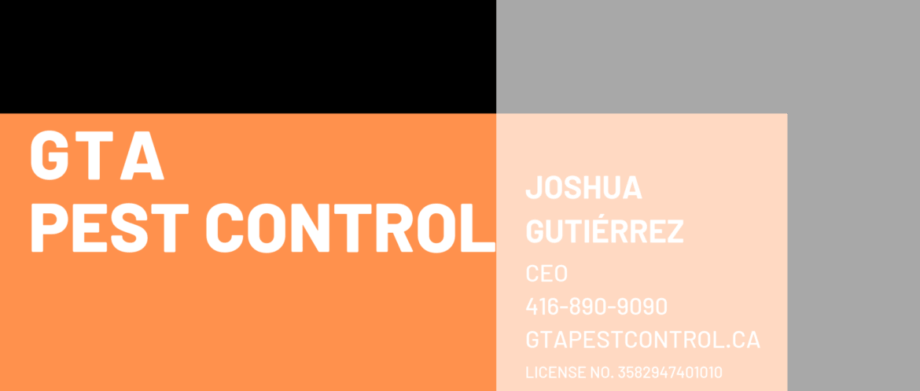 There are also many networking groups like BNI America that help you grow your network and find referral business. Also, don't be afraid to partner with other local companies to refer business and participate in local trade shows and events.
5. Set up a Referral Program
Referrals are the most powerful marketing tactic for any pest control company. If a customer is so happy with your services that they tell their friends and family (or post about you on NextDoor), you're almost guaranteed more business.
The problem is, most businesses leave referrals to chance. Instead, be proactive and set up a referral program. You'll get more reliable and high-quality customers.
Here are four referral program guidelines you can follow:
Identify customers who are likely to refer you
Incentivize them with a reward (ex: 10% off for each referral)
Communicate your referral plan via email or online ads
Track new customers as they come in.
Get more inspiration from these five referral program ideas.
6. Get More Online Reviews
Just because a potential customer finds your business online doesn't mean they'll go with your services.
A quick Google search of Pest Control Seattle gives me the following results: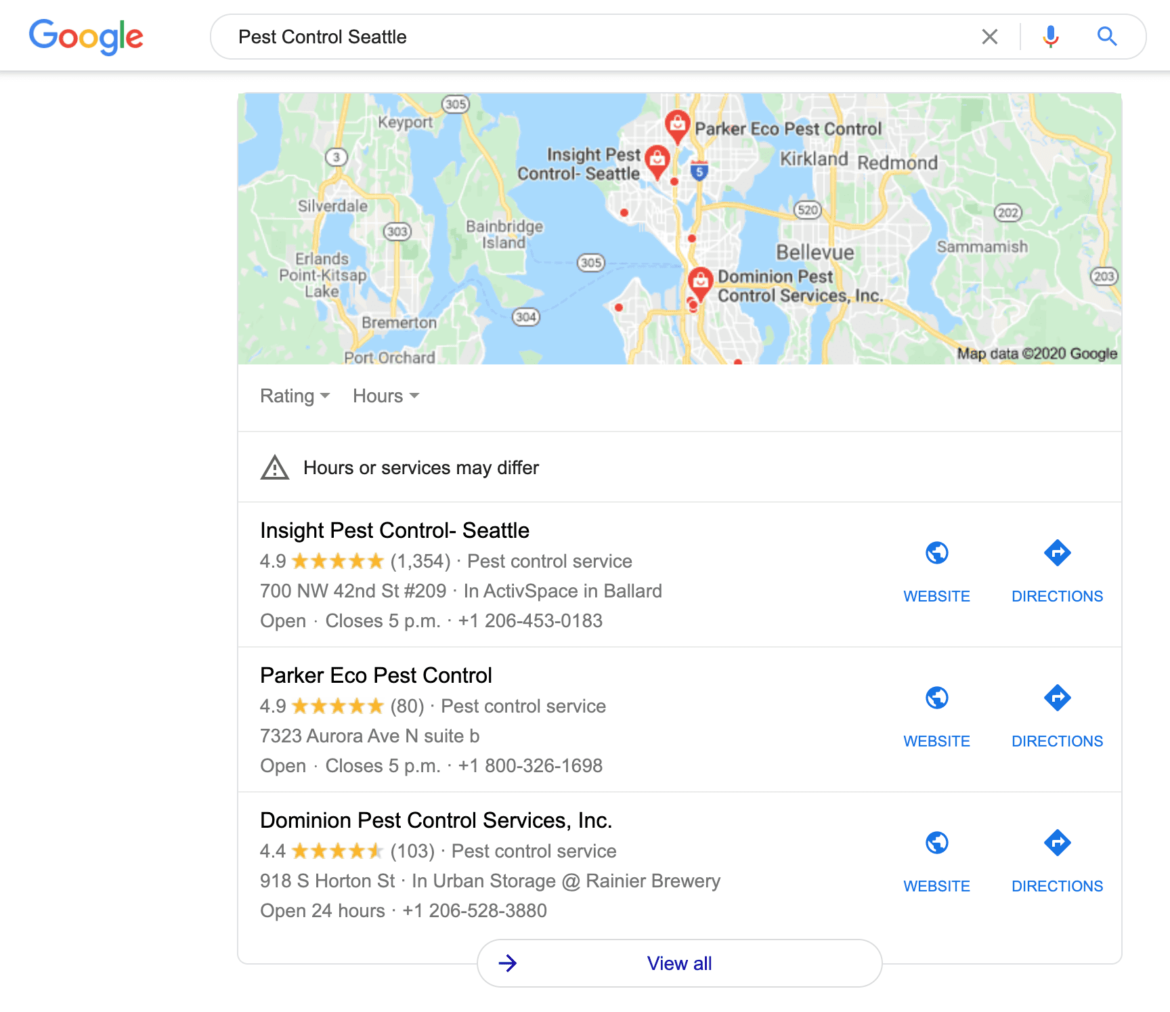 In this example, which company would you call first? (We'd go with the first one.)
Positive online reviews will help you stand out from the competition. You should be actively trying to get good reviews from every single happy customer.
An easy way to get started is to send your customers a follow-up email after the job is complete. This is a great way to let your customers know the work was done and ask for valuable feedback. If the feedback is positive, this is the time to ask for a review.
Pro Tip: To improve your chances of getting more positive reviews to start, follow this four-step process.
Sometimes you'll get reviews that aren't positive. You must respond to these reviews for two crucial reasons:
If anyone is researching your company online and finds a negative review, a good response will demonstrate your professionalism and how you deal with difficult situations.
Responding to a negative review provides you with an opportunity to take a negative customer situation and potentially fix the issue.
If you need some help with responding to negative reviews, read this post, which includes several examples.
Finally, when you're signed up to platforms like Facebook and Google and your pest control business begins to grow, it may become increasingly difficult to manage the ever-growing volume of reviews.
When you get to this stage, look into reputation management software. This software simplifies review management by automatically sending review requests and publishing positive reviews—and can even redirect negative ones so you can address them first.
FREE TOOL: Try our free pest control receipt template
7. Advertise with Google Ads or Google LSA
Finally, if you want to invest more in pest control digital marketing, you can try online ads.
Google gives you two options to advertise that are relatively affordable: Local Services Ads (Google LSA) and traditional Google Ads. These options are different in several ways:
You use different advertising budgets and platforms to manage them
You pay per lead with Google LSA and per click with Google Ads
The ads appear in different places in search results, with local services ads appearing above Google ads and organic search results.
Both advertising options are good, but consider your goals and budget when choosing the right one for you.
For instance, Local Services ads work well if you're just starting out, have a small budget, and want to reach a local market. Google Ads works well if you have a larger budget, need to reach a larger audience, and advertise consistently.
READ MORE: How this business got a 735% ROI with pest control ads
The Bottom Line on Pest Control Marketing
Pest control marketing is crucial to getting more clients, increasing your revenue, and growing your business.
Just be clear on your overall marketing strategy first before choosing the methods to reach your business goals.
And remember, keep things simple and start small with 1-3 marketing strategies, and change as needed.
Editor's note: This article has been updated to provide more up-to-date pest control marketing information.