Entrepreneur Inspiration
Five Lessons From a Master Arborist
April 18, 2019
6 min. read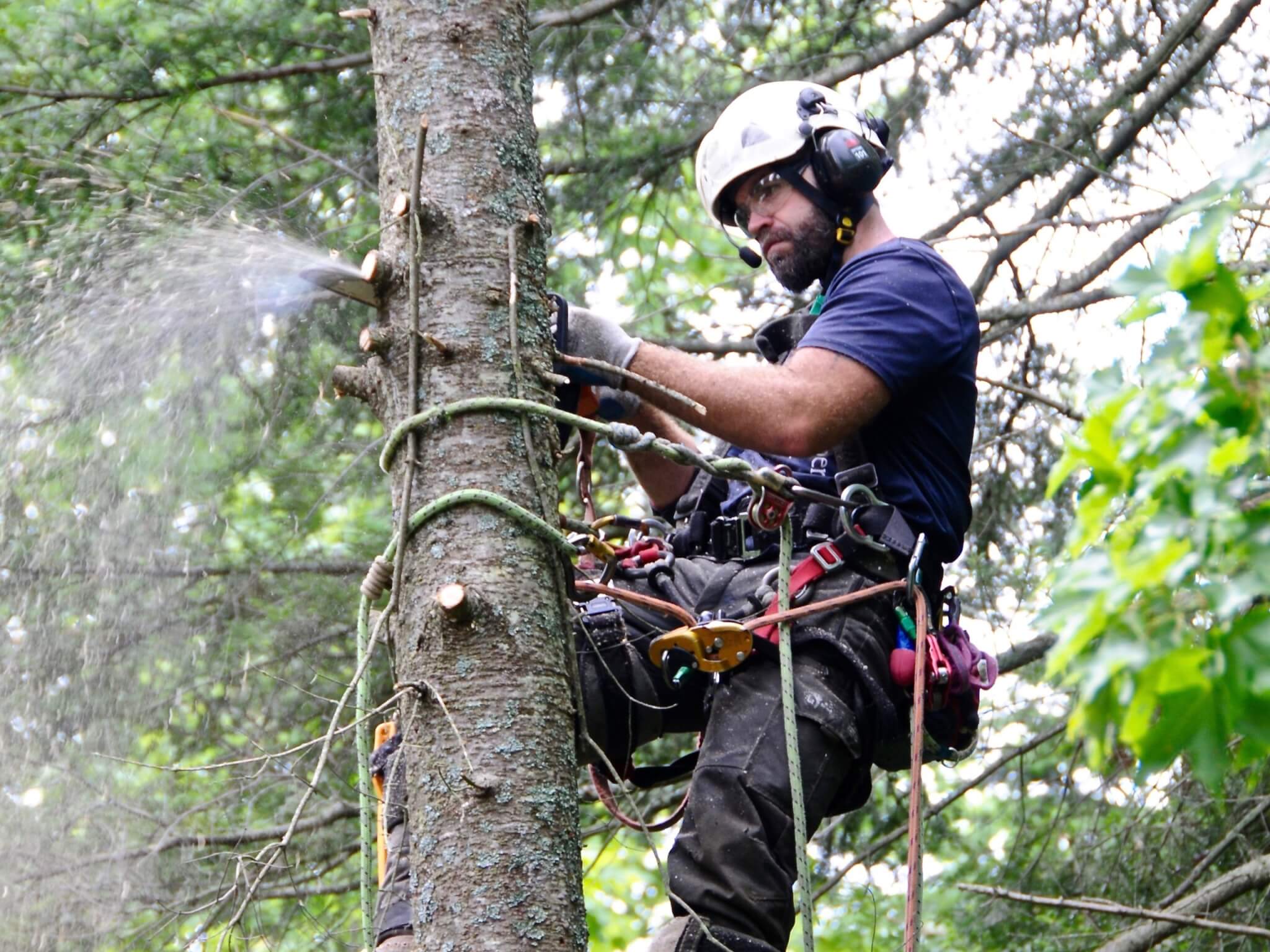 Logan Tree Experts
Learn how this certified master arborist has weathered the ups and downs of business ownership to build an award-winning tree service business.
Matt and Tracy Logan run Logan Tree Experts, an award-winning tree care business servicing the lush and highly-competitive region of Peterborough and the Kawarthas.
"You can get drowned out by a thousand chainsaws in this area," says Matt. "So what sets you above the rest?"
With more than a decade of business experience, their team of certified arborists is setting a new standard for safety, quality, and professionalism in the tree care industry.
Here's how they use customer service, sales, and team building to fuel their continued success.
1. Be the local expert
In an industry that's unregulated, dangerous, and highly competitive, the Logans use education, accreditation, and expertise to set their business apart and get more leads.
Matt is currently a Board Certified Master Arborist. This is the highest level of certification an arborist can receive from the ISA, and is held by only seven arborists in all of Ontario.
Tracy is also a certified arborist and tree health care specialist. As full-time office manager, she handles the majority of new leads. "You're talking to a certified arborist as soon as you've called us."
Matt and Tracy use their passion and expertise to speak at industry events, contribute to trade magazines, and above all, educate their clients. This strategy has helped them grow their online presence, attract more leads, and close more sales.
"People will say 'yeah I heard about Logan Tree Experts in the news' or they'll Google us and see us speaking at the Cottage Life Show," says Tracy. "It's really helped towards building our name."
READ MORE: How to become an arborist and grow your career
2. Show value, not price
"We don't anywhere say that we're the cheapest," says Matt. "That's not what our goal is. Our goal is to provide value."
Instead of handing over a number, the Logan Tree Experts take the time to educate clients and build trust. This leads to lasting, fruitful relationships.
"By the time the client sees a quote, they're not just looking at the bottom line. They're looking at how Tracy called them a couple of hours after they reached out, how I showed up when I said I would, how we emailed them a quote right away…all of those things show them that there's more value than what the price is. Sometimes we are the lowest price because we had the right tools and the right knowledge. But, that's not all we're basing our business on."
This commitment to professionalism and customer service has paid off: Logan Tree Experts recently picked up an award for Customer Service Excellence.
3. Get organized so you can stop saying sorry
In the beginning, Matt and Tracy used pen, paper, and Google Calendar for daily operations. "The process of setting up site visits and recording names and information was chicken scratch. It wasn't working," says Tracy.
Work orders were written on stacks of paper. If the papers fell or got mixed up, and everything would fall out of order, causing chaos and wasting time.
"It was a lot of weight on my mind," says Tracy. "I felt like I was constantly saying sorry: 'sorry I didn't call you back,' or 'sorry our crew wasn't there on time.'"
Luckily, a fellow arborist recommended Jobber's tree care software. "We've grown so much over the years that I could never handle what we do now the way we used to," she says. "I spend the majority of my time in Jobber scheduling site visits, or jobs and communicating with clients."
"Yesterday, we had to modify a work order," adds Matt. "The guys got the info right on their phones. There were already pictures on the file so they knew exactly what they were getting into. There are no little pieces of paper saying 'we have to fix Mrs. Smith's petunias.' Instead of that info getting lost, it goes right into Jobber."
4. Continue the conversation
Matt didn't come from a business background. Yet over the years, he's picked up his share of winning sales techniques.
"The best sales technique is to call people when we say we're going to call, and show up when we say we're going to show up. We get prospects saying 'thank you so much for calling me back!' That's literally the least we can do."
In addition to using Jobber to schedule crews more efficiently, Logan Tree Experts closes more sales than ever by simply sending a follow-up email after a quote.
"Sending quotes within a day so the client doesn't have to wait has been huge," says Matt. "Jobber shows us if a quote hasn't been converted, so we add a task to email or call that client. Often they'll say 'hey thanks, I was out of town' or 'I forgot to get back to you, go ahead.'"
Another sales tip is to keep the conversation open. "With the bigger projects, I let them know this is a discussion, not a statement. I offer them the options, then I can send that second touch and say: 'Hey, did you get the email? Do you have any questions?' That's been really beneficial."
5. Empower your team to do their best work
Finally, we reached the thorny issue of attracting and retaining employees. As a seasonal industry, tree service businesses often struggle with turnover and employee retention.
One of the toughest business lessons came recently, when Logan Tree Experts lost two key employees. Instead of tightening his grip, Matt had to learn how to step back and offer mentorship, not micro-management.
"What I've been having to do is step back and let the other guys take over. It's been pretty awesome to see what they can do. They really took up the challenges and they've flourished. And that's what's motivating them — nobody is going to be motivated doing what their boss says, they're going to be motivated accomplishing their own goals."
Using Jobber, Logan Tree Experts' crews can message clients, fill out job forms, take detailed notes, and invoice jobs themselves without any miscommunication or slippage. In addition to empowering the crews, Jobber eliminates duplicate entry for Tracy, and gives Matt more time to focus on sales instead of putting out fires.
"Every morning the crew shows up and I show them their tasks. Nine times out of ten they've already looked at their jobs in Jobber. So I'll say: 'we have three willows to prune today,' and they'll say: 'actually, it's just two.' For me, that's not only convenient, it's awesome that my guys are getting engaged and are using it without being prompted."
Lightning round with Logan Tree Experts
What is the most valuable tool in your toolbox?
Matt: Tracy
Tracy: Good answer
Do you have a motto or slogan that you live by?
Matt: "How you do anything is how you do everything."
What is your favourite Jobber feature?
Matt: Reminders
Tracy: I like to use the dashboard just to see what's overdue and what needs to be done. It's a perfect way to get to your desk and see what you have to do that day. That's probably my favourite function even though I'd like to be using it more.
What is your top marketing channel?
Tracy: Referrals. It's the cheapest type of advertising and it works the best.
How do you unwind after a long day?
Matt: Wrestling with the kids, enjoying the outdoors, and taking our dog, Bear, out for a walk in the woods.