Growing field service businesses run on Jobber.
Jobber is your business's command center. We go beyond estimates and invoices to elevate your business, impress your customers, and change the way service is delivered. Our easy-to-use software powers your sales, operations, and customer service—all in one place.
UNLIMITED CUSTOMER SUCCESS AND TECHNICAL SUPPORT ON EVERY TIER
VOTED #1 MOST USER-FRIENDLY AND AFFORDABLE FIELD SERVICE SOFTWARE
INTEGRATIONS WITH QUICKBOOKS, SENDJIM, RESPONSIBID, NICEJOB, AND ZAPIER
EMAIL, POSTCARD, AND SOCIAL MEDIA MARKETING
ONLINE BOOKING YOU CONTROL
OFFER YOUR CUSTOMERS 24/7 CUSTOMER SUPPORT WITH CLIENT HUB
FOLLOW-UP WITH CLIENTS VIA TEXT AT EVERY STAGE OF THE RELATIONSHIP
ACCEPT ONLINE PAYMENTS TO IMPROVE CASH FLOW
"We went from only making $5,000 a month in 2012, to a company that's going to gross revenue over $1 million this year. And that's part with Jobber. This month alone, with Jobber, we took in 65 work requests!"
---
The bottom line
Jobber customers deliver more than
$6 billion

annually in services. Join them.
QUOTING & INVOICING
Customize Jobber quotes and invoices. Include your branding, discounts, required deposits, and contract terms, and collect all payments through Jobber.
The quoting process automatically begins once you schedule on-site assessments. Your clients can sign and approve quotes or request changes right in client hub. Finish up with a deposit collection after a quote is approved.
Jobber will remind you to create and send invoices and track payment progress along the way.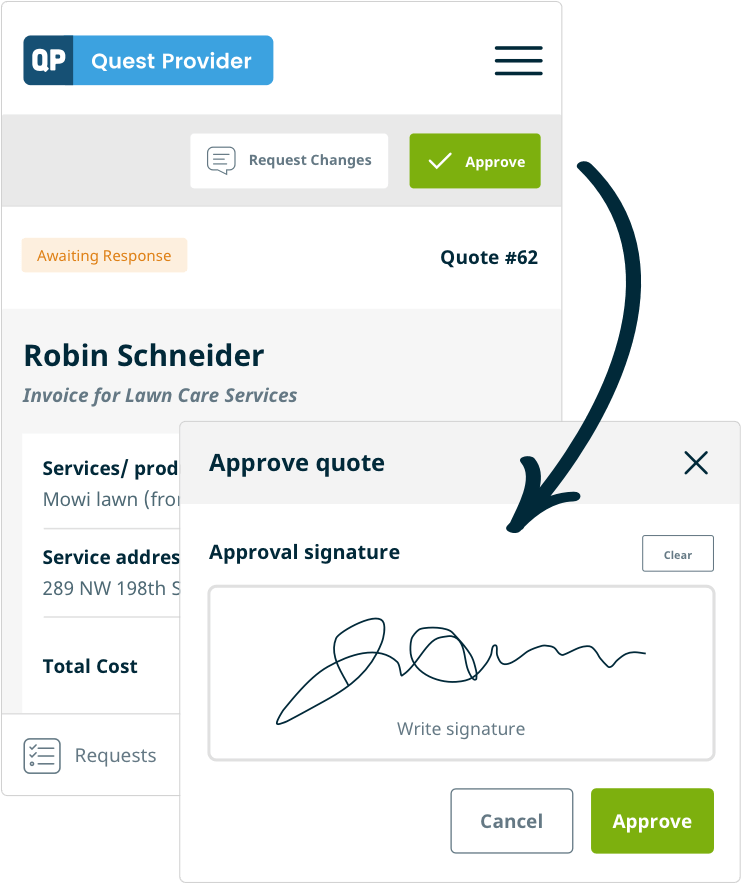 Jobber Payments
Accept credit cards right on the job-site, or give your clients the opportunity to pay online through your client hub when you send them an invoice.
You can securely vault your client's credit card information with Jobber Payments and instantly charge them when work is done.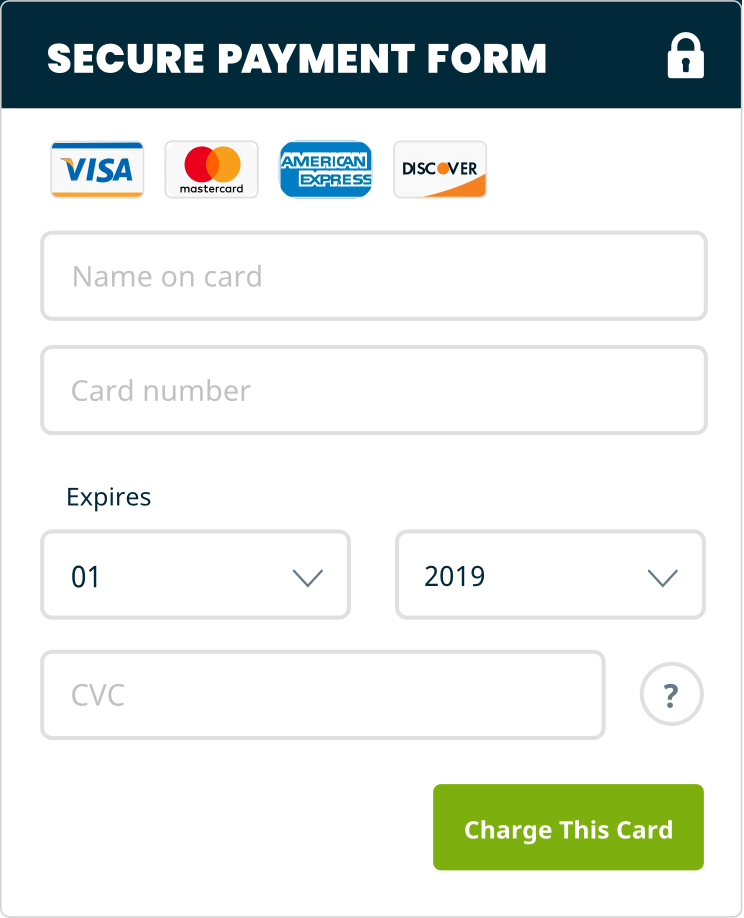 Client Hub
Client hub is a self-serve online experience that allows your clients to view their records, pay outstanding invoices, and request new work—all in one place.
They don't need to download an app to use it. They just have to click a link that you can send them.
Your clients get access to your client hub through a secure personalized link included with each of your emailed quotes and invoices. They don't have to deal with pesky passwords.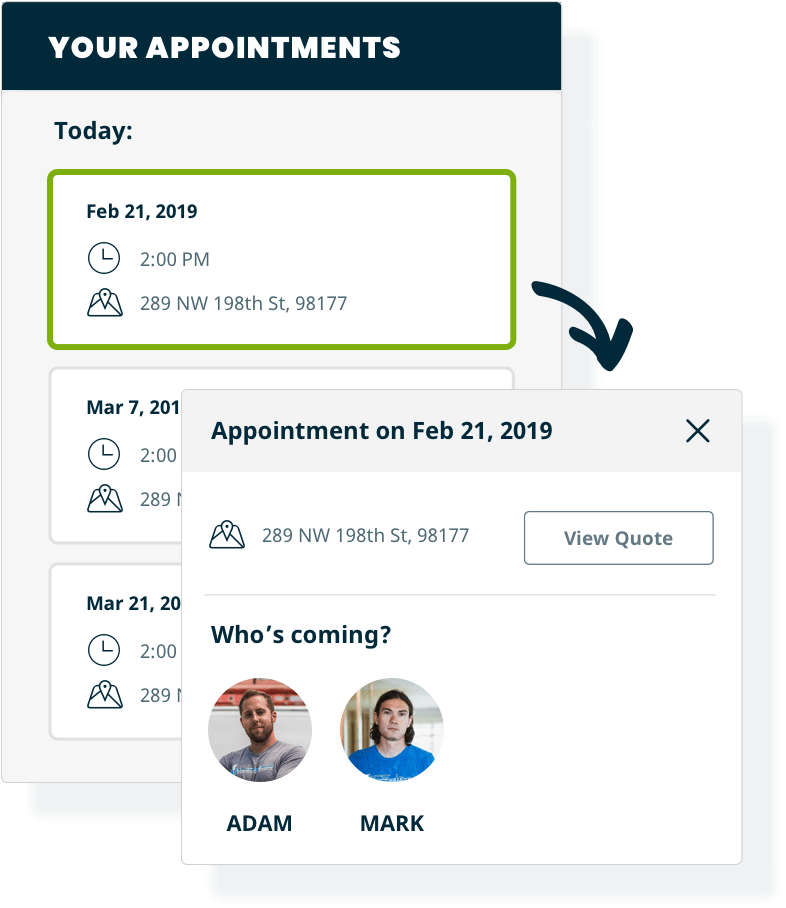 Scheduling & Dispatching
Schedule faster: create a job, choose a client, and assign it to your team based on their daily progress meters. Easily make adjustments on the fly.
Sort your calendar items and tasks by status (such as unscheduled, overdue, upcoming, or completed) and get a clear visual of multiple team members' availability. You'll never overbook, underbook, or doublebook again.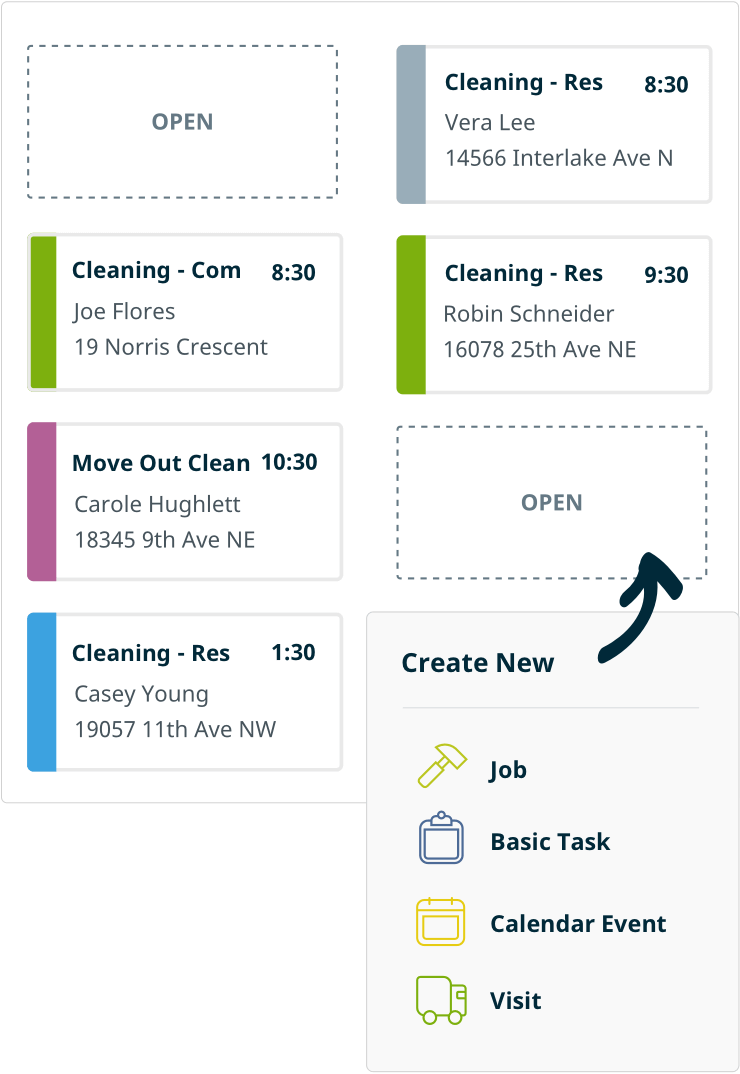 Powerful CRM
Keep track of important client details whether you're at the office or out in the field. Your team will never drop the ball again, and everyone will always be on the same page.
See full client billing and invoice history, search for client information, and attach PDFs and photos to accounts.
Jobber's CRM is fully customizable. It works for your business, and makes you look bigger and more professional to your clients.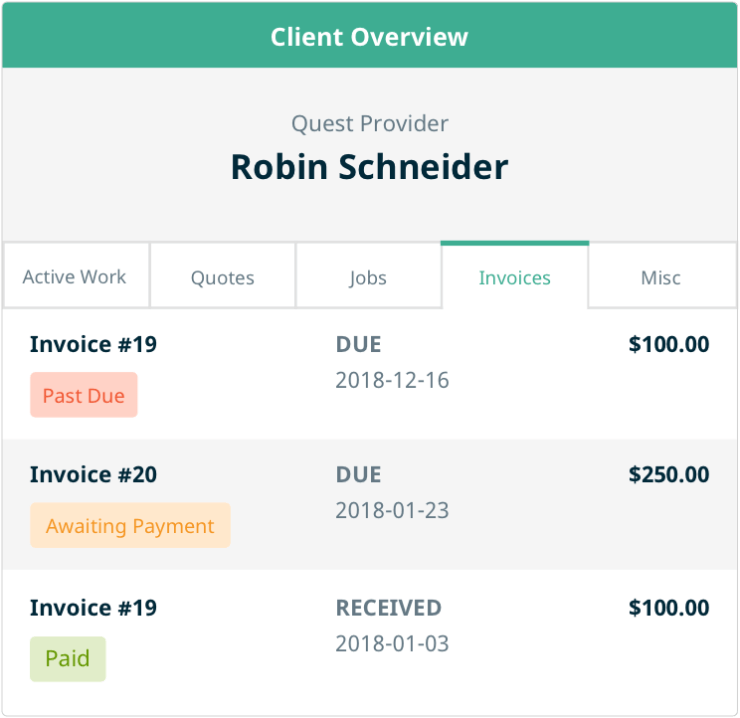 Reporting
Jobber offers 20 built-in, customizable reports. You'll always know exactly how your business is doing.
Get reports on finances, service, work, and clients so you can make smart business decisions that impact your bottom line and customer satisfaction.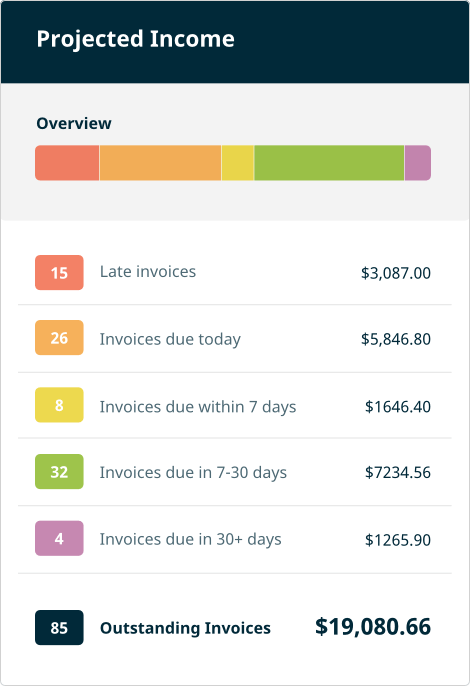 INTEGRATIONS BUILT FOR YOUR WORKFLOW
Jobber seamlessly integrates with your favorite apps and software so you can focus on what you do best—running your business.
14-days free. No credit card required.
Try Jobber for free
So, how does Jobber stack up to the alternatives? Jobber offers award-winning field service software with all the features you need, plus incredible customer service to back them up that can't be beat. Follow thousands of growing field service businesses and try Jobber for free.