Free Service Price Calculator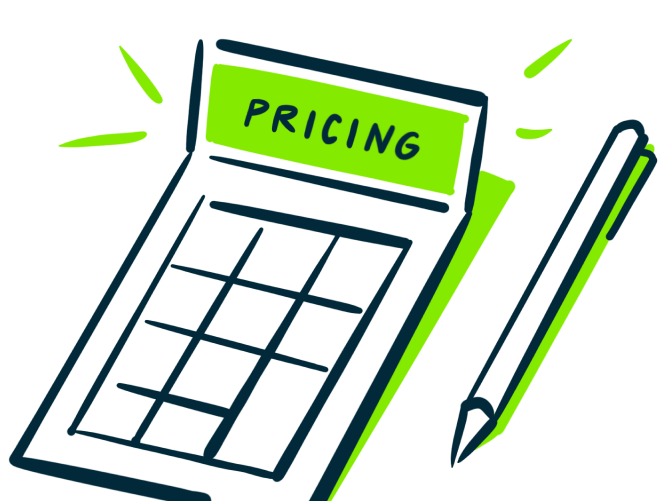 Try our service pricing calculator
Use our service price calculator to add up all the costs that go into a service estimate, including your labor costs, material costs, overhead expenses, and profit. Get an accurate and profitable price for your services, then add your pricing to our free estimate template.
About this calculator
Add up labor, material, and overhead costs
Factor in your profit margin and markup
Accurately price your services for profit
Service Cost Calculator
Not sure how to calculate the price of your services? Enter your labor costs, material costs, overhead expenses, and profit into our service cost calculator.
Number of workers x Hours to complete job x Hourly pay
Total cost of all job supplies used
(All monthly expenses / Working hours each month) x Hours to complete job
The net amount your business gets to keep after costs and expenses
Service Price
Profit
Markup
---
Frequently Asked Questions
This service price calculator helps you price jobs for profit, factoring in labor, materials, and overhead expenses. You can use this pricing as a quick reference point for estimating jobs, or as a standard price for recurring services.

Pricing calculators are perfect for entrepreneurs who are just getting started, or established business owners who are tired of doing calculations with pen and paper. Try this fast and easy way to

price your services

—without having to do the math yourself.

Our service price calculator is just one of our free tools, which help you store client information, convert estimates to invoices, and get paid for your work. This calculator is an essential tool for any

pricing strategy

. Bookmark this page and use it for free whenever you're pricing your services.

Need to price house cleaning jobs? Try our

free house cleaning cost calculator

.

To calculate your labor, figure out how many workers the job will need, how many hours it'll take them to finish the work, and how much they're paid per hour. Then multiply all three using this formula:

Number of job employees x Hours to complete job x Hourly pay

Let's say you're pricing a recurring weekly service. You'll need two people on site for four hours to provide that service, and they both make $18/hour. That means the labor costs for each weekly job will be $144. (2 x 4 x 18 = 144)

(Not sure what your employees should be earning? Check out our

free salary guides

. You can also use our free

labor cost calculator

to determine what your hourly rate should be.)

List the materials and supplies you'll need to use for that specific job. There are two ways to do that, depending on whether you're using full or partial quantities of your materials:

• If you're special-ordering materials or using the entire quantity of what you have, add up your supplier's listed prices for those items.
• In some cases, you'll only use part of a particular material—for example, half a container of cleaning solution. Just estimate how many jobs you can get out of one container, then divide the cost of the item by the number of jobs. This tells you how much you should charge for that material per job.

Keep in mind that you're buying these items yourself, which takes time, effort, and gas money. Feel free to add a small markup percentage to your material costs to take back some of those expenses.

Add up all the costs you pay each month to keep your business up and running. This could include building rent,

business insurance

, advertising costs, cell phone or data plans, or

business management software

like Jobber. 

If you have any annual costs like commercial vehicle registration, add up these yearly expenses and divide by 12 to get a monthly total.

Once you have your total monthly

overhead costs

, divide that amount by the number of workable hours each month. This will tell you what your hourly expenses are—and what to charge clients for overhead per job.

Here's the full formula:

(All monthly expenses / Working hours each month) x Hours to complete job

(Need help tracking your business expenses? Try

expense tracking software

.)

Profit should usually make up 10–20% of your job costs. You may have to adjust your profit amount in the calculator to reach a profit margin that works for you—without having your

customers say your price is too high

.

Talk to other business owners in your industry and see how much profit they're earning on each job. You don't have to match them, but if you know a business operates similarly to you and profits more, you might have room to

increase your prices

.

You can also use our

profit margin calculator

to make sure you're profiting from every job.

Your markup is the extra money you charge for your services, over and above your costs and expenses, in order to turn a profit as a business. For example, let's say your labor, materials, and overhead for a job are $250, and you add a $50 markup. You're marking up the job's value by 20%, bringing the total value to $300.

Your profit margin is how much money your business gets to keep after you've subtracted all business expenses from the total payment amount. If your final job pricing was $300, the $50 you're keeping as profit would give you a profit margin of 16.67%.

Both your markup and profit margin can be represented as a percentage or dollar amount.

A pricing calculator helps you price a service based on your costs, expenses, and desired margin. Here's how a service pricing calculator can help you:

• Easily add up all the costs that go into an estimate

• Take less time to

price a job

• Prevent errors that affect your bottom line

• Always remember to include your costs and expenses

• Double-check your profit margin and markup percentages

With a service rate calculator, it takes only seconds to add up the numbers you need, add them to an estimate, and send your estimate to the client—winning you profitable work.

When you're done using our price estimate calculator, use our

free estimate template

to create a service estimate for your clients.

You can also upload your pricing into

quote management software

like Jobber. This makes it easy to

make a professional estimate

using your desktop or mobile app.

Here's what you can do with Jobber:

• Accept work requests through your website or Local Services Ads

• Create estimates with add-ons, packages, and images

• Easily convert estimates into jobs and invoices

• Store information about clients and communicate with them using email and SMS

• Allow your clients to

approve estimates and pay deposits online

• Schedule your teams, route work, and track time and expenses

• Get paid faster with automated invoice follow-ups and credit card processing

Learn more about how Jobber can help you

create estimates and win work faster

.