Sales and Marketing
Google's Local Services Ads: 12 Top Questions Answered
With Google's Local Services Ads, you can collect and book new leads right from Google Search.
Local Services Ads are a type of online ad that connects local businesses with people searching for services on Google. When you use Local Services Ads with scheduling software like Jobber, customers can book an available time in your calendar directly from that ad. No phone calls, no messy back and forth.
Google's Local Services Ads are tailored to home service businesses and provide an easy, trustworthy way for clients to get on your calendar.
But what exactly are Local Services Ads, and how are they different from regular ads? Here are 12 common Local Services Ads questions, answered.
1. What are Local Services Ads?
Formerly known as Google Home Service Ads, Local Services Ads (LSA) are a type of online ad that cater to local service businesses including plumbers, HVAC, electricians, and cleaning services.
When a customer searches for a service near them, Local Services Ads appear first, above the organic search results and regular Google Ads. That means these ads are the very first thing an interested customer will see.
For example, if someone searches for "plumber for hire in New York," they'll see the following:
Each ad contains contact details, the businesses' operating hours, an average review score, and a "Google Guaranteed" badge (discussed later).
2. What industries are Local Services Ads available for?
As of this writing, Local Services Ads are only available for specific industries. Below is a list of home service industries that these ads are available for in the U.S.:
United States:
Appliance repair
Carpenter
Carpet cleaning
Cleaning service
Countertop professionals
Electricians
Fencing professionals
Flooring professionals
Foundation professionals
Garage door professionals
HVAC (heating, ventilation and air conditioning)
Landscaping
Lawn care
Locksmith
Painter
Pest control
Plumber
Roofer
Tree services
Water damage
Window cleaner
Window repair
Google doesn't support all services in all markets yet, but is continuously expanding its services across regions. If your country or industry isn't listed here, check back often, as it may be available soon.
3. Where are Local Service Ads available?
Local Services Ads are available only in certain regions.
To check if your region is eligible, visit the Google's Local Services Ads signup page. Alternatively, you can do a quick check by typing your profession and city's name into Google. For example, a quick search for "window cleaning Chicago" tells us that Local Services Ads are available.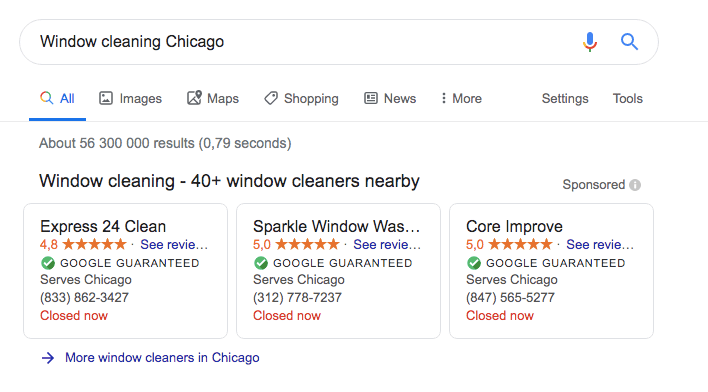 4. How are Local Services Ads different from Google Ads?
Local Services Ads and Google Ads are separate advertising services. They are managed using separate platforms and separate budgets. Here are three of the main differences:
With Local Services Ads, you pay per lead. With Google Ads, you pay per click (PPC). This means that with Local Services Ads, you only pay when you get a legitimate booking request from a qualified lead. (With Google Ads, you pay anytime someone clicks, even if it was by accident.)
Local Services Ads are specifically for local customers searching for trustworthy, local service providers in their area. Google Ads are available for nearly any product or service offered from anywhere.
Local Services Ads appear above Google Ads in the search results. That means they are more prominent and more likely to be clicked.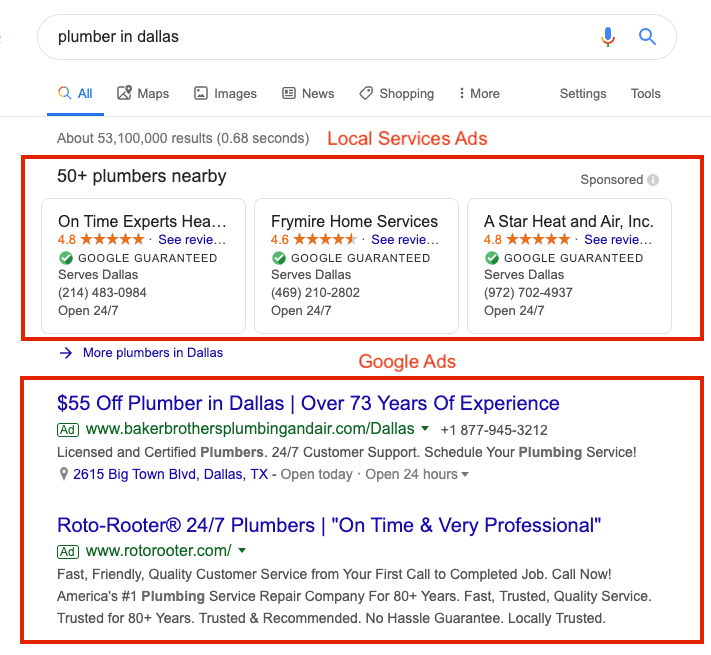 So, which is right for your service business?
Local Services Ads work well if you're only looking for customers locally or are just getting started with online ads.
Google Ads work best if you have a more advanced marketing strategy and want to reach a regional, national, or even international audience.
5. What is a Google Guarantee?
A Google Guarantee appears as a white checkmark in a green circle on specific Local Services Ads listings. Think of it as a vote of confidence that Google has verified your business, and considers you trustworthy.
Once you've received your Google Guarantee, if a customer isn't happy with the quality of your work, they can make a claim with Google to get their money back. Upper limits of roughly $2,000 apply in the U.S.
To get a Google Guarantee, you need to undergo Google's screening and qualification process. To learn more about this process, visit the Google Guaranteed page.
Going the extra mile to get your Google Guarantee can help you gain trust and credibility, making prospects more likely to choose your business over any other.
6. What are the benefits of Google's Local Services Ads?
The main benefit of Google's Local Services Ads is that you can book new leads with less effort. Here's how:
Reach new customers. Your business appears at the top of Google when locals search for the services you offer.
Establish trust. New leads feel confident booking your services when they see the Google Guaranteed badge next to your business.
Control your availability. You decide how many bookings to accept, and at what times during the week, so you never have more appointments than you can manage.
Convert leads faster. Any time of day or night, customers can learn about your services and book a time that works for them.
7. How much do Google's Local Services Ads cost?
One of the best things about Local Services Ads is that you control the cost. You can decide to spend $500 per month to start, or $50. How much you spend depends on how many leads you want, how big your budget is, and the average cost per lead in your industry.
Google does not list the exact cost per lead but mentions that the cost varies based on the job, industry, location, and lead type. That said, according to Google Local Search Expert Tom Waddington, you can expect to pay anywhere from $5 to $130 per lead, with an average cost of around $23.
Here's a breakdown of Local Services Ads lead cost by industry:
HVAC – $26
Plumber – $24
Electrician – $17
Garage door – $19
Locksmith – $11
Carpet cleaning – $21
House cleaning – $19
The good news is, with Local Services Ads, you have a lot of control over your spending. When you create your ads, you'll set a weekly budget and a monthly maximum.
You may end up going over budget during the week to be able to accept more leads, but Google will not let you exceed your monthly maximum. This way, you can keep the leads flowing and still control costs.
If you realize you're frequently reaching your monthly maximum before the end of the month, and you have the capacity to take on more leads, you can expand your maximum – just remember to go slow.
8. What do I need to get started?
To get started, you'll need to do the following:
Check that your location is eligible
Undergo the screening and qualification process which involves a background, license and insurance check
If you use Jobber, you can also get started directly from your account.
9. How can I make my ad stand out?
Not all ads are created equal. Google will display your ad higher based on the following factors:
Radius: add in all the relevant zip codes you serve. The closer you are to a lead, the more likely you are to show up.
Reviews: ask for reviews on every job. The more and better reviews you have, the more likely you are to rank.
Responsiveness: answer as many calls and requests as you can.
Relevance: add all relevant job types and verticals.
Differentiators: highlight what makes your business special (ex: 'family-owned', 'eco-friendly'). Add photos of your team, examples of jobs, etc.
Business hours: set and maintain your business hours to get accurate leads.
10. Can I dispute charged leads?
Yes. Here's how to dispute a Local Services Ads lead in Google:
Step 1: Visit your lead inbox on your desktop
Step 2: Choose the menu icon found in the top right-hand corner
Step 3: Click "Dispute"
Step 4: Pick your reason for the dispute from the options listed. If yours isn't listed, contact Local Services Ads support.
11. Should I hire an agency to manage my Local Services Ads?
Local Services Ads are easy to manage compared to other types of digital advertising, even if you're just starting out. If you have a bit of time to experiment, we recommend setting up your first ad without an agency. Just make sure you set a low budget and start with a small campaign.
If you're ready to start a bigger campaign, or you'd like to manage Local Services Ads along with Google Ads, Facebook, and Instagram ads, then you can look into using an agency or assistant. But don't rush to it, and don't think you need to pay the most expensive agency to see results.
12. How do I book jobs from Local Services Ads?
If you're using Google's Local Services Ads on its own, you'll need to manually respond to leads in order to book jobs.
If you use the Jobber + Google Local Services Ads integration, customers can book an available time in your calendar directly from the ad. No phone calls, no messy back and forth.
Here's how it works:
A customer searches on Google for the services you offer.
The customer books an available time in your calendar, right from your ad.
You receive a new booking notification in Jobber.
You assign the work to a team member.
Originally published October 2019. Updated May 2021.