"We've jumped up to $5,000-6,000 per day."
"Before Jobber, our goal used to be running $3,500 per day, and we've now jumped it up to $5,000 to $6,000 per day because we're just so much more organized."
---
Job Management
Track every job detail and reduce chaos in the field
When you're on a job, there's no room for guesswork. Jobber gives you access to all of the job and client info you need, when you need it. You'll get peace of mind and be more confident in what you do.
Attach photos to jobs so you know which trees to service
Field techs can access work orders via the app
Keep everything organized online – no paper, no wasted time
Learn More
Client Notifications
Customer service that sets you apart
Take your business to new heights with consistent communications that impress clients, prove your expertise, and help you get more work orders.
Send on my way text messages and appointment reminders
Attach before and after clean-up photos to invoices
Send automatic follow-up emails to collect feedback and reviews
Accept more jobs online, after business hours with work requests
Learn More
Jobber separates us from the competition.
"Jobber helps us separate ourselves from other companies because it allows us to offer exceptional customer service. It's something we pride ourselves on and that puts us ahead of the competition."
---
Quoting and Payments
Get more jobs and make payment a breeze
Jobber helps you get paid more, and faster, through one seamless workflow. Create professional quotes on-site or in the office and easily follow-up with quotes that haven't been answered so you can close more deals. Then, accept payments online with Jobber Payments.
Track and follow-up on unanswered quotes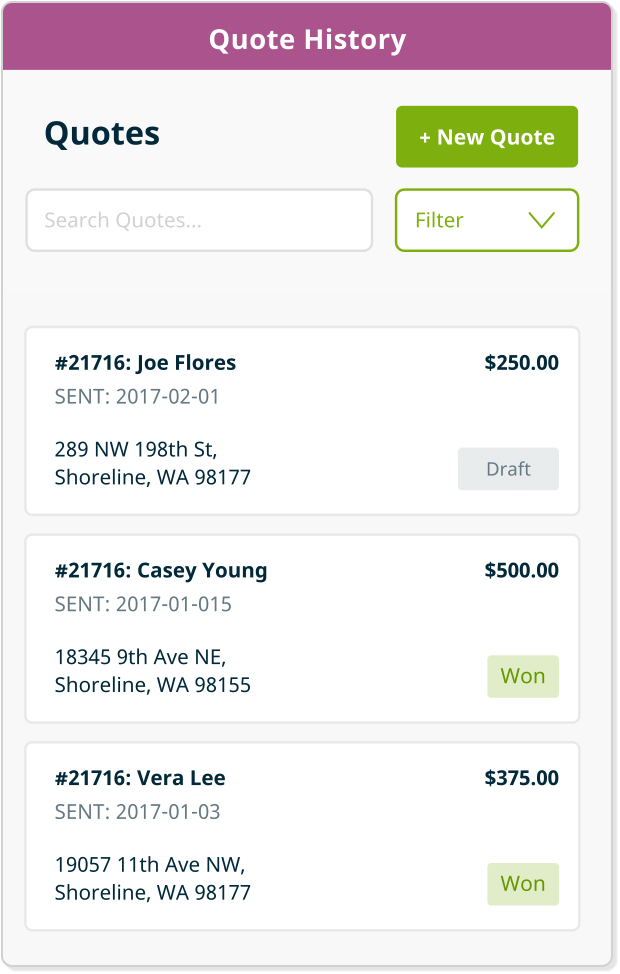 View all quote, invoice, and payment history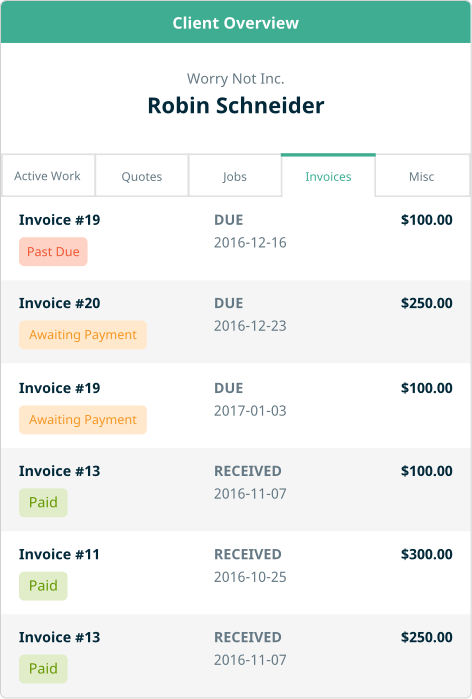 Scheduling and Routing
Keep track of your team and plan more efficient routes
Whether you've got multiple crews to manage or multiple site visits in one day, Jobber helps you keep track of your team's exact whereabouts and plan optimized routes to cut down on transit time.
Easily assign jobs with a drag-and-drop calendar
Optimize your route to fit more site visits into one day
Notify your crew of schedule changes with the Jobber App
Eliminate double entry with QuickBooks sync
Learn More
Client Manager (CRM)
Keep important info from falling through the cracks
There's more client and property information to keep track of with each passing season. With Jobber, your tree service business will be more organized, which means you'll look even more professional when interacting with your clients.
Fully customizable CRM works with your business
Record client preferences, safety hazards, tree damage, etc.
Tag clients with recurring work to market during off-peak seasons
Offer clients 24/7 access to quotes, invoices, and comments with Client Hub
Learn More
Jobber is the benchmark system for a reason.
"The system is very slick and logical to me. There's no messy paperwork, and it gives us more brain space. It reduces phone calls from customers by at least a half, and we're much more efficient at processing jobs in Jobber's schedule."
---
Try Jobber for Free
All the features, all the support, and
no credit card required.
INTEGRATIONS BUILT FOR YOUR WORKFLOW
Jobber seamlessly integrates with your favorite apps and software so you can focus on what you do best—running your business.
JOBBER ACADEMY
Free resources to help you run a killer service business. In addition to creating awesome software to help you run your business we also love answering all of your business questions on Jobber Academy.