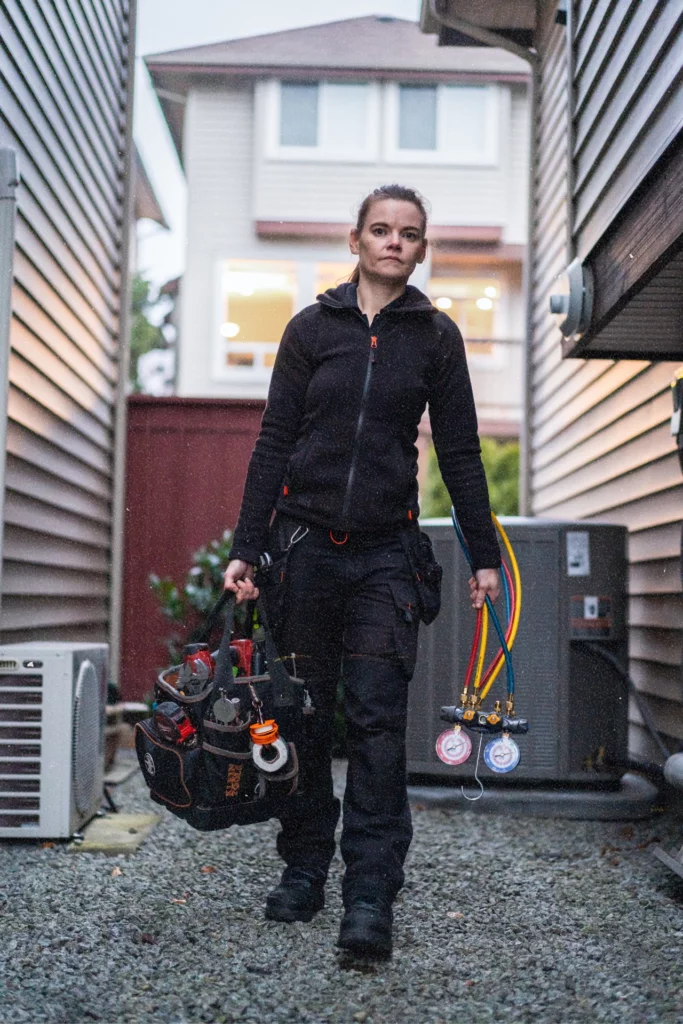 Introduction
Home service businesses fix our leaky roofs, keep our furnaces running, ensure the integrity of our electrical systems, and do hundreds of other jobs that keep our homes and offices safe, and comfortable, and in good working order.
Working in industries ranging from pressure-washing, landscaping, and residential cleaning, to specialized trades such as plumbing, HVAC, electrical, and tree care, these tradespeople possess highly valuable skills that are often taken for granted and overlooked as viable career options by parents and society at large.
The United States is in desperate need of more tradespeople with the construction industry alone facing a deficit of more than 500,000 workers.1 In fact, skilled-labor shortage is one of the biggest challenges facing the U.S. economy.
With the aging housing market and high interest rates discouraging new supply, demand for home service is only expected to increase as homeowners hire home service pros to maintain their homes.2 That gap is expected to widen even further as older workers retire, industries evolve, and the volume of federal dollars flowing into new infrastructure projects across the country increases.
Historically, the path toward a career in the trades has been portrayed as a much less desirable option to a four-year college degree, perpetuating the misconception that earning potential and entrepreneurial prospects are limited. We surveyed 1,000 U.S.-based high-school and recent post highschool aged individuals (18-20) to assess whether this thinking still exists, and if this demographic has considered the trades and/or vocational training as a career path3. This report also investigates the impact of artificial intelligence (AI) on the job market and whether this generation recognizes the stability that blue-collar occupations offer.
There is a significant stigma associated with vocational schools and trades and it's clear that parents are contributing to this.
74% of respondents say that there's a stigma associated with going to a vocational school over a traditional four-year university.
79% of respondents say their parents want them to pursue a college education after high school and only 5% say the same about vocational school.
What high school graduates want for their careers isn't necessarily what their parents want for their children.
75% of respondents say they are interested in exploring vocational schools that offer paid, on-the-job training.
Job security was identified as the most important factor for selecting a career by respondents.
When it comes to AI, 56% of respondents believe that "blue-collar" jobs have more job security than "white-collar" desk jobs.
High school graduates demonstrate a lack of understanding when it comes to the earning potential of certain home service industries.
The majority of respondents don't believe that tree maintenance, landscaping, residential cleaning, and plumbing businesses can earn over $1 million in revenue per year, but this is not the case. For example, 60% of tree care businesses and 65% of landscaping businesses earn $1 million per year.
Gen Z is looking for entrepreneurial opportunities that home service businesses provide whether they realize it or not.
Nearly two-thirds of respondents want to start a business at some point in their lives and 11% already have.
41% of respondents are most interested in starting a business that either doesn't require formal training or has low upfront costs. Residential cleaning, power washing, and lawn maintenance businesses are examples of home service careers that fit this criteria.
The survey findings illustrate that Gen Z is still heavily influenced by parents to attend a traditional four-year college, but are also interested in exploring vocational schools that offer paid, on-the-job training. Their awareness of AI's potential to automate a range of white-collar jobs and apprehensions about managing student debt appear to be shaping this decision. Nonetheless, a knowledge gap exists surrounding the potential income and prospects that numerous trade sectors offer that still need to be addressed within society at large.
The survey also reveals that there is a powerful stigma surrounding vocational school among Gen Z. To redefine perceptions of trade vocations, parents need to inspire their children to explore hands-on vocational paths, and our education systems should showcase the practicality of these career routes within their curricula. Without this support, children will not only miss out on valuable opportunities for fulfilling, well-paying, and satisfying careers but the skilled-labor shortage will be further exacerbated putting the future of our economy in jeopardy.
"

I was 20 when I became a plumber and started Impetus Plumbing & Heating at 23. Today we employ six people and generate more than $1 million in revenue annually.

"

"As a young business owner, I have a significant advantage over my competitors because I've embraced technology to automate the backend of the business, which allows me to focus on getting jobs done.

Vocational programs are a great way to get your foot in the door with hands-on experience. My advice is to lean into learning a new skill, do the hard work that's required, and in the end you become a master at the craft."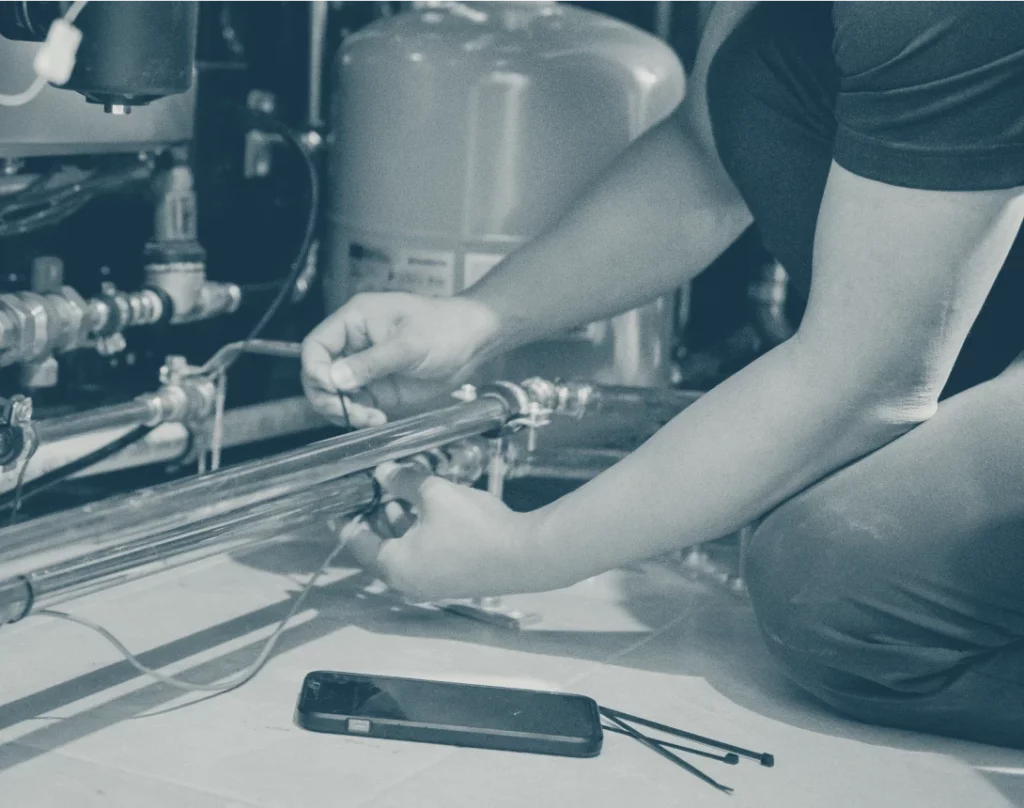 Breakdown of Key Findings
Most high school graduates are interested in exploring careers in the trades but there's a stigma associated with vocational training.
The overwhelming majority (74%) of Gen Zers say that there's a stigma associated with going to a vocational school over a traditional four-year university.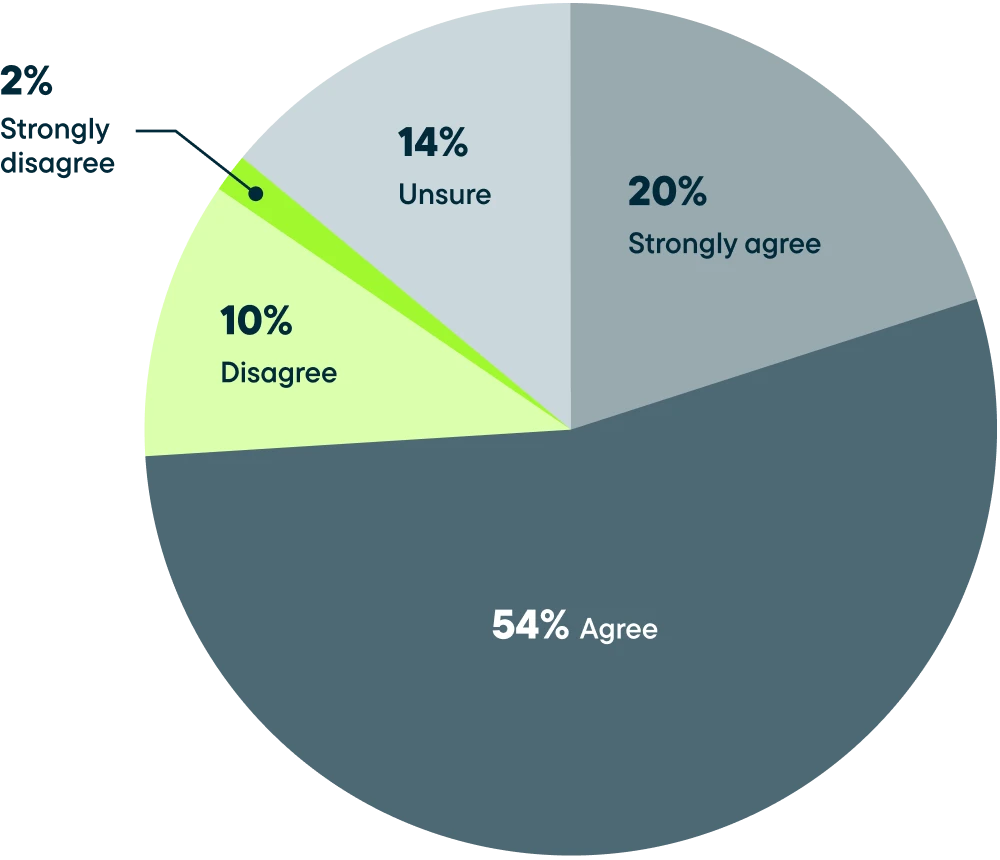 In fact, nearly four-in-five (79%) respondents say their parents want them to pursue a college education after high school, which is a stark contrast compared to the 5% who say the same about vocational school.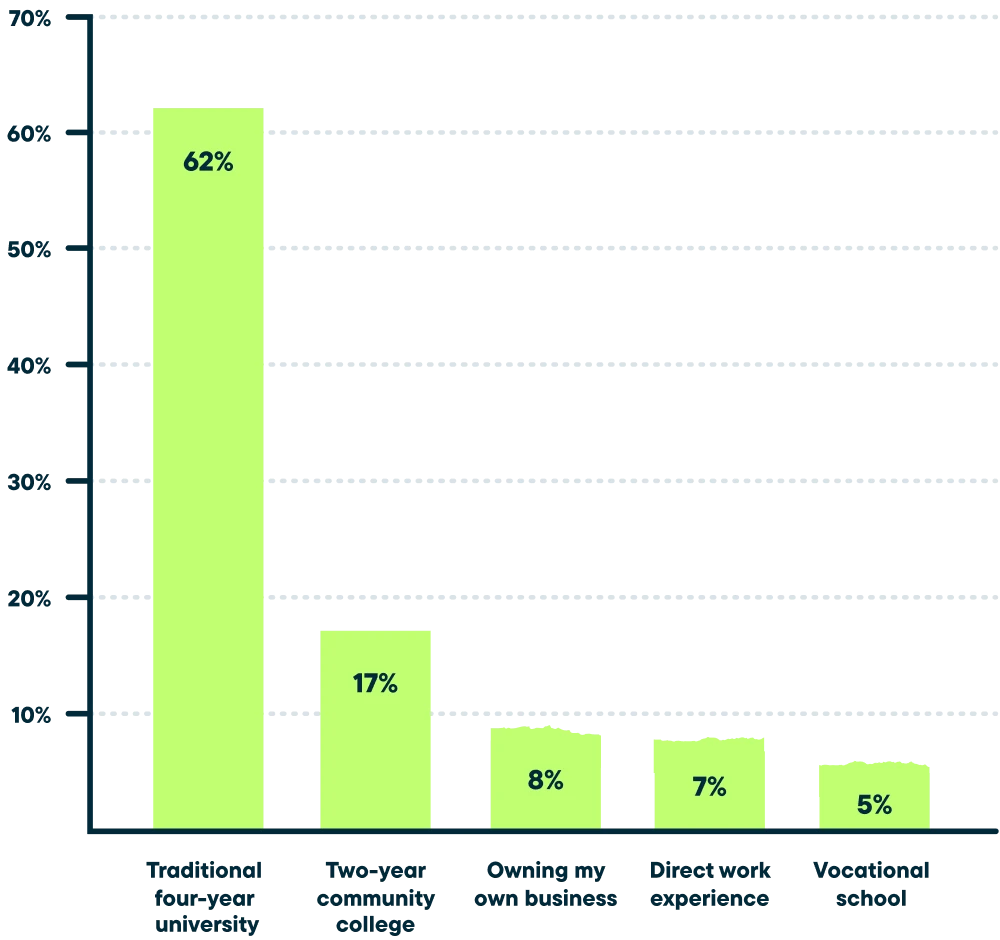 Interestingly, three-in-four (75%) respondents note they are interested in exploring vocational schools that offer paid, on-the-job training. This discrepancy points to a lack of education on the part of parents around the opportunities and benefits of working in the trades.
"

My dad is a refrigeration mechanic and my younger brother followed in his footsteps right after high school, but as a woman, the option was never presented to me.

"

"After joining my dad's company, Cam Cool Refrigeration, I worked in the office for about nine months until I spent a few days out in the field and realized that I had an unexpected passion for the trade myself. I registered to be an apprentice and never looked back. I love working as an HVAC technician, I just wish I had tried it sooner. Every day there's a new problem to solve, so I'm constantly learning. It's a great career that will challenge you and reward you with a great feeling of accomplishment and of course, the money isn't bad!"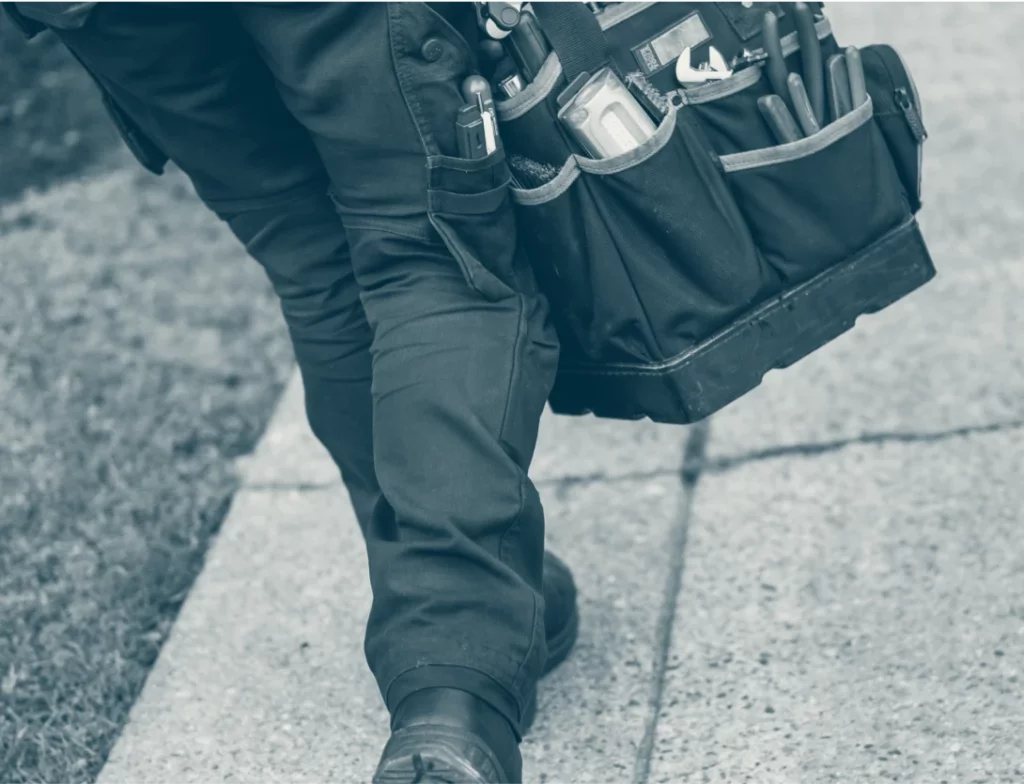 Gen Z is a generation of entrepreneurs looking for opportunities that align with home service businesses
Gen Z is a generation of entrepreneurs. Nearly two-thirds (63%) want to start a business at some point in their lives, while another 11% already have.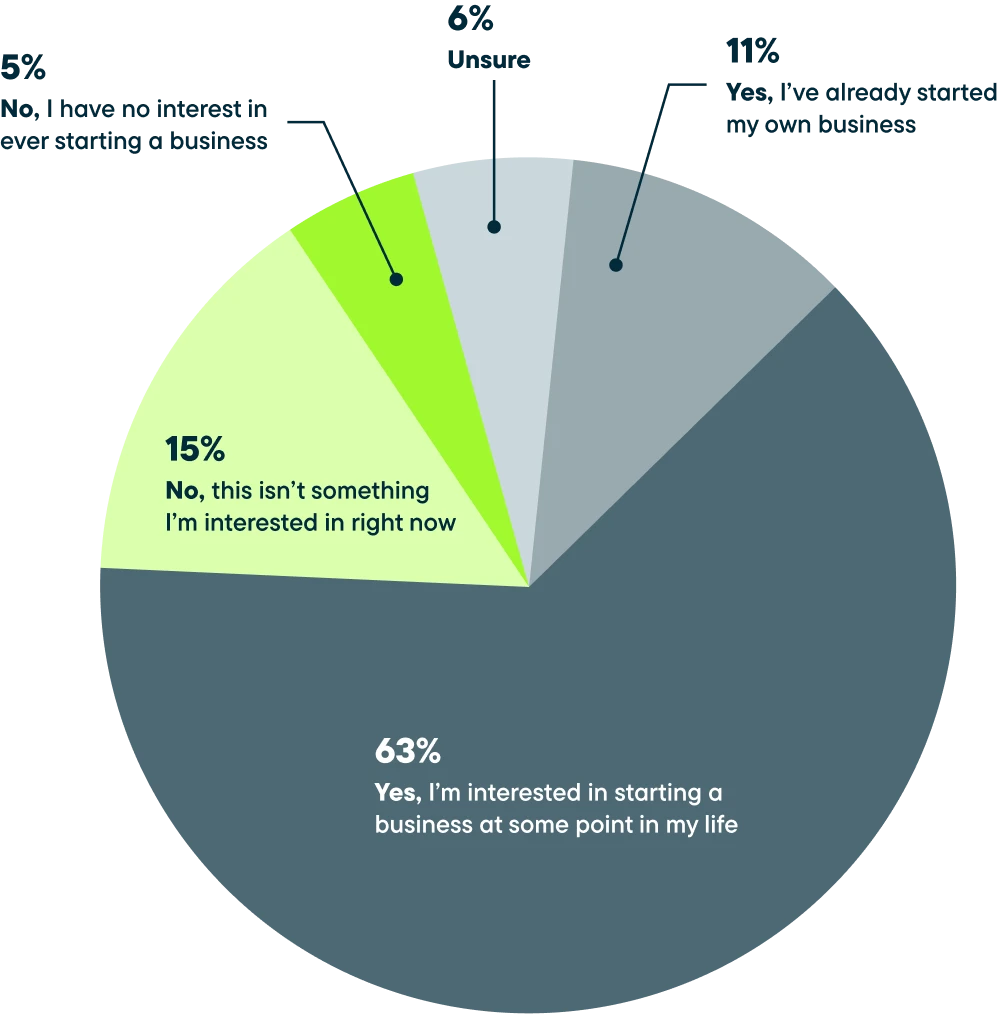 Gen Z is most interested in starting a business that either doesn't require formal training or has low upfront costs (41%), followed by another 35% that would pursue a business that requires a significant financial commitment initially. Women (45%) are more likely to pursue businesses that require no formal training and/or little upfront costs compared to men (36%).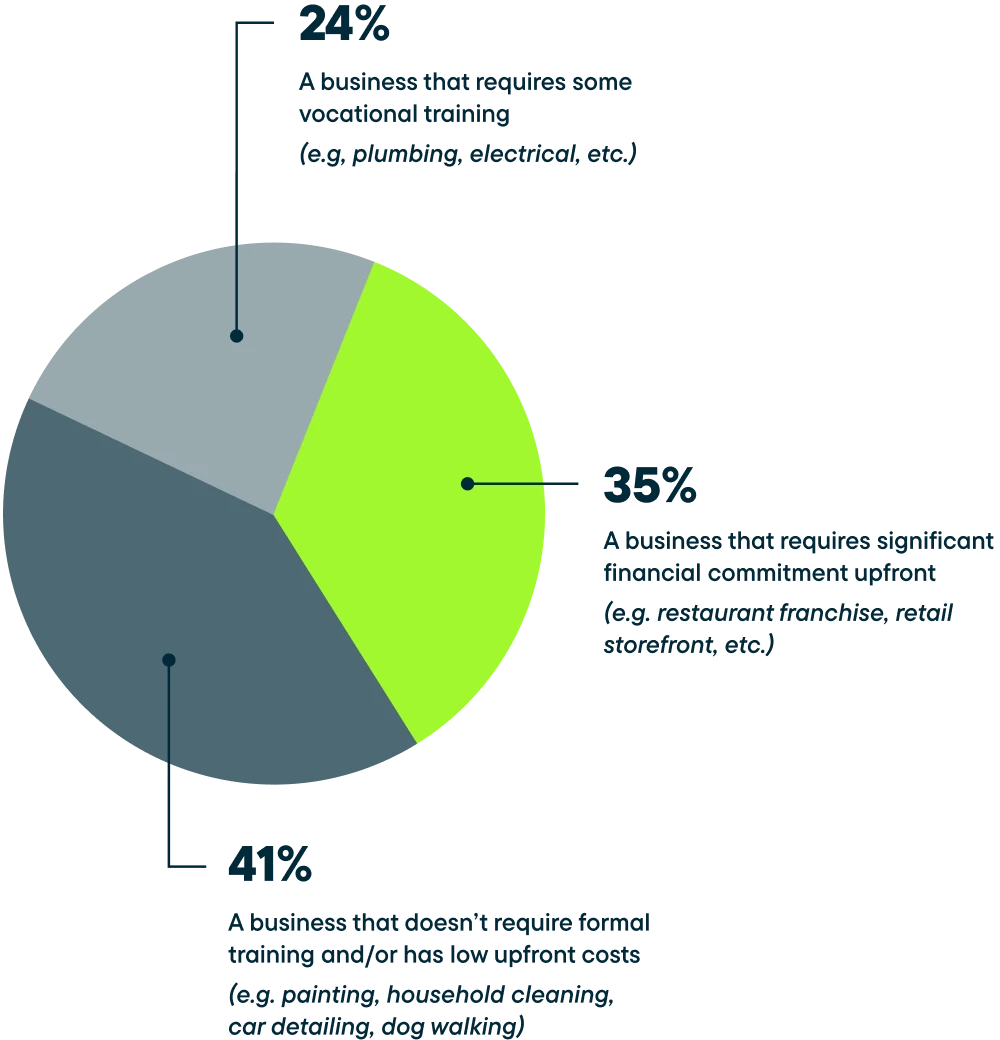 Job security (27%) and the opportunity to be your own boss (28%) are the top two most important factors when selecting a career path for Gen Z. Additionally, another 22% are seeking the fastest path to the highest potential earnings.
Unlike most white-collar work where a four-year university or college degree is required, blue-collar work provides rich opportunities for entrepreneurship that allows individuals to start their own businesses with low startup costs and overhead, and little to no formal education.
"

I was 13 years old when I started my lawn care and landscaping business, using my dad's tractor to transport myself from job to job. When I turned 16 and got my driver's license, I worked on my business full time.

"

"Focusing on that instead of going to college allowed me to build a muti-million dollar venture in a few short years—while my peers are just now graduating college and trying to find jobs and paying off their student debt.

If you invest into a blue-collar business, you can make hundreds of thousands in profit per year and grow into millions. It's truly an endless opportunity for young entrepreneurs. The feeling of accomplishment, putting in a lot of hard work to transform my clients' properties, is also incredibly rewarding. My biggest piece of advice for starting a business like mine is to just start. Stay focused on what you learn and what works and double and triple down on it."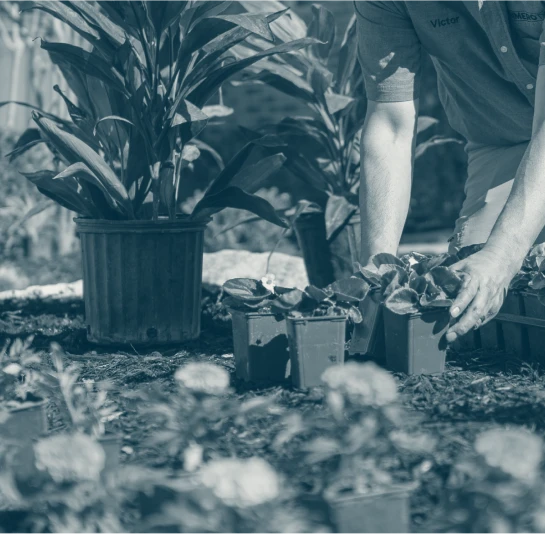 Many home service businesses that fit Gen Z preferences are perceived to generate less revenue annually than they actually do
While the majority of Gen Z believes it is possible to generate more than $1 million in revenue per year by owning an HVAC business (56%) or a construction business (68%), the majority of respondents report the exact opposite for many other trade businesses. Respondents say it is not possible to generate more than $1 million annually across the following:
Tree maintenance (73%)
Lawn care business (70%)
Residential cleaning business (68%)
Plumbing business (57%)
According to Jobber's data of more than 200,000 service pros, Gen Zers grossly underestimate the earning potential of these five industries. In fact:
Tree care businesses earn $553,405 per year on average and over 60% make more than $1 million each year
Lawn care businesses earn nearly $300,000 per year and over 50% make more than $1 million each year
Landscaping business earn nearly $475,000 per year and more than 65% make more than $1 million each year
Residential cleaning businesses earn nearly $200,000 per year and 35% make more than a $1 million each year
Plumbing businesses earn more than $580,000 per year and 65% make more than $1 million each year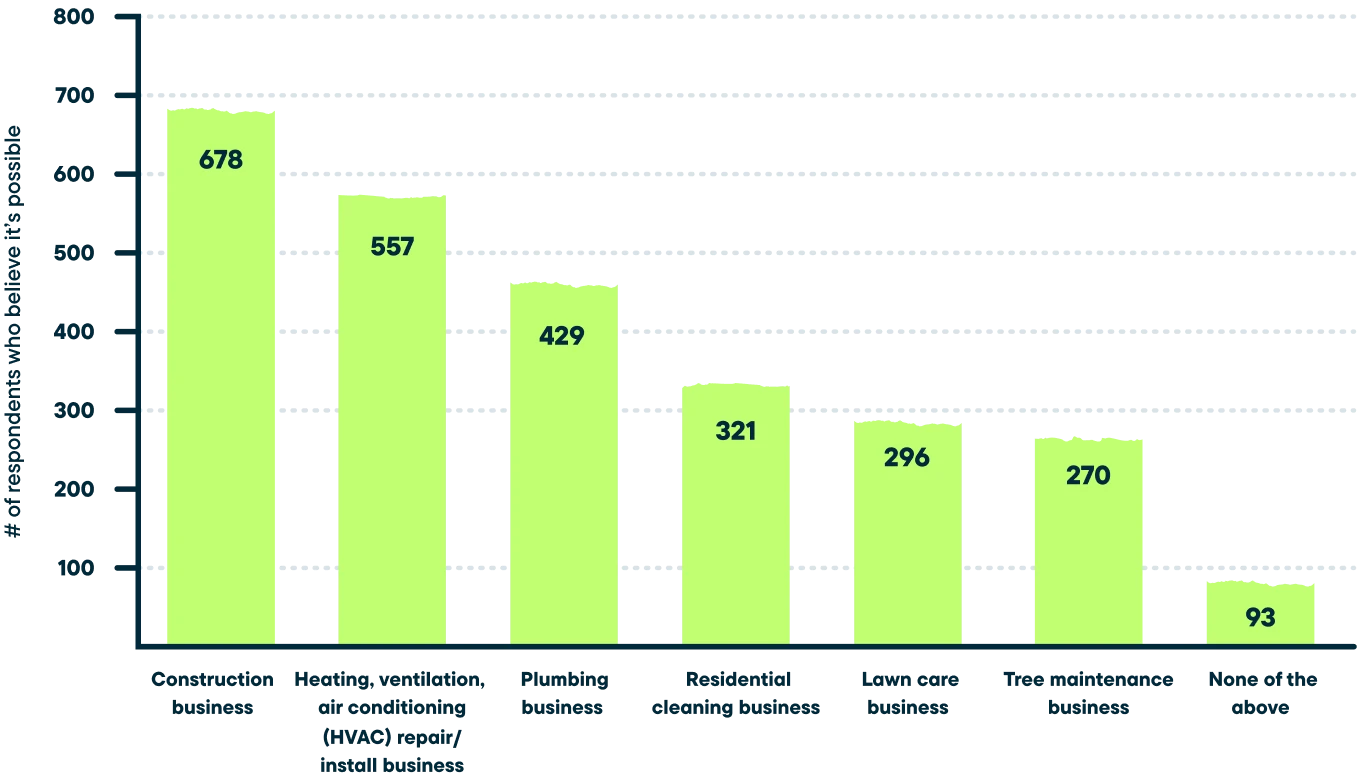 Industries the Majority of Gen Z Identified as Not Possible to Generate $1M in Annual Revenue
"

I had just turned 19 years old when I first started my business, Mobile Car-Detailing.

"

"The equipment and supplies came out to around $2,500. Starting my business gave me hands-on experience right out of the gate and afforded me the opportunity to work for myself, make my own schedule, and explore the possibility of building my own empire long-term.

Starting a blue-collar business like mine can be very lucrative and will almost never be replaced by AI. I believe there will always be a demand for physical labor jobs completed by real people with expertise in their specific trade."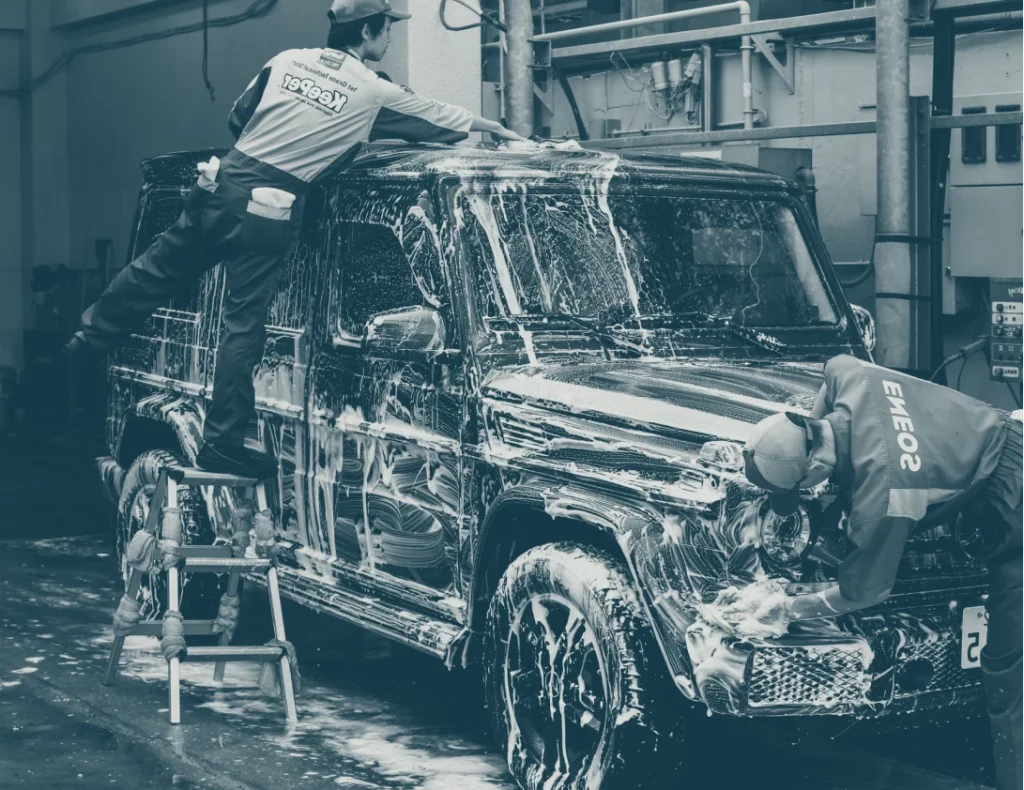 As concerns emerge around AI's impact on jobs, Gen Z believes blue-collar work offers more stability
The rapid advancement of AI has sparked significant discussions about its implications on the job market. While AI has the potential to streamline processes, boost efficiency, and revolutionize industries, it also introduces uncertainties surrounding employment. As AI technologies become more sophisticated, certain routine tasks and jobs are susceptible to automation, leading to concerns about job displacement in sectors like manufacturing, customer service, and data entry.
Over half (56%) of Gen Z believes that "blue-collar" jobs have more job security than "white-collar" desk jobs. In fact, just 18% of respondents say they think "white-collar" jobs offer more job security.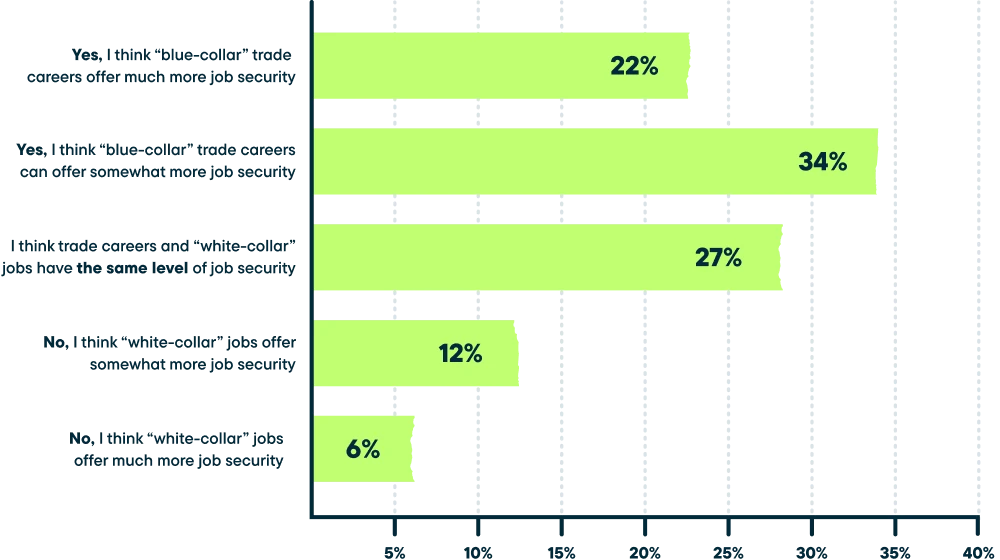 The survey results are consistent with a recent report from Goldman Sachs that finds that building and grounds maintenance, a proxy for blue-collar work, is least likely to have AI take over their jobs.4 This means many trades industries are largely immune to the disruptions and continuing evolution of AI.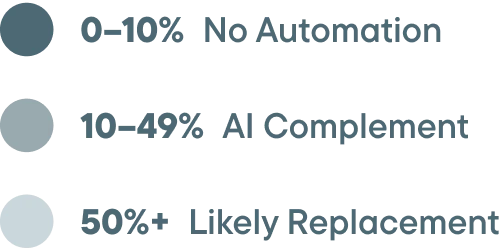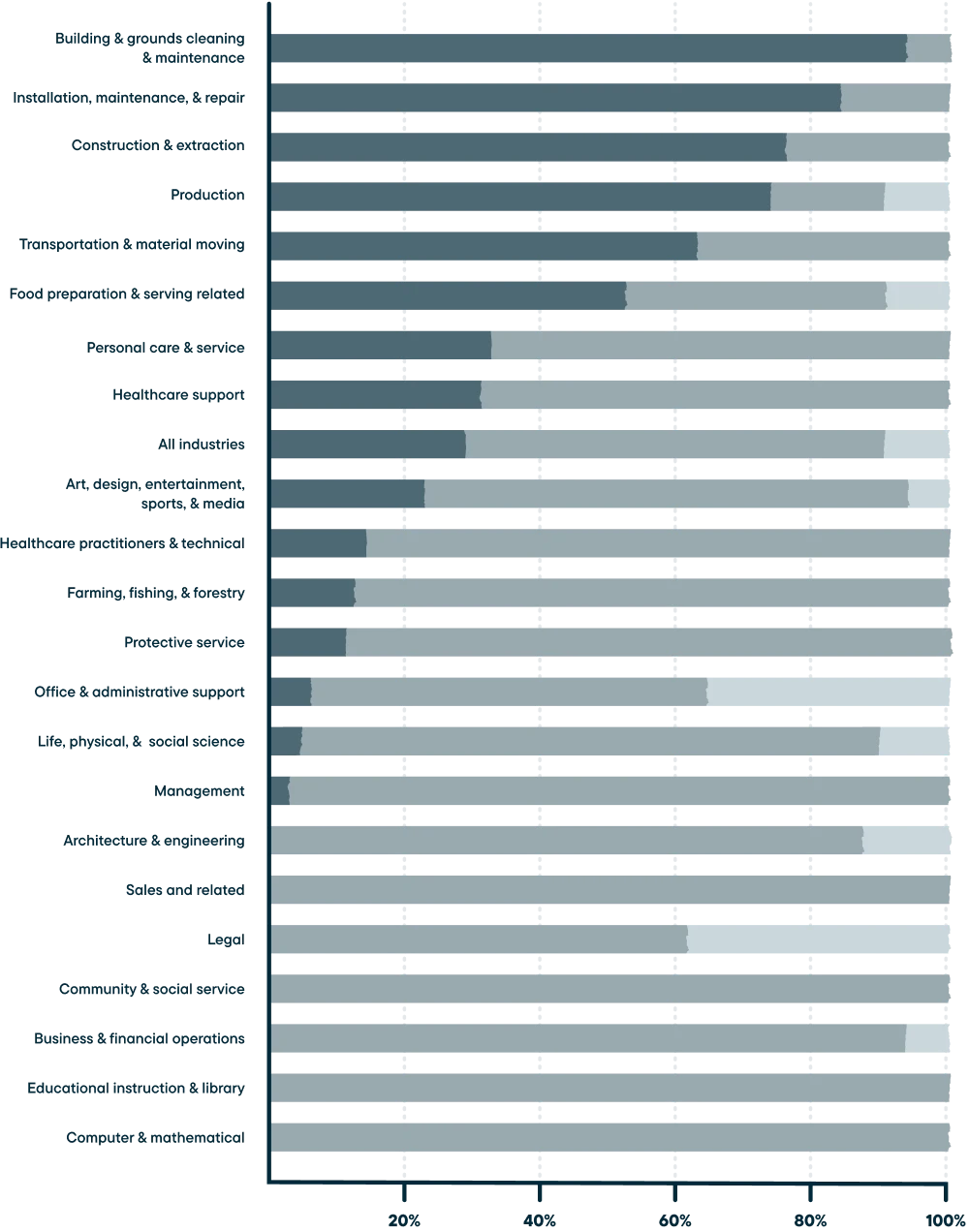 "

I was 18 when I started Enhanced Cleaning Bunbury with just $300. In the first year, I earned around $50,000.

"

"In the third year, it had generated $700,000 with a very healthy profit, and in the next 12 months, revenue will be around $1,000,000.

I chose residential cleaning because of the low barrier to entry and start-up cost, recurring revenue model, and market demand. The idea of completing traditional schooling while collecting debt, just to end up working for someone else where I'd likely have lower earning potential until I retired, didn't appeal to me. I've always had the desire to own a business and build something that I can grow and nurture myself. It's brought me a lot more freedom than I could've ever imagined, and it's shaped me in ways I don't think a traditional white-collar career could have."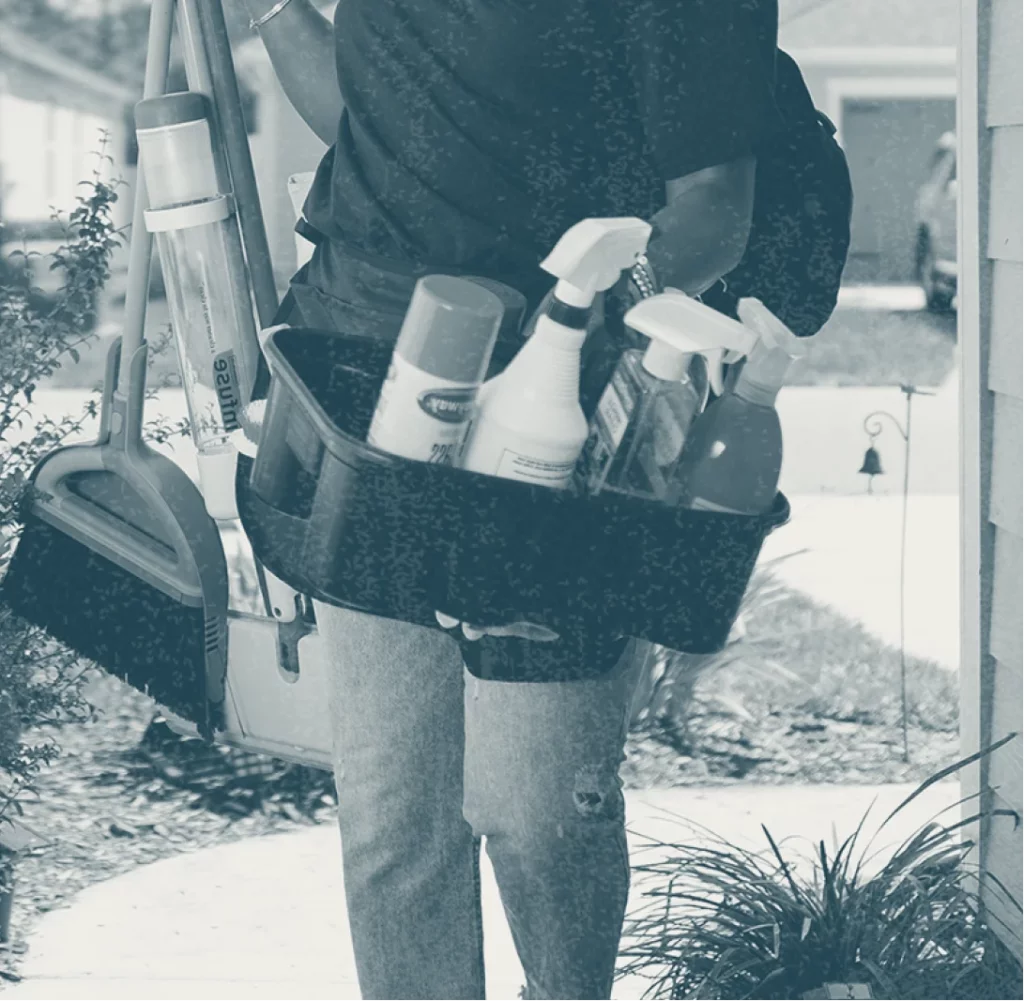 A significant number of Gen Z is concerned about the cost of a college education
The trades provide viable career paths that don't require a traditional college education, saving new grads tens of thousands of dollars in student debt, leading to financial independence at a faster pace. In addition, blue-collar work provides opportunities for a diverse range of individuals, promoting social mobility and reducing educational disparities.

The average cost of tuition at any four-year college is $19,800 per year, totalling $79,200 plus the cost of books, which averages to $1,200 annually, whereas the average cost of a vocational school ranges from about $3,860 to $15,550 per year.5
Among those who took out a student loan, the average debt at graduation is $25,9006 that takes an average repayment time of more than 21 years,7 whereas graduates of vocational school accumulate $10,000 in debt8 but earn between $17-26/hour as an apprentice depending on their location and chosen field, so they can pay off their debt at a faster rate.

Nearly half (40%) of Gen Z plans to pursue a traditional four-year bachelor's degree, but are worried about their ability to repay federal student loans after graduating. However, there's a significant gap between male respondents (33%) and women (47%). Thirteen percent of respondents won't be pursuing a college degree any longer due to concern about their ability to repay federal student loans after graduating, and nearly 20% of respondents have started to look at alternatives to a four-year bachelor's degree, such as community colleges and vocational programs.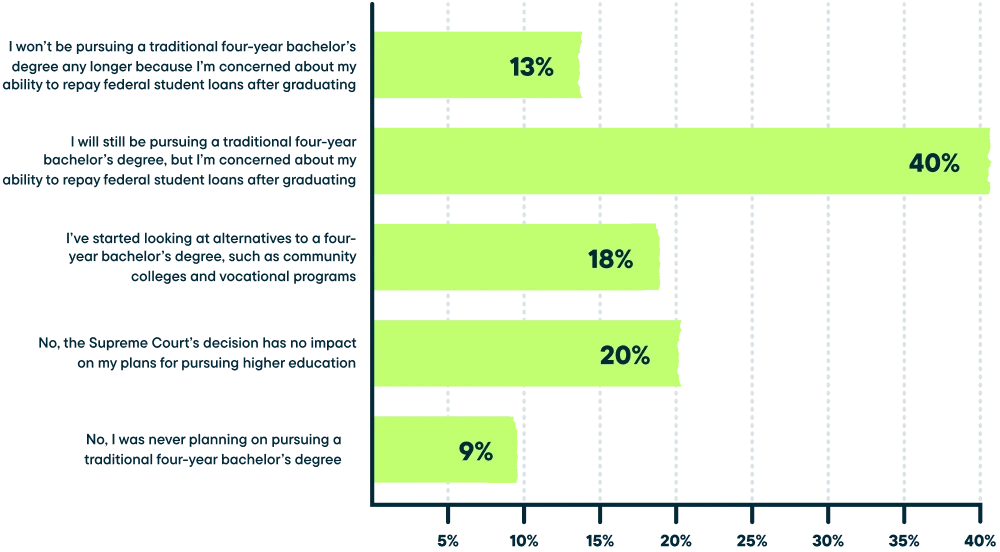 "

I was 19 when I started my business Care Cleaning Services. I chose to start a cleaning business because I saw the potential and need for cleaners in my area, and had confidence that it would grow quickly.

"

"The cost to start my business was around $800 for all equipment and insurance. It is extremely affordable and worthwhile considering the returns.

Cleaning homes and transforming spaces is very rewarding. It gives me a strong sense of accomplishment, especially when working with my hoarding clients. Starting a service business at a young age has also allowed me to set myself up for my future and get ahead. It has made me realize you can do what you set your mind to at any age, and age shouldn't be a restriction."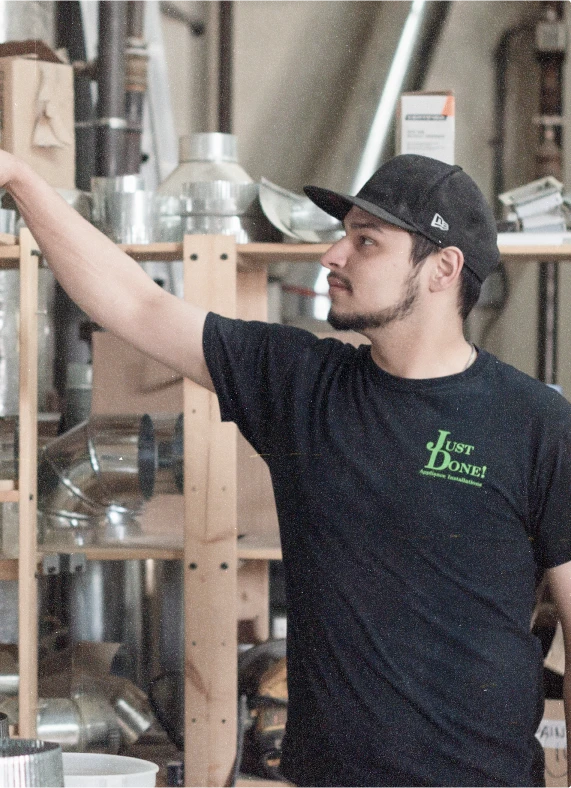 Final Thoughts
The skills of a home service professional are often invisible and taken for granted. As a result of their expertise, everything in our homes, offices, and other physical spaces just work. They are the backbone of our communities and are essential to building, maintaining, and repairing the critical systems and structures that form the foundation of modern life.
The data from Gen Z shows that home service careers check many of the boxes that they are looking for, from job stability to high earning potential and a clear path to entrepreneurship. However, it's been devalued as a career option for young adults by their parents.
The stigma around vocational school and learning a trade must be removed. This career path has traditionally been presented as a Plan B to a four-year degree and underpinned with the perception that earning potential and entrepreneurial opportunities are far more limited than what they are. The thinking around pursuing a career built around a trade needs to be shifted at an institutional and parental level.
To counteract the stigma around trade careers, families should encourage young people to pursue hands-on career paths, our educational systems need to demonstrate the viability of these career paths, and the general public needs to celebrate the contribution of tradespeople and home service companies.
The bottom line is this: more work needs to be done to educate society on just how valid and valuable a career in the trades is or we risk jeopardizing the future generation of job seekers, homeowners, and the economy at large.
Methodology & Data Sources
1) The construction shortage metric was sourced from a press release issued on February 3, 2023 by Associated Builders and Contractors (ABC).
2) The aging housing stock metric was sourced from an article published on February 6, 2023 on the National Association of Home Builders (NAHB).
3) The study was commissioned by Jobber and is based on a July 2023 survey conducted by Dynata of 1,000 high school and college-age individuals in the U.S. between the ages of 18-20, and has a margin of error of plus or minus 3 percentage points at the 95% confidence level. Survey responses were weighted to represent a gender split consistent with the U.S. Census.
4) The AI metric was sourced from a report entitled Global Economics Analytics: The Potentially Large Effects of Artificial Intelligence on Economic Growth (Briggs/Kodnani) issued by Goldman Sachs on March 26, 2023.
---
©Jobber 2023. Sharing or republishing of this material in whole or in part must include a credit to Jobber.
For more information, please contact:
Elana Ziluk
Public Relations, Jobber
[email protected] | 1-416-317-2633