Jobber saves us a ton of time
"Jobber saves us a ton of time because I don't have to be on every single job site. It also allows the guys to input materials. They just go through our SKUs, they can add it to the job, and my office manager can see that."
---
Scheduling and dispatching
The fastest, most efficient way to schedule your team
Keeping everyone organized can't be done efficiently from a whiteboard. Easily assign jobs, tasks, or sales calls to nearby team members using Jobber's scheduling and dispatching feature. See when a job is done and ready to be invoiced.
View your team's schedule with 5 different calendar views
Get alerts for rescheduled, cancelled, or completed jobs
Track time in the field with GPS waypoints
Optimize routes to reduce mileage and increase efficiency
Learn more about scheduling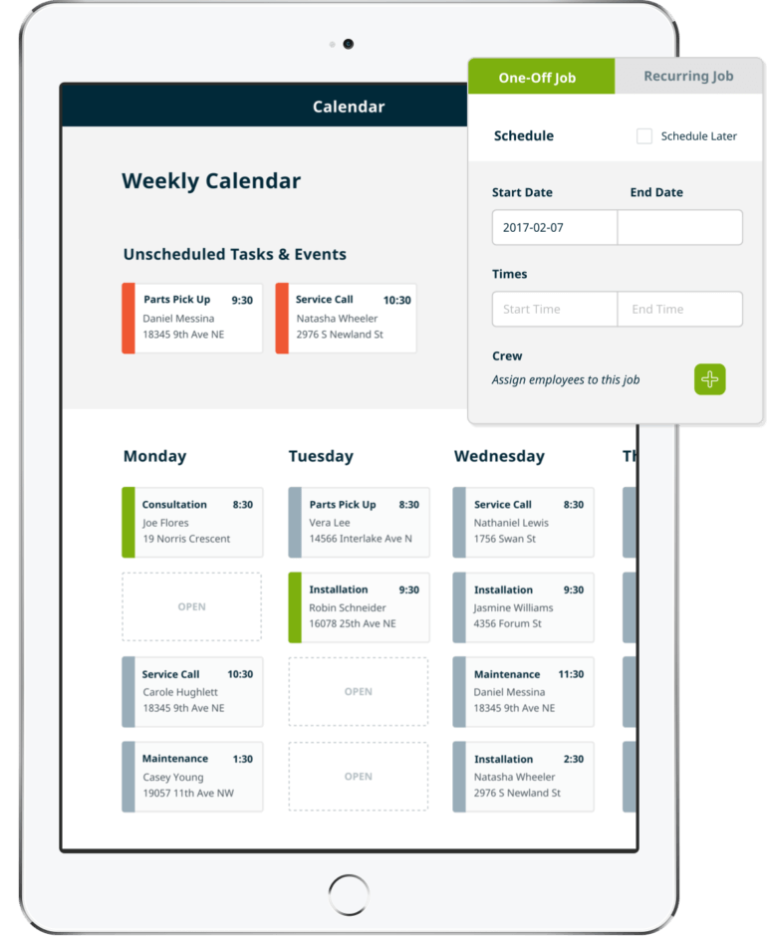 Quotes and Estimates
Book more jobs with fast and professional quotes
If you're not efficiently tracking quotes, you're leaving money on the table. Seamlessly dispatch, create quotes on site, and track quotes online. You'll stay organized, impress clients, and win more jobs.
Include custom fields, materials used, and labor
Add additional charges as they come up
Collect deposits and client signatures
Track when clients open quotes
Convert quotes to invoices without duplicate entry
Start Free Trial
Jobber is the one stop spot that I couldn't live without
"Jobber's scheduling ability has combined three apps we were using before. Running a business gets busy and your mind is taken in many different directions. Jobber is the one stop spot that I couldn't live without."
---
Jobs and Job Forms
Keep your whole team in the know
Jobs can change from day to day. With Jobber's mobile app, you can document important info as it happens, and ensure your team and subcontractors have everything they need to get the job done right.
Custom forms help track progress, labour, and orders
Team-wide access to notes, quotes, emails, and photos
Sync with Quickbooks Online
Start Free Trial
Client Communication
Provide industry leading customer service
Build better client relationships with Jobber's automated customer service features. Your entire team will look more professional, your clients will feel valued, and repeat business and referrals will be a no-brainer.
Send "on my way" text messages and appointment reminders
Send client follow-ups to request performance feedback
Start Free Trial
Invoicing and Payments
Professional invoicing without the effort
After a complex job, don't let invoicing slip through the cracks. Jobber lets you easily convert quotes to invoices, then send and track them with a couple of clicks. Even better, customers can pay online or in person with Jobber Payments.
Track expenses and know who owes you money
Include detailed line items on each invoice
Collect deposits and payments in the field
Integrate invoicing with QuickBooks Online
Start Free Trial
Try Jobber for Free
All the features, all the support, and
no credit card required.
INTEGRATIONS BUILT FOR YOUR WORKFLOW
Jobber seamlessly integrates with your favorite apps and software so you can focus on what you do best—running your business.
JOBBER ACADEMY
Free resources to help you run a killer service business. In addition to creating awesome software to help you run your business we also love answering all of your business questions on Jobber Academy.