Handyman Services List: 20 Handyman Services Your Customers Want [Free Download]
August 16, 2023
6 min. read
As a handyman, your home repair services can vary depending on the needs of your customers and what work you're comfortable doing.
To help you create your own handyman services list, we've compiled some of the most popular services that handymen offer.
Just remember, which services you can and can't offer when you become a handyman depends on the handyman licensing requirements in your state.
Try offering these handyman services:
Furniture assembly
Clients who purchase some-assembly-required furniture don't always want to do the work themselves. You can offer to assemble furniture like desks, tables, chairs, beds, shelves, and more.
Drywall repair and maintenance
Drywall maintenance and repairs—like patching a hole, repairing a nail pop, or even removing old wallpaper—are all tasks that you can add to your handyman services list.
Interior and exterior painting
Applying interior or exterior paint and stain doesn't just mean that you recolor walls. It also refers to anything else a client might need you to update, like wood furniture, baseboards, doors, decks, or fences. Aside from applying a new coat, you may also need to strip old paint or make small repairs to surfaces before you get started.
Minor plumbing
Some common plumbing-related services that handymen offer include fixing leaky faucets, installing new bathroom hardware like faucets and shower heads, and removing or applying caulking in bathrooms and kitchens.
Minor electrical
As a handyman, you may choose to offer minor electrical work. This could include installing home security cameras and equipment, and upgrading or changing smoke detectors and carbon monoxide detectors.
Babyproofing
Handymen can be a big help to new parents who don't have time to baby proof their home themselves. You can help with tasks like installing outlet covers and safety locks, setting up baby gates, and anchoring furniture like dressers and bookshelves.
Light fixture installation
Installing new lighting fixtures often requires some rewiring that homeowners aren't comfortable doing themselves. Consider offering installation services for lighting fixtures including; recessed lighting, track lighting, ceiling fans, or under cabinet lighting.
Tiling
Tiles are common in kitchens and bathrooms as flooring and backsplashes. Handymen often install, repair, and maintain tiles, including cleaning and applying grout and caulking.
Pressure washing
Pressure washing can dramatically improve the look of a home's exterior. If you have a pressure washer, you can offer your pressure washing services to clean decks, stairs, driveways, and building exteriors like siding.
Smart home upgrades
Smart home gadgets like video doorbells and thermostats have become increasingly popular. Offer smart home upgrade services to help homeowners properly setup, install, and mount these appliances.
Fence and gate repair
Fences and gates need repairs and upkeep to stand the test of time. As a skilled handyman, you can offer services to build and install exterior gates, repair broken fence panels and posts, install decorative fences and borders, and replace latches.
Carpentry
Some of the minor carpentry tasks that you may provide as a contractor include building bookshelves and interior storage solutions, replacing doors or adding pet doors, repairing or installing kitchen cabinets, and replacing or repairing baseboards and window or door trim.
Window coverings
Many handymen offer window covering services, such as installing blinds, curtains, and other window coverings.
Door hardware installation
Sometimes property owners want to install new doorknobs and handles as part of a remodel or upgrade. Other times, they want to install new deadbolts and locks for security purposes. These are all things that you can help with as a handyman.
Senior home upgrades
Some senior-specific home upgrades handymen can help with include walk-in tub installation, grab bar installation, stairlift installation, motion-sensor faucets, and shower seats. You may also be able to assist with ramps and other accessibility projects.
Gutter cleaning
Gutter cleaning can be tricky for homeowners who don't have the time or the right equipment. This service can include removing debris, fixing clogs, making repairs, and cleaning out downspouts.
Window washing
Exterior window washing for two- and three-story homes is another straightforward handyman service that you can offer. You may also choose to only wash windows on the ground floor of a home, depending on what you're comfortable with.
Screen installation and repair
Window and door screens sometimes need maintenance and minor repair work, like replacing a screen or installing a screen door. You may also need to patch a tear or mend a frame.
Small appliances installation and repair
If you've got some minor electrical experience, you can offer to install or repair minor small appliances such as microwave ovens, washing machines, or even electric car charging stations.
Picture hanging and installation
As a handyman, you can offer to mount TVs, hang pictures and mirrors, and install art work displays for your customers.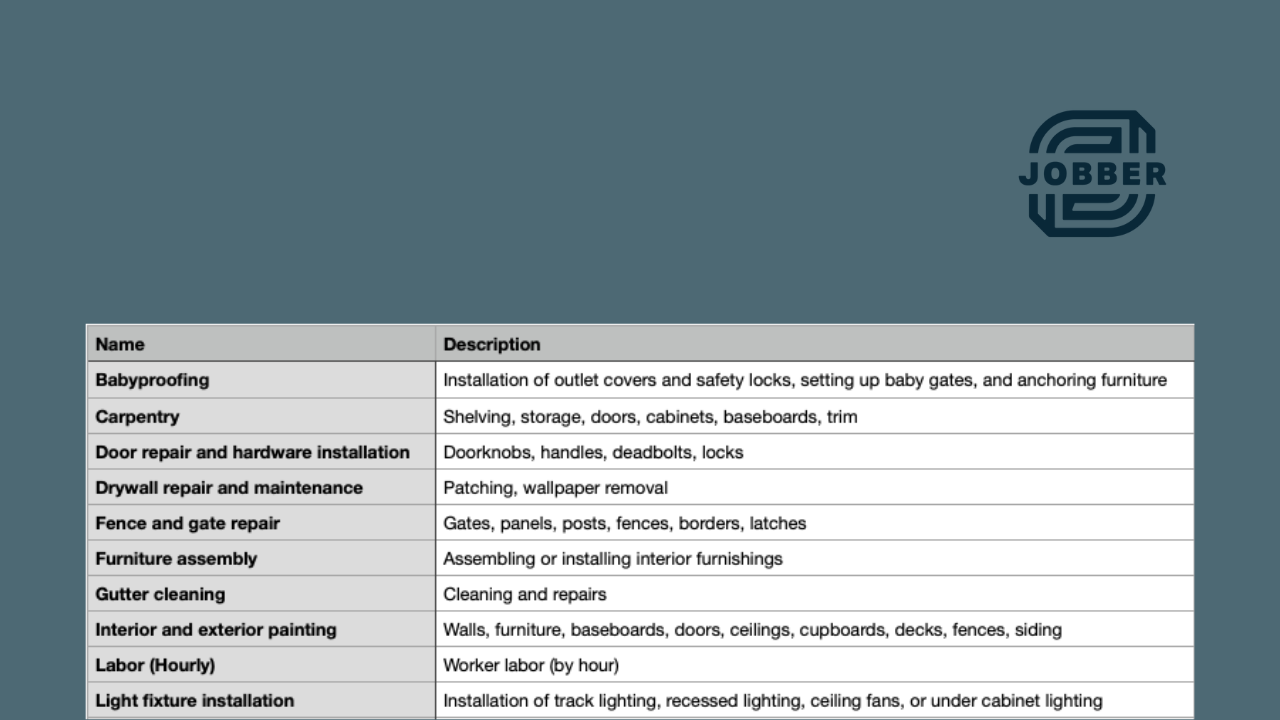 Why use a handyman services list
Using a list to keep track of the professional handyman services that you offer benefits your business in a number of different ways.
Create a consistent pricing strategy
When you build out a list of the services that you offer, you can attach a price to each one. This helps you price jobs between different clients clearly, consistently, and accurately.
It also helps to ensure that you make enough profit for each job that you do.
Provide faster estimates and quotes
When you have a list of services to refer to, making quotes and estimates is as simple as adding items from your handyman services list to your client documents. There's no need to rely on your memory or a scrap of paper.
You can also add complimentary handyman services to your quote as optional line items to win bigger jobs.
Here's what that looks like in Jobber.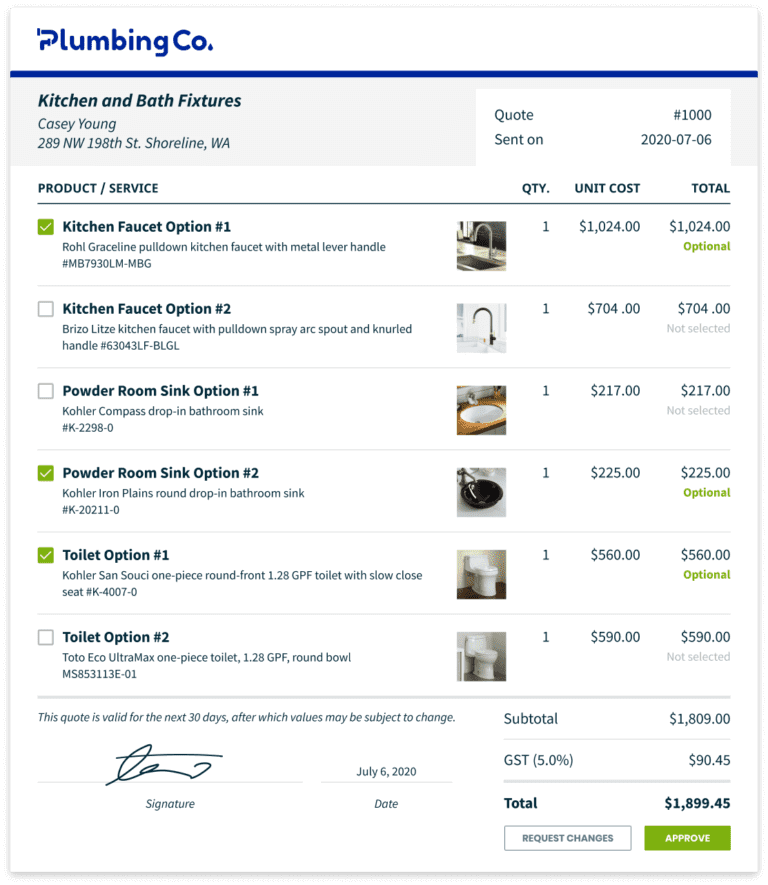 READ MORE: How this handyman business turned online estimates into a competitive advantage
Build a marketing plan
Once you've compiled a list of all the services you offer, you're ready to build an effective handyman marketing plan. You can start by identifying any services that give you a competitive advantage.
For example, if you offer babyproofing and aging-in-place upgrades for seniors but your competitors don't, you can highlight those services in your marketing materials.
Next, consider any seasonal services you offer, like pressure washing or holiday light installation to make sure you're advertising them at the right time.
Offer online booking
Add your services list to your handyman website and let customers book appointments online to fill your schedule with less effort. With Jobber, customers can select the services they want through your online booking page.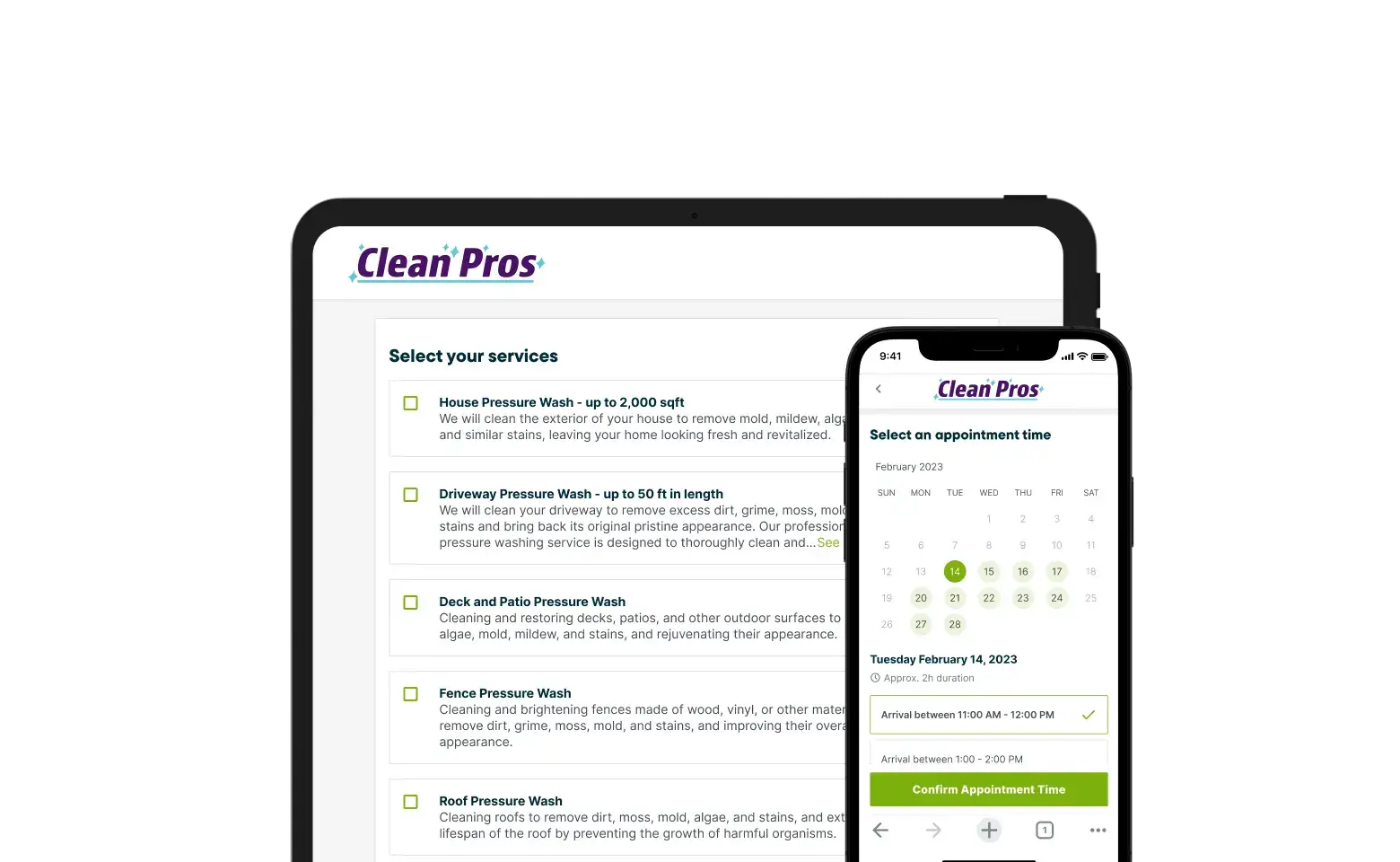 Use our free handyman services list
To help you get started, we've created a complete list of landscaping services that you can download for free and customize with the services your business offers.
Here's how to use it:
Download the CSV spreadsheet to your device and open it.
Update the spreadsheet to include the products and services you offer, as well as their prices.
Save the spreadsheet as a new file (e.g., "Handyman Services Price List").
Use your custom services list each time you price and quote a new handyman job. Or, import it directly into Jobber to quickly add services to quotes, jobs, or invoices.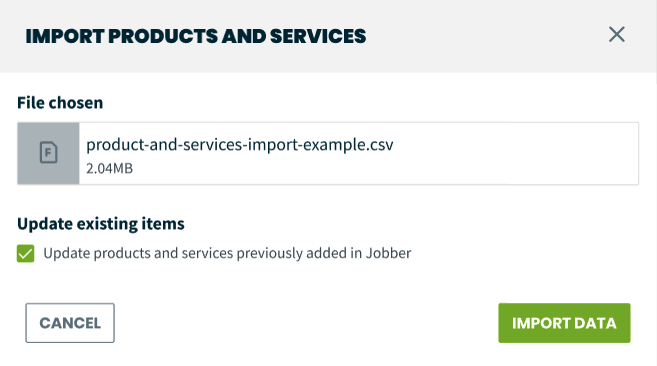 There are many different handyman services you can offer, whether you're just starting your business, exploring new service areas, or expanding into new niches.
Regardless of what odd jobs or home improvement services you choose, make sure they align with your handyman skills and that you have the right tools for the job.
Originally published in May 2021. Last updated on August 16th, 2023.