Managing Your Business
8 Unexpected Service Business Lessons From 2021
January 10, 2022
9 min. read
2021 was a challenging year for many reasons, with COVID-19 being one of the big ones. But you're still hanging in there, and you likely learned a few things in the process.
You're not the only one. We surveyed our community of over 4,000 home service entrepreneurs and ambassadors, and they shared what they learned about running their businesses in 2021.
You can use these lessons to level up your own business in 2022.
1. Raise your prices for profit
Because of supply increases, many business owners raised their prices to avoid cutting into their profit margins.
Erica Krupin (Kroopin's Poopin Scoopin) did the same after evaluating her pricing. "I was charging just enough to get by. If I wanted to level up my business, it needed to start with my pricing."
READ MORE: How to price your services
If you're facing higher costs and lower profits, try these tips to help you increase prices:
Evaluate every service every year, and update your pricing strategies if you need to. Regularly review and rework your budget, too, factoring in supplier costs and your own rates.
Add fees for services that cut into your profitability. This can help you phase out those services or be fairly paid for your time. One example is to charge for estimates.
Explain the price increase to your clients. They'll be more likely to accept the change if they know why it's happening.
Mitchell Gordy (Mitchell's Lawn Care LLC) plans to approach customers with a price increase letter and explain why he's raising prices. "Inflation is a nasty beast, but one we must stay ahead of."
If your schedule is packed but client calls are still coming in, raising your prices will also help slow down the workload without affecting your bottom line. It could even help you give your hardworking team a raise!
READ MORE: What to do when customers say your price is too high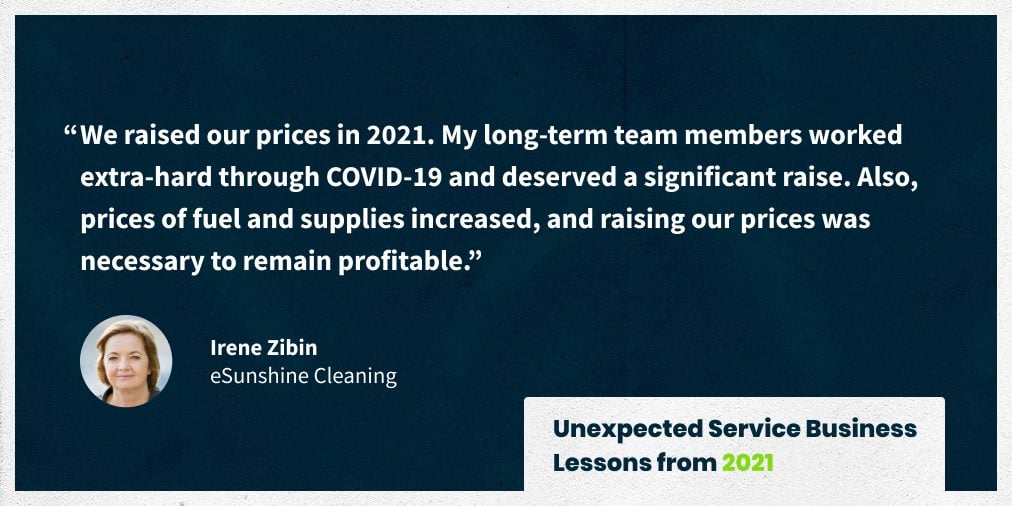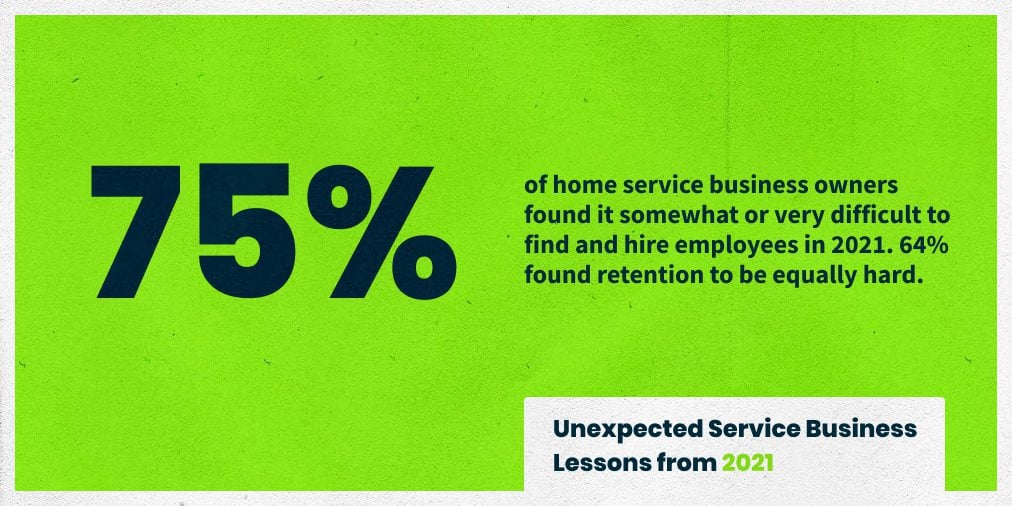 2. Take care of your team
Employee hiring and retention was a sore spot for many business owners in 2021. Some report that the situation is starting to improve, but it's still an ongoing problem for the home service industry.
To deal with this, Daniel Holliday (Grizzly Tree Experts, The Climbing Arborist) recommends looking after staff. "Create a happy and fun work environment. Harder days become enjoyable with a positive attitude."
Here are a few tips to help you hang onto your team—and even grow it:
Find employees for your business using a wide range of marketing channels and tactics, including an employee referral program.
Invest in creating standard operating procedures and staff training. Trained employees are empowered employees, and they'll be more likely to stay with your business.
Reward your team with bonuses and incentives for high performance.
Don't be afraid to fire employees who are dragging down the rest of your all-star team.
Help your employees connect with your business, like Katrina Teeple (Operation Organization): "Keep your team engaged through meetings, chats, incentives, and team bonding. Money is not everything to employees. They want to feel heard and have a place of impact and belonging."
READ MORE: How to build a business where employees want to work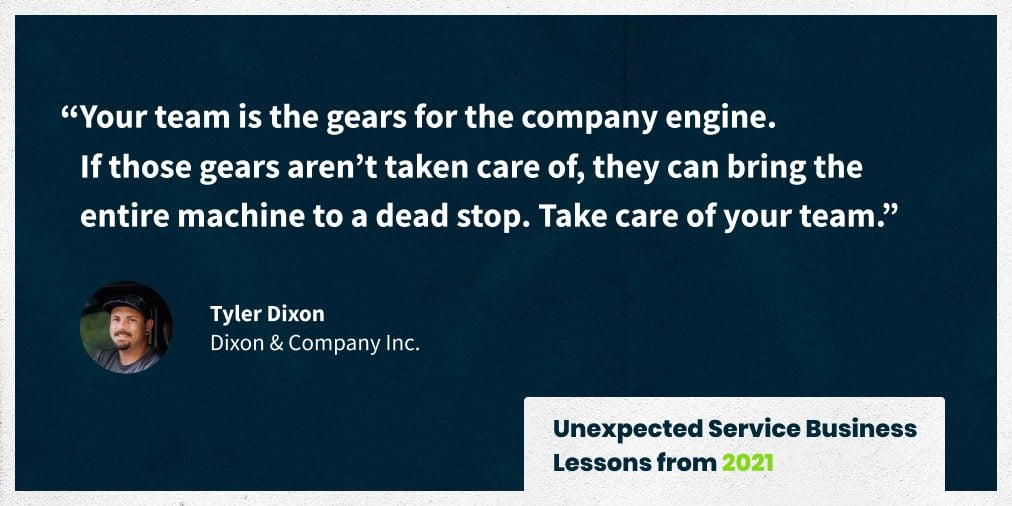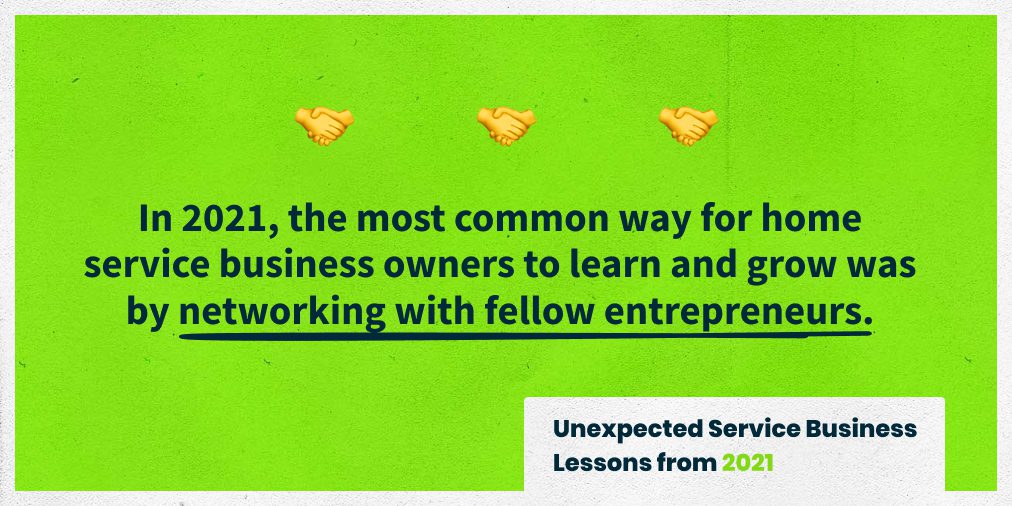 3. Learn from your community
You can learn a lot by listening to and watching what other businesses do. They often do things differently, and you can learn from their experience without having to take that risk yourself.
For Jonas Suchanek (Tree Care India), it's simple: "See how others do things, then take a step back and do it better."
These are just a few ways you can learn and grow while staying competitive:
Network with other home service business owners, both in your industry and out of it.
Sign up for additional training or certification to boost your knowledge and impress your customers.
Listen to podcasts to keep your brain busy while your hands are hard at work, like The Rich Dad Radio Show, The Green Industry Podcast, The Cardone Zone, or Home Service Expert.
Join your local chamber of commerce or other local business association, and attend any industry trade shows, meet-ups, and events.
Read entrepreneur books like The 4-Hour Work Week, The Tipping Point, The Dream Manager, Rich Dad Poor Dad, Traction, The Energy Bus, and Extreme Ownership.
Join the Jobber Entrepreneurship Group on Facebook and connect with other home service business owners who get what you're building.
Tune in online for Jobber Professional Development Day 2022 on Wednesday, February 16. Join thousands of home service pros for a free half-day of learning and networking.
Try to maintain an attitude of constant learning, like Kevin Frost (Fall River Lawn Care). He says, "I spend most of my time studying other businesses to broaden my horizon."
This focus on education and networking can teach you unexpected lessons and help you grow as a business owner.
READ MORE: Professional development resources for home service entrepreneurs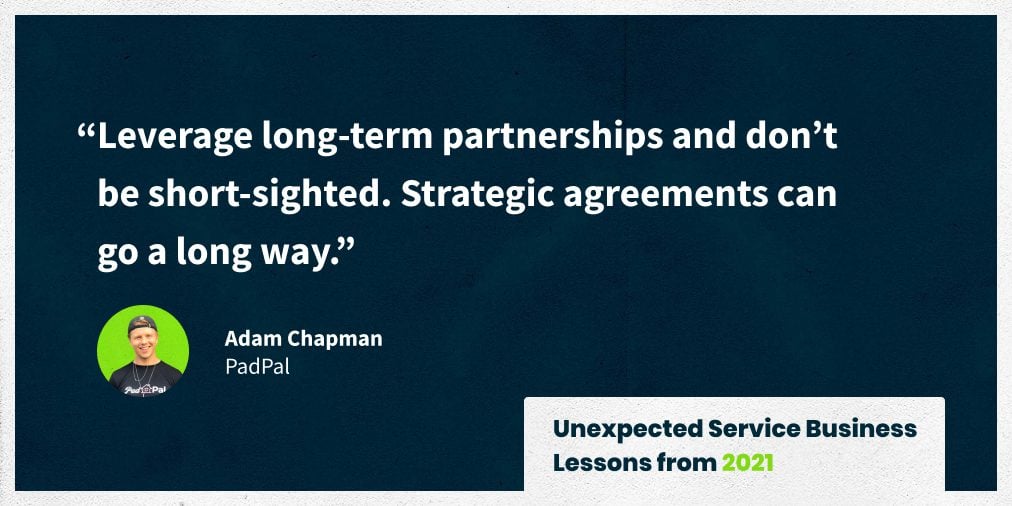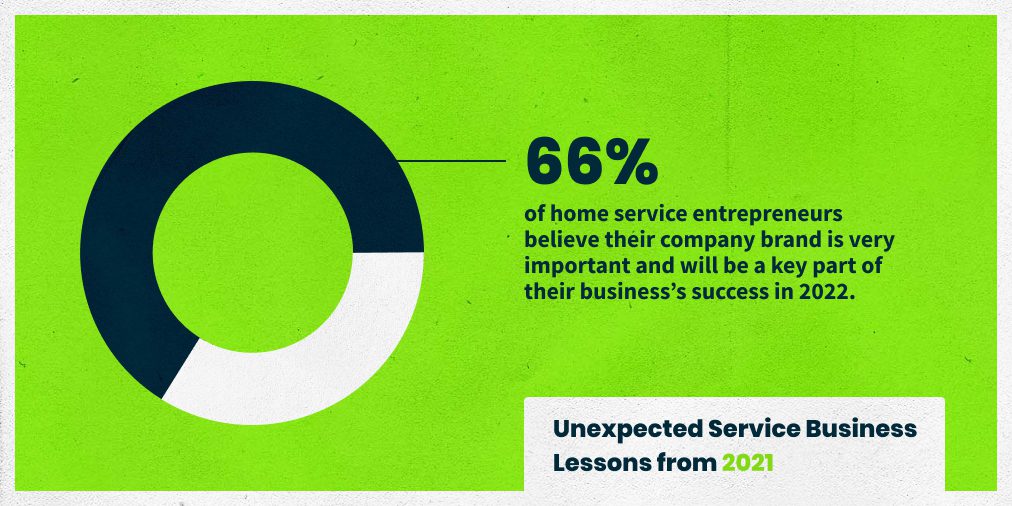 4. Develop your brand
Your business's brand helps clients recognize you, attracts potential employees, and sets you apart from competitors. It's a big part of building a reputation for your company.
John Colaneri (Lilyshea LLC) recognizes that: "My company brand is everything. It represents who I am with my customers."
In 2022, you'll want to focus on building a brand that supports your business and helps you succeed. Here's how to do it:
Take a hard look at your market, identify what you do differently from anyone else, and come up with ways to be different and fill a niche of your own.
Choose a name, messaging, a logo, and other visuals that make you easy to recognize and remember.
Make your marketing stand out with well-designed business cards, postcards, print and online ads, and other materials.
Give back to your community and make your business an important part of where you live and work.
Katrina Teeple (Operation Organization) knows the importance of branding. "My personal and professional brand is everything to our business. Without a clear brand, aesthetic, message, and synergistic team, we cannot be competitive."
With a strong brand in place, you can build up your reputation and become a trusted name in your community's home service industry.
READ MORE: 10 home service business giving back to their communities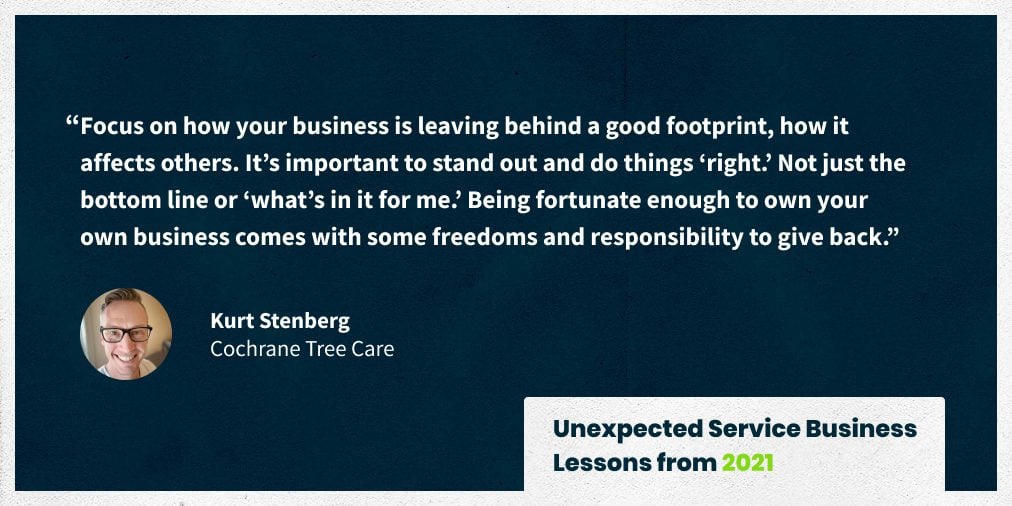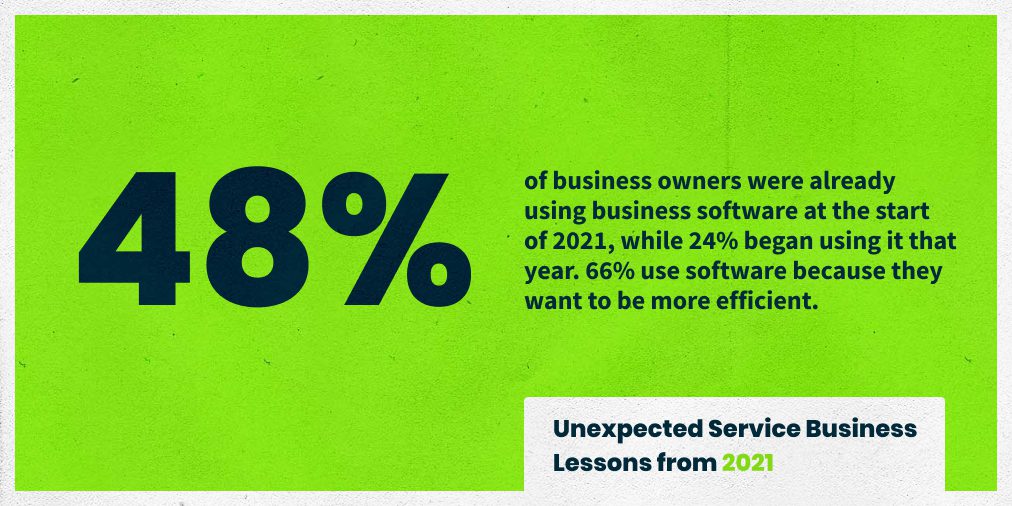 5. Use business software
Already using business software? Great! You probably can't imagine running your business without it.
If you aren't using software yet, start looking into more efficient ways to run your operations using home service business software like Jobber.
That's what Ryaan Tuttle (Best Handyman Boston) does. He says, "Implement as much technology as possible. If you do not systematize your business, you're screwed."
Here are just a few things that home service software can help you do:
Even if you're already using business software, look for opportunities to get more out of it.
Here's what Mike Coffey (Coffey Custom Builds) has planned for 2022: "I'm going to focus on building the systems I have in place to offer consistent service and keep me on track. The smoother my ship sails, the better I can be for my customers."
READ MORE: How to write better customer service follow-up emails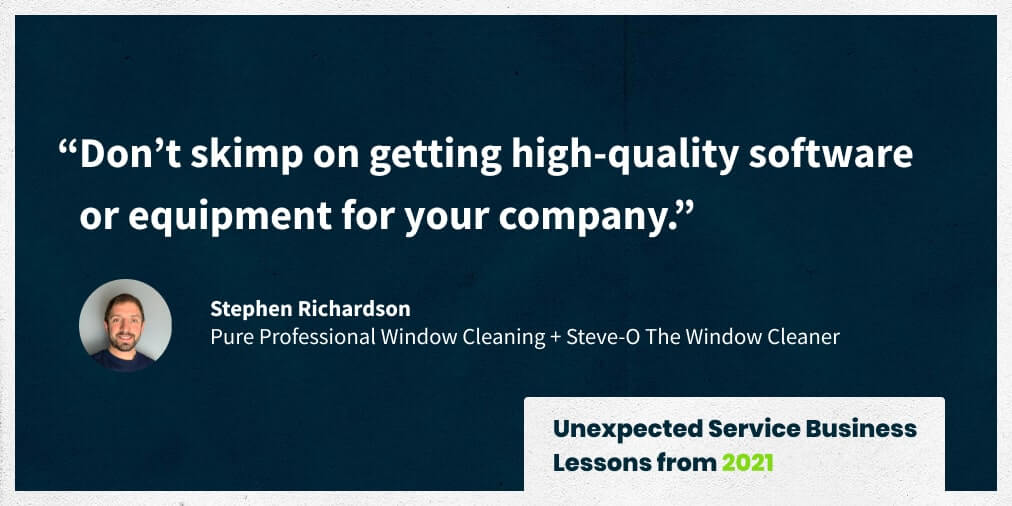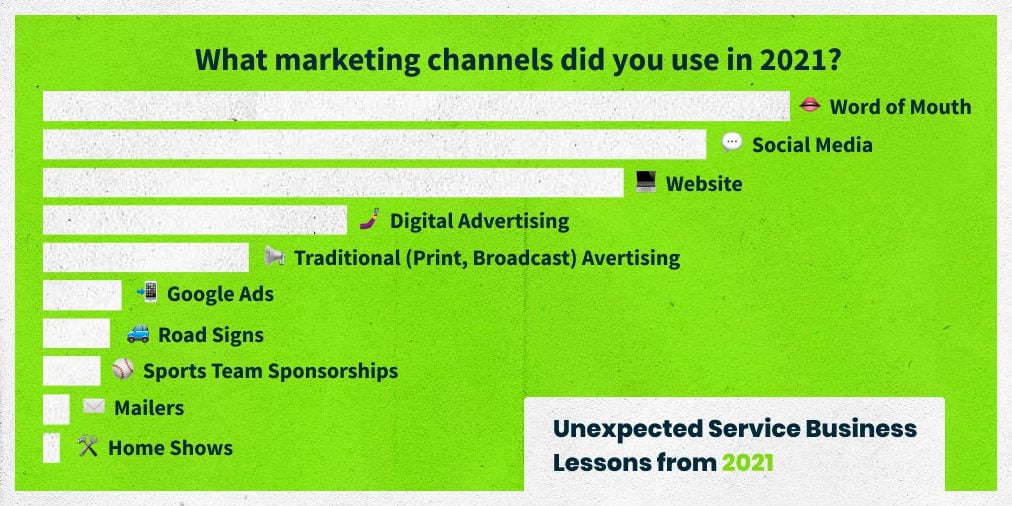 6. Invest in your marketing
Marketing draws in potential clients and gives you the chance to turn them into paying customers.
You might find some marketing tactics are more effective than others, so spend the upcoming year trying new channels and seeing what works best for your business
David Moerman (Revive Washing) keeps marketing even when he's busy. "This year, our seasonality curve was all over the place. Continuing to market your business will ensure your revenue has a speed bump, rather than going off a cliff."
Try these tips to take your sales and marketing to the next level:
Use a lead generation website like Angi, TaskRabbit, or Thumbtack to connect with potential clients who are actively looking for your services.
Spend time speaking with clients on your social media pages and communicate with them through email marketing campaigns.
Set up a Jobber work request form on your website to turn visitors into sales leads.
Create a customer referral program to reward clients for doing word-of-mouth marketing on your behalf.
Upsell your services to get more revenue from current clients. Stephen Richardson (Pure Professional Window Cleaning) says, "Upsell as much as possible to take more off the customer's to-do list and give you a bigger ticket and a happy customer!"
READ MORE: How to ask for the sale (and win the work every time)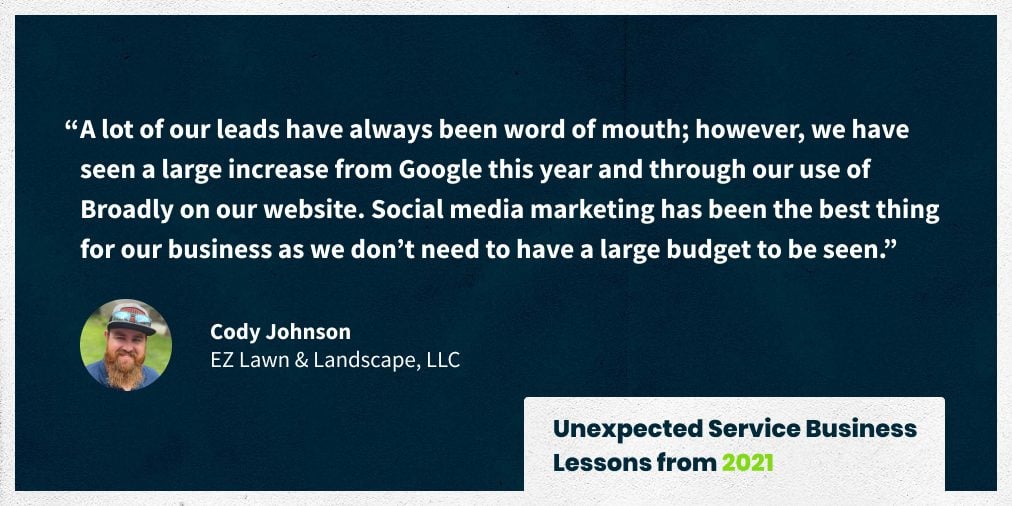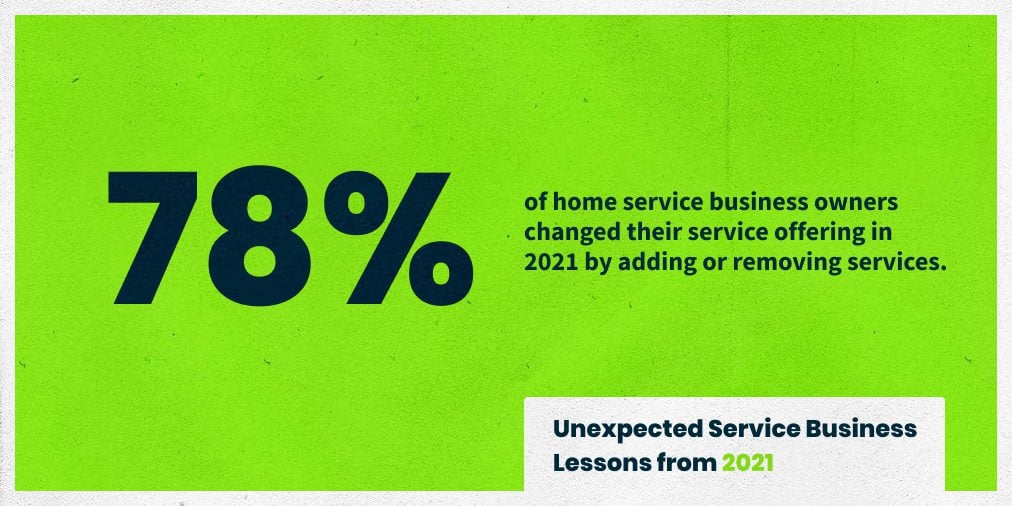 7. Update your services list
A common trend this year was business owners reviewing and adjusting their services.
They might have expanded into new markets and offered their clients different types of work. Or, they might have cut their services list to focus on just a few things they do well.
For Kurt Stenberg (Cochrane Tree Care), 2022 will involve a little of both. "I will focus on local work instead of expanding to greater areas. I want to have enough work but also diversify and start new business ideas."
Here are just a few things to consider when you're reviewing your own services list:
See if your competitors are offering any service that you can offer, too, or if there's a gap in the market that you can fill with a new service.
Expand into seasonal work if you have busy and slow seasons. Some lawn care and landscaping companies switch to snow removal or holiday light installation in the winter.
While you can definitely expand if you're ready, you also don't have to. You can choose to simplify and focus on what you're best at, or what's most profitable.
Chant Singvongsa (Singvongsa Landscaping, Chant's Daily Hustle) has also learned to be choosy about the work he takes on. "Start to say no more on projects that you don't want or don't fit your business model."
Whatever you do, just make sure your services list will help take your business where you want it to go.
READ MORE: 4 ways itemized quotes help you grow your service business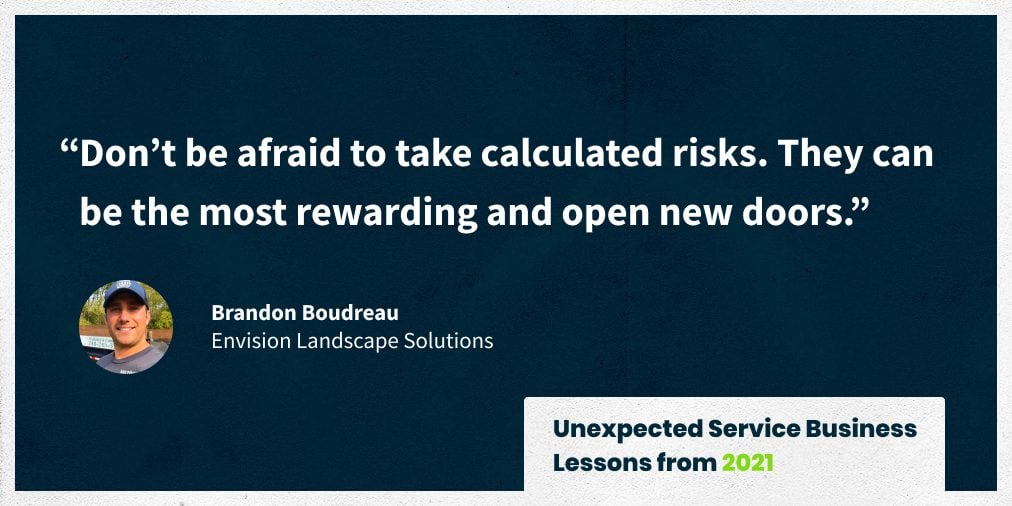 8. Focus on customer service
According to many of the business owners we surveyed, the top way to satisfy customers is to do their best work.
They're not wrong—happy clients keep coming back, and they leave positive reviews that bring in other clients. Unhappy clients, on the other hand, can damage your business's reputation.
That's why Cody Johnson (EZ Lawn & Landscape, LLC) works so hard to maintain high-quality customer service and communication.
Cody says, "We stand out from other companies because we communicate very well with our customers. We answer phones, texts, and emails, and stay on top of requests and quotes."
Try these tips for managing clients and keeping them happy:
READ MORE: Learn how to say no to clients
If you ask Mike Coffey (Coffey Custom Builds), the key to customer satisfaction is: "Do what you say you're going to do. Don't compromise follow-through. Make the customer feel special. To them, it's not just another job. It shouldn't be for you, either."
When you put customer service first, all your other services will fall into place—and you'll be more in demand than ever.