Sales and Marketing
Upselling Techniques: How to Upsell Services Without Being Pushy
November 2, 2021
9 min. read
Upselling techniques are too often misinterpreted as being pushy, but that's simply not the case!
In fact, whether you've recognized it or not, we've all experienced some form of upselling at one point or another. It might've been a restaurant asking you to upsize your meal, or an insurer offering add-ons to your basic coverage.
Businesses use upselling techniques because they work, and both businesses and customers can benefit. With the right techniques, you can boost revenue for your own business with little effort and at no extra cost, while also giving your customers more value.
What is Upselling?
Upselling (or up-serving) is a sales technique where you offer customers more expensive services or add-ons so you can generate more revenue.
This could mean marketing more profitable services, or simply making customers aware of the different service levels you offer.
For example, if you run a cleaning business, you can upsell a customer by inviting them to upgrade from a basic cleaning package to a more premium, deep cleaning package.
⚠️ Upselling is not a pushy sales tactic.
It's about helping your customers.
You got the call because they've already identified they have a problem. Upselling helps customers by offering a better solution to their initial dilemma.
What is Cross-Selling?
Cross-selling is a different but related sales tactic.
In cross-selling, the service provider offers an additional solution that would fit well with the service they're already paying for.
For example, a landscaper may offer a hedge trim to a customer who's just requested a lawn mow.
How to Upsell Services: Six Common Upselling Techniques
Use these six techniques to upsell your services.
1. Offer different levels of service packages alongside each other
Offering three service packages alongside each other can help you upsell by giving customers options with more value. It's known as good, better, best pricing.
By comparing three different services or service levels, your customer gets a clear visual of the value in each package. Just be sure to include a low, medium, and a high-level option to accommodate different budgets.
Consider the lawn care professional who provides three package levels: bronze, silver, and gold. The higher the tier, the more services they offer at higher prices.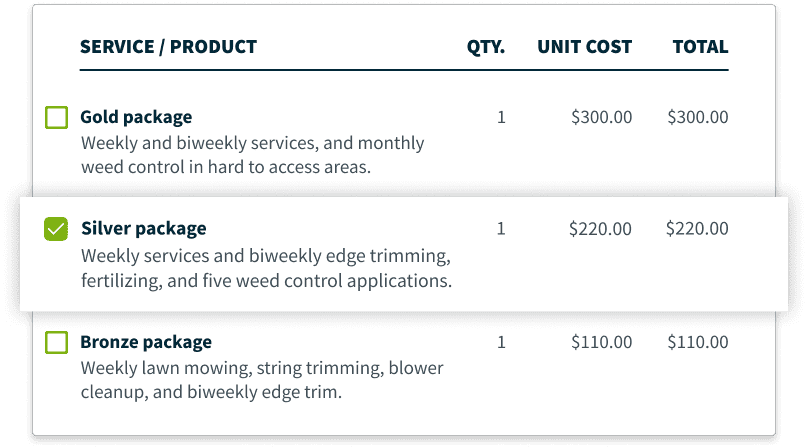 The key with this technique is a strong pricing strategy that encourages an upsell.
For example, if you want customers to purchase your standard package, it should be priced marginally higher than the lite package and offer more perceived value. If you price it too high, customers may opt out and settle for the cheaper option.
READ MORE: 4 ways itemized quotes help you grow your service business
2. Suggest upgrades or additional parts
Let your clients know about additional treatments or part upgrades you can offer.
For example, you could provide a spotless window rinse, a stronger premium part for an appliance repair, or a particular type of fertilizer when mowing the lawn.
There's often no need to discount these add-ons when upselling. It's more a case of letting your customer know they exist.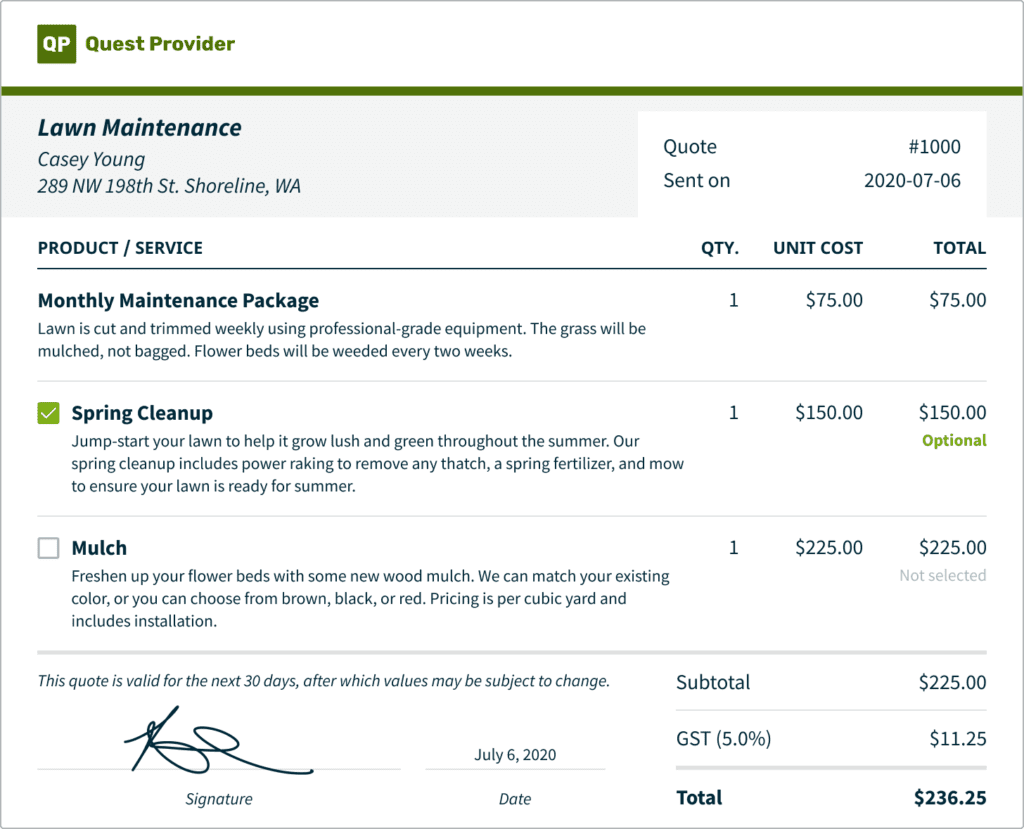 3. Inform clients about all your services
"Upselling indicates how well a business truly understands their customer needs. The six most dreaded words we can hear from a current customer are, 'I didn't know you did that' (as in, I bought it from someone else!). Money left on the table here is the number one reason businesses don't succeed."
— Kevin Simpson, ActionEdge Business Coaching
Sometimes all it takes to upsell is letting your customers know about your new and existing services. After all, if your customers don't know what you offer, they'll hire someone else.
To educate your customers on all of your service offerings, you can:
Keep your social media pages up to date with new and existing products or services
Update your website to include a detailed list of all your services and packages
Using email marketing to introduce customers to new offerings, upgrade options, and more
READ MORE: Win more business with email marketing: the starter guide
4. Expand your services to solve client problems
As an entrepreneur, you're always looking for ways to expand your services and grow your business. Looking at your existing customers' needs is a great way to start.
Are there any other services you could offer that your current customers would benefit from? Has a customer specifically asked for a service you don't provide yet?
For example, after noticing a customer's windows were in bad shape, you may decide to offer screen repairs to upsell your window cleaning service.
Do your homework
Uncovering new service offerings is not always easy or straightforward. In some instances, you may need to do some digging. To get started:
Reach out to your customers regularly to see if there are jobs they need help with
Send a short survey over email to ask what services your customers are interested in
Pay attention when you're working on a customer's property to identify new service opportunities Make sure it's a natural fit with your business and current offerings. After all, a lawn care provider won't be expected to offer window cleaning—and vice-versa
5. Get your team involved in customer upgrades
Your team is the face of your business. They have direct contact with your customers and the job site. This makes them perfect candidates for identifying upselling opportunities.
Then, encourage your crew to get more involved with upselling with these tips:
Train your team to upsell
Have them shadow you at a couple of client meetings to observe and learn. Create a one-page document they can carry with them clearly showing what to look out for.
In that document, include a list of potential upsells to use as a reference. Make it clear that upgrades or add-ons should only be offered as a way to solve a problem (see upselling tips one and two).
Provide them with the right tools
Smartphones or tablets make it easy for employees to send a photo of the upsell offer to your customer right away. This can help your customers make an informed decision faster.
Offer upselling incentives
Incentivizing employees can help get them excited to upsell. Offering a small commission for each 'upsell' could go a long way in getting employee buy-in.
6. Use real-life examples to make the sale
Providing your customers with real-life examples can help validate the upsell. Use testimonials, photos, or any other proof that other customers in their situation found the add-on or upgrade valuable.
For example, if you are installing flooring in a household with kids or pets, provide before and after photos of a scratch-resistant option used for a similar customer.
Upselling Tips and Best Practices
Chances are, you'll rely on different upselling techniques in different scenarios. Regardless of what approach you use, maximize your efforts with these best practices.
Speak to your customer's original need
Your customer came to you with a specific need in mind. Address this problem in your upsell. Offering totally unrelated items may come across as pushy or too assertive.
Let's say an HVAC customer called you to clean their vent system and you notice some broken or old parts. A good upsell would be to replace those parts. Don't try to sell them a whole new air conditioner.
Learn to problem-solve with upselling
As mentioned above, upselling is more than just a sales tactic. It's a way to help your customers even more.
When a client calls you, it's because they need help solving a problem.
You're in a position to help them solve or eliminate a problem, so keep that in mind and upselling will come naturally.
If adding on an extra service will extend the life of their fridge, keep their hardwood floors shiny longer, or keep their office windows spot-free, then let them know! Chances are they'll say yes, and thank you for making their lives easier.
Get your timing right
An upsell doesn't have to happen while your customer is booking their service. Keep upselling in mind before, during, and after every job.
Before a job: Use the initial phone call to investigate the customer's problem. Ask probing questions to determine all possible solutions. Once you have an idea of additional services you can offer, include them as optional add-ons to your quote, so your client can decide for themselves. Remember: you're the industry expert. Your customers will appreciate your knowledge and insight.
During a job: It's often easiest to upsell your services on the job site. Here, you're working with your customer's issue hands-on and can see upsell opportunities more clearly. Maybe you're clearing snow and come upon an icy hazard that needs additional attention. Or a routine HVAC maintenance job reveals a faulty part.
After a job: Saw something on a customer's property that needs more attention? If you can't get approval for the extra parts or labor during the job, use your invoice to complete the upsell. Attach a photo or note to their invoice, or send a follow-up email with the details for a future job booking.
Make upselling easier with the right technology
With the right tools to help you upsell, you'll never feel like a pushy salesperson. Make sure to track your customers' info in a CRM to help you make genuine service recommendations.
And with online quotes, it's easier to include optional add-ons that customers can approve with one click.
Use Jobber's field service software to take advantage of the following quoting features:
Boost quote totals by an average of 35% with optional add-ons and service packages. Empower your customer to choose what works for them and their budgets. Chances are, they'll be too busy comparing your service packages to compare your quote against the competition.
Double your quote totals with photos of optional line-item services. Images help your prospects visualize the work you can do for them, which increases the chances of a sale.
Automate quote follow-ups to make sure you're never leaving work on the table.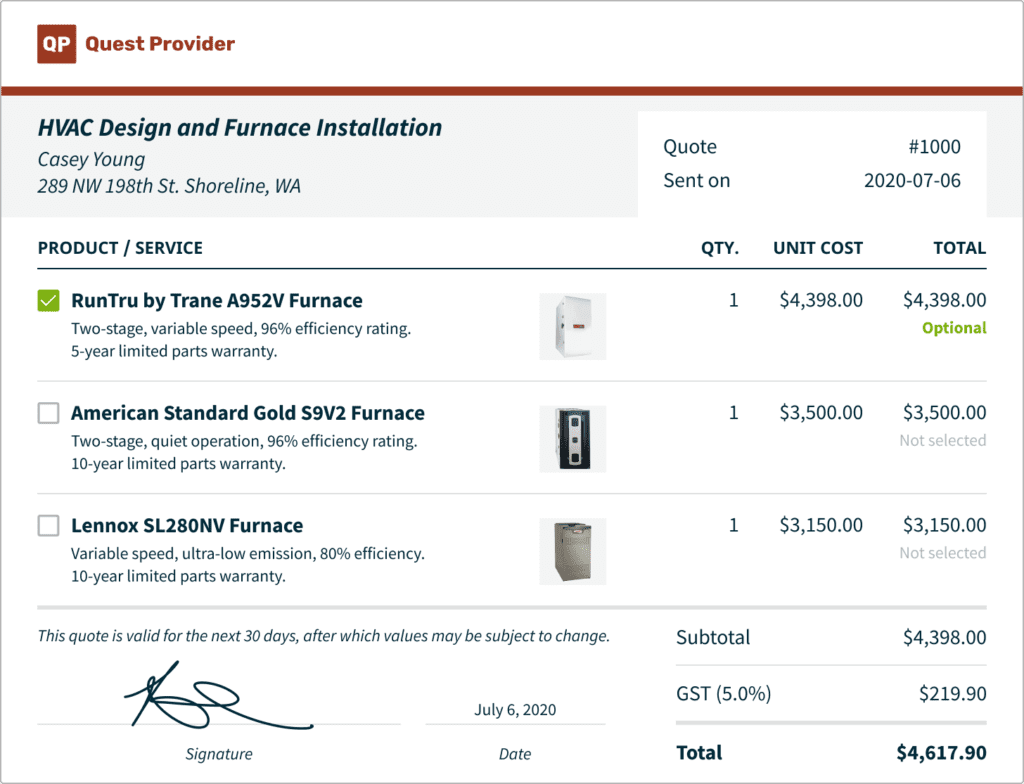 Jobber's CRM lets you keep detailed customer notes. You'll know exactly which customers are likely to respond to an upsell or have mentioned a need for additional services.
You can also tag customers with specific keywords like "snow removal" or "commercial." When the time comes to send emails about new services or products, you'll know exactly who to send them to.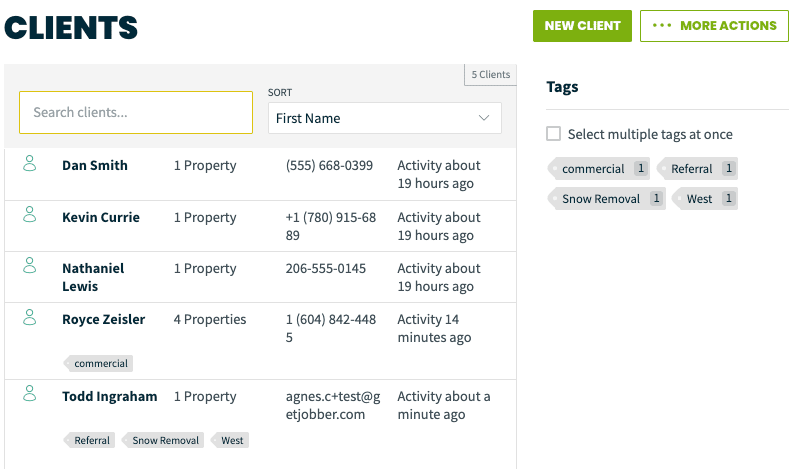 Don't forget to follow up
If your upsell attempt doesn't get an initial nod of approval, that's ok. Sometimes it takes customers a little more time to come around to a new service or upgrade.
Add a note in your customer's file and set yourself a reminder to follow up in a week.
Then, send an email to the customer outlining your recommendations—and include a quote with images. Your customer may be more receptive to the upsell once they've had a chance to think about it.
Use upselling to grow your business
With the right techniques in play, upselling is a great way to make more money while giving customers more value.
Whether you choose to offer different packages, parts, or services, it's easy to get the job done when you focus on problem-solving.
Just make sure to put the customer's needs first. Solid relationships and trust are key ingredients in upselling.
Originally published October 2020. Last updated on November 2nd, 2021.