Free Roofing Invoice Template
Use this roofing invoice template to create and download a customized invoice for any job. Just add your company and client information to our invoice generator, then download your professional invoice as a PDF that's easy to send to clients.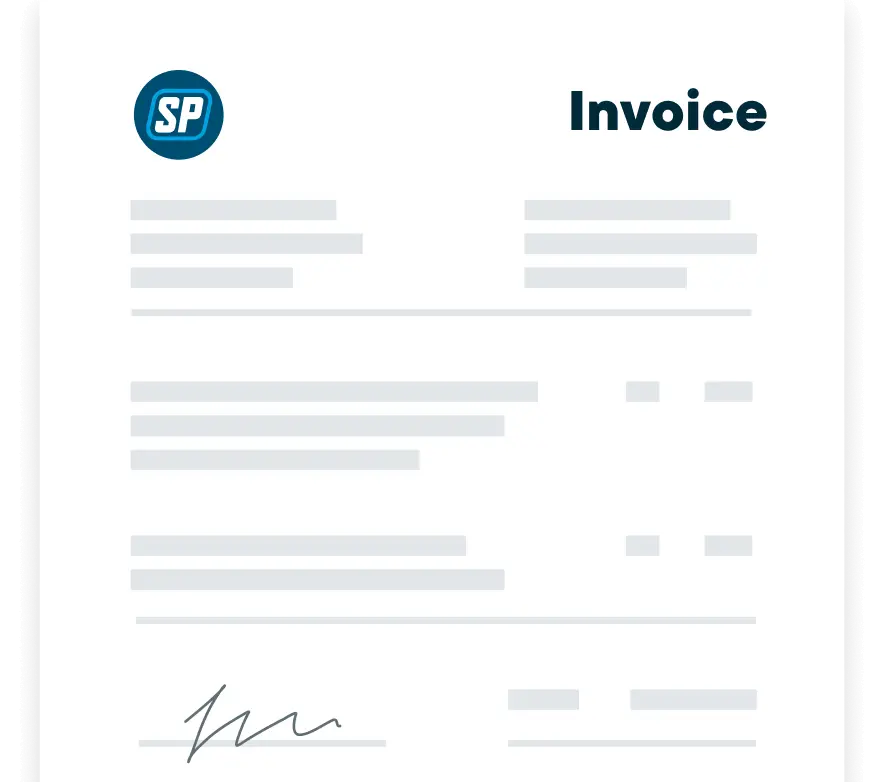 Create a roofing invoice fast with our free invoice generator
It can be hard to format and edit invoices in Word, Google Docs, and Excel spreadsheets. Save yourself the hassle and make a clean, easy invoice in a few clicks with our roofing invoice generator.
Save your custom Invoice Template
Looking for an industry-specific invoice?
FAQ
Whether you do residential or commercial property roofing, your

invoice

should include:

• An

invoice number

for record-keeping purposes (e.g. Invoice #1001, #1002, etc.)

• Your

roofing business's name

, logo, phone number, email, and mailing address

• Your customer's name and contact details

• Line items that detail the type of work you provided, along with roofing service descriptions (e.g. inspections, roof repairs, shingle replacement, gutter installation)

• The cost associated with each line item, including unit prices, quantities,

labor costs

with

roofer hourly rates

, overhead costs, and any special discounts

• The issue date of the invoice and the payment due date. Make the due date as clear as possible—avoid confusing terms like "Net 30"

• Subtotal before taxes, discounts, and service fees

• The total amount due, including applicable taxes and discounts

• Payment terms that include the payment deadline, instructions, accepted payment methods, late payment fees, and any service warranty disclaimers

• A note thanking the customer for choosing your services

Here's a roofing invoice example that was created using Jobber's invoicing software:

To format your invoices like the sample above, you can use our online invoice generator—it already has every section you need! Just fill in the blank form with your company, client, and job information and you're ready to go.

Using a

roofing invoice template

can help you stay consistent and save you hours of writing new invoices for every job. Here are some tips for creating an invoice:

• Use a simple, professional layout

• Include your business name, contact info, and customer contact info

• Describe all the products (e.g. shingles, gutters, downspout) and a breakdown of the services you provided

• Include prices for all your products and services provided

• Make your

invoice payment terms

and conditions clear

• Include your subtotal, applicable taxes, discounts, and fees before the total

If you're just looking for a quick, simple template that you can reuse as often as you like, use our free invoice generator and start sending out invoices right away.

Our

roofing invoice generator

helps you create customizable, professional invoices for any completed job, in minutes. It's a blank form that you can easily fill out with the services you provided. Once you fill it out, you can download your invoice as a PDF and send it to your client easily.

The template is part of a larger free toolkit where you can store client information, convert

roofing estimates

to invoices, and get paid for your roofing work. It's perfect for

roofing companies that are just getting started

or exploring software instead of pen and paper.

A roofing invoice template helps you

write invoices

quickly and consistently without having to start from scratch every time. When you spend less time creating invoices, you can invoice your clients faster and get paid.

With an invoice template, you can:

• Stay organized and never miss crucial information on an invoice

• Cut down on repetitive data entry and save you time

• Look more professional than with handwritten invoices

• Ensure you get paid in full and on time

• Easily track rates, prices, material costs, expenses, and accounts receivable

• Protect your business with detailed payment terms and conditions

• Make filing easier with digital copies of all invoices

You can find templates online as fillable PDFs, Microsoft Word or Google Docs, Microsoft Excel or Google Sheets—or using our easy invoice generator. These templates are essential to keeping your invoicing efficient and consistent.

With a roofing invoice template, you can simplify your process and turn hours of invoicing into minutes.

Bills and invoices both present the amount of money a customer owes for a product or service. The difference depends on whether you're a buyer (customer) or seller (roofing business owner).

Invoice is the term that service providers use, while a client might refer to that invoice as a bill they have to pay. In other words: a service provider sends an invoice to a customer, and the client receives a bill.

Roofing bills and invoices should include a complete breakdown of all project costs, as well as payment information such as the due date, payment methods, late fees, and subtracted deposits.

Invoices and receipts

are very different. While invoices are used to bill customers, receipts are used to confirm that a customer made a payment.

An

invoice

is a

payment request

. It outlines what products and services a client has to pay for, the cost of each service, total amount due, payment due date, payment terms, and client contact details.

A

receipt

is

proof of payment

. After an invoice or bill has been paid, clients get a receipt detailing the total amount they paid, when it was paid, and which payment method they used.

There's a big

difference between quotes and invoices

.

A

quote

describes what the finished work will look like and how much it'll cost to complete. This is the first step in any project. Your roofing quote should show the client what they can expect, and you don't start the job until they sign off on it.

An

invoice

is the final bill you send to the client for the completed project. This is the last step of the project. The amount on your roofing invoice might be different from the amount on the quote, depending on how much the work might have changed throughout the job.

That depends on how you're making your roofing invoice. With pen and paper, it could take a long time to write down your client's contact details, write in all your line items from memory, and add prices for each line item.

You can speed up this process by using an easy-to-fill roofing invoice template—all you need to fill out is information specific to your job and customer.

Use a PDF invoice template that looks professional and includes your roofing company logo, colors, and contact information.

You should

send out an invoice

as soon as you can after the job is complete. Ideally, roofing contractors shouldn't wait longer than 48 hours after the job to send the invoice.

Sending invoices late can delay you from getting paid and lead to confusion. Just make sure you and your client agree that the new roof or repairs are completely done!

Typically, an invoice should be paid within two weeks of the service date. You can test payment deadlines and see what works best for your business's

cash flow

, but within 30 days is generally the rule of thumb.

Some business owners prefer to accept a deposit beforehand, and final payment the day of the service. Even common roofing construction projects can be expensive, so you might want to

offer financing to your customers

to get some payment up front and make your services more affordable.

Document your services and pricing.

It helps to have a document outlining

how you price roofing jobs

before you start estimating. Pricing your work ahead of time helps keep your invoices consistent so you never underprice or overprice a job.

Be descriptive.

Tell your client exactly what they're paying for and the value you've provided. Underneath each line item, use simple language to provide details on the work you've completed. Adding photos of their new roof tiles or repair work can be proof of a job well done.

Show your appreciation.

At the bottom of your invoice, add a simple sentence or two thanking your client for choosing your business. When customers feel appreciated, they're more likely to book you again, or even refer you to family and friends.

Follow up with friendly reminders.

Use

roofing business software

to send payment reminders and get invoices paid faster.

Roofing invoicing software

helps roofers like you collect payment for work using easy invoices that you can create, send, and track online.

Jobber's invoicing software for roofing contractors makes it easy to create an invoice from your desktop or mobile device. With Jobber, you can convert job details into customer-friendly invoices and automatically follow up with customers on overdue payments.

Here's what you can do with invoicing software:

• Create professional invoices that feature your logo and company branding

• Automate invoice follow-ups with customized emails and texts

• Set reminders to invoice after each visit, or create a custom reminder schedule

• Get paid faster with

credit card processing

and

consumer financing

options

• Keep track of which visits have and haven't been invoiced

• See which invoices are paid, awaiting payment, and past due

• Send multiple invoices at once with batch invoicing

•

Communicate with clients

using email and SMS

•

Schedule teams

, route work, and track time and expenses

Learn more about how Jobber can help you

create invoices and get paid faster

.
Over
200,000

home service pros in 50+ industries trust Jobber
"
If you can make a quote on the spot, you're 10 steps ahead of the competition.
"
Jobber changed the game because it's right at people's fingertips.