Car Detailing Advertising Ideas to Get More Customers 
October 18, 2023
7 min. read
Advertising your car detailing business lets you create a recognizable brand, stand out of the competition, and most importantly, land more jobs.
In this article, we'll cover the best car detailing advertising ideas to attract new customers and grow your business.
Here's how to advertise your car detailing business:
Build an auto detailing website
An auto detailing website is like a digital business card—it tells potential customers what services you offer, and how to get in touch.
You can build a website on your own using DIY site builders like Wix or Squarespace, or hire a web developer to make one for you.
Just make sure your car detailing website includes:
Your car detailing business name, logo, and contact information
A complete list of the auto detailing services you offer and service pricing
Your service area
Before-and-after images of completed jobs
Reviews and testimonials from past detailing customers
An easy way for customers to book services online
Here's what ReVibe Auto Detailing's website looks like:
Invest in online car detailing ads
Paid ads put your car detailing business in front of a larger audience—which is perfect if you're looking to stand out from the competition, build brand recognition, and attract potential customers.
Advertise on Google
Google Search Ads reach potential customers actively searching for terms relevant to your business, like "auto detailers in [CITY]" or "car detailing services in [TOWN].
These ads work on a pay per click basis, so you'll be charged any time a prospective customer clicks on your ad—whether or not they contact your business.
Car detailing Facebook ads
Facebook ads make it easy to target your ideal customer within your service area. You can use these ads to introduce your business to new customers, send individuals to your website, or generate more leads with a link to your online booking form.
Get found online with SEO
Car detailing SEO (search engine optimization) helps your business appear higher on the search results page when a prospective customer searches for your services online.
Here how to get started with SEO for car detailing:
1. Claim your free Google Business Profile listing
Setting up your Google Business Profile helps your car detailing business appear on Google Search and Maps results—making it easier for potential customers to find your services.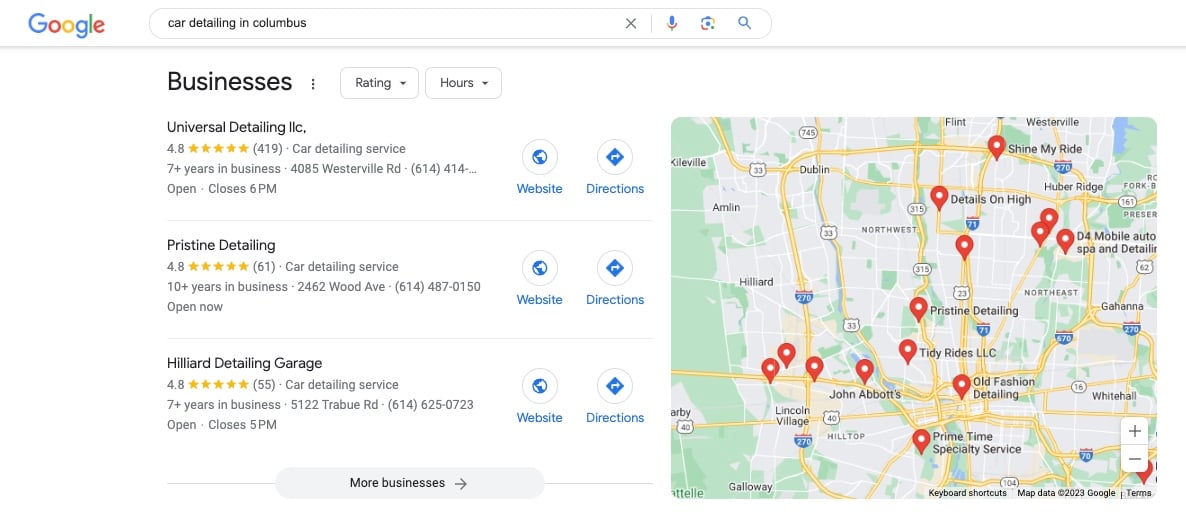 Your Google Business Profile gives visitors a snapshot of your business and services, including your contact information, logo, service area and hours, client reviews, and pictures.
2. Optimize your website
For auto detailers, improving your website with SEO can help potential customers looking for detailing services find your business through Google.
Here are four quick ways to optimize your website for search engines:
Include relevant keywords or phrases that prospective clients might use when searching for your services, such as "auto detailing," "car detailing," "vehicle cleaning," or "professional car wash."
Make sure your company name, physical address, and contact number are prominently featured on every page of your website for increased visibility.
Make sure that your website is mobile-friendly, fast to load, and easy for visitors to navigate.
Use tools like WhiteSpark or BrightLocal to identify top citation platforms where you can list your auto detailing business.
Win new and repeat business with email marketing
Sending email campaigns helps keep your business top-of-mind for existing customers and encourages leads to invest in your services.
You can use email marketing to:
Notify customers of company updates, like new detailing services or new service hours
Share tips to help customers take better care of their car
Offer discounts or promotions to win new or repeat customers
You can also use emails to follow up with customers after a service is complete, collect feedback, or ask customers for a referral.
Create interesting video content
Use video marketing to reach a broader audience and teach potential customers about the advantages of your car detailing services.
You don't have to invest in a camera crew or a fancy studio to create excellent video content. All you need is your mobile device to:
Engage with your audience instantly using Instagram Live, where you can answer questions about your business or auto detailing services.
Produce and share engaging Instagram Reels or TikTops that include a time lapse video of your detailing projects.
Share valuable insights, like how to maintain your vehicle's appearance, through longer YouTube videos.
Here's an example of a video R3 Auto Detailing shared on their YouTube channel:
Participate in community events
Participating in community events helps you connect with potential customers in your service area, build a strong reputation, and generate more leads.
Here are a few ways you can get involved in your community:
Sponsor a local sports team and print your company details on the team's jerseys
Donate a free auto detailing package to a fundraiser or silent auction
Set up a tent and distribute flyers at local festivals or other events
Offer a loyalty program for existing customers
A loyalty program rewards customers who regularly support your auto detailing company and encourages repeat business.
There are many types of loyalty programs you could choose from, including:
Punch cards – Offer a card where every detailing service gets a punch. After a certain number of services (usually 10) the customer earns a free detailing service.
Points system – Customers can earn points for every detailing service they purchase. Once they accumulate a certain number of points, they can redeem them for a free service or a discount.
Birthday or anniversary specials – Offer discounts or special services to customers on their birthday or the anniversary of their first service.
Create a customer referral program
A customer referral program encourages your happy clients to recommend your business to friends and family who could benefit from your services.
Here's how to build a winning referral program:
Impress customers with your customer service. Offer appointment reminders and a 24/7 self-serve portal where customers can request work and pay invoices to get your clients talking.
Offer an incentive, like discounts on a future service, to encourage customers to refer new business.
Advertise your referral program. Let your customers know how the program works and what they'll gain by submitting a referral.
Learn how to create a successful customer referral program from four experienced business owners:
Promote your business with vehicle wraps
Running a mobile car detailing business means you're always on the road. Wrapping your company truck advertises your auto detailing services while you're driving from job to job.
You can invest in a full truck wrap, or a simple decal—just make sure to include your business name, logo, and contact information. That way potential customers know who to contact and how to get in touch if they're interested in learning more about your services.
Here's how Beyond Limits of Palm Beach advertises their business with a vehicle wrap.
Partner with a car dealership
Visit car dealerships in your area to see if they'd be interested in partnering with your business.
This will help you reach customers who've just invested in a new vehicle and are likely more committed to keeping the car in tip-top shape.
You can also work together to create cross-promotional campaigns that allow drivers to get discounts on future detailing when they buy a new vehicle.
Attend local car shows
Local car shows help you connect with other car enthusiasts in your service area who may be interested in your services. They're also a great way to introduce your services and generate new leads.
Consider offering a special discount on your services for show attendees to encourage potential customers to purchase a detailing package on the spot.
For customers who aren't quite ready to invest, make it easy for them to provide their contact information so you can follow up after the show.
Pro Tip: Take the time to introduce your auto detailing business to other professionals at the event. Networking with other businesses in your industry can lead to more customer referrals and professional partnerships.
There are plenty of ways you can advertise your car detailing services to grow your business. Just make sure you don't bite off more than you can chew.
Start with a few of the strategies above to see which works best, then adjust your marketing strategy accordingly.