Managing Your Business
10 Best CRM Apps For Successful Small Businesses
February 9, 2023
11 min. read
A great customer relationship management (CRM) app helps keep your small business organized, turn leads into customers faster, and build better customer relationships.
If your CRM software doesn't make all that work easier—or if you're not using one at all—save yourself from chaos and stress by choosing one that fits your business needs and work style.
Here's our guide to the best CRM apps for every purpose, with a detailed review of each CRM system to help you narrow down your options.
What does a CRM app do?
A customer relationship management (CRM) app stores and organizes information on your customers, their interactions with your company, and your efforts to turn leads into customers.
A CRM app also helps you track and measure the success of your sales, marketing, and customer service efforts, and provide insights that help you make better decisions.
Top 10 CRM apps for small businesses:
Jobber: best field service CRM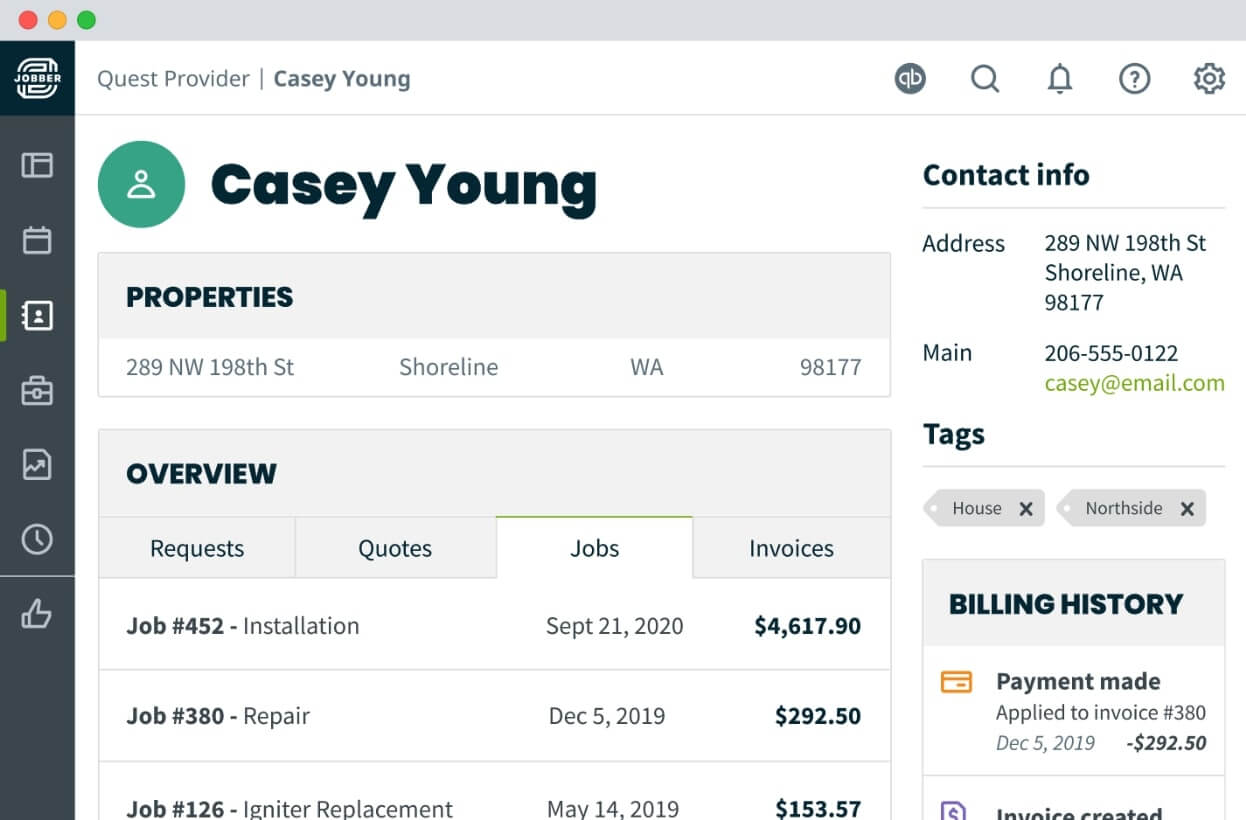 Jobber is a CRM app built specifically for field service and home service businesses. Jobber lets you track all your customer info in one place, so you can deliver personalized service that makes every customer feel like they're your #1.
Here's how you can improve customer relationships with Jobber as your CRM system:
Quickly view past quotes, jobs, visits, invoices, and a full billing history associated with each of your clients
Use custom fields to track whatever additional information is important to you, like entry codes or pets at the property
Instantly add notes and attachments on a client profile to all their work requests, quotes, jobs, and invoices
Tag clients as leads to manage them separately from active clients
Working in field service means you're rarely at a desk, so having quick access to customer data is a must-have. Jobber helps you equip select team members to self-serve the information they need to get the job done right.
Save yourself a day's worth of work each week you'd otherwise spend managing leads, sending estimates, invoicing, and getting paid. Jobber is trusted by more than 200,000 home service professionals.
Zoho CRM: best free CRM app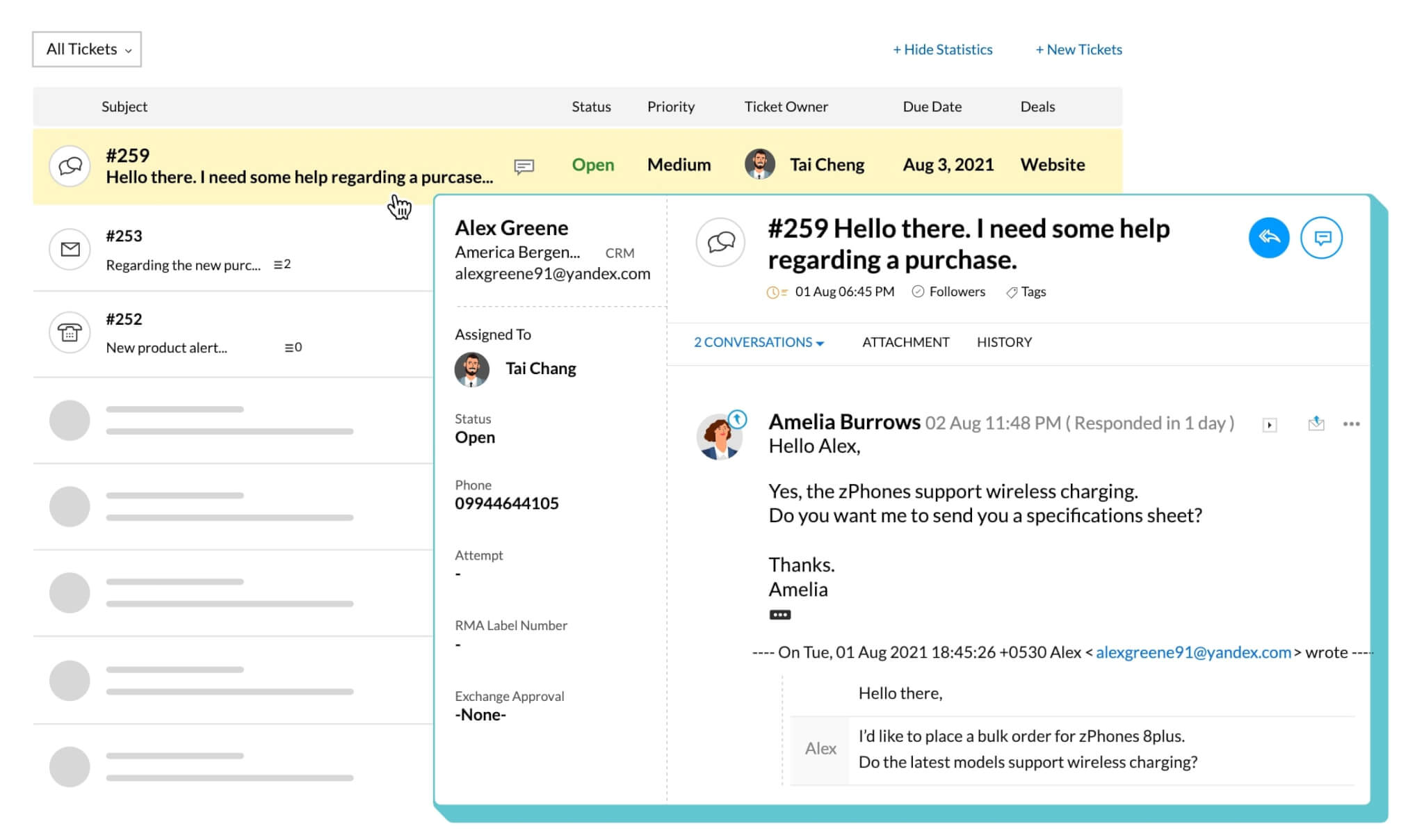 Zoho CRM helps teams work faster by keeping all essential customer relationship activities in one central place. The free version of Zoho CRM lets you use the app's key features at no cost for up to 3 users, making it ideal for small teams on a tight budget.
The app's simple home screen shows all your activities for the day, like upcoming meetings, tasks that are due, and call history with customers. Right from this home screen, you can schedule new meetings, calls, and tasks with one tap.
Beyond simplifying your day, here's what makes Zoho CRM a great choice for small businesses:
Comprehensive contact records. You'll get a detailed communication history for every customer, and can attach notes and files to their contact record. You can even send customers a new email directly from the contact record.
Lead management. Capture leads from forms on your service website landing pages, scan business cards from the mobile CRM app, and send targeted email campaigns to turn leads into customers.
Editable sales pipeline. Create a deal containing all the customer data you've collected and add that deal to your sales pipeline in Zoho CRM. Then easily move them along your pipeline and update information as you go.
While the free version of Zoho CRM doesn't offer sales forecasting, certain types of reports, and mass email—you can integrate it with most other Zoho services, like their marketing campaign software and survey tools.
Freshsales: best for sales pipeline management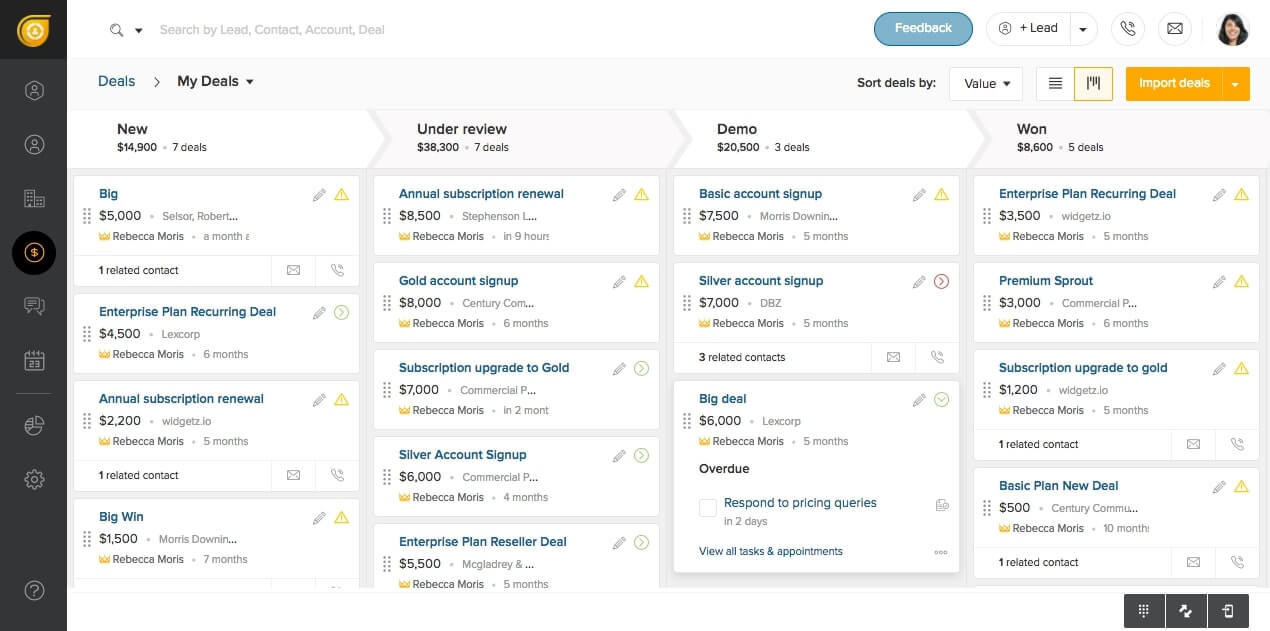 Freshsales (formerly known as Freshworks CRM) is great CRM software for sales teams with more complicated and lengthy sales processes. The deal pipeline in Freshsales offers helpful visuals of your sales process and breaks it down into actionable tasks.
You can build a sales pipeline around your typical sales process, with each deal card showing the details you choose to see. Either click and drag each deal across a Kanban-style board, or manage deals in a funnel, a timeline, or list view.
Freshsales CRM also allows every office admin and sales rep to:
Complete admin tasks on the go from a simple home screen, like booking meetings, adding contacts and companies, and starting phone calls.
Set up a team email inbox where anyone in the team can answer emails from your customers within the CRM.
Make calls directly from the app, and Freshsales saves those conversations for you to refer to later.
Route calls to one specific person or to the whole team by setting up rules on who gets which calls (and when to send calls to voicemail).
Create workflows that send out communications when a contact completes a certain action (e.g., 'When a contact fills out this form, send them a welcome email).
When you click on a contact record, you get a snapshot of their lifecycle stage and a score that tells you how ready they are for the sale.
Pipedrive: best for prospecting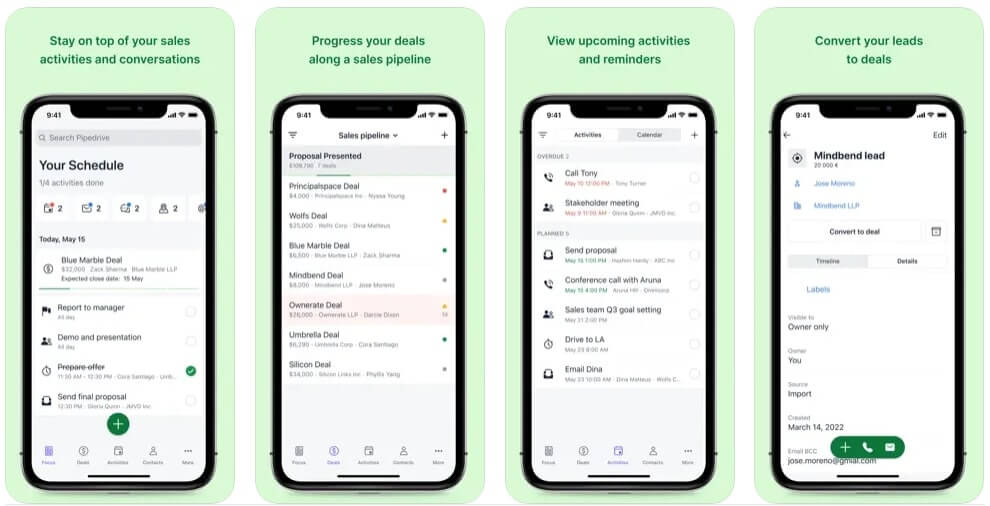 Pipedrive CRM is the best CRM software for finding prospects who could become your customers. Like Freshsales, it's designed to simplify sales and customer relationships with customizable pipelines and easy task management.
What sets it apart is its LeadBooster add-on that includes Prospector, a tool that helps you find high-quality outbound leads. Using Prospector, you can:
Access a database of over 400 million profiles and 10 million companies gathered from high-quality sources
Use easy filters to locate your ideal customers based on criteria like job title, location, and industry
Get suggestions for the best potential leads with help from an AI tool that verifies each prospect
Once you have prospects, contact them directly through Pipedrive instead of hopping from one tool to another. Pipedrive's contact management and storage, like their Leads Inbox, will help you organize every contact and convert them to customers faster.
READ MORE: Use this sales script to book more work
Mailchimp: best marketing CRM
Mailchimp is our top pick for managing relationships with marketing contacts. It's the best CRM software to store and organize leads to send marketing emails and updates on your products and services.
The audience dashboard in Mailchimp is a clean and organized location for your customer data. Using this dashboard to keep a pulse on your audience engagement can help you find new and better ways to communicate with them.
Build better relationships with your audience in Mailchimp by:
Keeping all important customer data in one place, including top locations, common tags, and customer lifetime value (CLV)
Creating your own segments and tags to filter audience data however you need to
Setting up automated messages to trigger based on specific segments or tags
Mailchimp also integrates with Jobber to give you powerful, easy-to-use marketing automation in the same place you manage your work.
monday sales CRM: most customizable
When you need customer records, pipelines, and communication customized to fit your exact needs, monday sales CRM might be the best CRM solution for your small business.
monday sales CRM is built to be flexible across multiple industries and team structures. Here's how you can customize the CRM to work for your business:
Create customizable dashboards—from scratch or with pre-built templates—that help you manage customer relationships
Build a pipeline that matches your sales cycle by editing deal stages and adding as many columns as you'd like
Choose how you view your sales data, whether you prefer Gantt charts or Kanban columns
Update contact and company details without leaving the pipeline view
Connect the CRM with your communication channels, including email, social media, and text messages
Copper: best for Google Workspace users
Copper is CRM software that's designed to integrate with Google Workspace apps (formerly known as G Suite) like Gmail and Google Drive. It's a seamless addition to your toolset if most of your emails, work, and communication lives in Google already.
Copper CRM saves you from hunting for conversations and files by automatically connecting every contact's Gmail data to the CRM. Here's how the CRM can improve your email communication and file management with customers:
See customer details in a sidebar when you're emailing a contact in Gmail. When you start emailing someone new, it just takes one click to sync a contact to your CRM.
Instantly save attachments to your contact's profile when you get an email with a Google Doc, CSV, image, or any other file type.
Find files quickly by searching the people have sent or received that file, in case you misplaced it or can't remember the file name.
HubSpot CRM: best for custom analytics and reporting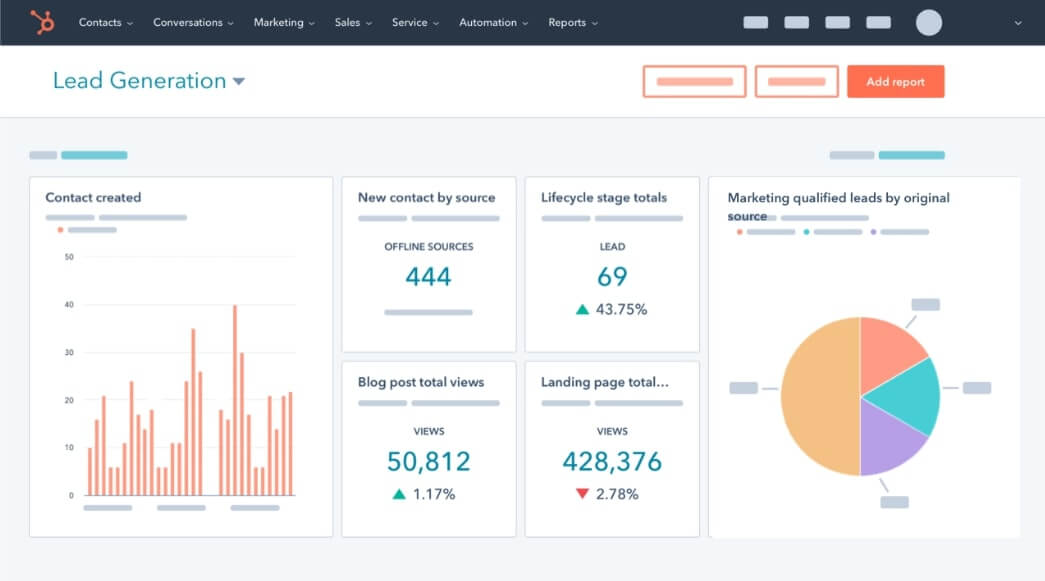 Use HubSpot as your CRM app if you need robust reporting that's still user-friendly and easy to set up. In HubSpot, you can create detailed reports on sales and customer service activities, marketing engagement, revenue, and productivity.
HubSpot reports are great at capturing engagement trends from all your contacts. Multiple view options let you choose between list views, charts, numbers, and more—whichever visuals work best for you.
Improve your decision making with these other analytics and reporting features in HubSpot CRM:
Access a massive report library with intelligent, pre-built reports that give you precise analytics on contact activity, sales performance, revenue, marketing engagement, and customer service, and more.
Create multiple dashboards that host reports for different purposes. Your team will get a glimpse of customer activities and company performance right when they enter the CRM.
Manage permissions to decide which team members can view or edit each analytics dashboard.
Analyze activities with individual contacts. HubSpot's contact records are packed with detail. Every profile shows which of your emails, links, and documents your contact has opened, with exact timestamps.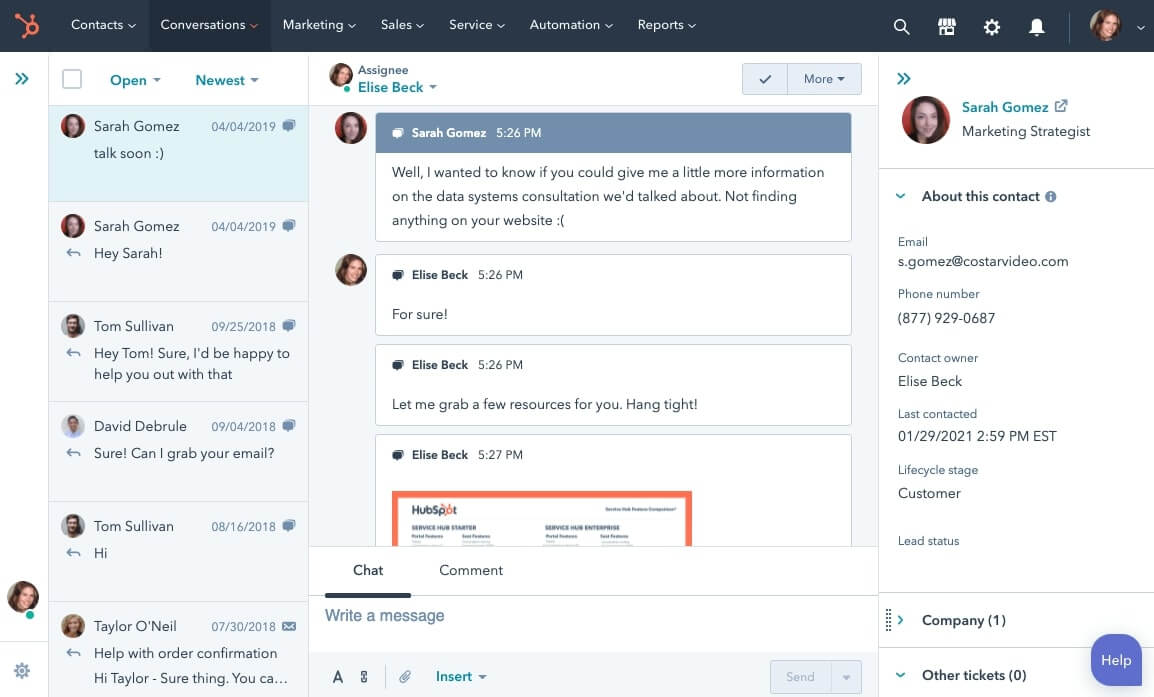 Less Annoying CRM: best for solo entrepreneurs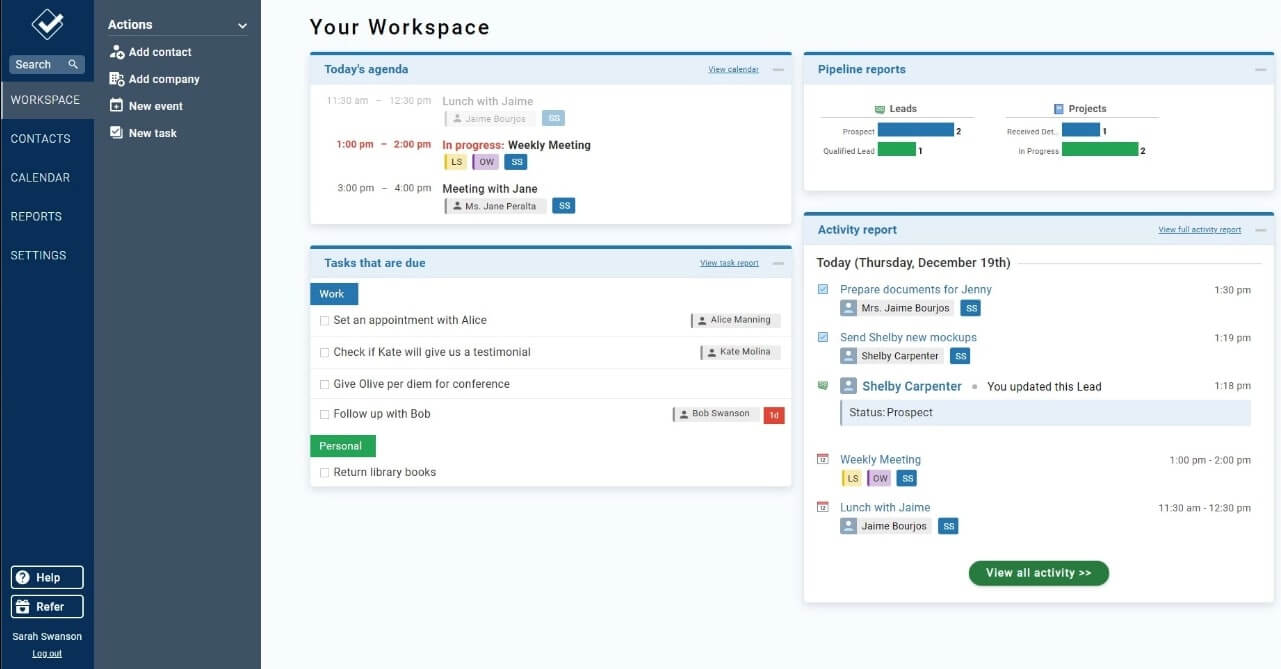 Less Annoying CRM is very basic CRM software that's free of the complex features that can slow down busy solo entrepreneurs. Simplicity is the biggest strength for this CRM platform, helping you maintain and update customer records quickly.
Submenus make navigating through the CRM almost effortless. When you hover over each item in the navigation, a secondary menu pops up where you can click to take quick actions like importing new contacts or completing recently due tasks.
Solopreneurs can save time with Less Annoying CRM with these features:
Create custom fields for contacts to save the customer data that matters most
Add tasks, events, and notes, then easily link those with your contact records
Connect your Gmail calendar to the CRM to see upcoming meetings and jobs
Less Annoying CRM has a simple setup process, so busy solopreneurs can hit the ground running. Plus, the app's simplicity makes for quick loading times.
Note that Less Annoying CRM doesn't have any native integrations with email providers, so you'll have to forward an email to the CRM to link an email to a contact.
READ MORE: The 8 best scheduling apps for small business owners
Nimble: best CRM software for integrations
Using apps to manage your accounting, marketing, scheduling, website management, or e-commerce? Try Nimble, a CRM platform that integrates with thousands of other apps, to keep you connected with the best tools.
On its own, Nimble helps you organize contacts into segmented lists, track your team's activity, manage your sales process, and communicate with customers strategically.
Its strongest feature is its ability to unify contact data from multiple apps into a single platform that's easily accessible everywhere you work. Nimble offers integrations with 160+ apps, including:
Mailchimp
Evernote
LinkedIn
Twitter
Shopify
Gmail
ActiveCampaign
Google Sheets
Google Calendar
Zendesk
QuickBooks Online
Using Zapier, you can connect the Nimble to over 5,000 other apps.
What to look for in a CRM app
What you need in a CRM app depends on what your business does, how many customers you have, how big your sales and customer service teams are, and what other tools you're using.
In general, look for these traits in your CRM system:
Ease of use. Choose a CRM that's intuitive and fits your working style. Apps that take a long time to learn slow you down. Some CRM apps are more complex than others, so it can be worth spending extra learning time on a CRM that has robust features.
Customization. Does your CRM fit with the way your team works? Choose a CRM that allows you to customize the way you see and interact with your sales and customer service processes. It should be easy to customize client profiles so you only see what matters to your company.
Automation. The best CRM software can save you time by making repeatable tasks automatic. Look for an app that enables automated appointment reminders for your customers and your team, so no meetings or calls slip through the cracks.
Sales process management. When all your sales activity is trackable, you can win new customers faster and more painlessly. Pick a CRM that keeps organized logs of all the information you collect from customers—and enables you to take the right action for leads at each sales stage.
Analytics and reporting. CRM apps can help you evaluate how effective your sales, marketing, and customer service efforts are. Find a CRM platform that shows you the information you need to make better business decisions and presents it clearly.
Training and support. It helps to have an award-winning customer support team to onboard you onto your CRM. You'll get more comfortable with your CRM tool faster with a team that walks you through the features you need and how to get the most of your app.