Managing Your Business
8 Best Scheduling Apps for Small Business Owners
July 18, 2023
11 min. read
Playing phone tag to book appointments? Juggling dozens of texts and emails with your team to create the perfect schedule?
When your scheduling system is inefficient or chaotic—and especially when it's on paper or spreadsheets—you're not helping as many clients as you could. That delays your business's growth.
There isn't one single best scheduling app for small business efficiency, but you can find one that fits the way you work and saves you time and effort. Here are the eight best scheduling apps for small businesses for different kinds of clients and work.
Top 8 scheduling apps for businesses:
Disclaimer: App prices are subject to change after the publication of this article.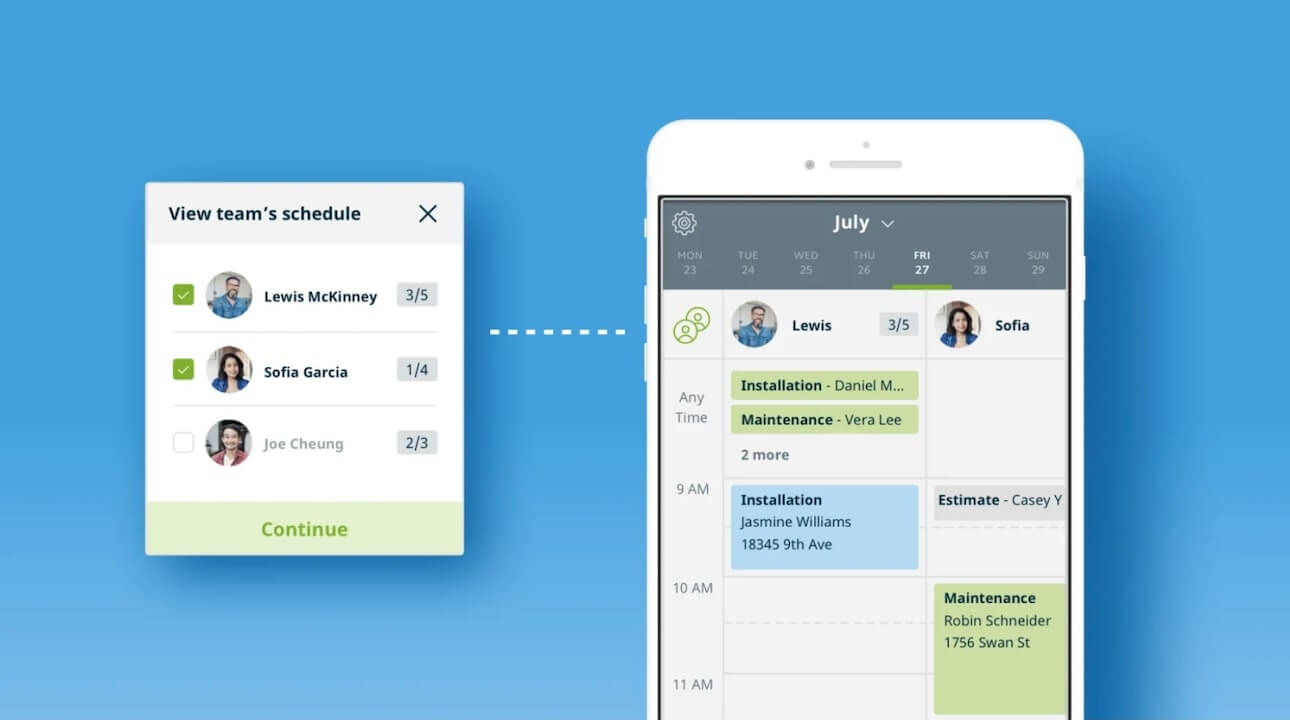 Add jobs to your schedule in minutes when a customer calls or emails you for a service appointment.
Or, using online booking in Jobber, customers can book your services directly into an online calendar. Share your booking page on your website, social media, or directly with customers.
Once those new customer visits are scheduled, here's how you can reclaim time spent managing schedules with Jobber as your employee scheduling app:
Choose from five different views to get a clear visual of crew availability to avoid overbooking, underbooking—or the dreaded double booking
Personalize your calendar with color coding and filters to quickly see what's important—like visits assigned to certain team members, or job status
Easily reschedule jobs or reassign jobs to a different service professional. It's as simple as clicking, dragging, and dropping
Track your crew's progress and location throughout the day using a map view and route optimization, and make changes on the fly when needed
Empower your employees to submit hours in the field, then download timesheet reports to measure team productivity and make payroll easier
Track in-house tasks, events, and reminders and keep your team organized. Task reminders will show up in your team schedule, so you'll always remember when to invoice for a job or send a quote follow-up email: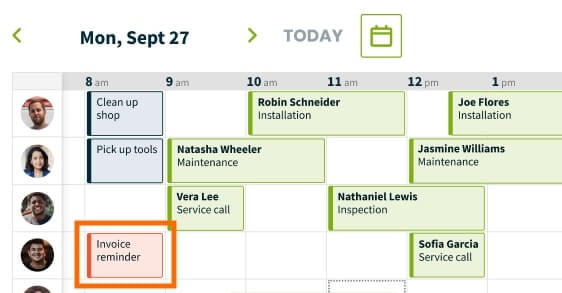 Jobber is great for managing new work requests for on-site assessments, like for landscape design jobs and HVAC unit inspections.
When a customer requests an on-site assessment, that request will appear as a special item in your schedule that's easy to tell apart from other visit types. This way, your team is always ready for assessments when they come up: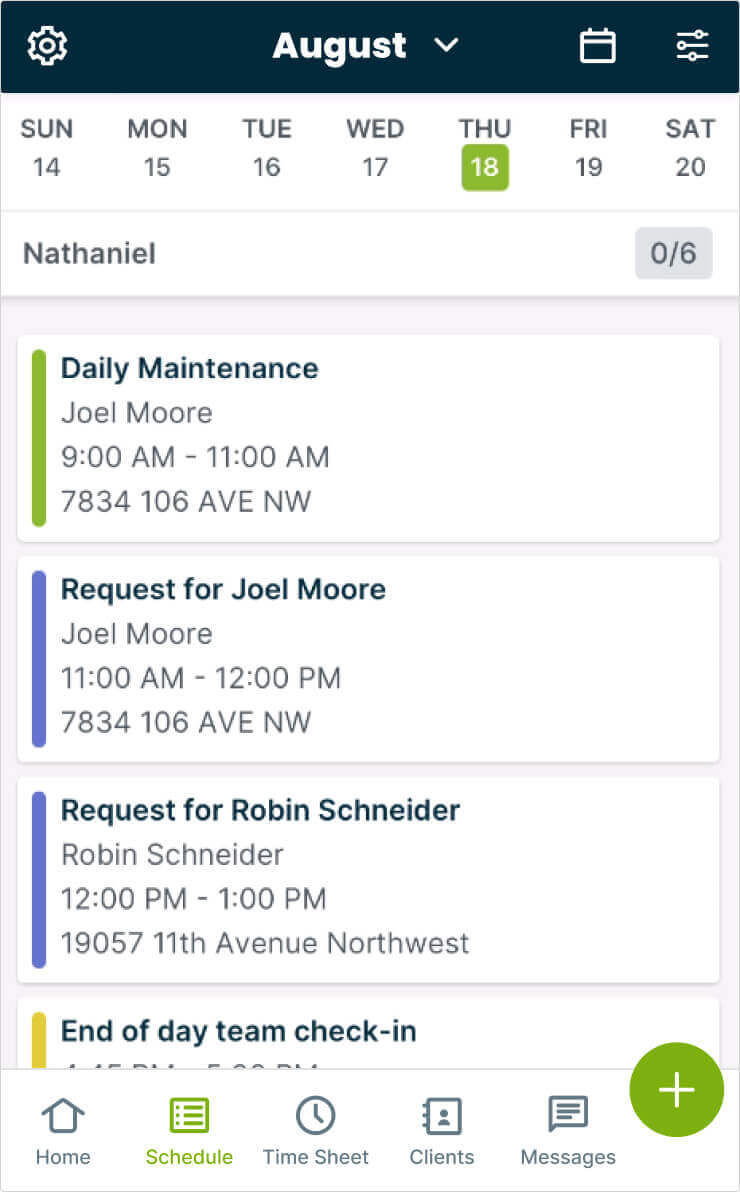 Who should use it: Mobile service businesses (field service, home service) that manage a number of different jobs in a day or week.
Free 14-day trial that lets you access all Jobber features
Core plan ($49 per month, if billed annually): for small field service businesses and solopreneurs that need to quote, schedule, and invoice all in one place.
Connect plan ($129 per month, if billed annually): includes everything in Core, plus online request forms, automated reminders, and payment processing features.
Grow plan ($249 per month, if billed annually): geared towards teams looking to scale with sales and marketing tools, including quote add-ons and images, automated quote follow-ups, and customer referrals.
2. Calendly: best for scheduling meetings
Calendly is among the best appointment scheduling apps for how quickly it gets customers into your calendar. When you send a Calendly scheduling link to someone, they'll see available times in your calendar and can book a meeting time that works for both of you.
The simple look of Calendly's booking tool allows for a quick, painless appointment scheduling experience for customers and team members. Calendly is ideal when you don't need to collect much information before making a booking, like for interviews and online lessons.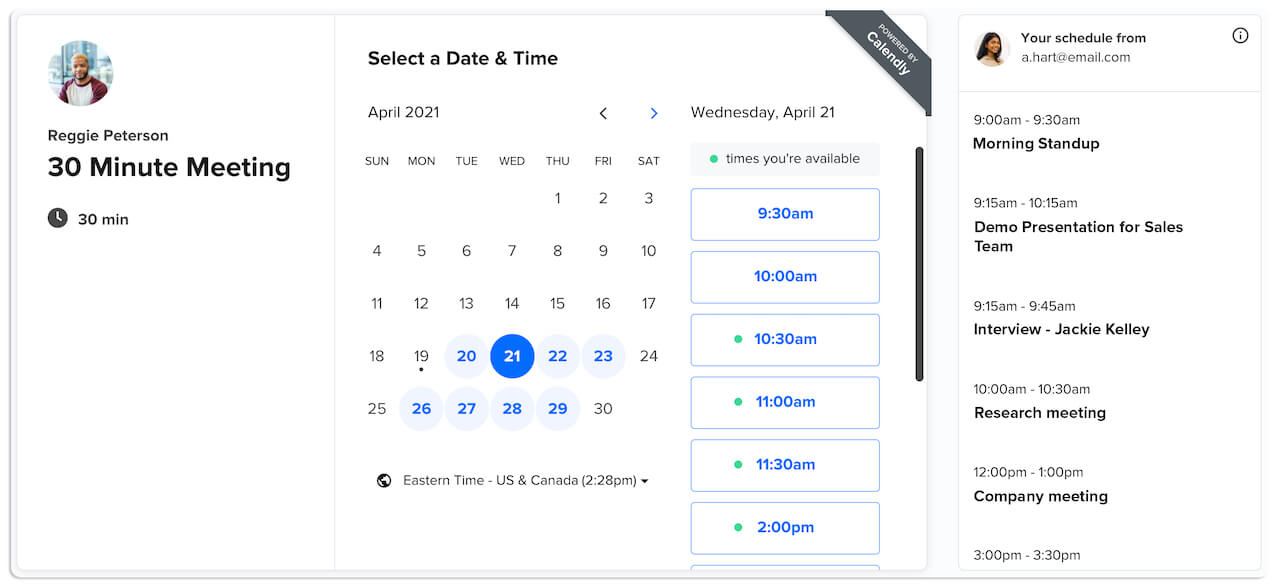 These other features make Calendly an easy choice for scheduling appointments:
Send meeting polls to find the most popular times for team meetings
Create simple rules around your availability so your calendar books up the way you want
Connect up to six calendars to automatically check available times
Decrease no-shows and do less admin work by automating reminders and follow-ups
Choose event types that will suit your multi-person scheduling needs, like webinars for multiple guests or a sales demo run by two members of your team
Who should use it: Businesses that have frequent team meetings, meetings with customers, support calls, and interviews. Calendly is most popular with professionals in HR, sales, marketing, IT, education, and health and wellness.
Pricing:
Basic plan (free): allows you to connect one calendar, create one active event type, customize your appointment booking link, and other basic scheduling features.
Essentials plan ($10 per user per month): allows you to connect two calendars and offers more powerful scheduling automation, unlimited event types, and live chat support.
Professional plan ($15 per user per month): for more customization, automated meeting workflows,access to analytics, and unlimited app connections.
Teams plan ($20 per user per month): for teams that schedule larger events and need round robin event creation.
Pricing is lower if you choose to pay annually.
READ MORE: How to make an employee schedule: best practices for busy teams
3. Clockify: best for employee timesheets
Clockify is an appointment scheduling and time tracking app that helps you schedule employees, visualize shifts and projects, and track where your team spends time.
Combined with its clock-in and clock-out timer, Clockify's employee scheduling tools make it a great scheduling app for teams that work on multiple projects at once and need to manage billable time.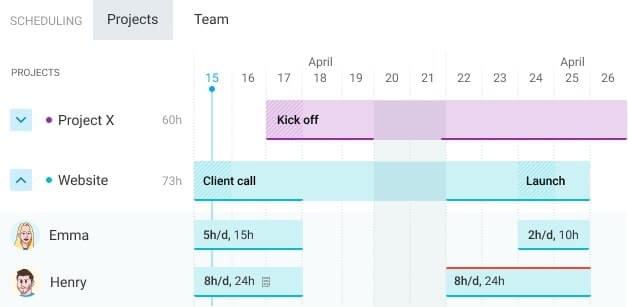 Here's how Clockify helps you schedule internal work and manage your time better:
Visualize your workload for the day, week, and month
Add and edit blocks of work time to your calendar, for you and your time
Drag and drop time blocks in a calendar to shift around which employees are doing what work and when
Add descriptions of work to your timesheets
Allow team members to request time off, approve it, and see upcoming absences
See reports on where time is spent across your company, by time period, task type, team member, and client
Who should use it: Managers and teams who need to track time on projects and improve productivity.
Pricing:
Basic plan ($4.99 per user per month): helps with simple administrative tasks like logging time, importing timesheets, editing time for multiple employees, and adding breaks.
Standard plan ($6.99 per user per month): best for managers that need to schedule and approve time off, manage attendance, and set reminders for members to log their time.
Pro plan ($9.99 per user per month): lets managers schedule employees, plan resources, compare scheduled hours against tracked hours, and track progress on fixed-fee projects.
Businesses that choose an annual plan pay a lower monthly price.
4. Setmore: best for remote meetings
Setmore is another great appointment scheduling app to help customers book time with you easily. What sets it apart is its integrations with Zoom and Teleport, which let you turn client bookings into video calls easier than any other app.
Once you set your availability, appointment types, and scheduling rules, share a booking link to let customers schedule themselves. To help you book appointments remotely, Setmore lets you:
Accept Zoom and Teleport appointments through your website, email signature, or Setmore Booking Page
Automatically include a video meeting link in your appointment confirmation emails
Choose which services require video meetings and which ones don't
Customize your video meeting rooms to feature your logo, brand colors, team photos, and a custom greeting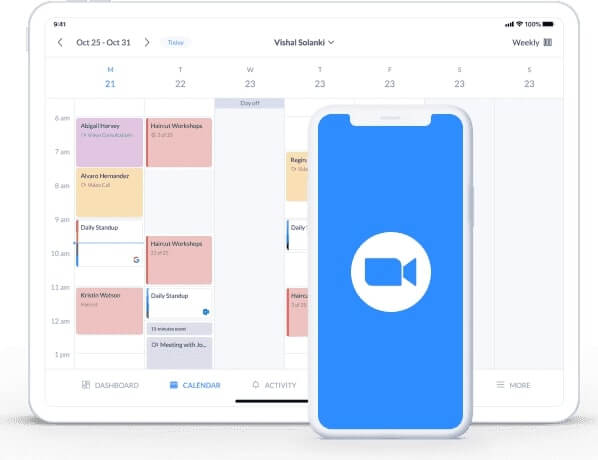 Who should use it: Small business teams that meet clients and colleagues online. It's a popular appointment scheduling tool for professionals in health care, wellness, retail, consumer services, and construction.
Pricing:
Free plan: for small businesses and start-ups that need to host video meetings, automate email reminders, and access their calendar on mobile devices.
Pro plan ($12 per user per month): for growing businesses that want SMS reminders, a two-way calendar sync, and more app integrations.
Lower prices are available if you choose to pay annually.
5. Sling: best for retail shift scheduling
Sling is an employee scheduling app that helps you create, update, and manage shift schedules. It's our top pick for retail shift scheduling thanks to its intuitive design and powerful time tracking features that help schedulers improve productivity.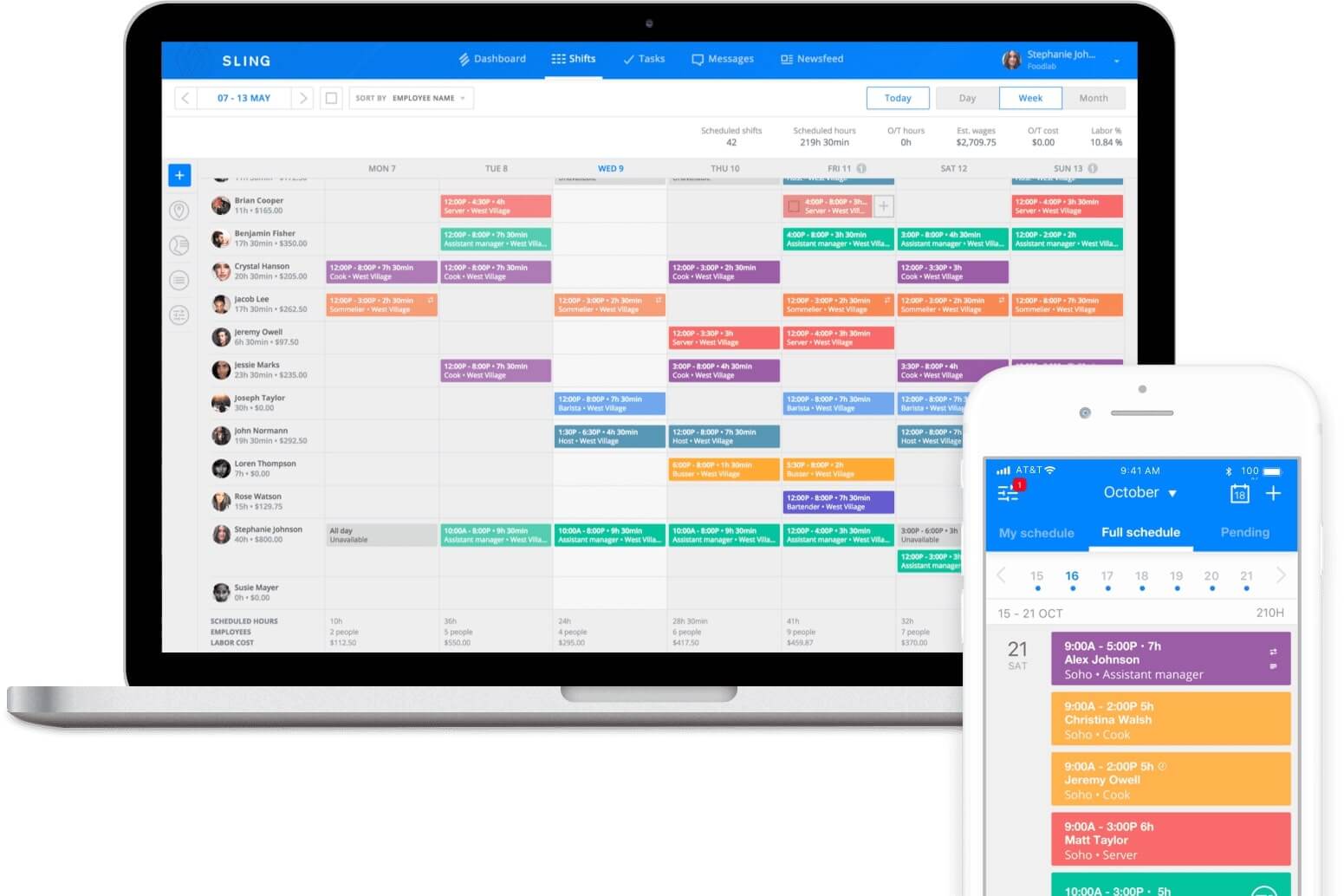 As a small business owner, here's how you can use Sling to build the smartest shift schedules around your staff's availability:
View your staff's availability by employee or by day, week, or month
Drag and drop employees on your calendar to the shift you want them to work
Receive real-time employee availability updates to avoid scheduling conflicts
Get notifications of overlapping shifts or double-bookings
Let employees sign up for shifts they'd like to work by scheduling available shifts
Save schedule templates and load them when you need to recreate an employee schedule
Who should use it: Brick-and-mortar store managers, restaurant managers, and anyone managing shift work.
Pricing:
Free plan: for basic scheduling and communication features that let you manage work schedules, approve or deny time-off requests, and share news with your team through the app.
Premium plan ($2 per user per month): includes additional tools for tracking time, optimizing labor costs, and messaging employees privately or through group chats.
Business plan ($4 per user per month): helps more advanced teams understand labor data and pull reports for payroll.
Lower prices are available if you choose to pay annually.
6. Acuity Scheduling: best for online service providers
Acuity Scheduling facilitates scheduling for businesses that mostly interact with customers online, like advertising agencies, online training providers, and wellness services.
Designed by Squarespace with e-commerce businesses in mind, Acuity Scheduling is great for customer relationships through your website. Once your booked services are complete, you can accept payments on the same platform through integrations with Stripe, Square, or Paypal.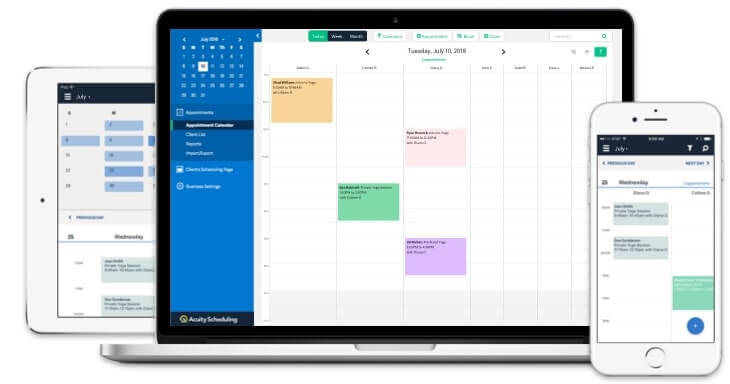 Here's what else you can do with Acuity Scheduling:
Set your rules around when clients can book you, including minimum lead times
Collect and organize client information by asking clients to fill out intake forms at the time of booking
Let clients easily cancel and reschedule themselves
Customize your appointment booking page with the calendar view you want clients to see, plus your business name, logo, and a custom message
Create appointment types with their own descriptions to give clients additional details before booking you
Who should use it: Businesses that operate online, need to book a large volume of service appointments, or prefer that clients self-schedule. It's most used by training, health and wellness, retail, marketing, and financial service organizations.
Pricing:
Emerging plan ($20 per month): allows solopreneurs to get clients booked, send confirmation and follow-up emails, and brand their booking pages.
Growing plan ($34 per month): lets teams of up to six members use all Emerging plan features, plus send text reminders and offer subscription options to customers.
Powerhouse plan ($61 per month): for teams of up to 36. It includes an option to sign a business associate agreement (BAA) for Health Insurance Portability and Accountability Act (HIPAA) compliance and offers web development tools to customize your booking site.
Businesses that choose an annual plan pay a lower monthly price.
7. HoneyBook: best for creative teams
HoneyBook is a business management app with the tools to create, schedule, and manage client appointments. The app is also designed to help you manage internal meetings better, making it handy for creative teams that need to collaborate on projects frequently.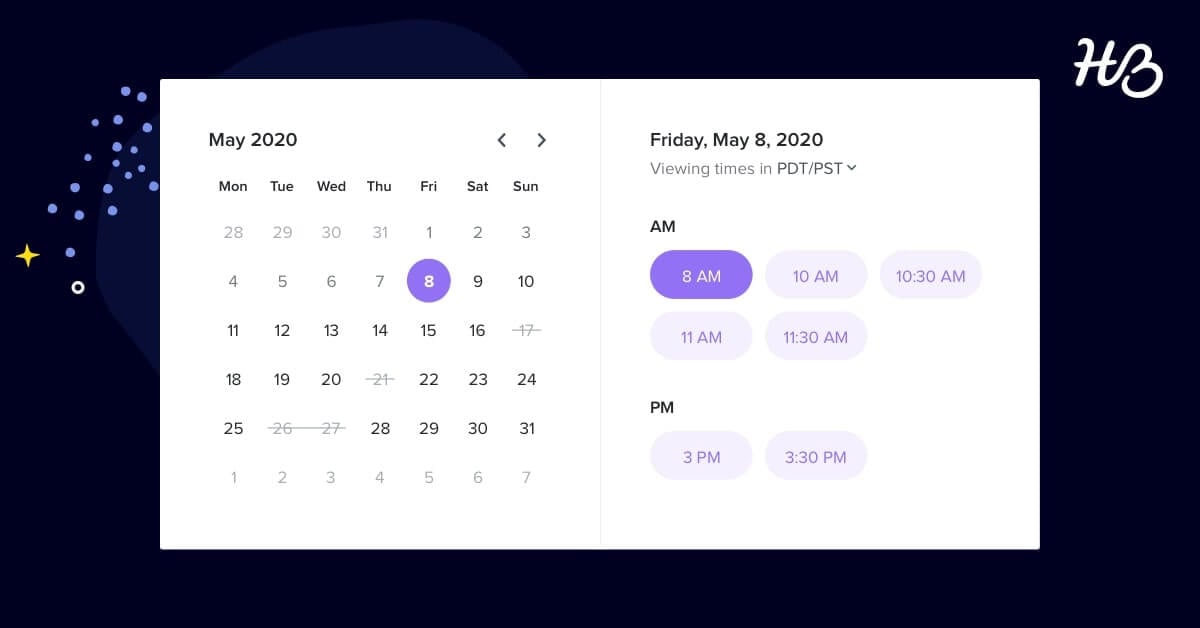 Use HoneyBook to schedule and manage internal projects, set meetings, assign tasks to colleagues, and see your entire day and week on an employee dashboard.
Here's how HoneyBook saves creative teams time and stress when scheduling work:
Set your availability by defining which days and hours you're available to meet
Select how you'll meet, whether that's in-person, video, phone call or other
Review upcoming sessions from your HoneyBook calendar and click to remember the details before you meet
Create multiple session types with different lengths based on the purpose of the session
Put your company branding on everything your clients see, from your booking page to documents you share before the meeting
Who should use it: Business owners in creative fields such as design, marketing, photography, and event planning.
Pricing:
Starter plan ($19 per month): offers a calendar for creators to oversee their work schedules.
Essentials plan ($39 per month): lets up to two team members accept client bookings, automate reminders, and cycle client sessions between team members.
Premium plan ($79 per month): lets unlimited team members use the app and manage separate companies or brands under one account.
Pricing is lower if you choose to pay annually.
How to choose the best scheduling app
Your scheduling app should be easy to use and fit the type of work or appointments you normally schedule. The specific features you need will depend on the type of clients you have, what services you offer, how big your team is, and how you work together.
These are great features to look for in all appointment scheduling software:
Customizable calendar you can personalize with different views and color coding so it's easy to understand at a glance
Drag-and-drop blocks to easily move around appointments when staff or client availabilities change
Convenient booking portal for customers, whether that's an online work request form you can add to your website or a simple date picker
Automated messages and reminders that get sent to your customers once an appointment is booked
Team push notifications that alert employees of schedule changes instantly
Recurring appointment options for clients you need to see on a regular basis (e.g., weekly, quarterly, or on the third Tuesday of each month)
Customizable availability rules that limit when customers can book appointments and when they can cancel