How to Get Cleaning Contracts and Grow Your Commercial Client List
March 3, 2022
11 min. read
Cleaning contracts keep your schedule filled with predictable work, making them a surefire way to improve cash flow and grow your cleaning company.
But where do you find clients who are willing to sign commercial cleaning contracts? And when you do find them, how do you submit a bid and win the work?
Finding and bidding on a contract doesn't have to be difficult. Let's go through the process and get you on your way to signing your first contract and leveling up your business.
Learn more about getting cleaning contracts for small business:
What is a commercial cleaning contract?
A cleaning contract is an ongoing agreement to provide commercial cleaning services for a client. These clients can be offices, banks, schools, apartment buildings, or any other space that's part of a business's operations.
Here's an example of what a business or office cleaning service contract looks like: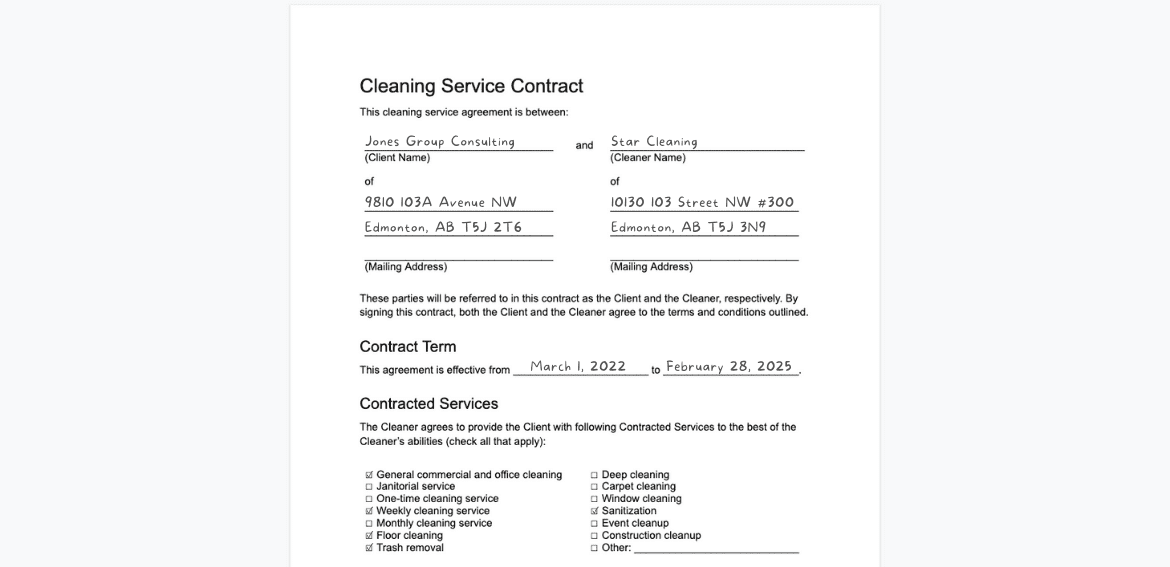 READ MORE: How to start a commercial cleaning business
Your commercial cleaning contract should include all the terms and conditions of your working relationship with a client, like:
Contract start date and end date
Contracted services (e.g., office cleaning, janitorial service, deep cleaning, carpet cleaning, window cleaning)
Service area (address, building floor/unit)
Payment amount, frequency, and method
Contract termination requirements
Type of working relationship (e.g., employee, contractor, partner)
Any rules about safety or confidentiality
The client might have a contract for you to sign, or you might have to draft your own. Either way, work with a lawyer to make sure the contract will protect everyone involved.
Pro Tip: Read up on any terms you don't understand. For example, be aware of (and negotiate) payment due date terms like "net 60." This means you won't be paid for service until 60 days after you provided it—and that can hurt your cash flow.
How do I write a contract for cleaning services?
Ask your lawyer to write a contract for you. It can be tempting to use a cleaning service contract template and write the contract yourself, but the contract won't be specific to your unique situation. That can leave your business open to liability.
Where do I find cleaning contracts?
You might hear about a contract opportunity through your network, or have a potential client contact you directly. You can also search for commercial cleaning contracts on RFP (request for proposal) listing sites like MERX.
Think of it this way: commercial clients are hiring to fill a role at their company. So you'll find these opportunities in many of the same places you'd find any other type of job.
Here's what a contract listing might look like:
READ MORE: Stay on top of the latest cleaning industry trends
Check listing sites regularly and tell your network that you're always interested in contract opportunities. This will help bring new contracts your way.
Pro Tip: Had a couple of cleaning contracts in the past but don't know how to repeat that success? Think about how you came across those opportunities. It might have been through a business relationship or industry event—and that's a source you can use again.
How to market your cleaning services to commercial clients
To make your business a good choice for commercial clients with cleaning contracts, you'll need to set yourself up for success.
Try these tips to promote your cleaning business and market your services to businesses that need to contract commercial cleaners:
Choose your market and services. Decide which types of cleaning services you'll offer and who your target clientele is. Think about what sets you apart from other cleaning companies and what will attract your ideal client. Make that difference the focus of your marketing.
Build a professional brand. Apply your cleaning company name and logo to everything your clients will see—uniforms, business cards, vehicles, you name it.
Create an online presence. Make it easy to find your business online with an easy-to-use cleaning website and social media accounts on Facebook and Instagram.
Make connections. Network with real estate agents, property managers, office managers, condo associations, and other local business owners. Any one of them could be a prospective customer.
Encourage word of mouth. Ask happy clients for testimonials and positive reviews. You should also create a loyalty program that rewards client referrals with a discount or other incentive.
Train your team. Invest time in training cleaners so they know about all the services your company offers. That way they can help promote your commercial cleaning services to both new and current clients.
Pro Tip: Not sure how to get clients for your cleaning business? Look at your existing client base, see if any of them are a good fit for cleaning contracts, and start a conversation. They already trust you to provide top-notch service and might agree to a more formal relationship.
READ MORE: Check out our commercial cleaning resources
If you're new to the cleaning industry, you may be wondering, "How can I get cleaning contracts if I'm a new business with no references?"
Start small by building relationships with local businesses, then work your way up to the bigger clients over time. The more good work you do, the more good buzz you'll get.
How do I bid on cleaning contracts?
When you're bidding on a cleaning contract, you're often competing with other cleaning companies for publicly posted opportunities. Here's how to bid on cleaning contracts:
1. Set your cleaning contract pricing
You'll need to nail down your pricing for this specific contract. This helps you keep your contract bid competitive.
Here's how to price commercial cleaning contracts:
Do a walkthrough. Book a time with the client when you can inspect the space together and talk about needs and expectations. Ask questions that will help you plan your schedule and services, like when you'll be cleaning, if any areas need special attention, and what the client's budget is.
Calculate the cleaning area. The most common way to calculate commercial cleaning prices is by square footage. The client might already have this data, or you may need to take measurements yourself during your walkthrough.
Calculate price per job. The average commercial cleaning rate per square foot is $0.07–0.15. Pick your rate, then multiply it by the cleaning area's square footage to get your price per cleaning job.
Price the contract term. Multiply the price per job by the number of times you'll provide services during the contract term. For example, if you'll be cleaning twice a week for a year, multiply your two weekly visits by 52 weeks. This will be the final quoted amount for the contract. (To see your weekly or monthly fee, just divide the final amount by the number of weeks or months in the term.)
Decide on any incentives. As an optional step, you might want to offer discount pricing or other incentives to reward your client for signing a long-term contract.
Remember, this is just your basic pricing structure. Every cleaning job is different, so adjust based on what pricing method you're using and what services each client needs.
Pro Tip: Sometimes the lowest price will win the bid, but don't cut into your profit margin to make a sale. If you make your business stand out, you'll still be a contender, even if your price is a little higher.
READ MORE: What to do when customers say your price is too high
2. Write a cleaning quote
Now that you have all the information you need, it's time to create a quote using cleaning business quoting software. Your quote tells clients what your services will cost, and it should include:
Business name and contact information for yourself and your client
Quote number and send date
Service line items with their associated costs
Your payment terms and conditions (including deposit amount, start date, payment timelines, and any other important details that could affect service)
Here's an example of what your cleaning quote could look like: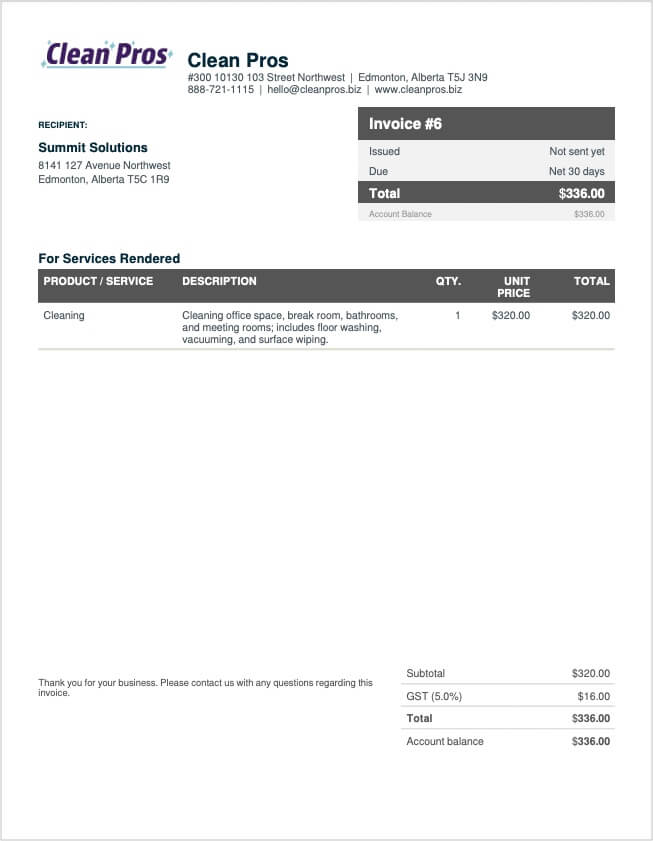 3. Create your cleaning proposal
Your pricing is set, and you're ready to write a proposal. Your proposal is a document you send to a potential client that outlines what you have to offer as a commercial cleaning business.
How do you write a proposal for a cleaning contract? Write a detailed document with this information:
Company overview and history
Relevant team bios and experience
List of commercial cleaning services and tasks
What sets you apart from competitors (e.g., products, experience)
Cleaning schedule and completion time
You can attach your completed quote to this proposal as well.
The client may want to see other information in your proposal, especially if they posted an RFP for the contract. Read through their requirements carefully to ensure you've included everything.
READ MORE: What equipment do you need to start a cleaning business?
4. Send your cleaning contract bid
Always send a bid within 48 hours of doing the walkthrough (or by the RFP closing date). This shows the client that you're serious about the partnership and eager to start work.
It's appropriate to send a polite quote follow-up email if the client doesn't get back to you within a week, or after the RFP decision date has passed.
Once the quote is approved and the contract is signed, you're all set to start cleaning!
Pro Tip: If the client didn't choose your bid, send a nice email asking for feedback on your proposal. They might be able to tell you what you could do differently next time.
FREE TOOL: Try our free cleaning receipt template
What licensing or insurance do you need to get cleaning contracts?
Property managers will be more likely to trust you with a contract if you're a certified commercial cleaning company. You can get training and certification through ISSA or OSHA.
On top of that, you'll need proof of cleaning insurance. This tells your clients that your working relationship will be protected, whether it's related to injury, property damage, or a breach in confidentiality.
Many commercial cleaning clients will also require you to pass a background check. This is especially true if you're bidding on a government contract like cleaning a courthouse or city hall.
How to get different types of cleaning contracts
You can get cleaning contracts with several types of commercial clients, like offices, banks, schools, and apartments.
Here's how to get cleaning business contracts with each type of client:
How to get cleaning contracts with offices
Not sure how to get office cleaning contracts? Start by identifying an individual office or a commercial building in your service area that you're interested in cleaning.
Then call or email the office, ask to speak with the property manager or office manager, and book a time to discuss the cleaning duties that could be included in your office cleaning service.
How much should I charge for cleaning offices?
Like most types of commercial cleaning, office cleaning is typically charged by square foot. The average office cleaning rate is $0.07–0.15 per square foot per visit.
How to get cleaning contracts with banks
First, you'll need to research local banks. State or national banks will likely want to work with the same service provider for all of their locations, so focus on independent banks until your business grows.
Put together a list of smaller banks you'd like to work with. Then contact the bank's site manager to discuss your bank cleaning services. This doesn't just mean cleaning banks—it could mean cleaning foreclosed homes, too.
You may need to fill out an application before you can join the bank's list of approved cleaning companies. You and your employees will also need to pass a background check to ensure the bank can trust you around cash and confidential client data.
READ MORE: Successful cleaning business stories
How to get cleaning contracts with schools
Different schools have different requirements for their cleaning contractors, so decide which type of school you'd like to clean:
Public schools in the U.S. will require you to submit a bid through a submission system like SAM.gov. As part of that, you'll need to sign up for the platform and register your business.
Private and charter schools are more likely to depend on networking and referrals when they're hiring a commercial cleaner.
Schools are looking to protect students and save money, so your proposal should focus on how your products are safe and your services are budget friendly.
If you haven't cleaned a school before, start with private schools or even daycare centers. You can also sub-contract with another school-cleaning company to get that experience under your belt.
Pro Tip: Create a page on your cleaning website that's specifically about your school cleaning services. This will help your site show up in search results for any school administrators who are googling cleaning services. You can also direct any paid online ads to that page.
How to get cleaning contracts with apartments
Apartment cleaning can be a steady source of income if you partner with the right apartment complex. Identify complexes in your service area, then reach out to the property manager about providing apartment cleaning service.
Apartment cleaning is less regular but more in-depth than your typical house cleaning service. You'll provide move-out cleaning after a tenant leaves and before a new tenant moves in, which means heavy-duty deep cleaning.
Pro Tip: Sometimes the window of time between tenants can be tight. You might even need to reschedule some of your other jobs. If you're given only a day or two to clean an apartment, think about charging a premium for rush service.
How to get residential cleaning contracts
As a commercial cleaner, you may not want to go after residential cleaning contracts. But just in case you do, here's how to get housekeeping cleaning contracts and residential cleaning jobs for your small business:
Approach your one-off or repeat cleaning clients about signing a contract with you.
Offer a signing bonus or incentive, like a discount or service upgrade.
Make the contract term shorter (like 6–24 months) so the client isn't locked in for life. This also allows you to change the contract terms later on if you raise your prices.
READ MORE: How to get clients for a cleaning business
That's it! Now that you know how to find cleaning contracts, you're ready to bid on regular work, improve cash flow, and grow your commercial cleaning business.
Originally published August 2021. Last updated on March 3, 2022.