Working with Clients
Use This Client Intake Form to Onboard Clients and Kick Off New Jobs
February 3, 2023
4 min. read
Client intake forms help you collect important details about new clients early in the intake process, making it easy for you to provide services, complete projects, and keep customers happy.
Let's explore what a client intake form is, what personal information to collect, how and when to use these forms, and how they can help your home service business.
New client intake forms: everything you need to know
What is a client intake form?
A client intake form is a type of customer information form that collects personal details from someone before they start using your services. This usually includes their name, contact info, and service needs.
Here's one example of a new client intake form for a small business, created using the requests feature in Jobber: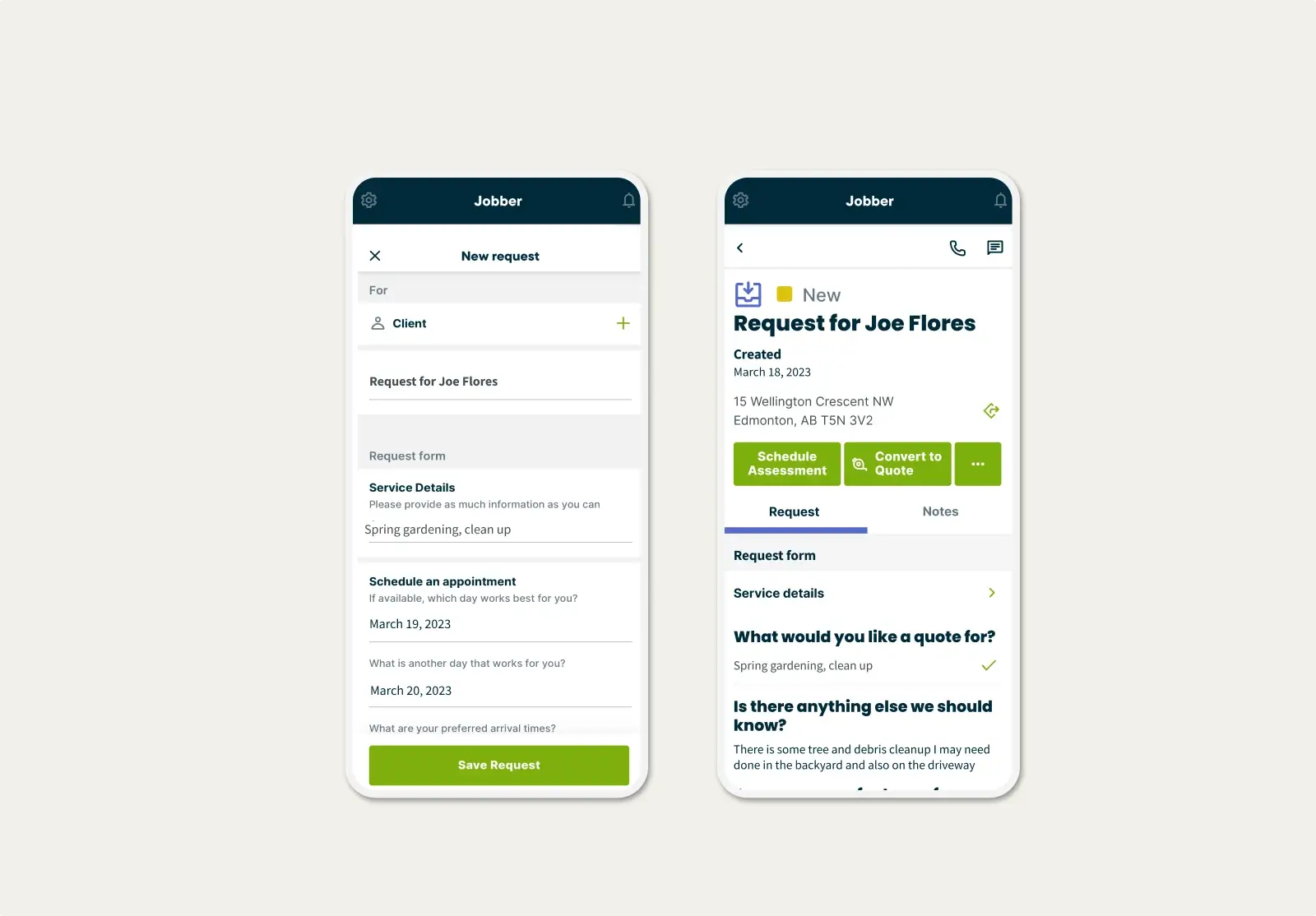 What are client intake forms used for?
You can use client intake forms during your intake process to quickly collect information from a new or potential customer, then store those details in your field service CRM to refer back to later.
By collecting this information during the onboarding process, you're prepared to set project expectations, complete the job, and keep the client satisfied in the process.
If you're using a digital client information form, you'll also be able to:
Keep customers happy by only asking them to fill out a single form
Maintain accurate records by collecting all important client information up front
Win new work faster when you use project data to quote the job and close the sale
Avoid duplicate paperwork when you collect every detail you need at once
Manage project scope with a written record of your first conversation with the client
Keep track of leads by storing relevant information about potential clients in one place
Save time by quickly pulling up client contact information and other details as needed
What information does the client intake form gather?
Your new customer form should collect whatever information will best help you meet their needs. The right questions for your business could include:
Client first name and last name
Contact information (phone, email)
Home address
Project overview
Requested services
Project budget
Preferred visit or consultation dates
Property notes (access, pets, etc.)
How they heard about you
It can be tempting to collect as much client info as possible, but only ask for the details you need. That way your customer registration form won't take too much time to fill out.
How to create a client intake form
There are two quick and easy ways to create and customize your own customer intake form, and we have the tools to help with both:
Option A: Use our client intake form template
Download our client intake form template PDF, print it off, and ask any new customer or potential client to fill out the form as the first step before you start a job. It's that easy.
Option B: Build your own client intake form in Jobber
Create your free Jobber account and customize your new client form to include the form fields you need. Here's what that looks like in Jobber's form builder:

When should a client intake form be started?
A new customer should fill out your client intake form when they're interested in receiving services from you. There are a couple of ways for them to take that first step:
Online: Add your client onboarding form to your service business website or social media pages so clients can fill it out themselves and describe the work they need. Some business owners use this form as a contact form.
Phone: Your office team can pull up the form during a sales call, use the form fields to collect contact information and project details from a prospective client, and add a visit to your work schedule.
READ MORE: Win new work over the phone with this sales script
When you use client intake forms to capture and store customer information, it's easy to win the work, do the job, impress the client, and get paid—faster.
Originally published September 2021. Last updated on February 3, 2023.