Working with Clients
Book More Jobs with Work Request Forms
September 16, 2021
5 min. read
Ever had clients fall through the cracks during the quoting process? Lost important details or had to gather the same information from them multiple times?
Keeping track of potential clients and moving them into your sales process can take up time you don't have. But with work request forms, it's fast and simple to organize details about prospective clients and jobs.
Let's explore what work request forms are, what information you can collect, how to use these forms, and how they can help your business.
What is a work request form?
Work request forms (also known as job request, quote request, or online booking forms) allow clients to request work from a company, contractor, or home service provider.
You can add your work request form to your website so clients can fill it out themselves. Your team can also use it during phone calls to ask questions and log requests in your records.
These forms keep client information readily available from the moment they first contact you, making it easy to schedule an assessment, send a quote, follow up, and close the sale.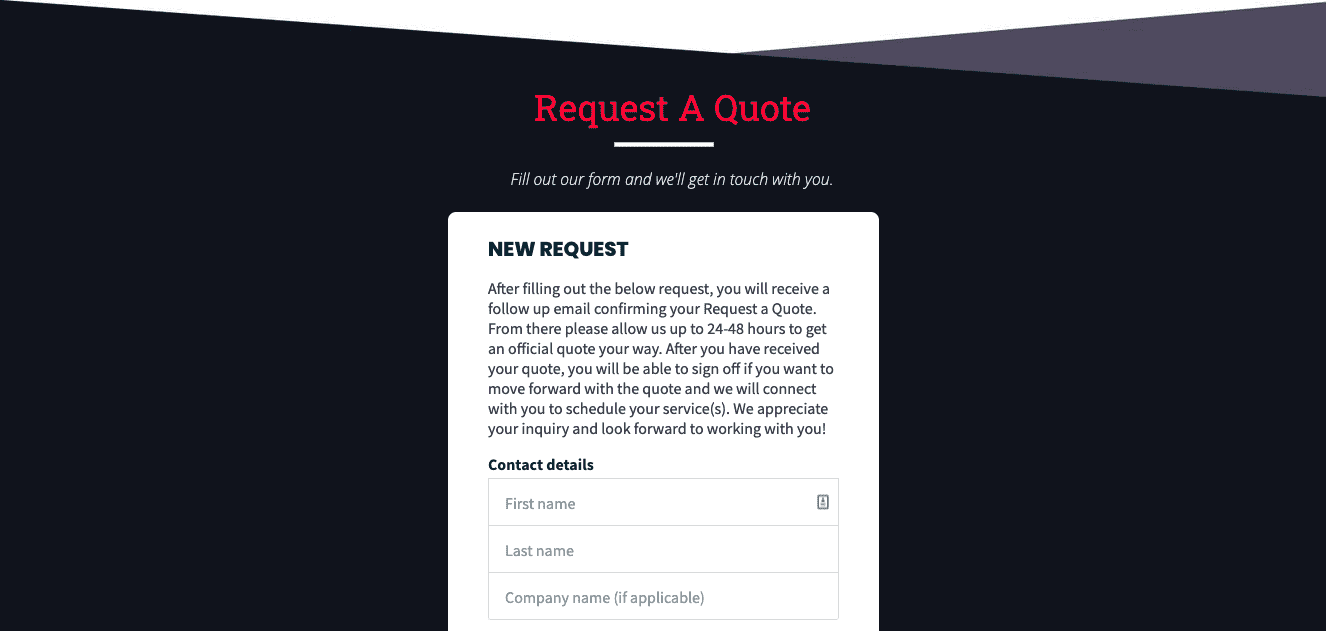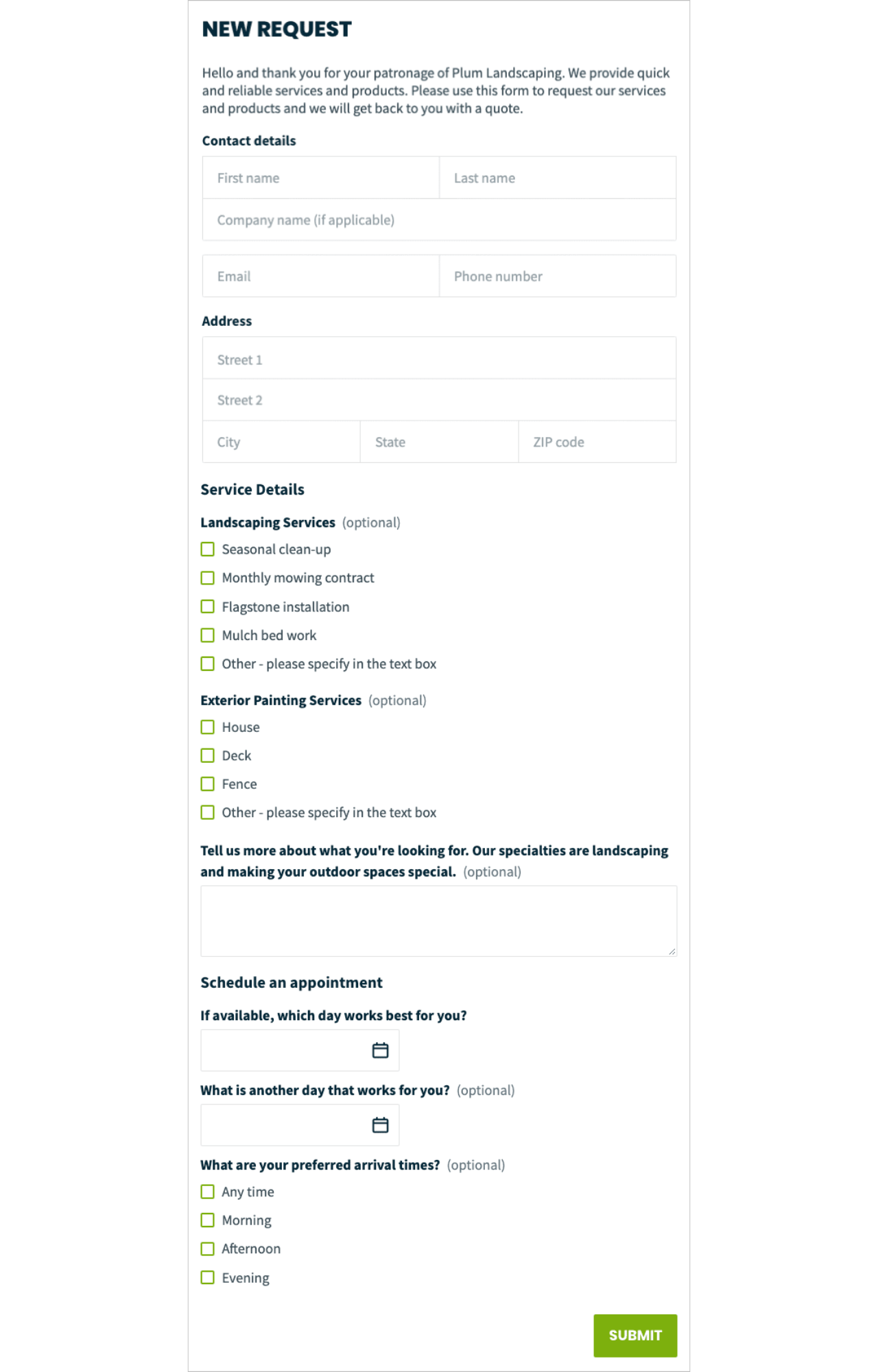 What client details can you collect in a work request form?
You can fully customize your work request form in Jobber to include any form fields you want. This allows you to ask any questions you would normally include in a phone call, which streamlines your sales process.
Your work request form could include information types like:
Client name
Contact information
Address
Project overview
Requested services
Project budget
Preferred visit or consultation dates
Property notes (access, pets, etc.)

How do you set up a work request form?
It's quick and easy to build your work request form in Jobber and share it with your employees and potential clients:
First, create and customize your request form. You can use form fields like the ones above to make sure you're capturing all the client details and job information you need.
Then share the generated link with potential clients through marketing materials like your website, vehicle, and flyers. This offers more ways to contact you—without you having to monitor more communication channels.
Pro Tip: The generated request form link is pretty long, so it's a good idea to use a URL shortener or create a QR code for your marketing materials to direct people to that form.
How can you use work request forms?
Both your team and potential clients can use a work request form to create work requests on mobile or desktop. Here's how:
Client calls
Let's say you get a phone call from a potential client asking for a quote. Pull up your work request form, use the form fields to collect information from the client, and add a visit to your schedule.
READ MORE: Win new work over the phone with this sales script
Have different team members handling different parts of the sales process? No problem. Your office manager can capture information and schedule the visit, and your field technician can head out for an on-site assessment.
If you're using a call center or virtual assistant, they can use the URL or log in to Jobber to fill out the form during a call. This gives you and your team access to the request so you can respond to it.
Client website bookings
If you add online booking to your website, potential clients can handle the work request process on their own.
First, they click a "Get Estimate" button linking to the work request form. Then they can enter information about themselves and the work they need.
When they finish filling out the form and send it to you, you'll receive a work request notification in Jobber. You can open it, review the job details, and schedule an assessment based on their preferred appointment date.
Don't want to take on a request? You still have full control over your calendar and your workload. Just email the potential client to say no, then archive their request.
PRO TIP: To make the most of your Jobber plan, convert the new request into an assessment, quote, or job. This takes the information from the work request and carries it forward through every stage of the work so it's always handy when you need it.
READ MORE: Here's why your home service business needs a website
What are the benefits for your business?
Work request forms don't just make it easy for clients to contact you—they also help your business. Here's how:
Take back your time. Control your calendar, make your system run more smoothly, spend less time entering client data into your records, and give yourself more time to invest in the tasks that are most important to you.
Streamline your processes. No need to fill out duplicate paperwork with the same information—enter it once in Jobber and keep it handy through every stage of the project.
Improve scheduling and reporting. Store work requests separately from your quotes and jobs, block out scheduled time for assessments, and track which requests converted into paying work.
Manage project scope. Want to protect your business from changing expectations during the project? Request forms give you a written record of your first conversation with the client at every stage of the work so you always know what they asked for.
Boost your company's reputation. Look more professional with a custom form that integrates with your website and other marketing materials. You can also integrate Jobber's client hub to create a positive self-serve experience that clients will rave about.
Keep track of leads. No more lost leads or scrambling for information in the middle of a phone call. Store all information about every potential client in a single place.
READ MORE: Done the job? Fill out a work completion form
Ready to start winning more clients?
Work request forms keep client information handy so you can schedule an assessment or send a quote, then win the work, do the job, and get paid.
Get started with Jobber today and start turning your marketing leads into paying clients.