Electrical Leads: 8 Tips to Get More Electrical Jobs
August 5, 2022
6 min. read
Getting new electrical contractor leads is key to running a successful electrician company. They can help you bring in new customers, stay profitable, pay your employees, and grow your business.
To help improve your lead generation strategy, we've gathered a list of the best ways to get more electrical leads.
Here's how to get more electrician leads for your business:
1. Determine your unique selling point (USP)
What makes your electrician business different from the other businesses in your service area? The answer is called your unique selling point (or USP).
Your USP may be:
Your (#) years of experience
Your electrician certification
Your competitive pricing
Your online reviews and reputation
Your dedicated team of electricians
Once you've decided what your USP is, include it in all your marketing materials (like your website, advertising, flyers, etc.) so potential customers know why they should work with you.
READ MORE: Marketing tips for electricians: 10 ways to get more customers
2. Optimize your website for electrical lead generation
For most prospective customers, your electrician website is the first impression they'll have of your business—and your first opportunity to get a new lead.
Your electrical website should tell visitors what services you offer, what area you serve, and why they should pick your business over your competitors.
Here are three ways to turn site visitors into electrical leads:
Include your contact information (phone number and email address) on every webpage to make it easy for visitors to get in touch with you.
Include keywords a prospective customer may use to search for your services, like "electrician near me," "electrician in [CITY]," or "emergency electrician." This will help your site show up higher in search engine results.
Make sure your website is fast to load and easy to navigate to help visitors quickly find your electrical services.
3. Attract new leads with local SEO
Use local search engine optimization (SEO) to appear higher in search results when a customer searches for electricians in your service area.
Here are three simple tips to improve your local SEO:
4. Invest in digital advertising
Digital advertising on social media or through Google ads is a quick way to reach prospective customers and bring in new electrician leads.
To make sure you're not overspending on ad campaigns, set aside a percentage of your total revenue (like 7–10%) or use this formula to determine your monthly ad budget:
Budget per lead x desired number of new customers = monthly ad budget
Facebook and Instagram Ads
Using Meta to advertise your electrical business on Facebook and Instagram makes it easy to set your budget and timeline and track your campaign results.
You can choose to boost an existing post from your social media feed or promote a photo, video, slideshow, and more.
Best of all, you can target potential customers by location, interest, other pages they've liked, and other demographics. So you know every ad is reaching your ideal customer every time.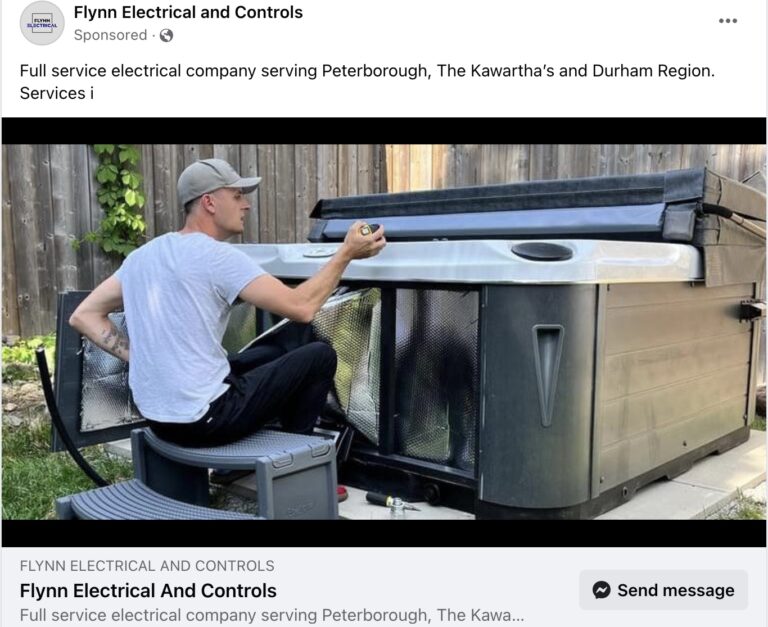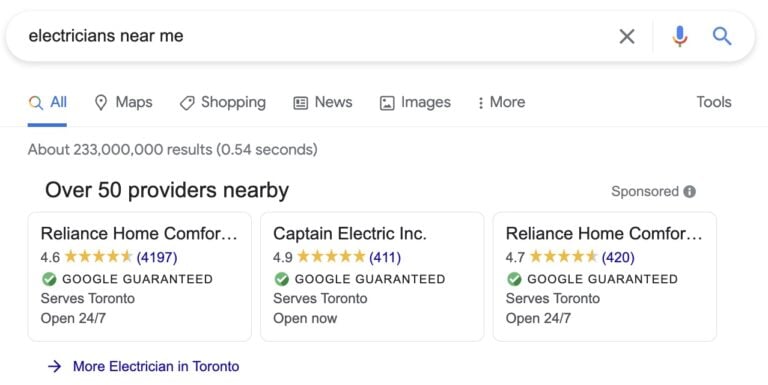 Your ad will appear at the top of the search results when prospective customers in your area search for terms like "electricians near me."
Google Search Ads
Use Google Search Ads to buy ad space for the keywords potential customers would use to search online for your services. This could include "electricians in [CITY]," "24/7 electricians," or "licensed electricians."
When a customer searches for one of these terms, your ad will appear at the top of Google's search results, just below Local Services Ads.
These are pay-per-click (PPC) ads, meaning you'll only pay when someone clicks on your ad to learn more about your business or to book your services.
Remarketing Ads
Google's remarketing campaigns display ads to your site's visitors after they've left your website. These ads follow them around as they browse other websites.
Remarketing ads are useful for re-engaging potential customers who have searched for your services in the past and might still be interested.

5. Collect, manage, and share your online reviews
Reviews play an important role in building trust with potential customers and generating new leads. Most customers want to know what past customers have had to say about their experience before investing in your services.
Here's how you can improve your online reputation with customer reviews:
Check in with your customers after a job is complete to make sure they're happy with your services.
Automate your review request process with NiceJob to seamlessly request reviews once a job is finished.
Respond to customer reviews (both good and bad) to leave a good impression on potential customers.
Create a testimonials page on your website to let potential customers see your glowing reviews.
Share positive reviews in social media posts, on flyers, and on other marketing materials.
READ MORE: How to ask for and get positive online reviews (+ examples)
6. Pay for leads on a lead generation website
Lead generation sites like Thumbtack, Angi, or TaskRabbit, can help get your business in front of new customers and help you find new leads fast.
Here's how to get the best electrical contractor leads from lead generation sites:
Choose the best lead generation site for your business.
List your full range of services and your service area on your business profile.
Respond to leads faster to win more jobs for your electrical business.
Ask customers to leave a review once the job is complete
READ MORE: Thumbtack for contractors: a complete guide to the lead generation platform
8. Turn existing customers into new leads with email marketing
Email marketing is a great way to get more revenue from existing customers.
You can use email marketing campaigns to promote new services, inspections, maintenance, and special offers to get new job requests from your existing customer base.
To make your email marketing campaigns more effective, use these tips and tricks:
Target email campaigns to specific groups of customers. For example, group customers based on their past services, like electrical repair, maintenance, upgrades, or wiring. This will help you send campaigns that are more relevant to these groups.
Keep selling to a 1:5 ratio. For every five emails you send, only one of them should be a sales pitch. Instead, provide your customers with valuable information to keep them subscribed and engaged.
Write a compelling subject line. Convince your customers to open your email with a strong subject line, like "Want to save 25% on your electricity bills?"
Grow your electrical business with Jobber
The right marketing tips for electricians can help you increase your brand awareness, but to grow your business quickly you'll need to generate new leads.
Use the tips above to get more electrician leads from prospective customers. Then use electrical contractor software like Jobber to send quotes, schedule jobs, dispatch your crew, and get paid faster.