Electrician Advertisement: How to Advertise Your Business
August 19, 2022
8 min. read
Creating an electrician advertisement strategy helps to grow your brand awareness, attract new customers, and generate more business.
Whether you're just getting started with electrician ads, or are looking to improve your ad strategy, you've come to the right place.
This post will walk you through the best places to advertise your electrician business, examples of engaging ads, and steps to start advertising your business.
Google Ads for electricians (with examples)
Google is often the first place a potential customer will go to look for an electrician service. Investing in Google Ads puts your business at the top of the search engine results for users actively looking for your services.
There are three main options for Google Ads—Local Services Ads, Search Ads, and Display Ads.
Local Services Ads
These ads appear at the top of the search results page when a new customer searches for electrical services in their neighborhood.
Because you only pay when someone contacts you for help with their electrical problems, Local Services Ads are an affordable way to book more jobs in your area.
Google Local Services electrician advertisement sample:
Your Local Services Ads will include:
Search Ads
Search ads are next on the search engine results page, right under the Local Services Ads, and run on a pay-per-click (PPC) model.
For your ad to appear, you'll have to bid on specific keywords or phrases a customer would use to search for your services, like "electricians in [city]". You'll be charged that bid amount every time someone clicks on your ad.
When potential customers click on your search ad, they'll be directed to your website to learn more about your services, request a quote, or book an appointment.
Electrician's search ad example: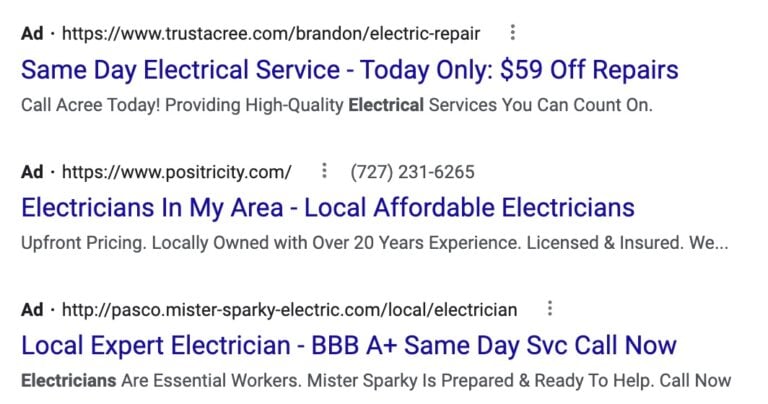 Your Google Search ad should include:
Business name
Electrical services (like wiring, electrical installation, etc.)
Competitive advantage (what sets you apart from other electrical contractors)
Display Ads
Google display ads are graphics, banners, or videos that appear for potential customers as they browse the web. They can be used to increase traffic to your website and grow your business's online visibility.
You can also use them to target a specific audience based on their location, interests, or even users who have interacted with your electrician website before. These are called remarketing ads.
Example of an electrician's display ad:
Your Google Display ad should include the following:
Company name and logo
A brief description of your company or service offerings
Call to action (like "schedule an appointment" or "book a free consultation")
Your Facebook ads should include:
An image, series of images, or video
A headline or message that describes your business or services
A call to action that tells your user to send a message or visit your website
READ MORE: 10 ways to optimize your Facebook business page
Instagram ads
Instagram ads work well if you have any imagery (like a before-and-after photo) or videos (like a customer testimonial) that promotes your business.
Just like Facebook advertising, Instagram makes it easy to target your ideal customers and set a budget that fits your business goals.
Electrician Instagram ad example:
Your Instagram ad should include:
Photos or videos of your business, electricians, completed jobs, or happy customers
A short caption that describes the image or video
A call-to-action button that tells the user what to do next
Advertising on online directories (with examples)
Advertising on online directories helps homeowners find your business online when they're searching for electricians in your service area.
To get started, we recommend claiming your Google Business Profile, Yelp for Business listing, and Bing Places listing.
Your business listing should include:
Business hours
Contact information
Website URL
List of services
Service area
Customer reviews
Here's what your business listing will look like on various listing sites:
Google Business Profile (formerly Google My Business)
Advertising on lead generation websites (with examples)
Use the best lead generation websites like Thumbtack, Angi, and Nextdoor to promote your electrician business. These are great places to connect with homeowners in need of your services and generate more electrical job leads.
Example of an electrician's Thumbtack advertisement:
Your electrician advertisement on lead generation websites should include:
Business name
Electrical services
Service area
Star rating
Electrician licensing
Door-to-door advertising for electricians (with examples)
If digital advertising campaigns are out of your budget, there are many affordable and effective door-to-door advertising techniques you can add to your marketing efforts.
Lawn signs
Some electricians use lawn signs as part of their advertising strategy. They're cheap to print and effective in capturing the attention of potential customers passing by.
It's easy to design and print lawn signs through Staples or VistaPrint. Once a job is complete, simply ask the homeowner if you can leave a sign on their lawn.
Example of an electrician's lawn sign:
Your lawn signs should include:
Business name and logo
Electrical services
Contact details (phone number or website URL)
Van wraps
Advertise your electrical services when traveling from one job site to another with a custom van wrap.
Here's what a van wrap looks like:
Your van wrap should include:
Business name and logo
Service area
Contact details (phone number or website)
Electrician flyers and postcards
Electrician flyers or postcards are useful advertising strategies if you're looking to attract customers from a specific neighborhood.
This type of advertising is also referred to as direct mail marketing and involves either sending or delivering flyers directly to potential customers.
Here's what an electrician flyer looks like:
Your electrician flyers should include:
Business name and logo
Catchy slogan or headline
Electrical services
Limited-time offer
Contact details (phone number or website URL)
Pro Tip: To get more local customers, dedicate an hour after each job is complete to deliver flyers or postcards to neighbors in that area.
You can also create tearaway flyers and post them on neighborhood bulletin boards in libraries, grocery stores, community centers, or gyms. Just make sure to ask for permission before posting the ad.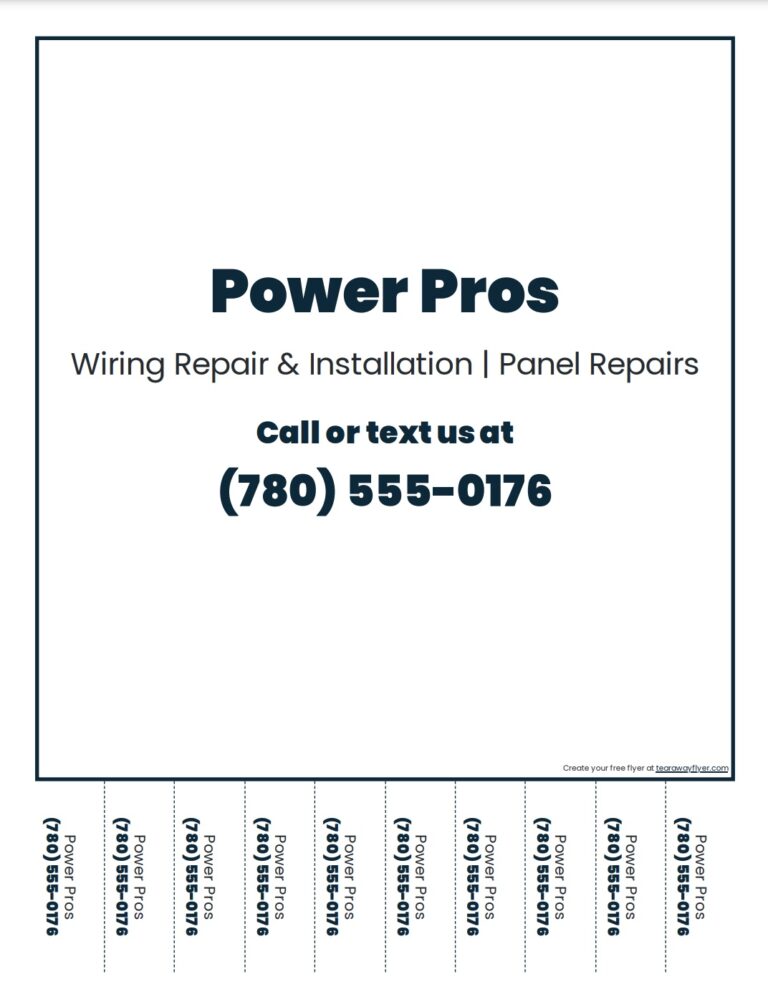 How to start advertising your electrical services
Now that you know the different ad types available, you're ready to build your electrical advertising strategy.
Here's how to get your electrician ads up and running.
1. Define your advertising goals
Knowing your advertising goals will make it easier to design an effective ad, for the right advertising channels. Your goal may be to:
Promote a new service
Grow your business with new leads
Expand your business into a new service area
Make sure your goal is measurable (like 20 new leads this quarter) so you'll know when you've reached it.
READ MORE: How to start an electrical business: 8 steps to success
2. Decide where you want to advertise
Consider which channel will be most effective for achieving your specific goal.
For example, if you're looking to build brand awareness, you can try Google display ads, lawn signs, or van wraps. To get new leads fast, Local Services Ads, search ads, or lead generation websites will be a better fit.
3. Set your ad budget
Your ad budget will depend on two factors:
How much you're able to spend to get a new lead (customer acquisition cost)
The number of customers you need each month to be profitable
Use this formula to determine your monthly budget.
Customer acquisition cost x desired number of new customers
If you're not sure how much you're willing to spend for a new customer, start by investing a small amount in a couple of different advertising campaigns.
Then increase your budget once you see which channels are bringing in the most leads.
READ MORE: How to estimate electrical work accurately in 7 steps
4. Design your ads
The best electrician advertisements follow these easy design rules:
Focus on one message (like a service or testimonial) to make it clear what you offer
Keep your design simple to help get the message across
Use consistent branding that includes colors, fonts, and imagery
Add a call to action that encourages a new customer to request a service or get in touch
To design a professional electrician ad, use one of Canva's free templates and customize it with your own branding and message.
5. Track your performance
To make sure your ads are achieving your defined goals, you'll need to track their performance. This will show you what advertising channels are working best and let you redistribute your budget to make the most of your campaign.
Set up Google Analytics to see where your website visitors are coming from and how much each new customer is costing your business.
READ MORE: How to run a successful electrical business: 8 business tips
Paid advertising is just one of many marketing channels that can help you attract new customers and grow your business.
To get started, try a handful of our electrician marketing tips to see which one works best for your business, monitor your results, and adjust your strategy accordingly.