Sales and Marketing
Win More Business With Email Marketing: The Starter Guide
December 30, 2019
11 min. read
So, you've toyed with the idea of using email marketing for your small business, but decided against it because you're worried customers will complain that your emails are "spammy" or that you're sending too many.
The truth? Most customers will thank you for sending messages to remind them about your services, new packages, or upcoming specials.
Email marketing is one of, if not the most, effective marketing channels for small businesses in 2020. Some businesses have shown a return of $32 for every $1 spent on emails!
As Jobber's email marketing manager, I've sent thousands of email marketing campaigns and seen first-hand how it helps keep customers engaged and informed. But I understand it can be overwhelming, too.
Here are some of the most common small business email marketing questions, with examples from real home service industries.
What is Email Marketing?
Email marketing is the practice of sending emails to engage with your customers or prospects, build loyalty, and sell more products or services. These emails can be promotional (informing customers about a new service), or educational (making an announcement, sharing your expertise, etc.).
Today, most email marketing is done using automation software. Instead of writing one email at a time and manually selecting who to send it to send it to, you can group customers into audiences and send automated email campaigns to multiple emails at once.
The software allows you to personalize each message, so it will never come across as robotic or spam. You can also schedule emails ahead of time and send different emails to your customers based on their behaviour (for example, whether or not they book a service.)
Here's an example of how Keith Kalfas, landscaping and window cleaning professional, has used email marketing to grow his service businesses:
First, start collecting the email addresses of the customers and prospects you speak with, whether it's through an online booking form or over the phone. Track every single client email in a CRM.
Next, export that list of emails to an email automation platform and create either a monthly, quarterly, or holiday newsletter. It can be as simple as saying you have a seasonal promotion, or simply reminding them of the services you offer. For example, "Hi Mrs. Jones, the spring is rolling around and we're offering you 10% off spring clean ups if you reply to this email."
Now, you can personalize and launch that email to 1,000 customers in one click. The idea is that when it reaches them, they might remember that they do want that project done. Or they might save it, and when they're ready, they'll call you. Because you emailed them and your competition didn't.
You can plan out all of these emails during your slow season and schedule them to go out automatically on a regular basis. So now, you'll be getting phone calls from leads even when you're on a job site and you've completely forgotten about the campaign you set up all those months ago.
The Benefits of Email Marketing for Small Businesses
From Walmart to Amazon to Apple, every big name in business uses email marketing to stay in touch with customers and drive more sales. But what about small businesses or service-based businesses? If you're not emailing millions of customers, is it even worth it? The answer is yes, absolutely.
In fact, email marketing is one of the best marketing channels for entrepreneurs because it complements the human and personal nature of running a small business.
We've already mentioned that email marketing has a 32x return on investment. Here are a few other reasons you should start emailing your customers:
Email marketing is targeted and efficient. This is no 'spray and pray' method like door hangers or lawn signs, which may never been seen by the household decision maker. With email, you know the message is going directly to the inbox of the person who needs to see it.
Email marketing results are easy to track. Once you hit send, you know exactly who opened which email, and if the email resulted in a sale. Over just 3-4 emails, you can already start to see which emails are working and change the ones that aren't. With flyers, word of mouth, or direct mail, it can take months to track down responses.
Email marketing keeps you top-of-mind. The truth is, your customers are busy with lives of their own. They aren't always thinking of you, not even when they need one of your services. Email marketing is the perfect marketing channel for small businesses who want to remind their customers they are around, so that whether they are ready to buy immediately, or in a few months, they'll think of you first.
Email marketing keeps you busy (and profitable) during slow seasons. The beauty of marketing automation is that you can set it up in a few hours and let it run on it's own over the course of a season or even a whole year. If your service business is seasonal, take advantage of this to set up email campaigns while you're not busy. You can also use email campaigns to encourage customers to book work in advance so you can work on building up cash flow all year round.
Examples of Email Marketing for Small Businesses
There are two common types of email marketing campaigns: one-off and recurring. Start with a one-off campaign to test the waters. Once you've got the hang of it, you can try both.
Here are some one-off and recurring campaign ideas and examples from home service businesses to inspire you to create your first email campaign:
1. New Service Campaigns
One of the most useful and effective marketing emails you can send is an announcement about a new service offering (or a reminder of all the services you already offer). This can be something as simple as:
Hi [insert name],
We've been offering our community [current services] for 12 years.
We just wanted to let you know that in response to growing demand, we now also offer:
[insert service]
To learn more, simply follow this link to our website.
Best,
[insert favorite sign-off]
2. Re-Engagement Campaigns
Repeat customers are the lifeblood of small and service-based businesses.
Use email marketing to turn one-off jobs into recurring services.
Let's say 50 customers booked one-off jobs in the past year. You could send them a marketing email that:
Reminds them of that service
Offers a similar package with added value
Provides a time-sensitive offer for re-booking
Discounts the service if they schedule recurring visits
If you do offer a discount, just make sure it doesn't exceed the cost of acquiring a new customer. For example, if you know it costs $300 to get a new customer, ensure the discount is less than $300. If you give them a $100 discount, then you're paying $100 for the extra business (only one third of the cost of finding a completely new customer).
3. Content Campaigns to Build Your Brand
With content-based email campaigns, you share information that positions you as an expert. Usually, this type of email marketing campaign is sent as a monthly or quarterly newsletter. You can write a few months' worth of emails in one sitting, then schedule them so you don't have to worry about it.
Inject as much of your personality as you want to make these emails fun, informative, and valuable.
Here are a few examples of content-based campaigns you could send:
Houseplant or lawn watering guidelines if you own a lawn care business
A suggestion that helps your reader remove a stubborn kitchen stain if you own a cleaning business
A round-up of useful articles related to your industry that may help your reader
Again, don't worry about annoying your customers with 'spam.'
If you are sending them genuinely interesting and useful information related to your industry, they'll be thankful for the added value you are providing in between services!
4. Seasonal Campaigns to Balance Out the Highs and Lows
Does your business have marked highs and lows during the year? Use email campaigns to maximize the highs and limit the lows. Use reminder campaigns to:
Encourage customers to schedule work for next season. You can either use the email to explain that if they book now, they'll get a guaranteed spot before your calendar fills up. Or, you can offer a discount for booking in advance.
Inform customers about other services you may have that aren't affected by seasonality.
How to Track the Success of Your Email Campaigns
With email marketing, you can't just hit 'send' and be done with it. You need to look at a few basic metrics to see if it's working.
Any good email marketing software will make this part easy.
The basic email marketing metrics you want to track are:
Open-rate: The percentage of people who open your emails. Open rates vary depending on your industry, but your email marketing software can provide reports and data that lets you compare your business against the industry average. You can improve open rates with better subject lines.
Clicks: The number of readers who click a link in your email. If people don't click, it may be because the email is irrelevant to them. To make it more relevant, check that your content matches the customer categories you created in your email platform.
Sales: How many emails resulted in work orders. The end goal of email marketing is to drive sales. To track the number of sales a single email generates, include a link customers need to click when booking a job. Every time a customer books your service through that link, you know the sale comes from the email.
How Much Does Email Marketing Cost?
The cost of email marketing for a small business ranges from $0 to $750 per month. The price depends on how many emails you send or how big your contact list is. The bigger your list, the more you'll pay.
For simplicity, let's compare the cost of three popular email marketing software providers: Mailchimp, Aweber, and Constant Contact.
All three providers offer pricing packages based on the number of subscribers or contacts you will be emailing.
| | | |
| --- | --- | --- |
| Email Marketing Service | Free Option? | Starting Price |
| Mailchimp | Yes, first 2000 subscribers | $9.99 |
| Aweber | One month only | $19 |
| Constant Contact | One month only | $20 |
When choosing an email marketing service, don't focus exclusively on price.
Look for a platform that makes it easy to import your client list, create segmented audiences, and design beautiful, professional-looking email campaigns without a steep learning curve.
If you are just starting to build your email list and have fewer than 2000 subscribers, Mailchimp's free email marketing platform is a great place to start.
Best Practices to Get Started with Email Marketing
Here are five best practices to follow to get started with email marketing for your service business:
1. Build your list from day one.
Use sign-up forms to collect emails or asking customers to join your mailing list. When asking, just emphasize what's in it for them—maybe it's the tips they receive or the specials you offer. Also, make sure they know they can unsubscribe at any time.
2. Group customers into audiences.
Make sure your email software can properly segment customers by what you want, e.g., last service date, last service done, etc. Avoid sending blanket emails that target all your email contacts. The chances are they won't make sense to most of your readers and you'll risk lots of people unsubscribing.
3. Don't hide your unsubscribe
Don't try and hide unsubscribe buttons. And never forget to leave one on each email. Everyone is used to seeing it at the bottom of the email. You could start getting into spam boxes and even blocked if that practice continues.
4. Plan Your CTA (Call to Action)
Before writing your emails, make sure you know the purpose and CTA (call to action). Each email should have one clear purpose and just one button you want customers to click.
Do you want to take bookings or have people call in? Maybe you want neither and simply want to engage customers and encourage a reply.
Plan this ahead of time so that your emails are clear, concise, and drive the results you're looking for.
5. Follow these design and writing tips when creating your emails:
Create text emails to start. These are simpler and faster to create since you're only writing and not worrying about the design.
Build an outline so you can write emails a lot faster and don't get frustrated. Once you finish the first draft, compare your outline against what you've written to see if anything's missing.
Avoid deceptive subject lines. For example, don't offer a 50% discount to get readers to open the email and then only provide a 20% discount inside. You could get a phenomenal open rate, but you might not get the clicks or sales to match it.
6. Pay attention to how often you send emails.
There's no right or wrong answer here; it depends on seasonality in your industry, holidays, and purpose.
For example, at Jobber, we have a weekly newsletter where we share great content for service businesses.
You might decide to send an email bi-weekly or even monthly. Start with a low volume of emails and test them before you commit to sending weekly or even monthly emails. Try quarterly at first, or just sending emails on calendar holidays.
The more emails you send, the more you'll learn what works best for your business.
Create and Send Your First Email Marketing Campaign with Jobber and Mailchimp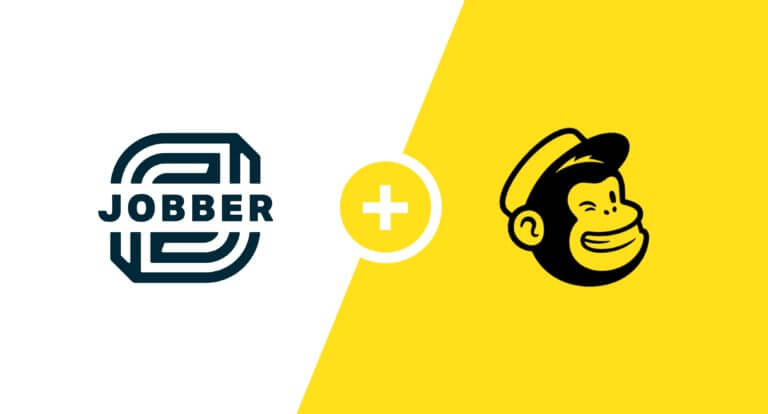 I hope all of this information has been helpful and inspirational for you to get started with email marketing.
If you're ready to give it a go, you can start today by instantly syncing your client list from Jobber to Mailchimp.
Mailchimp is a marketing automation software that specializes in postcard and email marketing. It lets you create highly targeted email campaigns.
When you integrate Jobber and Mailchimp, you can sync your client list, create audiences, and automate all your email campaigns. That means no duplicate entry, and no clients slipping through the cracks.
To get started with your first campaign, connect your Mailchimp and Jobber accounts. All your existing client details in Jobber will then automatically sync with an audience in Mailchimp.
You can then hit the road running by accessing a preloaded, ready-to-run email campaign. Plus, you're able to create stunning, branded emails by using one of Mailchimp's 100+ templates or build your own. Simply use the intuitive drag and drop email designer to get the job done.
Still have questions about email marketing for service businesses? Connect with us on Facebook to join a community of like-minded entrepreneurs who understand what you're building.
2020 is a great time to level up your small business' marketing strategy with simple but effective email campaigns. If you've been thinking about it, now's the time the start. We're here for you.