Sales and Marketing
A Month of Facebook Post Ideas For a Kick-Ass Page
February 5, 2017
10 min. read
Written especially for service businesses, this guide explains how a Facebook page can help your business and outlines a month's worth of reusable Facebook post ideas, with examples from real Jobber users.
At a recent customer panel (we often get together with our customers and other service business owners so we can learn from them), a few of our panelists started talking about Facebook pages for businesses.
Each of the panelists had talked about starting a page, but they felt there was no time to start and maintain it. One of the panelists questioned whether a Facebook page was even worth their company's time.
As we talked a bit more about their Facebook feelings it became clear that one of the barriers was they didn't know where to start with posting ideas. Considering the number of social media channels out there, and all the interesting posts you see in a day, we agree it's intimidating!
But we believe that every service business has an interesting story to tell, so we've put together a month's worth of Facebook post ideas to help you get started.
But first…
Will running a Facebook page impact my business?
Before we get into post ideas, we want to address our customer's concern about whether or not building an audience on Facebook is time well spent. This question made us think, so we poked around and here's what we found:
With well over 1.5 billion users in 2016, Facebook has the most users out of all social media platforms. The demographics of people who use Facebook show that the majority of them are most likely the household decision makers who would be pursuing mobile services such as cleaning, lawn care, snow removal, etc.
Facebook leads the way for review platforms. According to BrightLocal's 2016 Annual Local Consumer Review Survey, when consumers were asked how they've commonly reviewed or recommended a business in the last year, Facebook reviews were second place to word of mouth (by a margin that far outreached other social media channels). (We summarized the survey results for service businesses and it's definitely worth a look!)
So although there are no guarantees that Facebook will win you lots of new business, there is evidence to suggest that people looking to book services like yours are on Facebook and they trust Facebook reviews.
BrightLocal's research indicates that online reviews are a powerful tool for service businesses, so with that in mind we recommend starting a Facebook page. But before you get started, you need to make sure you'll have the time to keep your page up to date and that you have a plan.
PSA: Size your photos correctly
Every social media platform has specific photo size specifications for various photo types (profile photo, timeline photo, etc.), and Facebook is no exception. It's important to size your photos correctly so that you don't end up with blurry images, photos cut off at strange places, or no photo in your post at all.
Sprout has a list of photo size requirements for the major social media channels that they always keep up to date. We have it bookmarked and recommend you do the same.
In terms of resizing and cropping, we often use PicMonkey, a free photo editor. You don't even need to start an account. Simply click 'Edit a Photo' to upload an image, then use the 'Resize' and 'Crop' functions.
We'll be referencing a few more tools throughout this article, and you can find them all in the 'tools' section at the end.
Before you post: setting up your Facebook business page
Setting your page up with a profile and cover photo are the first two hills to get over. Maybe you don't have any professional photography to fill those blanks. Worry not.
Profile photo: We suggest you simply use your company logo. That's what we do! It's professional, builds brand recognition, and it's easy.
Cover photo: This is the larger rectangular image at the top of your Facebook page. If you have a great photo that speaks to your work (a shot of a well manicured lawn, a sparkling clean home, a neat shot of intricate plumbing work, etc.) then load it up! If not, make it a priority to take a clear photo (no fuzzy photos please) at the next opportunity.
Lay out your essential tools on a counter or clean concrete floor or ask a great customer if you can take a photo in their space.
Don't worry if you don't have access to a professional camera. The camera on a newer smartphone will work just fine (if no one in your office owns a fancy smartphone, you likely know someone who does). Just make sure you take a landscape shot (horizontal) shot, rather than a portrait/vertical shot.
Or, you can make like Jobber and put together a graphic of some sort (see the tools section below for more info on putting together graphics in Canva).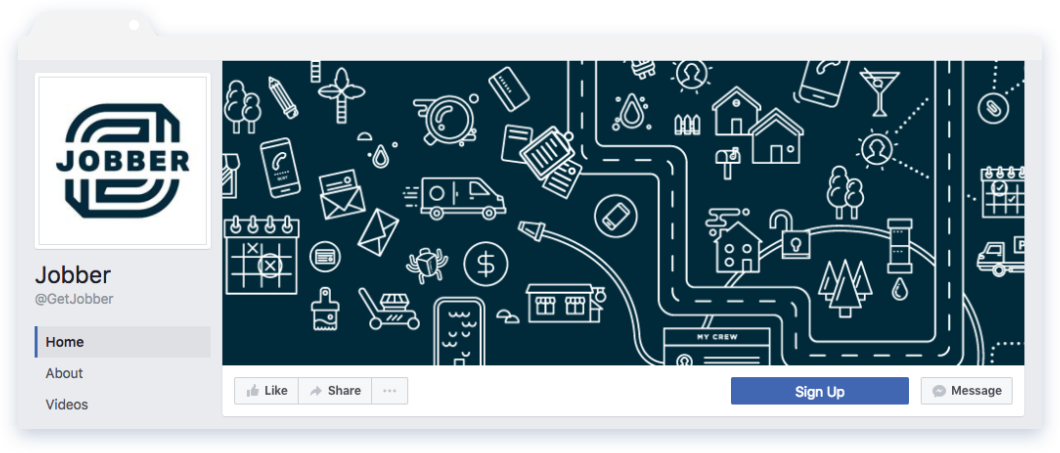 Facebook post ideas for your service business with examples
You've got your business page. Now it's time to post!
Don't get overwhelmed – there's no need to post on Facebook every single day to see engagement and followers start to rise.
If you're just beginning, posting twice a week is plenty. So, we've put together 8 Facebook post ideas to get you through your first month.
If posting twice a week seems intimidating, then knock it back to 1 post per week and make this guide last you a couple of months. The key is consistency.
We also suggest that you include an image with each of your posts, and we've gathered some great real life examples from Jobber customers running solid Facebook pages (visit them for more inspiration!).
Posting images is proven to capture people's attention better than text alone, so putting in the time to pair up a post is definitely worth the effort. If you don't have your own photos, see the 'tools' section below for some image sourcing ideas.
Running a Facebook page requires some planning, but the following themes aren't one-offs. You can brainstorm multiple ideas for each to create a long list of posts.
So, without further ado, and in no particular order…
1. Before-and-after photos
Most service businesses perform work that turns a messy 'before' into a beautiful or organized 'after.'
What does this look like for your business? Is it a gnarly tree that is now beautifully pruned? Is it an unkempt yard that now has snazzy lawn stripes? Is it a mess of pipes replaced with an organized system? Grimy windows that are now sparkling?
Post a before and after photo to your business Facebook page, or just show off the after, add a sentence providing context about what services you performed. Here's a great example from Kirk's Lawn Care on their Facebook page.
Pro Tip: Use PicMonkey's overlay feature (the butterfly icon) to layer an 'after' photo on one half of a 'before' photo, or download one of the many free photo collage apps on your smartphone for even easier formatting.
2. Behind the scenes
A happy customer comes home to a newly installed air conditioner, a beautifully landscaped garden, a freshly tiled kitchen, but what about the magic (aka the hard work and elbow grease) that went into the final product?
Here are a few 'behind the scenes' Facebook post ideas to get you thinking:
Take photos of towers of tiles and explain that today you assembled a puzzle with 2356 pieces in someone's kitchen.
Show a pile of confusing electrical cables and tell readers that employing an expert to decipher the various colors is a good idea.
Get technical and speed up a GoPro video of landscaping project so that 3 days of work becomes 30 exciting seconds.
3. Say thank you!
You can never go wrong with simple thank you after a busy season or a significant event. Pair a message thanking customers for their business with a smiling photo of your team, or a thank you graphic and you're good to go.
Blush Artistry (mobile hair stylists and makeup artists) thanked trade show attendees in a fun way on their page, appealing to both new fans and past customers who might be happy to know their go-to experts are active in their industry. They even tell potential customers where they can find them next.
4. Share an interesting article
Show your customers that you're interested in and knowledgeable about all areas of your industry by sharing a relevant article. If your business is pest control, share an article about how to check for bed bugs in hotel rooms. If you're in the dog walking business, share an article about dog grooming tips.
Here's an article that Light Right—Christmas light installers playing on the winter theme—posted to their Facebook page.
If you find it interesting, chances are your customers will feel the same. Best of all, you won't have to hunt down an image because blog articles from other sites are often formatted to be shared with an image.
5. Seasonal reminders
Many service businesses have busy seasons, so use Facebook posts to remind your clients about services they can book ahead of time. A few months before spring or summer hits, remind your clients about key spring services and tell them to book early.
Think about how the seasons or certain holidays affect your business and use your Facebook page to keep these key times top of mind for your customers.
Your Way Lawn Care does a great job of giving their customers a helpful reminder to schedule an appointment before they're booked up on their page.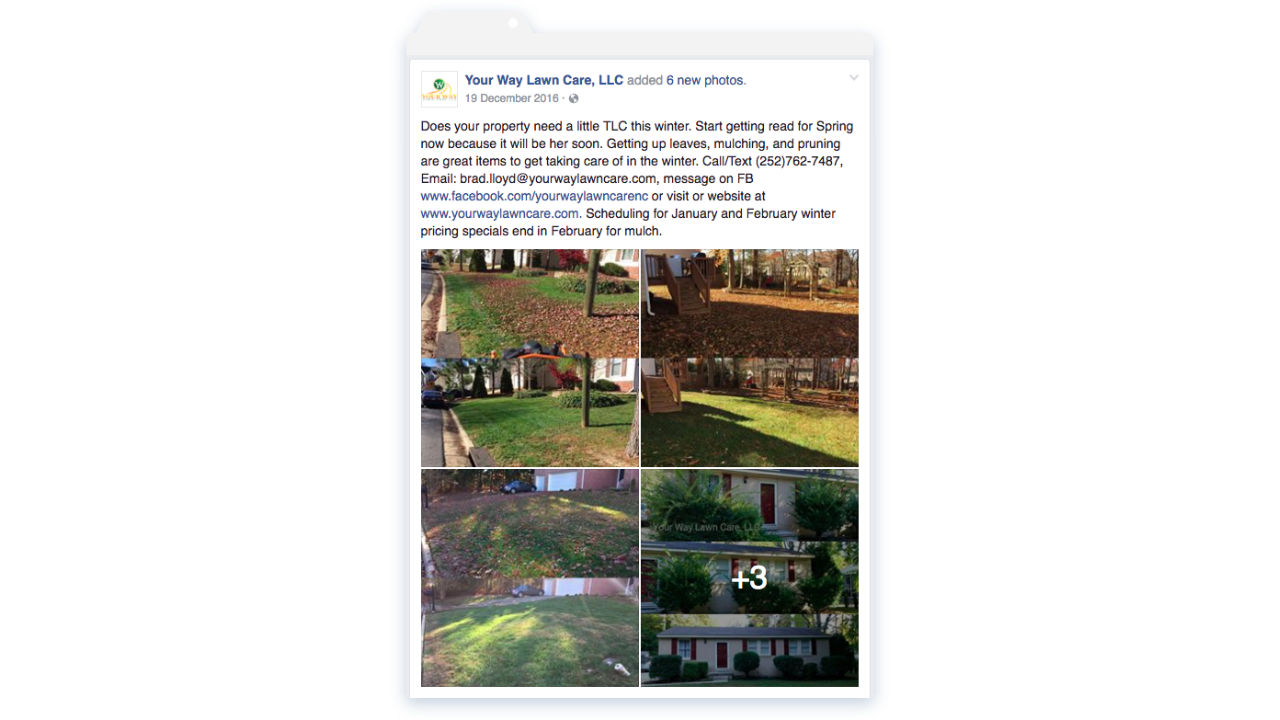 6. Spotlight one of your service offerings
If you have a new service to promote or feel that your customers could use a reminder about certain services, remind them with a Facebook post.
Pair a description of the service and why they should book it with an after photo or a Canva image.
Homeward Bound Pet Food Delivery shared this cute GIF (our screen shot doesn't do it justice) on their Facebook page to remind potential and lapsed customers about their service.
7. Share job postings
If you're looking for a new employee cast a wider net to capture great candidates by sharing the opportunity on your Facebook page.
Facebook posts were meant for sharing, so if a great customer sees the post and shares it with a friend, you're more likely to reach great candidates with no extra effort!
A photo of your team at work or a simple Canva graphic (like our example below) will capture people's attention and help spread the word.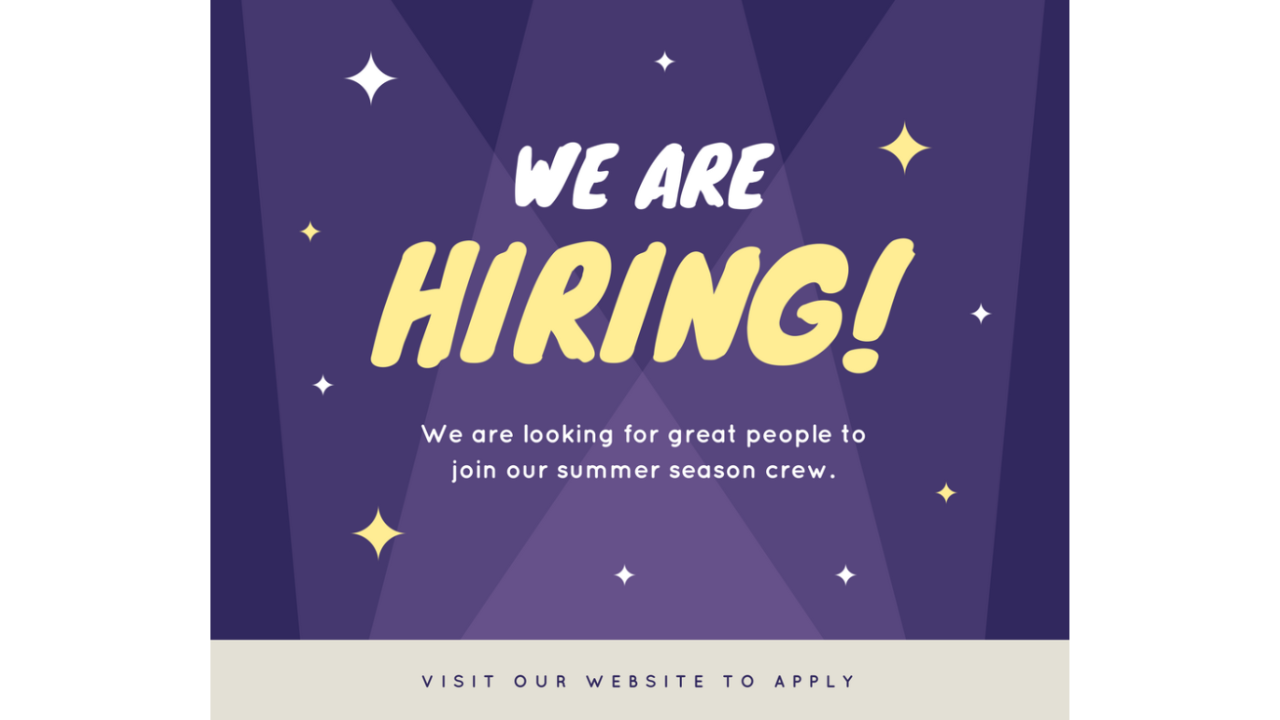 8. Provide expert insight
Finally, use your Facebook to demonstrate your expertise. This will help boost your credibility, and add value to your Facebook page so that more prospective customers will be likely to follow.
Have someone from your staff provide an expert tip that customers can use right away, or use to make a service appointment decision.
Here are some ideas for various industries to start your brainstorming:
A reminder to keep windows closed during the winter to keep pipes from freezing.
Houseplant or lawn watering guidelines.
A trick to get annoying stains off stove tops.
Recommendations on how often you should change your air filter.
Tools to make posting to Facebook even easier
The following tools are handy for creating or sourcing images for your Facebook posts.
Most importantly, remember to have fun! A Facebook page can become an important driver of new and repeat business, but it won't get to that point if it's stuffy and boring.
Be creative, use these 8 Facebook ideas to kick off your brainstorming, and you'll be well on your way to running a solid business page that can attract and engage your clients.