How to Start a Christmas Light Business (and Earn $8K/Month)
October 4, 2022
9 min. read
Starting a Christmas light business can be very profitable, whether you're a brand-new entrepreneur or adding holiday light services to your established business.
For seasonal businesses, installing lights also gives you and your employees steady work during the off-season. This in turn reduces turnover and helps you hang onto great workers.
Ready to give holiday light installation a shot? Lights get started.
Here's how to start a Christmas light business:
1. Plan your business
The holiday season is extremely profitable, and installing Christmas lights is no exception. In a short two-month window, Christmas light installers can earn more than $16,000 in profit.
To achieve that same level of success, you'll need to create a business plan that includes:
Services list showing which holiday lighting services you'll provide (e.g., commercial or residential Christmas light installation)
Pricing strategy with rates for each of your residential or commercial services
Market analysis showing where you'll work, what customer demographics are there, and how much demand there is
Competitive analysis of other local holiday lighting businesses
Marketing plan for reaching your ideal clients and winning new lighting contracts
Employee planning with any new roles you'll need and a hiring timeline
Financial projections and cash flow strategy for the first year of business, including income, expenses, and salary
Even if you don't need a business plan for a loan, it's still a good idea to make one. Get a more complete guide to writing a business plan from the Small Business Administration.
READ MORE: Christmas light installation: 8 business tips for a profitable season
How much does it cost to start a holiday light installation business?
You'll need $1,940–2,715+ (USD) to get your Christmas light installation company off the ground and cover start-up costs like:
Business license and registration ($75–400)
Business insurance ($400–700+)
Home service software ($400)
Branded uniform and shoes/boots ($50–200)
Outdoor Christmas lighting equipment ($865+)
DIY website and business cards ($150)
Expect to spend more if you need to buy a truck to carry your equipment. Don't forget to factor in fuel, registration, and commercial vehicle insurance, too.
If you don't already have the startup funds you need, apply for a personal or business loan, business credit card, government funding, business financing, or a small business grant.
2. Learn how to install holiday lights
Training isn't legally required to become a holiday light installer, but it'll help you start your business on the right foot. In addition to improving your professional installation process, it also creates a safer work environment.
Start by installing lights on your own home, then ask family and friends if you can spruce up their homes for the holidays.
Then get a basic understanding of lighting systems. If you know an electrician, ask them about circuits, timing, wattage, and other factors that go into building an amazing light display.
READ MORE: Professional development resources for home service entrepreneurs
You should also consider joining the Christmas Light Installer Professional Association (CLIPA). You'll get in-class and practical training that covers best practices for installation, health and safety, and more.
As an added bonus, CLIPA membership also gives you more purchasing power with access to member pricing on lights and decorations.
3. Form a legal entity and register your business
If you're starting a new business from scratch, make sure you have the right legal documentation in place before you start installing lights. Here's what you'll need:
Name: Pick a professional name to describe your business. Make sure it's memorable, unique in your area, and not already registered or trademarked.
Registration: Register your business name at your local registry, trademark your business name, and register your domain name. If you already have a registered business and will offer holiday lighting under your current name, you can skip ahead to updating your business license.
Business Structure: In the U.S., you can register your business as a sole proprietor, partnership, or limited liability company (LLC). LLC is common for small service businesses because it reduces your personal liability if you're ever sued.
EIN: If you'll have partners or employees, apply for an employer identification number from the Internal Revenue Service so you can file taxes properly.
READ MORE: Should I incorporate my small business?
Registration requirements can vary depending on where you live. Check with the business registration division of your local, regional, or federal government to see what's needed.
4. Open a business bank account
Set up a business bank account to keep your personal finances separate from your holiday lighting business income and expenses. This will be a big help during tax season.
READ MORE: 30 small business tax deductions to save money when filing
Consider getting a business credit card to improve cash flow during startup. Pick a card with a low interest rate and a rewards program for dollars spent, and pay off the card every month.
Last but not least, get an accountant to help manage your finances. You can always do it yourself with accounting software like Quickbooks, but outsourcing allows you to focus on light installations instead of stressing over finances.
Pro Tip: Set up a reserve fund containing enough cash for 90 days' expenses. It'll help your business in case you have cash flow issues or your clients don't pay their invoices.
5. Get a business license
Depending on where you plan to operate your business, you may need to get a business license. You might also need an electrical contractor's license or another type of permit.
Without the right licensing and permits, you could face hefty fines or be forced to shut down.
Check with your local Chamber of Commerce or business development department before scheduling any jobs to ensure you have the right local, state, and federal permits and licenses.
If you're already running a successful business and have a license for it, you'll need to update or reapply for your current license to include your new services. There will likely be a renewal fee associated with this change.
6. Get business insurance
A career as a lighting contractor comes with risks, from falls and electrical shocks to property damage and equipment theft. Small business insurance helps cover you in these situations.
Get a business owner's policy that includes:
General liability insurance for property damage and personal injury
Commercial property insurance for equipment and office damage
Business income insurance to keep operating after an incident or disaster
These are just the basics. You can also get commercial auto insurance, workers' compensation insurance, crime insurance, and any other type of coverage that feels important to you.
7. Get holiday lighting equipment
Holiday lighting contractors provide lights, not the client, so you'll need to build up an inventory. Equipment will be the bulk of your startup costs—at least $865 (USD), but likely much more.
Find a reliable online or brick-and-mortar wholesaler to buy commercial-grade lights from. It'll help you save money long-term while giving your clients the best product possible.
Here's what you'll need to get started:
LED lights (roughly 150 ft / 500 bulbs per house)
Holiday decorations
Outdoor extension cords
Light clips
Wooden ladder
Wire cutters
Zip ties
Electrical tape
Fall protection kit
Safety gloves
Pro Tip: The closer you get to the holidays, the harder it will be to find lighting and decorations—and the more you'll spend. Get yours during the summer, or after the holidays when vendors are clearing out stock at lower prices.
Do I lease or sell Christmas lights to customers?
As a holiday light installer, you can decide if you'd rather lease or sell lights to your clients. Choose the service model that works best for your clients and your business:
Leasing lights gives you a hard asset that you can use for different clients. You're responsible for installing, repairing, dismantling, storing, and maintaining everything, but it's a good source of repeat income. It also gives your clients greater flexibility to change the lighting color or design year after year.
Selling lights is a more hands-off approach. Once you've installed the lights, your client is responsible for maintaining or replacing damaged strands. However, they might get frustrated about repair or replacement fees. The client also can't change their lighting color without buying a whole new set of lights.
8. Build a Christmas light brand
When people think about your business, they should start to feel that holiday cheer. Your business branding will help with that.
Create a unique logo by working with a designer or using an online logo builder like Looka. From there, you can apply the logo to your website, social media, truck, uniform, business cards, and more.
Here's an example of what your Christmas light installation business branding could look like: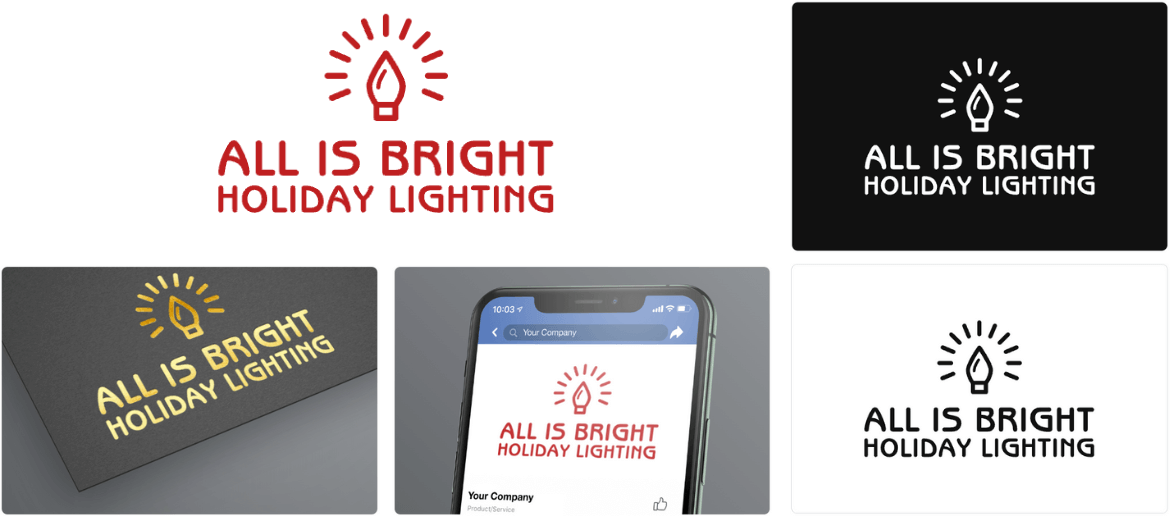 9. Advertise your business
There are many ways to market your services as a licensed lighting contractor, but you'll want to focus on methods that win clients fast. After all, the holiday light season is only two months long.
Here are five affordable strategies to help you find new Christmas light customers, fast:
Build a professional holiday light website that lists your services and makes it easy for new clients to request work or book services online. Site builders like GoDaddy or Wix make it easy to create a website for your Christmas light installation business.
Share before-and-after photos of your light installations on your Facebook business page and Instagram profile. (With the homeowner's permission, of course.) Social media accounts are free to set up and will help you build brand awareness online.
Ask to place lawn signs after installation with your company name, website, and contact details. When people stop to look at your light display, they'll know who to call for the same service. You could even offer a small discount for clients who allow signs.
Post tearaway flyers on bulletin boards in libraries, grocery stores, community centers, and other places where your ideal clients spend time. Make sure to include your business name, the services you offer, and your contact information.
Email your seasonal customers about your new business venture, if you're already running another service business. Invite them to check out your website or request a quote, and offer a sign-up incentive for being one of your first new clients.
Pro Tip: Start marketing your new holiday lighting business in late October, or as soon as the weather gets colder. You want to be ready for when potential customers start thinking about the upcoming holiday season.
10. Grow your holiday light business
If you're transitioning from your seasonal business, installing Christmas lights is a great way to reduce turnover and provide longer employment for your employees.
But if you're starting from scratch or looking to take on more business than you can handle alone, you'll need to hire your first employee.
Write an engaging job description for your Christmas light installers, advertise on Indeed or Facebook Jobs, and hire the best applicants for the role.
READ MORE: Hiring and recruiting tips to attract employees that stick around
Once you have a larger installation crew, you can expand into new communities, explore winter landscaping services, or offer even bigger outdoor lighting and Christmas decoration options.
You can also expand into year-round services like window cleaning, lawn care, or landscaping, if you aren't already providing them.
Ready to spread some holiday cheer?
Now that you know how to start a holiday lighting business, you're ready to supplement your seasonal income and boost your community's holiday spirit.
The Christmas season is short, but don't let that discourage your new business venture. With room to expand into wedding or event light installation, your side hustle could last you all year long.
Originally published November 2021. Last updated on October 4, 2022.