Managing Your Business
How to Ask For Referrals [Scripts and Examples]
Starting a referral program is a great way to save marketing dollars and get more clients. After all, word of mouth referrals are powerful.
But for your program to work, you need to ask your clients for referrals. If you don't ask, you miss out on valuable, revenue-generating referrals.
Once you overcome your referral request, you can make it a habit. The most important part of asking for referrals is creating a system that works for you and your business.
In this guide, you'll get practical ways you can ask for referrals without being pushy so that it becomes second nature. Let's dive in!
Tips for asking for referrals
Here are some important considerations before you start asking for referrals and putting your customer referral program into practice.
Identify and ask your most loyal clients
Don't ask your entire client base for referrals. You might know your most loyal clients off the top of your head and already have a close relationship with them. If so, make a list of your top 10 clients—they're the ones who've been with you for months or even years.
But, this method isn't watertight. To make sure you're not missing anyone, you can also systemize and track this process in your field service CRM.
Pull a report of clients to narrow down those who've recently booked a lot of work with you. Make it a point to ask these clients for referrals first.
Make use of compliments
Take advantage of customer compliments. This applies to both in-person compliments and online compliments, for example, if a customer gave you a high rating on your client satisfaction survey.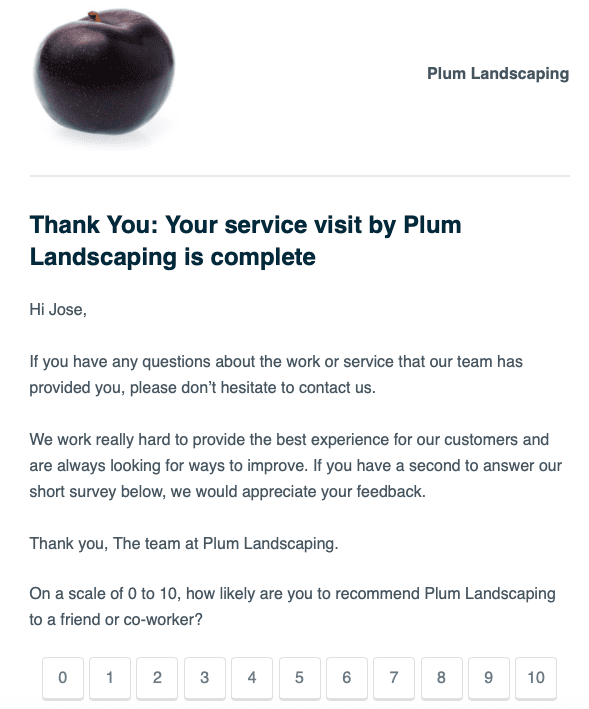 You can use this as an opportunity to thank them for their business, and since they're happy with the experience, ask if they know others who would find your services useful as well.
Do this when you know they're at their happiest. This is an easy win and a less pushy way of getting that valuable referral.
Here's how you can make use of compliments with field service business software:
Export a list of clients who've been serviced a few times within a defined time frame, for example, the last three months.
From those clients, see who has given you a positive survey review.
Export those clients' emails and send them an email individually. You can automate this even more by creating a 'referral program' email campaign using Mailchimp and mass emailing them at once.
Pro Tip: Survey follow-up emails are an easy and effective way to get a pulse on how happy your clients are with your customer service. This is especially helpful for getting feedback from clients you may not see in person while you're at their property.
Set weekly referral goals
The best way to become a pro at asking for referrals is to practice. The more you ask for referrals, the more your confidence in doing so will grow.
Set a weekly goal for yourself. For example, aim to ask for 10 referrals a week for a month and see how it goes.
You can track the success of your referral experiment using tags in your CRM, to help you group clients in your CRM in a simpler way. You can name the tags "Referral Goal 1" and at the end of your experiment, see how many referrals you got with that tag in that specific timeframe.
Make referring easy for your clients
Make sure what you're asking customers to do is easy or else you'll block them from following through with giving you a referral.
For example, if you're sending a referral code via email, ensure links are clickable, the action is easy, and it makes sense.
If you're using flyers, make sure there's a spot in the design for the referee to write their name, so they can claim the benefits of their referral and so you can track it.
Pro Tip: Jobber automatically prompts clients to share booking links with their friends and family right from your client hub, so you never miss an opportunity ask for a referral and general quality leads.

Remember to thank your client for their referral
Showing your gratitude and appreciation for your client's referral is just as important as asking for the referral itself.
You can do this after the referrer has made their first appointment and purchase.
Create a thank you postcard campaign or a thank you email template through with the help of Jobber's Mailchimp integration. You can create a personalized postcard or email design to show how much you appreciate your customer's business
The goal with a thank you campaign is to keep the relationship and the customer loyalty strong. They might even give you more referrals since they know how much you appreciate it.
How to ask for referrals over the phone or in-person: examples
When you're asking for referrals over the phone or in person, keep it short and sweet.
If you follow-up over the phone once a job is complete, this is when you can ask for a referral. It's a good practice to ask close to the end of the phone call, once you've heard their feedback on their experience with your services.
Here's a script you can use for your next follow-up call.
Follow-up call script:
You: Hi [Name]! It's [Your Name] calling from [Your Business]. How are you doing today?
(greeting returned)
You: I'm doing great, thanks for asking. [Name], I don't want to take too much of your time but I wanted to check in with you and see how you found your service the other day?
(if positive, continue)
You: That's great to hear, we always love to hear feedback like that and of course we want to continue to provide this level of service to our customers. So I really appreciate you sharing your thoughts on your experience with us.
(positive chatter)
You: Because you had such a positive experience and you've been a [Your Business] customer for a while, I was wondering if you knew anyone else who would be interested in booking a [Service] with us? We have a special referral offer I can tell you about.
(if positive, continue)
You: It's pretty straightforward. If someone you refer completes a service with us, you'll get 50% off your next appointment. All they have to do is mention your name at the time of booking and we'll be sure to apply the discount the next time you book. This would apply every time a new customer is referred by you.
(positive response)
You: It adds up quickly! We would really appreciate your continued support.
(positive chatter)
You: Thanks again for your time and your business. As always give us a call if there's anything else we can do for you. We're always around. Have a great day!
Use this as a guideline to structure your call. Swap out details that aren't relevant to you and add your personal flair to the call, all while respecting your customer's time.
Here are some ways other questions you can ask to get to the referral:
Do you know anybody who's having similar problems?
Did we provide a great service for you today?
Have you heard about our referral program?
Remember, the way each question is worded depends on the services you provide. Tailor the script so it works for you.
How to ask for referrals in an email
Asking for referrals in an email is probably the simplest way to ask. It can be less stressful, and once you have a template you can copy, paste, and re-use it hundreds of times.
Before you start writing, there are some considerations to remember.
Build your client email list
Create your email list and identify the right customers. You can make use of client reporting to pull lists of your happiest or more recent clients.
If you're a Mailchimp user, you can make use of the Mailchimp integration with Jobber to segment your email list and build your email campaign.
Email at the right time
Timing is everything. Follow-up with your clients shortly after you finish the job. This can be immediately after the job is complete, a few days later.
Your services should be top of mind to be relevant or else they may have been forgotten. It's unlikely a client would give a referral for a service from six months ago or more.
You can easily automate the post-job follow-up with email template follow-ups. Change and customize the email to fit your brand and you can track their success right from Jobber.
Email referral templates
It's good to keep in mind that while there are a few different ways to ask for referrals, you don't have to choose just one approach. You can use a combination of methods.
For example, you could request a referral over the phone, then follow-up over email.
Email templates to ask for referrals
Use this template to email clients who have recently given you positive feedback.
Template #1
Subject line: Thanks for your business! + Offer inside
Hi [Client Name],
Thank you for choosing [Your Business] for your [Service Type] needs. I'm very happy to hear you're satisfied with [Service Work] we provided last week. Please let me know if there's anything else we can do for you!
I also wanted to let you know about our referral program for friends and family who may need similar services. For every person you refer that mentions your name and completes a service with us, you'll receive 50% off your next booking.
Thank you again for your business. Let me know if there's anything else we can do for you.
– [Your Name]
Make this a text field so that you or your team members can enter the name of the client who referred your new client. You will then be able to see the custom field in your client contact info report.
You can later export a client info report to track referrals and measure the success of your referral program.
If you haven't heard your customer's feedback on your service, this is when you can ask for it. Depending on their feedback, ask for a referral and let them know about your program.
Template #2
Subject line: We'd love to hear your feedback!
Hi [Client Name],
Thank you for choosing [Your Business] for your [Service] needs.
I wanted to check in to see how [Service] went for you this week? We always strive to outdo ourselves to provide the best service to our customers and our community. Your feedback is very important to us.
In case you haven't heard, I also wanted to let you know about our referral program for friends and family who may need similar services. For every person you refer who schedules an appointment with us using your unique code, you'll receive [Free Service].
I appreciate your time and value your feedback.
Thanks for your business,
[Your Name]
For this type of email referral request, you can create a unique code or URL to share with your clients.
You can put these unique codes (ex: "REFER2020" or www.businessname.com/referalprogram) on your postcards, business cards, or email marketing. When a new client books work and uses the code or link, you'll know they came from your referral program.
You can't forget to thank your client for a referral, especially if they've helped you acquire a lot of business.
Depending on how your referral program works, you can reward referees with a discounted service or delight them with a gift.
Here's a template to help you do just that.
Template #3
Subject line: A gift for you!
Hi [Client Name],
Thank you for referring [Referral Name] to [Your Business] for [Service Offering]. I sincerely appreciate your recommendation in referring them to our business.
I'm sure our [Services] will be as helpful for them as it has been for you.
As a token of my appreciation, use this link to schedule your next [Type of Service] appointment with us and receive 20% your bill.
Thank you again for your referral and I look forward to seeing you again soon for your [Service] needs!
[Your Name]
Email signature to ask for referrals
Another easy way to get more work is to rewrite your email signature and snag those referrals.
Here's what it could look like:
Email signature template
John Smith
Founder, Your Business Landscaping
123-456-7890
www.yourbusinesslandscaping.com
[logo]
Like our work? Refer us to your friends, family, and neighbors for 50% off your next service!
[Social media buttons]
A referral program is also a good opportunity for you to get more online reviews.
Jobber's NiceJob integration is a tool you can use to automate your review acquisition process.
Once you close a job in Jobber, NiceJob will take care of deciding the best time to request a review and send the review invitation.
You can set up a rule in NiceJob to automatically send review invites after a job is closed. NiceJob then creates a text or email campaign and requests a review from your customer.
NiceJob can then automatically share the review on your website and/or your social media.
How to promote your referral program
The best way to promote your referral program is to make use of other marketing channels you already use.
While face to face, phone, and email referral requests are effective, there are lots of other ways you can ask for referrals indirectly.
Here are examples of marketing channels where you should plug your referral program:
Flyers
Brochures
Door hangers
Your business website
Social media posts and ads
Email signature
Your branded vehicle
Business cards
READ MORE: 15 brilliant customer referral program ideas (with examples)
Practice asking for referrals
Practice makes perfect, especially when it comes to asking for referrals!
The more you ask, whether it's over the phone or in an email, the more confident you'll be, and the more you'll see your profit margins rise.
At a certain point, you'll find that some of your referral channels will run themselves, and asking for referrals will become second nature in operating your field service business.