Sales and Marketing
How to Close a Sale: 10 Real Sales Closing Techniques from Service Industry Experts
June 14, 2021
8 min. read
Learning how to close a sale is like any other skill: it takes strategy, training, and practice.
But in the service industry, closing the deal can be uncomfortable for owners and technicians. You entered your trade to provide skilled services, not to feel like a self-serving salesperson.
Nobody wants to be the aggressive or pushy upseller. But as a service business owner, you need to know how to confidently close sales if you want to see your bottom line grow.
Over the years, we've spoken to million-dollar business owners and trades industry experts to learn about sales closing techniques.
Now, we've gathered up their tried-and-true sales closing tips for winning more deals and increasing your close ratio.
If you're serious about growing your service business, use these examples and techniques to close more sales, faster.
How to close a sale: 10 real sales closing techniques and examples
1. Earn your prospect's trust
The number one thing you can do to close more sales is to show your clients that you take their time and their business seriously from day one. This may seem like a no-brainer, but many contractors simply drop the ball when it comes to being on time.
"The best sales technique is to call people when we say we will, and show up when we say we're going to show up," says Matt Logan, master arborist and owner of Logan Tree Experts. "We get prospects saying 'thank you so much for calling me back!' That's literally the least we can do."
Making prospects wait, especially during early conversations, sets the tone for the entire relationship and will send potential clients straight into your competitors' arms.
Use scheduling software, automated reminders, or alarm clocks — whatever it takes to call and show up on time.
2. Establish a genuine rapport
When you're creating an estimate for a client, don't just give them a number. Talk to them.
"The more you can interact with a customer, the more trust and rapport you establish," says Stanley Genadek, YouTuber and landscaping sales expert. "The ability to do so will put you lightyears ahead of a contractor who simply shows up, writes a number down on a piece of paper, and walks away."
Stephen Richardson, aka SteveO the Window Cleaner offers similar advice:
"Get to know your clients on a more fun level than just doing the service you provide and collecting payment. Being personable is huge in the service business. It can make a huge difference when someone is deciding between two companies for the same service."
Show a genuine interest in their needs, concerns, and lifestyle. Next, explain the root of the issue they are having and go over each of the solutions available to them.
Yes, this will take time. But by doing so, you'll gain their trust and ease their anxiety, a surefire formula to winning more business.
3. Overcome objections with the assumptive close
We love this sales closing strategy from Josh Cronin, sales rep at Window Cleaning Resource:
"You have to remember that the more questions asked means the more potential for a no. Here is an example:
Hi, do you need a window cleaner? ((NO))
Can I give you an estimate? ((NO))
Here's the estimate, can I do your windows? ((NO))
Now if you walk up, take a count of the windows, write the quick estimate, walk in, introduce yourself and say, 'We are in the area doing estimates and I had a chance to take a quick count of your windows and here is what it will be.'
You have just skipped 3 chances for a no. The fewer steps you go through the fewer chances for a no."
This sales tip is an example of the assumptive close: when the salesperson intentionally assumes the prospect has agreed to buy in order to wrap up the sale.
This sales closing tip works for window cleaning businesses or any other industry. Remove the opportunity to say no, be proactive, and show your prospects why they should choose your business — even if they weren't looking for it.
4. 2X your sales totals with professional estimates
Shorten the sales cycle by sending a detailed, professional-looking quote as soon as possible after the initial call or assessment.
What makes an estimate more professional? Detailed quote line items, optional add-ons, and photos that show off products and services can increase your quote totals by up to 2x.
Service quoting software such as Jobber gives you a professional quote template to build off of, and lets you add company branding, optional add-ons, service packages, and line-item images.
All so you can close bigger sales with less effort.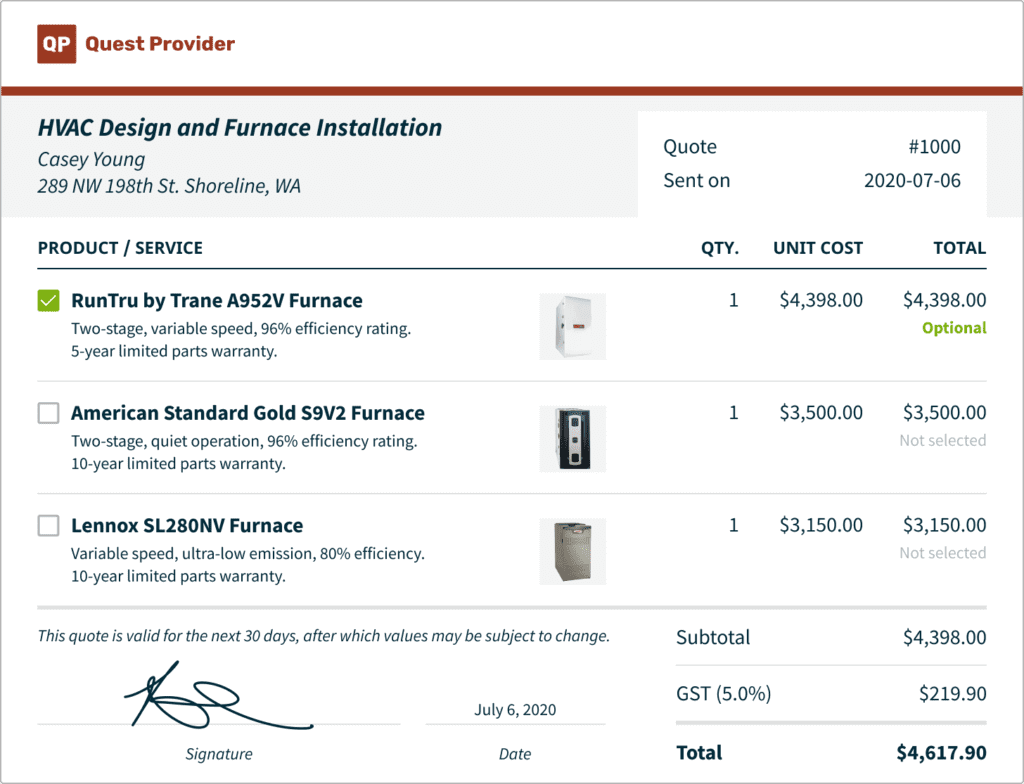 5. Send sales follow-ups while you sleep
This sales closing technique can help you close more deals without being pushy.
How many times have you sent a quote to a prospective client and never heard back from them again? Maybe you figured they weren't happy with the quote and went with a competitor instead.
In reality, many clients don't respond to quotes simply because they're busy and life got in the way. The client wants to hire you. All it takes is a timely follow-up to close the deal.
READ MORE: Get started with these quote follow-up email examples
Instead of chasing quotes manually or hiring an assistant, use quote management software to track unanswered quotes and send automatic follow-ups, even while you're sleeping.
Matt Logan automated follow-ups to make his hectic life as an arborist a little easier: "Jobber shows us if a quote hasn't been converted, so we can email or call that client," he says. "Often they'll say 'hey thanks, I was out of town' or 'I forgot to get back to you, go ahead.'"
By simply taking a few seconds to send a follow-up email after a quote, Matt closes deals that would have otherwise slipped through the cracks (or, in his case, branches).
6. Use social proof to close deals faster
Another effective sales closing technique is to let former customers do the selling for you.
Social proof, such as positive reviews, referrals, and success stories, is a powerful sales tool.
To make the most of social proof, add testimonials and success stories to your website or other marketing assets.
For success stories, share detailed examples of how you've helped other customers in similar situations improve. Explain your clients' challenges, how you addressed their needs, and the results they've achieved since working with you.
PUT YOUR GOOGLE REVIEWS TO USE: Book new leads right from Google Search
7. Increase sales with existing customers
"Call and email to your current book of business," says Dave Moerman, owner of Revive Washing and Home Service Business Coach. "We reach out to our past customers 3-4X per year."
Instead of chasing new leads, it's both easier and less expensive to sell more to existing clients.
You can do this by:
8. Sell convenience
Consumer expectations are changing. In 2020, tech adoption grew 67% among service businesses, and 33% of consumers said they'd pay more for a convenient experience.
Even if you're a seasoned sales-pro, you should be re-evaluating your sales techniques regularly to stay ahead of the curve. That can mean using apps to create and send professional quotes, or sending your clients to a self-service portal to review quotes and get approvals.
Anything that makes your clients' lives easier will make closing the deal easier, too.
9. Disconnect yourself from the deal
This closing technique may seem counterintuitive, but it comes straight from Don Snow, owner of Halycon Consulting. He specializes in training HVAC sales representatives and offers sales closing tips from his own experience.
He believes most sales people are too pushy. "They try to make it all about them, always talking about features and benefits."
If you push too hard, your clients will pull back. Maybe you'll get the "actually, we've decided to postpone work for another season" line…or find out they've gone with a competitor they felt more comfortable with.
"Disconnect yourself from the sale," says Don. Assuming you've followed through the steps above — showed up on time, listened to their concerns, sent a detailed quote, and followed-up promptly— you won't lose them by simply giving them space and time to decide.
Just make sure you have a solid follow-up process.
10. Ask for the sale
No matter how hard you've worked to build rapport, establish trust, and follow up, you still need to ask for the sale.
To help you confidently walk into that closing conversation, here are five respectful, non-pushy sales closing statements you can use:
Ask for the sale: 5 sales closing lines that work
Unless you have any questions or concerns at this point, it seems like we're a good fit and I think we're ready to get started. What do you think?
If we can find a way to deal with [prospect's objection or concern], would you be able to sign the contract on [date]?
Taking everything into consideration, I'd say either X or Y are your best options. Which one do you prefer?
If you're ready to move forward, I can email you the contract and collect a deposit right now.
If we sign the contract by Monday, the work will be complete by [date], just in time for your big event! How does that sound?
Closing the deal, one sales technique at a time
Sales is an art, not a science. Try adopting one or two of these sales closing techniques at a time to see what will work for your business and your clients.
Originally published April 2019. Last updated June 2021.