Sales and Marketing
How to Build an Online Presence for your Business: 4 Low-Cost Steps
February 10, 2022
8 min. read
Your friends, family, and neighbors love to hear about and support your small business. But how are new people outside of your network finding you?
You miss out on potential customers when they have no way to find your business online. An online presence is essential for every business, and it's especially important if you're trying to take yours to the next level.
You don't need to be an expert marketer—anyone can set up an online presence. In this article, we'll share four of the most effective ways to start building yours and attract new customers.
How to Start Building an Online Presence
What does an online presence mean for businesses?
Having an online presence means people can easily find your business on the internet. It's the most basic form of digital marketing—and one of the most budget-friendly marketing options out there.
A business with a strong online presence is easy to find through search engines, social media, online directories, and other platforms where people seek your services.
Why do you need an online presence?
Most customers search for businesses online before making a purchase. An online presence makes it easier for a potential customer to find your business, decide if you're a good fit for them, and contact you for work.
It also makes you look professional. It tells customers you're a serious small business owner and not just someone who wants to make a quick buck.
Here's how to do it: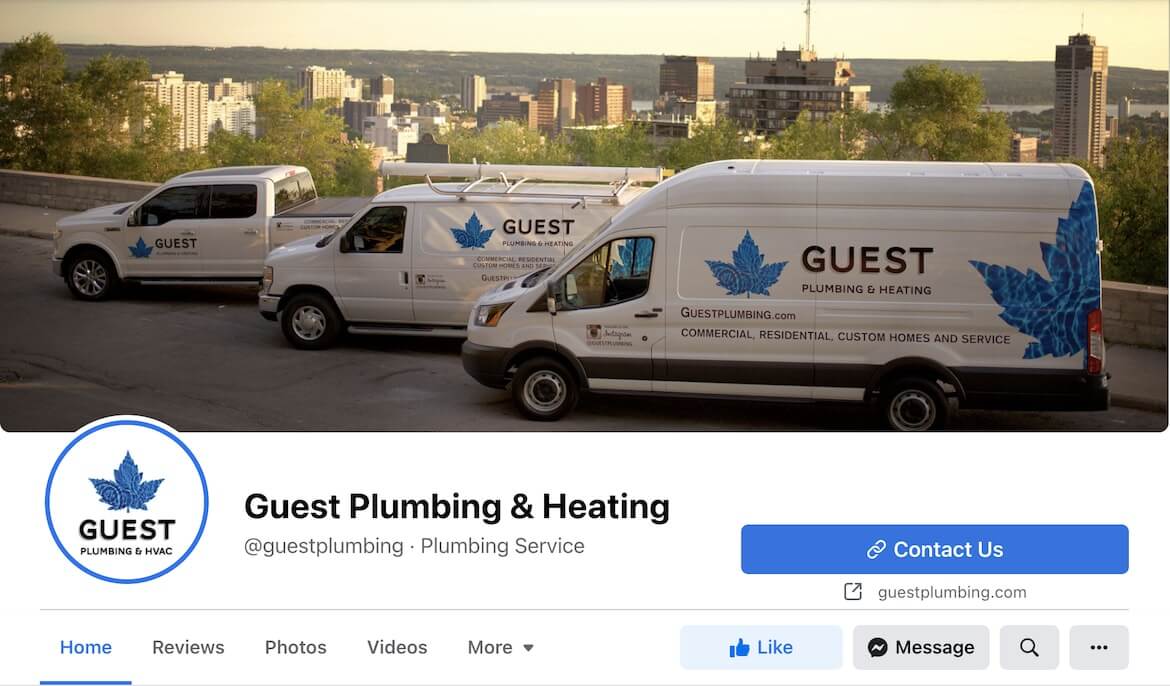 Guest Plumbing & Heating is a great example. This plumbing business has a Facebook business page with their company logo as a profile image—and they showcase their team in a cover photo of their vans.
To create your Facebook business page, log into your profile and open up your account menu. You'll find the option to create a page from there.
Try to fill out as many fields as you can. The more information you share about what your business does, who runs it, and why it's great, the more you differentiate yourself from competitors.
Then, once you add a profile photo and cover photo, start inviting friends to like your page.
READ MORE: How to build a brand for your home service business
Optimize your Facebook page
Once your page is set up, optimize it to improve overall visibility and ensure you're booking as many jobs as possible. For instance:
Add an online booking form that's linked to your company's website, or even an online booking tool like Jobber to collect more leads.
Invest in Facebook advertising to boost a post or page.
Add customer reviews to your Facebook page.
Post photos and videos, not just text, to encourage followers to like, share, and comment on your posts.
Update your page regularly with valuable content that helps readers (e.g., posts and news about your industry).
Mitchell's Lawn Care in Colfax, North Carolina, has a "Book Now" button on their Facebook page to help bring in leads more easily. The page also shows their high review score, which offers some social proof that they run a trustworthy business.
READ MORE: 10 ways to optimize your Facebook page
Their team posts photos and videos of their lawn care work—and other content like company updates and industry news—to keep their Facebook presence strong and keep followers engaged.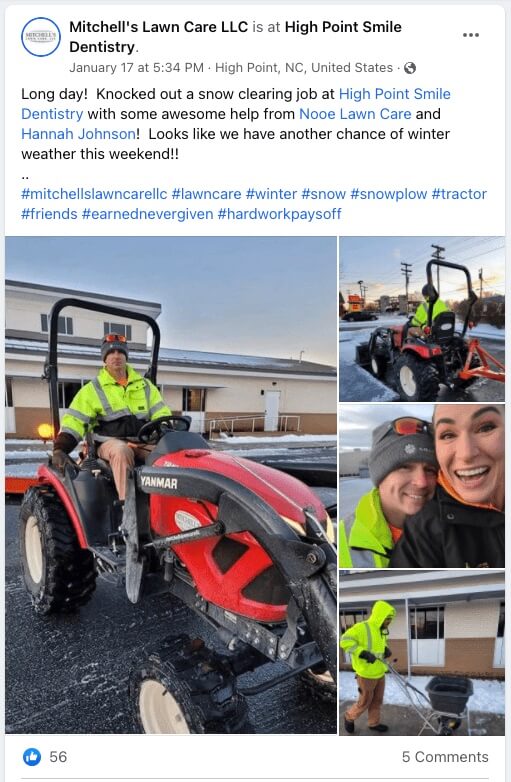 At this stage, there's no need to stress about making multiple posts every day—especially when you only have a handful of followers. When you're just setting up your social media presence, you can start with just two or three posts to show new followers you're active.
Once you feel comfortable with the platform, make a simple posting schedule that your followers can anticipate (once a day, twice a week, etc.).
READ MORE: 7 ways to build customer relationships on social media
Launch your business on other social media channels
Once you're ready to establish your small business web presence across other channels, Twitter, Instagram, and LinkedIn are natural next steps.
Be sure to add the same profile photo, company description, and contact information to all your platforms so people know they're following the right pages.
Pro Tip: Check if your business name is available as a username on Twitter and Instagram. If someone already has the name you want, you'll have to make slight adjustments.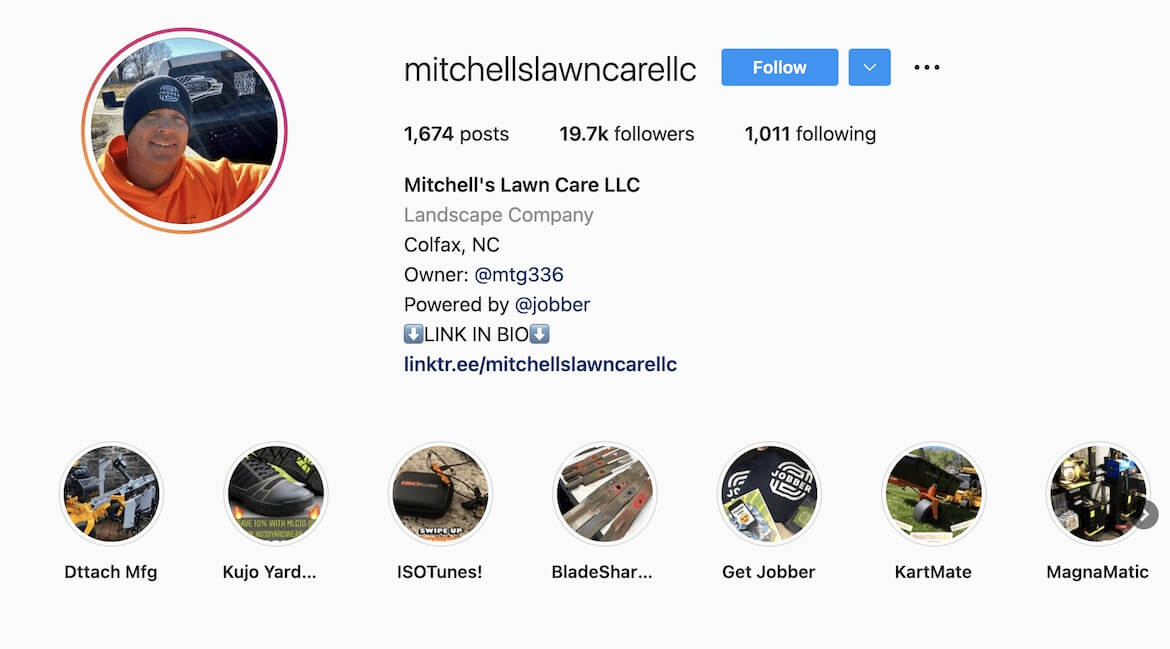 Consistency is key to building a following and getting exposure on social media. But remember: managing a social media profile can be an entire job in itself, so be careful not to take on more than you can handle.
Plan your content ahead by creating a posting schedule for all your social media accounts, and check them often for client questions, feedback, and interactions.
2. Grab your Google My Business listing
Potential clients often use Google to find local services in their area.
That's why one of the easiest ways for your business to get found in search engines is to create a free Google My Business (GMB) listing before you spend money on paid advertising!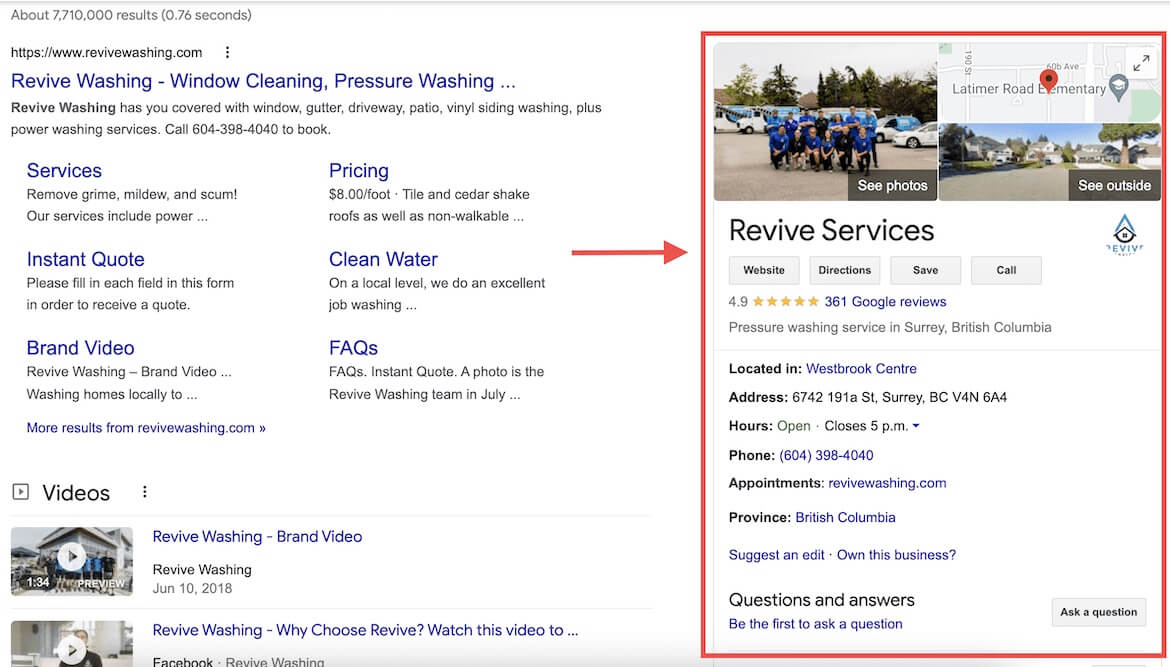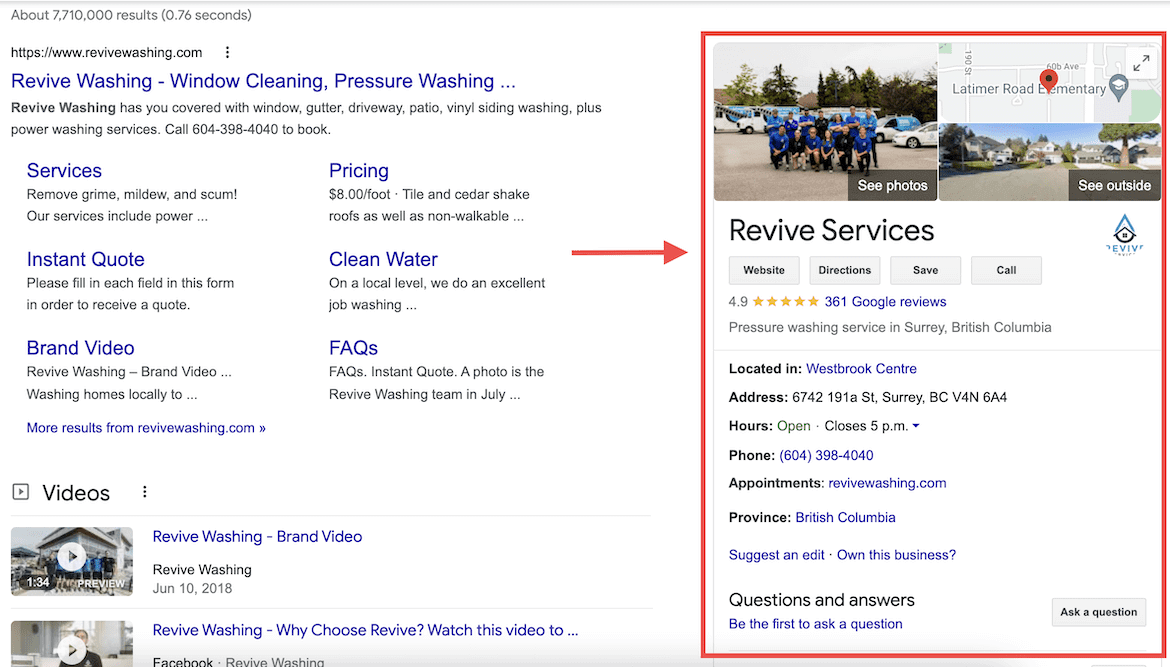 When people search for your company's name on Google, your GMB listing will show your contact information, location, business hours, and photos. It also lets customers leave online reviews with star ratings.
To claim your Business Profile on Google, follow the instructions on the GMB page.
To better optimize your listing and improve the chances of appearing at the top of search engine results, you need to:
Complete your primary business category. If you're an HVAC professional, this may be an "HVAC contractor" or "air conditioning contractor."
Add secondary service categories to help you rank. Include additional categories or relevant keywords to improve the chances of getting found by prospects who use those terms to search for professionals like you. A tool like GMBspy will help you decide what categories to add.
READ MORE: How to get free website traffic with Google Business Listings
3. Get listed on online directories
If you don't have a website yet, getting listed on directories is an easy way to give your business more visibility online.
Listing your business on online directories helps potential customers find you when they're searching for a specific type of service. Directories like Yelp, Angi (formerly known as Angie's List), Craigslist, and Nextdoor all offer free listings.
There are many paid options for directories if you want access to more advanced features, but a free listing is a great place to start.
When people search for businesses on these directories instead of Google, they're typically looking for in-depth customer reviews and a quick overview of the services you provide.
For example, a Yelp search for "flooring" in Orange County, California, shows the most trusted businesses in the area based on online reviews.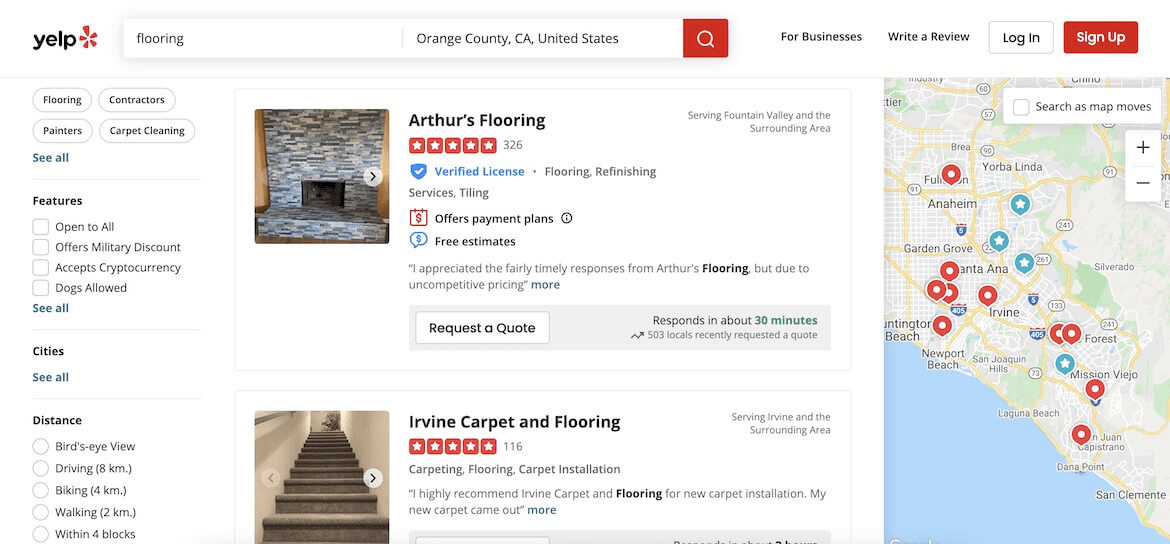 When someone clicks on your Yelp listing, they'll find out what features set your business apart, any photos and videos you post, a complete list of services you offer, and easy ways to contact you.
Houzz is another place for customers to find you online. It's a social network that connects home improvement enthusiasts with landscapers, remodelers, cleaners, electricians, and other home contractors.
4. Build a simple website
A website is one of the first places customers will visit to learn more about you. It's also a fantastic tool to showcase what you do and get customers to book work online.
Your website should:
Attract visitors by using search engine optimization (SEO) to show up in Google results
Turn visitors into prospects
Allow customers book you for work or request a quote
Showcase your professionalism and establish trust
Website Essentials: Start with this checklist
A great business website doesn't need to have dozens of pages or fancy designs. You just need to include these crucial elements:
▢ Your business name and logo
▢ A simple navigation menu
▢ A list of the services you offer
▢ Your service area
▢ Social media links
▢ An online booking form
▢ A list of your pricing
▢ Customer reviews and testimonials
▢ Your contact information
If you have the budget, consider investing in a web developer to build a website for you. You can expect to spend $60–80/hour for their services.
Or, you can create one yourself. Creating a website might seem intimidating if you have no tech experience, but it can be simple if you use the right tools and follow the right steps.
To build your own website, you can start out small with a free tool like Wix. If you want something more advanced but don't have coding skills, WordPress and Squarespace are great options.
With Squarespace, expect to spend upwards of $140 (USD) a year. WordPress sites cost upwards of $60 (USD) a year.
To learn more about building a website—from choosing your domain name to creating content and making it easy for clients to book work—read our short guide on creating a website for your service-based business.
Start building your online marketing presence today
An online presence makes you look professional and helps you book more work. Establishing one can be hard when you're first starting out, especially because there are so many ways to do it.
The good news is that you really only need to focus on four to get started and build a strong online presence: your website, social media marketing, online directories, and Google My Business.
Once you have those all set up and optimized, start exploring other online marketing options, including paid advertising.
And when you start getting more customers in the door, don't forget to use business management software like Jobber to stay organized and efficient as your business grows.