Sales and Marketing
How to Build a Customer Referral Program That Wins More Clients
April 17, 2023
11 min. read
Customers trust recommendations from people they know. In fact, word-of-mouth marketing is the number-one way to grow your customer base without spending lots of money.
When you build a customer referral program, you can make those recommendations an ongoing part of your marketing strategy.
We're going to take you through how to start a referral program that brings you more clients, rewards your best customers, and grows your business.
Learn how to create a customer referral program:
Need some inspiration? Watch this episode of Ask a Business Mentor to hear four experienced business owners share their referral program success stories:
What is a customer referral program?
A customer referral program is a process that gets you new customers by asking your current customers to recommend people they know. Most businesses offer a reward that incentivizes their customers to refer others to their services.
Types of referral programs
Email referrals: You can ask your customers to introduce their friends or family to you by email. Using email as your main channel for referral marketing helps you collect a new lead's contact information quickly and keep a record of all referrals.
Word-of-mouth referrals: This is when you ask your customers to tell people they know about your services. It's an informal and inexpensive way to attract new leads to your business.
Online reviews: By writing positive reviews, your customers can indirectly refer you to anyone who finds your business online. Asking for and collecting online reviews can help you build a reputation as a trustworthy business and attract new customers.
READ MORE: How to ask for a review
How to build a customer referral program: 6 steps
Creating an amazing customer referral program takes careful planning, the right referral incentive, and consistent effort. Follow these steps to build a customer referral program that grows your customer base.
1. Define what customers you're looking for
Your customers could refer lots of people to your business, but not all of them will be your ideal clients. When you tell your customers what kind of people to refer, you'll bring in more potential clients who are serious about doing business with you.
Decide what your ideal customer looks like (e.g., age, family status, lifestyle) and use that criteria in your referral program. Narrowing down your audience will help you attract customers who are a good fit—and who are more likely to give you repeat business.
When you explain the details of your referral program—whether that's by email, phone, or a form on your website—describe the potential clients you're looking for.
Here's an example of a customer description for a lawn care business referral program:
Do you know a senior citizen who's unable to take care of their front lawn? Do they own a home in Denver and need help with yard work? Connect them with the team at Wise Lawns and Landscaping!
Or, you could set specific rules for referral submissions. For example, you might only accept a referred customer who:
Live within 5 miles of your company's city or town
Is able to meet in person for a site inspection or consultation
Is interested in receiving recurring services (e.g., monthly HVAC maintenance, weekly cleanings, or lawn maintenance)
2. Choose referral rewards for your customers
Rewards incentivize customers and make their referral worth the effort. The more your customers can benefit, the more referral marketing they'll want to do.
Here are some examples of what you can give to you referrers as an incentive:
Gifts like a $50 coffee shop gift card or a free professional massage
Service discounts on their next service or money back on a past service
Service add-ons, like an extra window cleaning, tree trimming, or fertilization
Free products included in their next appointment, like a bottle of disinfectant, lawn seed, hose extensions, a power drill, or a wrench kit
Higher-tier packages for lower prices, like a deep clean for the price of a regular cleaning
The referral reward you choose should depend on what your customers will actually value. If a lot of your customers are interested in a specific, high-ticket service, consider offering that as an incentive to get your existing customers to pass business your way.
3. Design an easy referral process
Set up a process that makes it easy for your clients to submit a referral. If your customers have to jump through hoops to send a referral, they might not bother trying.
Here are some methods you can use to accept referrals:
1. Email: You can ask your customers to send an email to you and their referral, introducing them to you. Or, ask the referrer to copy, forward, or attach your company email in the recommendations they make to their friends. This can take a bit of effort for your customers, so make sure you give them clear instructions on how to send email referrals.
2. Website referral form: Have a form on your website where customers can submit a referral. This makes it easy for your customers to submit their friend or family member's contact information. (Just remember to tell your customers to ask for permission before sharing someone else's personal information!)
Ryan Lawn & Tree uses this referral sign-up form on their website: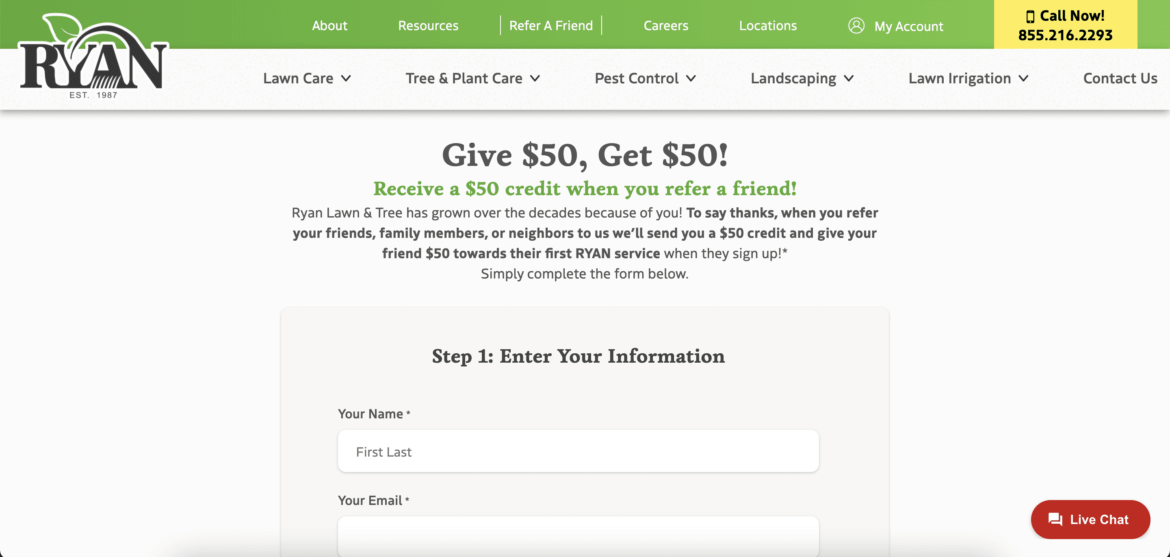 3. Unique code or URL: Share a referral code (like "REFER123") or referral link on your postcards, business cards, or email marketing. When a new client books work using the referral link or code they got from one of your customers, you'll know they came from your referral marketing program.
Cleanzen sends a code to their customers that they can share with people they know.
4. Invoicing software: When you invoice your clients using Jobber as your field service invoicing software, your clients can refer their friends over email, text, or social media, as soon as the job is complete.
Jobber automatically prompts clients to share booking links with their friends and family, so you never miss an opportunity to generate quality leads.
Every referral includes a booking link, so that new leads arrive in Jobber with all the details you need to schedule the job. Learn more about referrals in Jobber.
4. Promote the program
Once you've set up a simple customer referral program, you need to communicate it clearly to your customers. You'll be more successful if you promote it using the right message, timing, and channels.
Write a pitch
Prepare an easy, step-by-step explanation of how your referral program works and what incentives you can offer your customers who refer you. Treat this like a pitch—you need to convince your customers that this is worth the time and effort!
If your referral process is longer, use a numbered list to outline each step your current customer needs to follow to submit a referral. And most importantly: be clear about what's in it for them.
Choose your channels
You can promote your referral program with the marketing materials you already use. To get the word out even more, experiment with these other methods to market the program:
Flyers
Brochures
Door hangers
Your business website
Your personal email signature
A message on your quotes and invoices
Your branded vehicle
Email marketing
Jump ahead to: Email templates for your referral program
Ask at the right time
You should only ask for a referral when you're confident that your current customer has had a positive experience with your business.
If there's a customer you're not sure would be good to ask, give it some time. A happy customer you've worked with for three months is far more likely to refer you than a customer you met last week.
A great time to ask a customer for referrals is right after you've completed a top-notch job for them. You can even automate this process using Jobber, which can send customer follow-up emails on your behalf after each job is finished.
5. Use referral email templates
Sending emails is a simple way to ask your customers for referrals—and it keeps a record of which customers are sending referrals your way.
Use these templates to email clients who have had positive experiences with your company. You can copy, paste, and customize them to fit your business and referral program details.
Referral request email template #1
Subject line: Thanks for your business! + offer inside
Hi [Client Name],
Thank you for choosing [Your Business] for your [Service Type] needs. I'm very happy to hear you're satisfied with the [Service Work] we provided last week. Please let me know if there's anything else we can do for you!
I also wanted to let you know about our referral program for friends and family who may need similar services. For every person you refer that mentions your name and completes a service with us, you'll receive 50% off your next booking.
Thank you again for your business. Let me know if there's anything else we can do for you.
– [Your Name]
Referral request email template #2 — follow-up
Subject line: We'd love to hear your feedback!
Hi [Client Name],
Thank you for choosing [Your Business] for your [Service] needs.
I wanted to check in to see how [Service] went for you this week? We always strive to outdo ourselves to provide the best service to our customers and our community. Your feedback is very important to us.
In case you haven't heard, we're running a referral program for friends and family who may need similar services. For every person you refer who schedules an appointment with us using your unique code, you'll receive [Free Service].
I appreciate your time and value your feedback!
Thanks for your business,
[Your Name]
6. Track your progress
Having a system to track your referrals is the only way to know if your referral marketing program is as successful as it can be. Watch these numbers each week to see if your referral marketing is effective:
Referring customers: How many of your customers are spreading the word about your business
Impressions: How many new customers are coming to your business's website from the referrals
Leads: How many of those referrals are starting requests
Conversions: How many of those requests are converted to new jobs
You should look at these metrics together to identify what's working and what isn't. For example, if you're getting lots of leads but not many conversions, you may need to improve your follow-up process to ensure more leads become new customers.
When you collect referrals with Jobber, you can keep track of who referred who—and see which customers are bringing you the most business.

To build a successful referral program, you can't just set it up and wait for new customers. You need to constantly tweak and improve it—just like your overall marketing strategy.
Incentives that appeal to some customers might not work for others. You might also have to experiment with different tools for accepting referrals and different ways to promote the program.
Customer referral program examples
A good referral marketing program offers rewards that customers truly want, is communicated clearly and frequently, and has the right timing when asking for customer referrals.
Here are some examples of home service businesses with effective referral marketing programs:
Enviro Masters Lawn Care offers $25 off on their service for referring customers, and they promote their referral program on all the marketing materials their customers see, like door hangers and flyers. They promote it on their invoices, too.
Dreamscapes Property Services offers two weeks of free service for every referral in the form of a gift card. It's a transferable reward—customers can apply it to their own service, or they can give it to a friend or family member who needs landscaping.
Emily Ann Mercer of Maid of Honour Cleaning started with a 10% discount as her incentive—but it didn't pay off. When she increased that to 50% off, her business got tons of referrals that led to recurring clients.
READ MORE: 15 brilliant customer referral program ideas (with examples)
What are the benefits of a referral program?
Customer referral programs encourage word-of-mouth referrals, which can be your strongest marketing channel. Here are some ways that referral marketing is effective for small businesses:
It's cost effective. A referral program helps you spend less on marketing to attract new leads, since you're getting your current clients to do the work for you.
The ROI is high. Think about your referral program ROI in terms of cost vs. revenue. If your reward is $50 off your referred customer's first service, that's a small price to pay for a new customer that could give you hundreds to thousands of dollars in revenue.
You get loyal customers. When a customer has heard about your business from someone they know, they'll have a positive impression of you before you even work for them. This sets the foundation for a more friendly and smooth relationship.
Your referral program is most likely to work when you ask your happiest customers and offer a referral incentive they find valuable.
There can be a few downsides that some small business owners might have concerns with. Building the program and tracking new referrals can take a lot of effort. And depending on the reward or incentive you offer, it can be costly when you start out.
But if you budget properly for referral rewards, build an easy referral process, and use the right tools to track new referrals, the results will be worth the effort.
Build a customer referral program that can grow your business
A customer referral program can be great for any business—your existing clients get rewards, you get more business, and new clients get the service they need.
Every new form of marketing takes time and patience to perfect. Start out with a simple referral program, experiment, and watch your customer base grow.
Want to go even deeper to win new customers? Listen to the Masters of Home Service Podcast on Getting New Customers on a Budget.
Originally published in March 2020. Last updated on March 29th, 2022.