Sales and Marketing
How to Create a Website For Your Service-Based Business
June 20, 2019
12 min. read
Your potential clients are looking for help on the web. They're poring over search results, researching your competitors, weighing all their options. All before they even get in touch with a service provider.
You might have something of an online presence already. You might have a Facebook page, a Yelp profile, or a Google My Business listing.
While those are great starting points, they're not enough on their own.
You need more control. And that's what a website is for.
A website is your best opportunity to tell potential clients who you are, what you do, and why you're the right choice.
Think of your website as a sales rep who works 24/7/365. A sales rep who never gets sick, never takes time off, never quits, and does exactly what you ask them to.
But your website isn't only for finding new clients. Your website is also great for supporting your existing clients.
What if, instead of calling you with questions, they went to your website? What if they could make appointments, change bookings, and settle invoices on their own?
In this guide you'll learn how to make it a reality. We'll go through all the steps to get your professional home services website up and running.
You don't need to be a developer to follow this guide. You don't need any tech or website experience. You won't need to touch a single line of code.
If you can send an email, you can build a website.
Step 1: Register a domain name
Your domain name and your website are two different things.
Your domain name is a registered address that points people to your website. The domain name not your website itself, and it's not free.
You can use other services with your domain name, too. For example, you can create a personalized email through Google's G Suite or Microsoft Office 365 using your domain name to add a layer of professionalism to your business communications.
The price of a domain depends on:
How long it's registered for
Any add-ons (like domain privacy)
The type of domain (like .COM or .NET or .ORG)
You can register a domain with a domain registrar like GoDaddy. Or, depending on the website platform you choose, you can register a new domain as part of the setup process.
My advice: Register the domain name by itself first. You can connect the domain to your website later.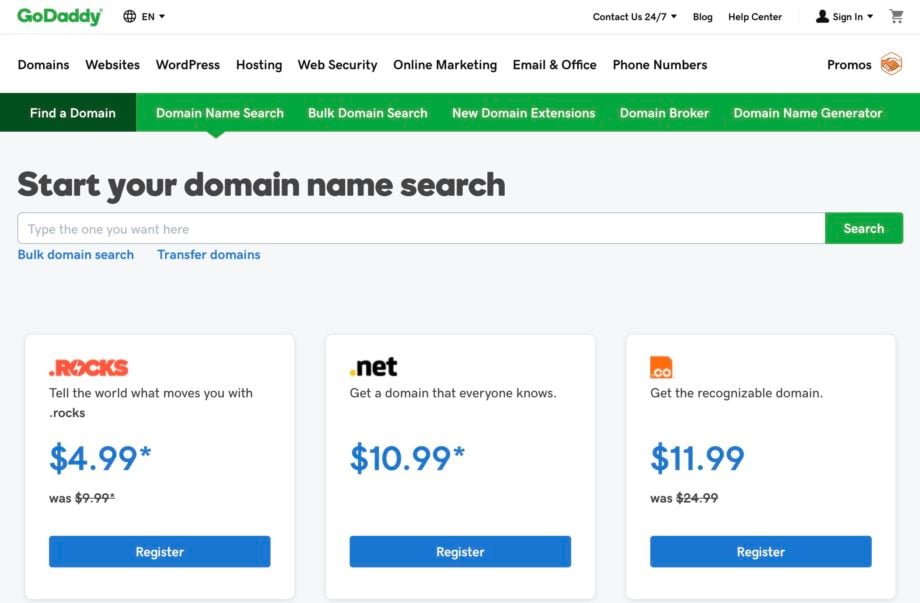 Step 2: Choose your platform – Website Builder or WordPress?
The next big choice is which tool you want to use to build your site. For most businesses, that comes down to two options: A Website Builder or WordPress.
Website Builder vs. WordPress: What's the Difference?
Website Builders are quick n' easy. They're designed for non-technical users to create their own sites from scratch. If you run into trouble, Website Builders have dedicated support teams ready to help you.
The trade-off is that you're limited to whatever features the Website Builder offers. And switching between Website Builders usually means you have to build a new site.
WordPress gives you more freedom, but it comes at a cost. There's a steeper learning curve to WordPress. There's also more involved in maintaining a WordPress site over time. One thing to consider is that while many Website Builders include hosting, WordPress does not. There are lots of great options for secure web hosting, but if you're looking for a one-stop-shop, WordPress might not be for you.
That's not to say that WordPress is bad. I've been a WordPress advocate for over a decade. But it's not the right choice for everyone.
My advice: Start with a Website Builder, then move to WordPress when you're ready.
For most home service companies, a Website Builder will handle everything you need. Especially when you use it alongside an app like Jobber.
We're going to use GoDaddy's Website Builder as the example through the rest of this guide. The steps should be roughly the same with any tool, though.
If you'd like to give GoDaddy's Website Builder a try, you can sign up for a free trial.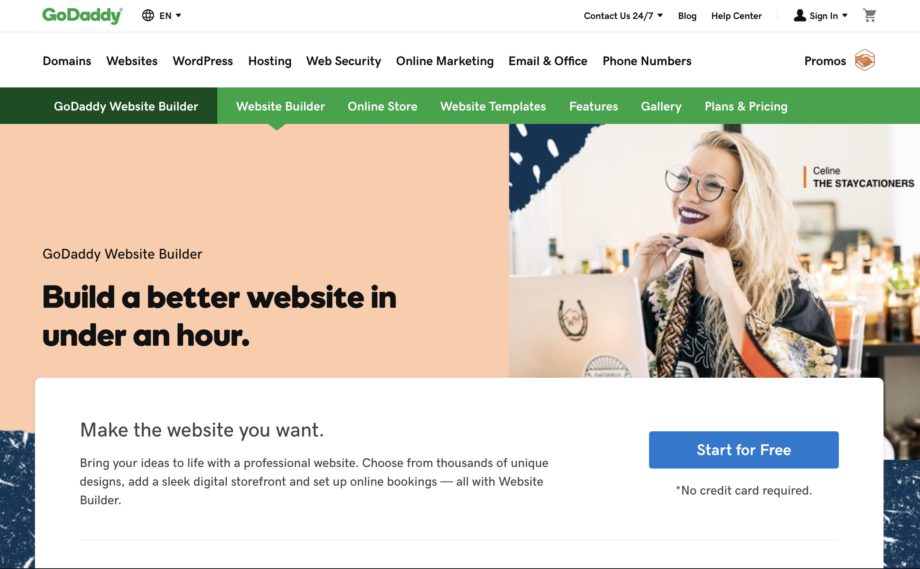 Step 3: Choose a site template design
Does your business already have a distinct look and feel? Choose a template design that fits. The colours, fonts, and style of your uniforms, business cards, etc.
If you're starting from scratch, choose something that fits the tone of your business. What do you want people to feel? What are their expectations?
When in doubt: keep it simple. A clean, minimalist design with your company logo at the top is always a safe bet.
READ MORE: How to build a brand for your service business
Light Right, a Jobber customer, uses a minimalist design, drawing your eye to their branding, navigation, and content:
Keep in mind: For home services, your clients are on a mission. Finding information and contacting you are their top priorities. Your site design shouldn't get in the way of that.
With GoDaddy's Website Builder, the Theme handles the site style and design. You can choose a pre-made template to start with, then customize it further.
The components of a page layout
Before we get into building the site, let's talk about page layouts. They're essential for understanding how we put sites together.
Websites are essentially a collection of pages that link to each other. Consistent layouts reassure site visitors that they're in the right place as they jump from page to page.
Trust Home Comfort Ltd., a Jobber customer, uses a consistent header for their site
People have come to expect certain things when they're using a website. By meeting those expectations, we make it easier for them to find the information they need.
This is important for you to keep in mind, because your website is an extension of your business. If it's hard to use your website, is it hard to work with you, too?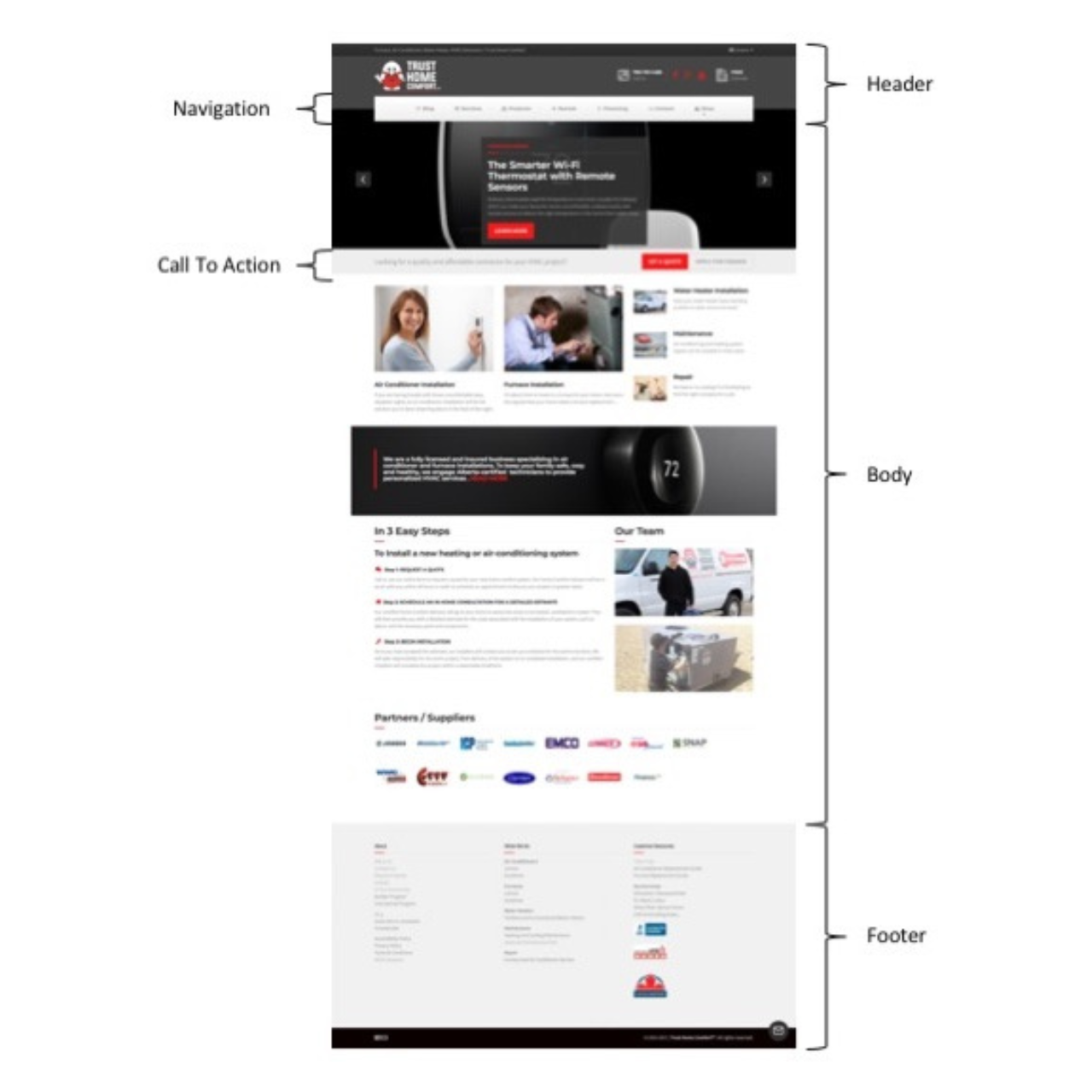 Think of a page layout as a set of blocks. We have the Header, Navigation, Body, Footer, and Call-To-Action.
Header – The top of your site. It usually includes your company name, logo, a tagline, and your site's navigation. The Header should be the same across every page of your site.
Navigation – Part of the Header. The navigation menu is how people find their way around your site. It includes links to your most important pages (more on that in a moment).
Body – The main content area. The information contained here depends on the page. It's usually a mix of text and images.
Footer – The bottom of your site. It usually includes extra information and links. As with your Header, the Footer should be the same across every page.
For home services, it's important to include your Name, Address, and Phone Number (NAP). This is critical information that Google uses for local search rankings.
Call-To-Action – A Call-To-Action (CTA) tells site visitors to do something. Each page should have a prominent CTA. For Jobber users, that CTA should link to a Work Request form.
With GoDaddy's Website Builder, these different parts of a layout are called Sections. Every page shares the same Header and Footer section.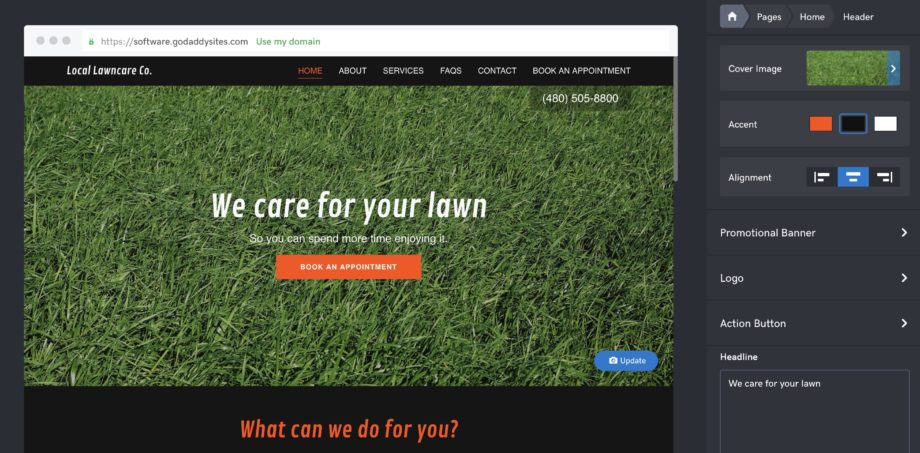 Step 4: Add your pages and content
There are five essential pages that work for every type of business website:
Home page
About page
Services page
FAQs page
Contact Us
Let's go through each one.
Home page – An overview that tells people everything they need to know about your business. Think of it as a one-page executive summary. It's not as detailed as the other pages on your site, but it gives enough information to make a quick judgment call.
About page – Your story. It's all about you and your business. If your business is more than one person, this is also the page where you can introduce me to the rest of your team.
Services page – What you do, how you do it, how much it costs, and what happy clients have said about your work. If you have any credentials, this is a good place to mention them. Certifications, licenses, and awards set you apart from your competition.
FAQs page – Where you answer all the other potential questions your clients might have. What's your cancellation policy? What products do you use? Include questions and answers for both your potential and existing clients here.
Contact Us page – All the ways to get in touch with you. Include a contact form so clients can send you a message without opening their email app. Have a physical location? Include the address, a link to Google Maps, and a photo of your storefront. That gives clients everything they need to find you.
With GoDaddy's Website Builder, it's really easy to create new pages and add them to your site's navigation in a couple of clicks.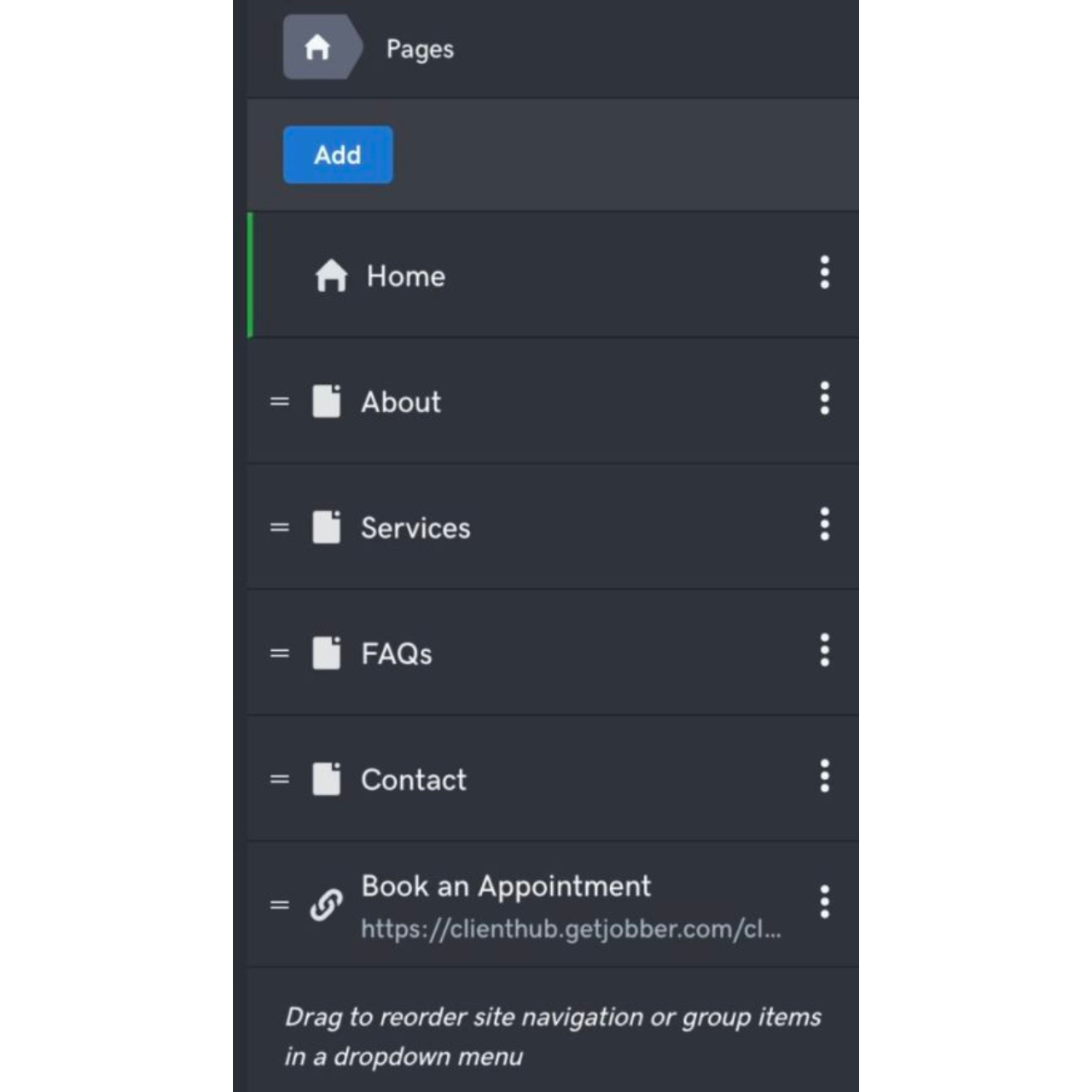 Step 5: Add photos
For home service professionals, I'm a big advocate of adding photographs that show you in action. It connects you, the pro, to the work you're doing. If you have a wrapped vehicle sporting your company logo, even better – show the vehicle on the job site.
By including photos like these, you're using your website to tie everything together. Clients see your brand, your logo, and the people who do the work. It's a great combination.
So how do you get these pictures? Hiring a local photographer is best. If that isn't an option, you can still take clean, professional photos using a smartphone.
With GoDaddy's Website Builder, you can upload images, or choose from thousands of free stock images. (Original images are always better, but stock images are good placeholders in a pinch.)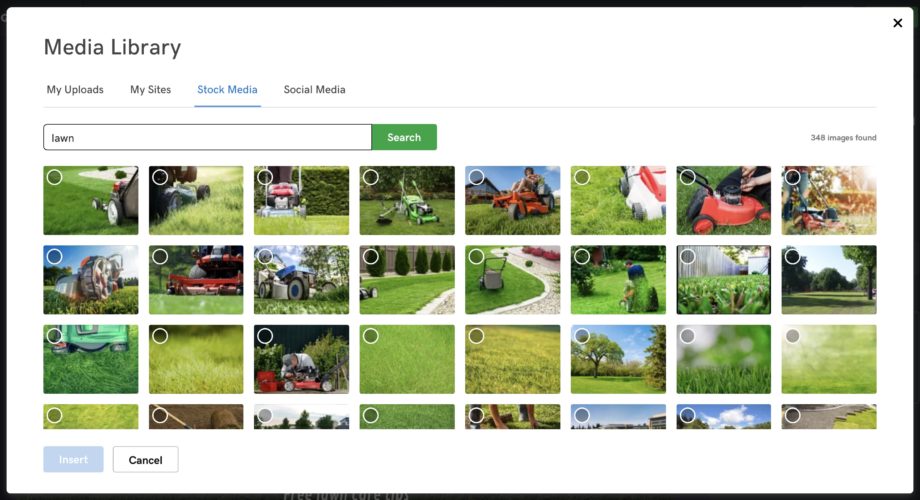 Step 6: Link to your online booking form and client hub
Most of your Call-To-Actions should point to an online booking form. This makes it easy for your potential and existing clients to book new work directly through your website.
Jobber's online booking feature was built specifically for home service businesses and easily plugs into your website and social media pages.
The form is customizable so you decide what information you'd like to collect. You can collect your customer's name, address, the services they want, and their preferred dates and time.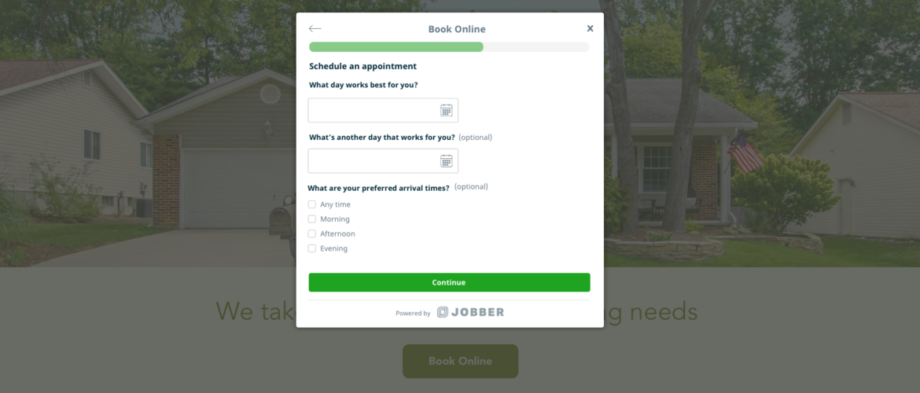 But don't stop there.
Add links to your Jobber client hub. Add it to your site's Footer. Add it to your FAQs page. Add it to your Contact Us page.
Why add links from all these pages? Because you want your clients to use the client hub. It's where they can find everything – requests, quotes, appointments, past invoices. They can even log into client hub to pay outstanding bills or request new work.
The more your clients use the client hub, the less time you spend on administrative duties. Time that's better spent making money on the job.
With GoDaddy's Website Builder, you can add external links to your Header and Footer sections. You can also add Call-To-Action sections on any page that can link out to Jobber.
Step 7: Set up Google Analytics
Alright, we're in the home stretch!
Google Analytics is a free tool for monitoring how people use your site. It shows you how many people are visiting your site, how they're finding your site, and where they're coming from.
While all this data might feel overwhelming, don't worry – you don't need to understand everything. The major reports give you what you need.
Even if you don't plan on using Google Analytics now, you should still set it up. If you decide to invest in digital marketing down the road, the historic data from the early days of your website will be an asset to whoever handles your marketing.
Sign up for Google Analytics and follow the prompts.
After you've created your Google Analytics account, you'll need to add the tracking code to your website. The steps differ from platform to platform.
With GoDaddy's Website Builder, it's easy. Add your Google Analytics tracking ID under Site Settings and you're done.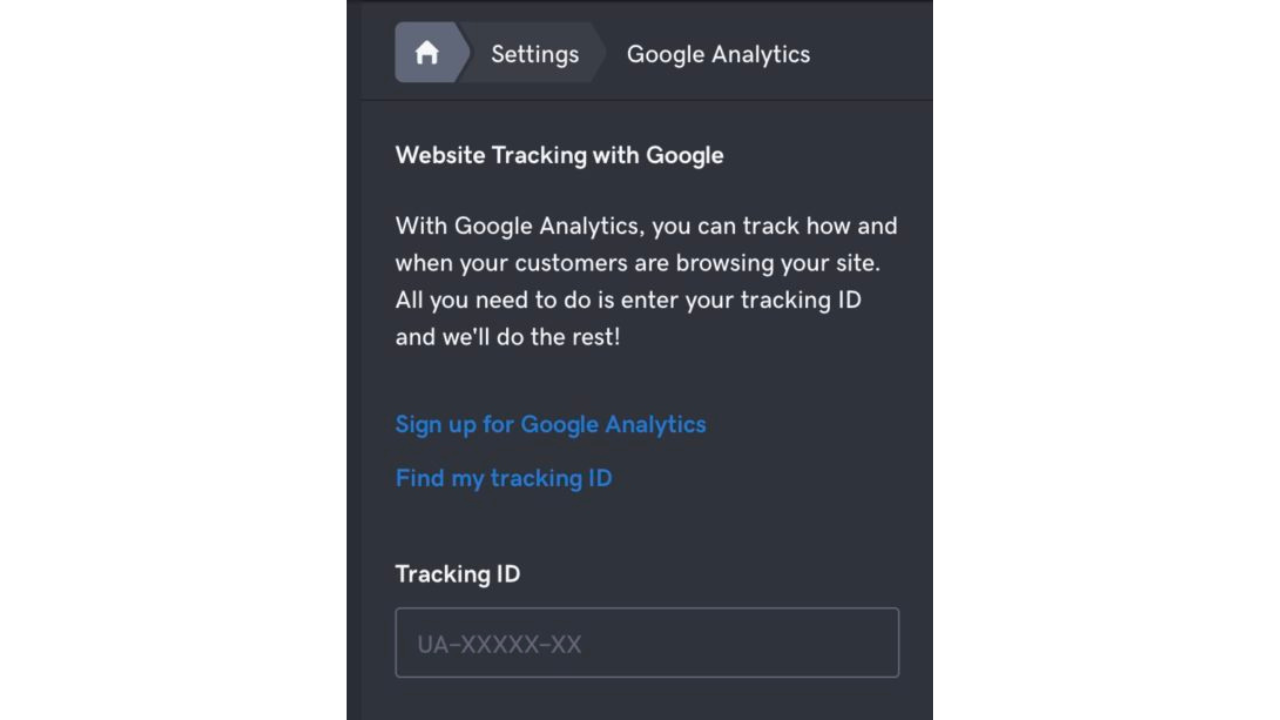 Step 8: Set up Google Search Console
Search Console is another free tool that can help you understand your website's performance. It reports on your Google search performance, flags issues, and offers tips for improvement.
As with Google Analytics, Search Console might feel overwhelming at first. But by getting it up and running from the start, you'll have a valuable asset of historic data for the future.
Sign up for Google Search Console and follow the prompts.
Google can verify your site ownership by verifying your domain. Follow the prompts in Search Console to verify ownership.
Step 9: Go live
Congrats – you've created your site! Now it's time to flip the switch and make it live to the world.
Depending on the platform you've chosen, you may have different steps to follow from here. Refer to their help documentation for specific instructions.
For GoDaddy's Website Builder, hit the "Publish" button and follow the prompts.
When your site is live, it's time to tell your customers.
Share a link to your site on social media. If you have an email newsletter, put out an announcement. Add it to your business cards. Add it to your email signature.
Don't forget to tell your business partners, too. Let them know about your new site. Invite them to offer feedback or suggestions on how to improve it.
Step 10: Link to your site
After you've shared your new site with your existing network, you need to start getting links. Links from other websites pointing to your website will help people find you when they search in Google.
Your first task: Update your Google My Business listing. This controls how potential clients see you in Google Maps and Google's local search results.
If you already have a Google My Business listing, update it with a link to your new site. If you don't have a My Business listing, now's the time to get one.
Next are your social media profiles. Update your Facebook, Instagram, and other profiles with a link back to your website.
With GoDaddy's Website Builder, you can add links to your social media profiles in your Site Settings.
Now you need to take care of your local business listings. This includes the big players like Yelp, Angie's List, and Thumbtack.
You can look for links from local organizations. Check with local economic development corps, chambers of commerce, and other business associations. You may be a member of a group that can link to your site from theirs.
You could even team up with complementary businesses in your area. You could all add a "Partners" section to your site and link to each other.
Your home services business needs a website
A website is your most powerful tool for online marketing. You can use it for sales, support, and so much more.
It gives you more control than a social media profile or business listing. You have more space to tell clients who you are, what you do, and why you're the right choice.
Connect your site to Jobber and you'll make it even easier for your clients to work with you.
Ready to get started? Sign up for a free trial of GoDaddy's Website Builder to build your website. Then sign up for a free trial of Jobber to manage all your client jobs in one place.
Good luck – we're here for you!