Working with Clients
How to Get Repeat Customers: 9 Customer Retention Strategies That Work
December 20, 2019
8 min. read
While many service business owners chase the thrill of a new client, it's the repeat customers who fuel their bottom line.
Repeat customers are 50% more likely to try new services and spend 31% more than new customers over time. Returning customers are also more likely to refer others to your company and to leave more positive online reviews.
Best of all, repeat customers cost 5x less to acquire. That's because you've already paid to get them in the door. All you have to do now is to keep them happy.
If you're serious about growing your service business by working smarter, not harder, choose a few strategies from this list and get started ASAP.
How to get repeat customers: 9 killer tactics
1. Use a CRM to collect customer info
You can't market to your existing customers if you don't have their contact information. Use a Customer Relationship Management (CRM) system to store customer info so you can market to them year after year.
For example, let's say you own a pressure washing business. With a CRM built for service businesses, like Jobber, you can:
View past quotes, jobs, and invoices sent to a client. For example, you can look up a client that you serviced once last year for a driveway clean. They used a coupon code and paid by cheque.
Use custom fields to tag customer details. This customer was tagged 'multiple property owner', so you know they have more than one driveway to maintain.
Attach photos, documents, and notes to their account. From a photo your technician attached, you can see that they have some old Christmas lights strung up, even though the photo was taken in the summer.
Instantly access client profiles from any device. When you're ready to contact them, their preferred phone number and email is available in seconds.
Using this information, you can send them a marketing email with a special offer for booking services on multiple properties. You can also remind them of the many services you offer, including Christmas light installation and take-down, and mention that you accept online payments to make their lives a little easier.
With a tailored offer like that, this client is very likely to rebook and become a happy repeat client.
READ MORE: How to get paid automatically with recurring payment processing
2. Sell more to existing customers
The example above works well if you want to target one customer at a time.
But you can also use your CRM to market to many existing customers at scale.
For example, Brannon and Mary Ann Fowler, owners of The Trash Can Cleaners use Jobber to market to their existing clients and even upsell additional services. This has grown easier than ever now that their CRM integrates with postcard and email marketing.
"We send out an email blast to our existing customers and remind them that we can wash their driveway, roof, fence, cars, etc. with the same equipment," Brannon and Mary explain.
Here are a few ways to encourage repeat business by using the information already in your CRM:
Market to seasonal and one-off customers: Use your CRM to pull a Visits Report from last season. The report will instantly show you a list of past customers and what services they used. These customers are great candidates for becoming repeat customers because you know they've required this service in the past. Export the customer list and email them with a promotional offer for the upcoming season.
Reach out to customers you haven't heard from in a while: There are plenty of customers who book one or two services then go quiet. This is normal. Maybe they meant to book more work, but life got in the way. To re-capture these clients, create a separate Visits Report to see past customers who haven't booked work in six months or more. Send them a friendly email to remind them of your services or offer a promotion for re-booking.
Experiment with different pricing strategies: Most repeat customers are willing to pay a higher price for a service they know and trust, rather than switch to a competitor who might mess things up. Knowing this, you get more repeat customers by testing different pricing strategies. For example, offer multi-service packages to repeat clients, or create service tiers (low, medium, and high) to appeal to different budgets.
3. Reward repeat customers for booking in advance
Getting your customers to book services in advance is a great way to get repeat customers while building a predictable schedule.
A predictable schedule reduces your administrative headaches and helps you map out your revenue in advance.
Plus, advance bookings help you grow your business during the off-season.
Three big wins for any service business!
If you offer recurring or maintenance work, encourage your customers to book in advance by offering a small discount. To find suitable customers to contact, use your CRM to pull a seasonal Visits Report.
Here's an example of an email marketing campaign you could send:
Hi Jim,
Last year you took advantage of our Summer Weed Control Package.
This year we're offering a special discount to customers who book in advance. When you book your Summer Weed Control Package before the end of March, you'll save 10% on this year's services.
Please reply to this email or call our office at 1-888-721-1115 to book your summer maintenance package today!
Thanks,
Moly
Jobber Weed Control Services
4. Always, always follow-up
You've done the hard work of getting a new customer in the door. Following up is the easiest way to keep them there.
Following up shows that you care about their satisfaction. It's a small, low-effort tactic that can pay off big-time in repeat business down the road.
You can do this by phone, but email is usually faster and easier. You can even automate customer follow-ups, so you're giving the same personal touch to every single client without extra effort on your end.
"Through automation, we do regular follow ups with our customers after their first cleaning, after two months, and then six months to ensure that they are happy and we aren't missing anything," says Royce Ard, co-owner of My Amazing Maid.
6. For more repeat customers, send repeat crews
If you run a cleaning, plumbing, or HVAC company, or you work inside your customers' homes, then you need to earn their trust.
One way to do this is to let customers know who exactly is going to be visiting them, so they can feel comfortable letting them in.
If you run a cleaning business, for example, you can dispatch your cleaning crews by territory.
Homeowners often prefer having the same team member visit them. It creates a trust bond that makes them more likely to continue booking.
Alternatively, you can send an on-my-way text message with the name and photo of the team member assigned to their work. This way, the client will feel comfortable and confident letting them into their home.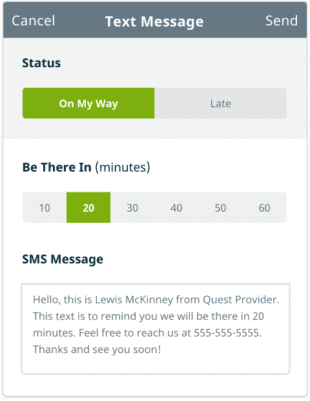 7. Create moments of delight
Providing "great customer service" is par for the course. Every customer expects and deserves that, whether they are a one-off, first-time, or lifelong client.
To earn repeat business, you need to set yourself apart. This doesn't mean going beyond reasonable means or running up your overhead.
It simply means finding small opportunities to delight your customers, make them smile, and remind them why you're better than any nickel-and-dime competitor, period.
If a customer asks you to do something, or you see an opportunity that will take you less than 10 minutes, challenge your team to go the extra mile.
That could mean changing a smoke alarm battery, carrying a package up the stairs, or unloading groceries.
Look for these moments of delight and then build them into your business. You'll have happier customers, more repeat business, and a business model to be proud of.
8. Offer online self-service
The easier you make it to work with you, the more likely customers are to stay.
Make it easy for repeat customers by offering an online portal they can access 24/7 to view past work, approve quotes, pay invoices and book more work.
A portal like this makes clients feel like their requests are being professionally received and getting the attention they deserve. Most importantly, it encourages repeat business.
One great option is Jobber's client hub.
Instead of asking clients to send emails, leave phone messages, or write down new work requests on scraps of paper that might get lost, client hub lets you give your clients their own personalized online portal to view past work and easily book new work.
They can even keep their credit card on file to speed up online payments.
9. Understand why customers leave
Finally, if you want to earn more repeat customers, you need to understand why existing customers decide to leave.
Did they stop booking work because they moved? Or is it because they became unimpressed with your service and are looking at competitors?
Use your CRM to track customers who've stopped booking work and call them up to ask why. To prevent customers from leaving, send customer feedback surveys after every job to uncover unsatisfied customers and make things right.
Attracting new customers is an incredible feeling. But if you focus too much on new clients, you risk losing your most valuable asset: happy, repeat business. Those relationships will help you grow and sustain your service business for years to come.