Sales and Marketing
A Case for Carrying Business Cards (and How to Get a Stack Made)
March 15, 2017
5 min. read
You never know when opportunity's going to come knocking. All you can do is ensure you're ready when it does. Business cards go a long way towards helping you do that.
Consider this. You're picking up a few things at the grocery store when you run into an old acquaintance. There's polite chit chat in the freezer aisle before the conversation turns around to work. And when you casually bring up your roofing business, their face brightens. Their neighbor is thinking about doing some work on their house in the future. It probably won't be for a few more months, but they ask for your business card so they can pass it along.
The trouble is you don't have one. None of you has a pen. They tell you they'll pass your name along and you go your separate ways.
Chances are, they probably won't remember to look up your business's details. But if they had your business card on hand, it would have been as simple as handing it over to their neighbor when the conversation turned to roofs at the next BBQ. And because this acquaintance knows you, they would have felt comfortable vouching for your character.
Multiply this by dozens of similar interactions and you have several missed opportunities.
How business cards generate business anywhere
When you own a company, your personal and business lives are intertwined. This means that any place—the grocery store, the bar, an industry event, or a trade show—is a marketing opportunity.
But all good marketing should consist of two things: the pitch and the close. Once you've reeled in a prospect with a compelling pitch you need something to seal the deal or prompt them to act.
This is what a business card does. It provides a seamless way to discuss business in even the most casual environments. You don't want to continue harping on about your limited time offer at a cocktail party, but you also don't want your pitch to just fizzle and segue into a conversation about the weather.
A business card provides you with a nice close that doubles as a call to action. It's as easy as saying, "Give me a call if you're interested in a free quote" before handing them your business card.
What to include on your business card
A business card is all well and good, you might think, but how does a person even go about getting their hands on a stack of them?
Well, the good news is that business cards are not expensive. Depending on the vendor you use, you can print a stack of 100 standard business cards for less than $10. They are affordable and one of the most effective marketing tools in your arsenal.
When it comes to what you should include on your business card, don't overcomplicate things. Keep it simple with your:
Personal name and title
Business name
Address
Phone number
Email
Website
If you feel there are other relevant details, like hours of operation, you can put them on the back, but it's best not to clutter your business card with too much information. In fact, this is why you mention your website. If a prospect wants more information before calling you, they can check you out online.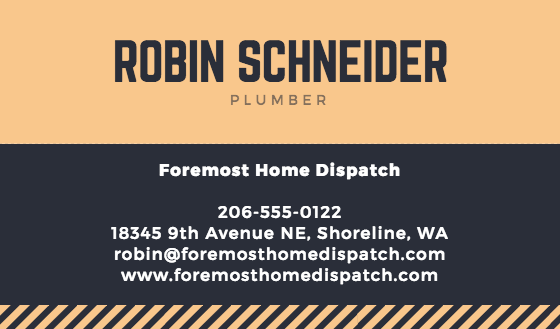 When to be generic
If you have a fluctuating team of seasonal workers, or want to arm your field employees with business cards that don't say their names on them as they're not the ones answering the phones, then creating a generic business card is a great idea.
Simply remove the personal name and title line so that your business name is front and center, or replace the personal name and title slot with something like 'Bookings' or 'Customer Service.'
Put business cards in your employees' hands so they can leave them behind with satisfied customers looking to make referrals. If they're working outdoors on a lawn or driveway they'll also be prepared to hand them off to curious potential customers passing by.
Designing and printing business cards
Designing your business card is not as challenging as it sounds. Throughout the process, keep in mind, you should prioritize professionalism over glam.
There are numerous free business card templates available online, and you may even get a deal on a free design from a local printer if you order a specific amount of cards.
Here are a few places to start:
Canva: Find free business card templates on Canva. You can even upload and add your logo. Once your design is complete, get in touch with a few local print shops to ask for print prices, and when you settle on a provider you can download your Canva file and email them your design.
Vistaprint: Design and print your business cards through Vistaprint. They often offer great deals and discounts, and you can get 500 business for less than $20.
Go local: Reach out to a few of your city's local print shops for business card quotes. Many print shops offer original design services, or you can ask if they provide template designs at a lower cost.
A business card adds an extra layer of professionalism to your enterprise and allows you to effectively market your company wherever you go. They are free, simple, and easy to make and they may be the ticket to your next big contract.
Once you've handed off a business card, booked a job, and impressed a customer, don't forget to ask for an online review and keep that new business flowing in.