Pricing and Payments
How to Offer Financing to Customers as a Small Business
December 3, 2021
8 min. read
Customer financing is a way to let customers pay for goods or services in installments instead of up front. When you offer financing to your customers, you make your services more affordable and put their dream jobs within reach.
Best of all, while customers pay over time, you get paid in full as soon as the job is done. It's a great way to increase sales and impress your customers—all without sacrificing your cash flow.
Read on to learn more about consumer financing, how much it costs, and how to offer financing to your customers.
What is customer financing?
Consumer financing, or customer financing, lets customers pay for a product or service over time instead of up front. It gives your customers an easier payment option when they want a service but can't afford the total price right away.
When you offer financing to customers, you get paid for the job once it's completed. Meanwhile, the customer pays for the job in smaller portions each month until it's paid in full.
For example, you might let a customer pay for a $1,500 HVAC job in five monthly installments of $300.
By offering consumer financing, service businesses can secure more and bigger jobs. Meanwhile, customers can get the service they need, faster.
How consumer financing works
There are generally two options for offering consumer financing:
1. You fund the payment plan yourself. This means you run credit checks, offer the financing, and manage payment collection on your own. This is known as in-house financing.
It's typically larger businesses that offer in-house financing, since they have the staff and resources to manage a financing program.
In-house financing is the riskier option. It comes with legal responsibilities, since you're handling customer credit info. And it's far more time consuming, especially if the customer stops paying.
2. You use a consumer financing partner. This is the better option, especially for small businesses. The financing partner is responsible for credit checks, making credit offers, collecting payments, and managing legal risk.
Here's how it works: your customer pays the partner, and the partner pays you in full as soon as the job is complete. You don't have to waste time chasing clients down or suffer from poor cash flow.
When choosing a financing partner, look for ones that are friendly towards homeowners. For example, some partners offer no late fees, no early repayment fees, or 0% financing over three months.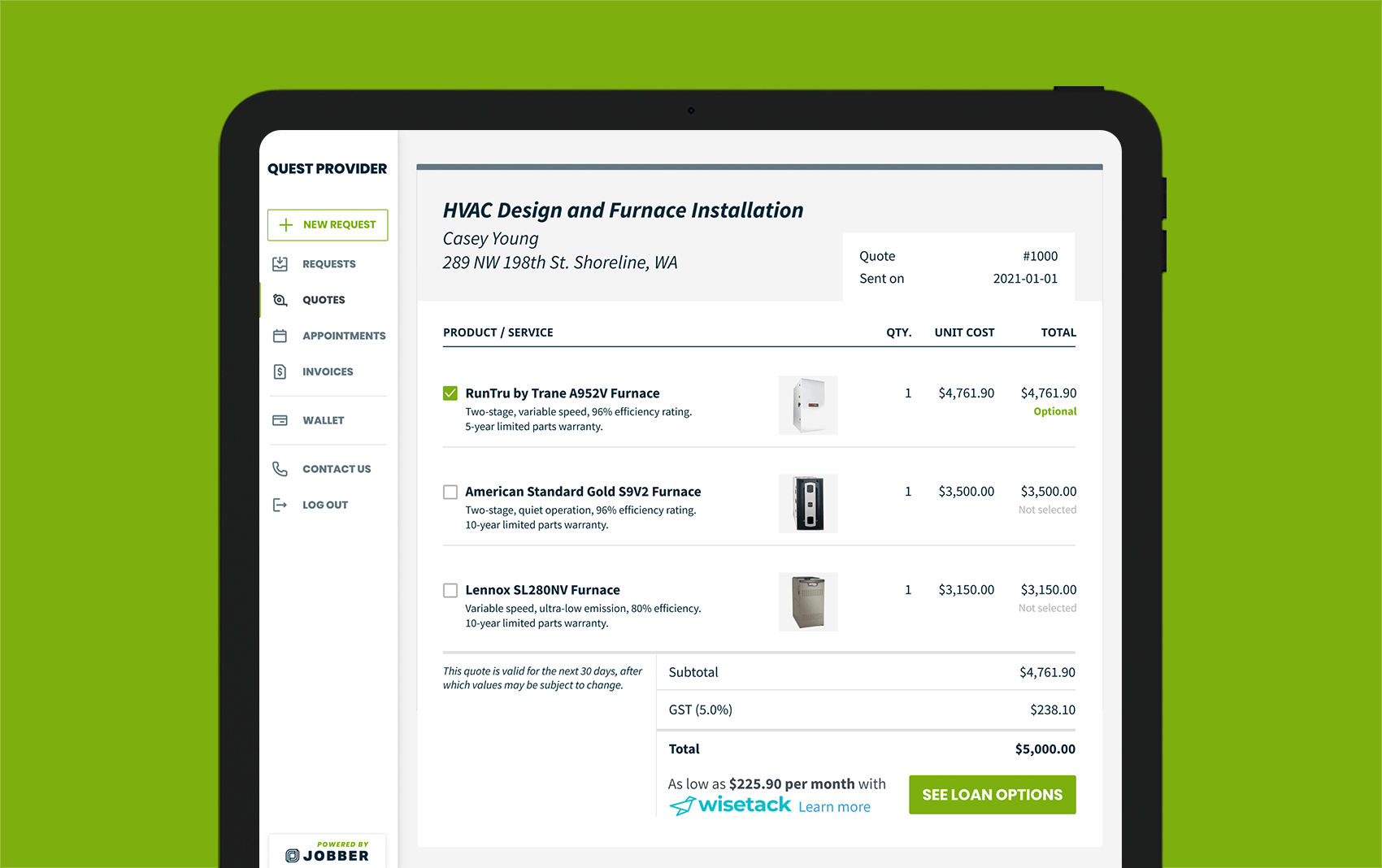 Why should I offer consumer financing?
Consumer financing makes your services affordable to more customers. With financing, customers can get the services they want without worrying about a huge payment at the time of invoice.
Service businesses in industries such as HVAC, plumbing, electrical, and tree care offer financing to customers because it helps them:
Look more professional and stand out from the competition
Remove barriers that stop clients from accepting a quote
Win more jobs, close bigger deals, and make it easier to upsell
Allowing your customers to learn up-front that they can pay in installments typically increases sales by 20%.
How can I offer financing to my customers?
First, let your customers know financing is an option. You can include this information on your website or directly on your estimates and quotes.
You can also tell them in person if they've expressed concerns with their budget. If your partner offers integrated financing, the customer can apply directly from the quote.
Step 1: Tell your customers you offer financing
Here's an example of how you can offer financing through a partner with Jobber:
Step 2: Customer applies for financing with partner
Your customer needs to apply for financing through your financing partner. In most cases, they'll conduct a credit check to see if your client qualifies.
Some partners will let the homeowner see their options first, using just a soft credit check, which doesn't affect their credit score. They'll do a hard credit check when the customer decides to apply.
The partner will let your customer know if they were approved or denied.
Step 3: Service work begins
Once your customer is approved for finance and has agreed to the conditions and payment terms, it's your time to shine. You provide the service the customer ordered, whether it's a new HVAC install or a retaining wall.
Step 4: The customer pays over time, while you get paid in full
Once the service is done, you get paid in full by the partner, and the customer starts paying their installments.
Your client will continue to pay the installments to the partner until their debt is paid off.
Pros and cons of offering financing to customers
Consumer financing is a great option for many businesses. To help you decide if it's a good option for yours right now, we'll break down the pros and cons of offering consumer financing.
What are the benefits of consumer financing?
Close more jobs. The biggest benefit of customer financing is that it removes barriers to sales. We studied price estimates with and without financing and found that offering financing typically increases sales by 20%.
Increase the value of your jobs. When you make it easier to pay for jobs through customer financing options, you can sell your higher-value jobs and packages. That increases your average ticket price—and provides a boost to your bottom line.
Get payment up front. You don't have to worry about customers paying outstanding invoices when consumer financing gets the payment to you immediately. This improves cash flow and makes it easier to keep your business running and growing.
Let your customers choose what they want. Without financial barriers, your customers have the power to choose the best option for them, whether that's a package that enhances the service they need or the specific products they want in their home.
READ MORE: How itemized quotes give you and your customers more control
Reduce hassle. With third-party consumer financing, you don't need to deal with payments. Once a job is done, you can focus on the next one instead of chasing down payment—and focus on growing your business.
Earn repeat business. When you offer an easy way to pay, you encourage existing customers to return to you as repeat customers. Keeping customers happy is easier when you reduce the stress of making big payments.
READ MORE: How to price your services as a small business
Disadvantages of consumer financing
Service fees. Third-party financing providers will often charge service fees per transaction or per month. Fees enable these companies to provide a convenient service to your customers.If you decide to offer financing to customers, make sure you choose a provider that doesn't charge late fees or early repayment fees.
Minimum transaction amounts. Financing is designed for high-ticket services. Most consumer financing companies will require a minimum transaction amount for a customer to qualify. So, your customers might not be able to finance your lower-cost jobs.
Customer acquisition cost. The service fees you pay your consuming financing provider will increase the overall cost it takes to gain a new customer—that's your customer acquisition cost (CAC). Do a cost-benefit analysis to calculate if financing is a profitable option for your business.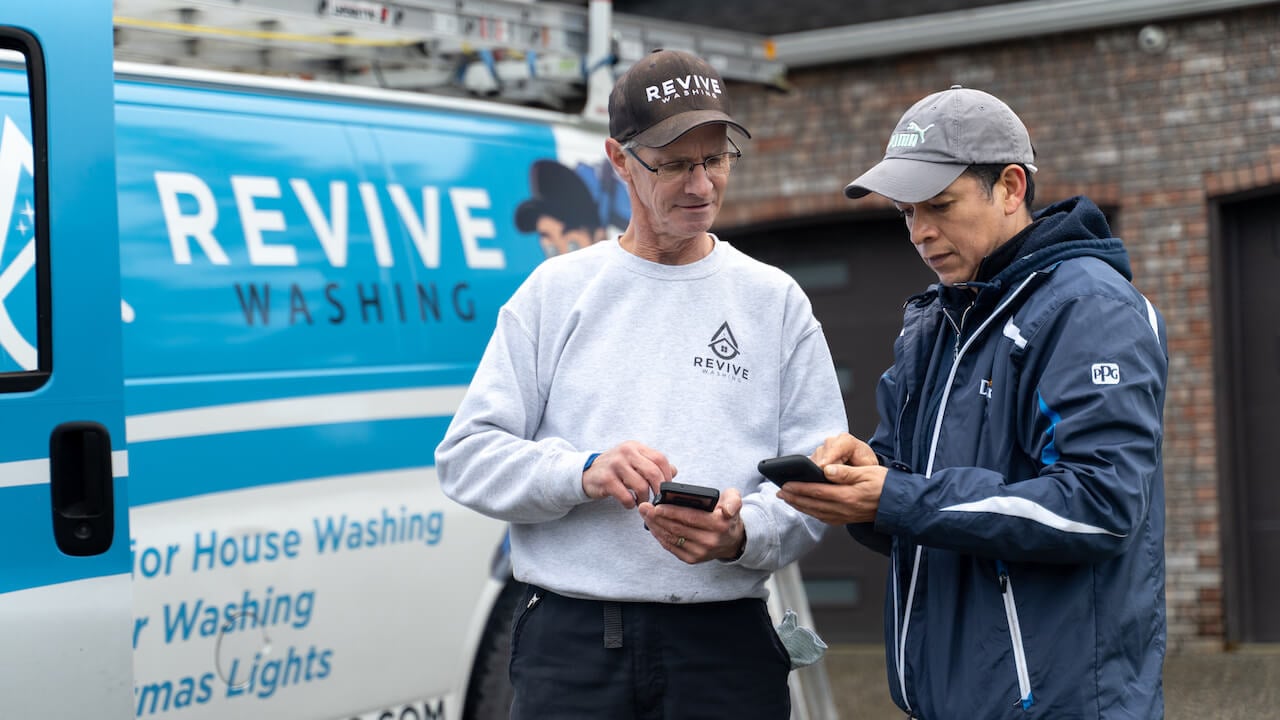 How do I know if consumer financing is right for my business?
Here are some hints that you should be offering consumer financing:
You offer services at a high price point. If your average service costs $500 to $1,500, offering customer financing can help bring big purchases within reach.
You want to differentiate based on customer service. By offering financing, you're putting your customers' dream jobs within reach. They'll appreciate the convenient and flexible payment options, especially if your competitors can't offer the same.
You have services you want to upsell. Upselling can help you generate more business from existing customers and jobs. With customer financing, higher-ticket items are easier to sell.
If your business doesn't fit all these criteria, you can still offer financing to your customers. Especially if your customers have asked for it, or if you think it can help you win more sales.
What does customer financing cost?
Business owners can expect to pay a 3% to 6% fee on every transaction. This is to keep the cost down for the homeowner.
Some financing partners might also charge you a monthly fee of up to $50 based on the number of transactions. Make sure to ask your partner for full payment terms before agreeing.
Meanwhile, your customers pay an interest fee on the financed amount. Some finance partners can offer your clients 0% financing over three months.
To find out if you can recoup the costs of financing through the extra revenue you generate, do a cost-benefit analysis.
How to do a cost-benefit analysis
Calculate your current average invoice price. Use this as a benchmark to see if you can increase it by offering customer financing.
Add optional add-ons or good, better, best packages to your price estimates to see if customers are interested or if high prices are a barrier.
Ask your current customers if they'd be interested in customer financing for larger jobs. You can send a feedback survey or ask customers when you quote jobs.
If you do offer upsells or premium packages, calculate how much bigger your average invoice price could be. Remember: on average, customers who can take advantage of monthly payments typically pay up to 20% more for upgraded services.
After doing this cost-benefit analysis, you should have a better idea of whether offering consumer financing is a good idea for your business.
If you can consistently win bigger jobs and increase sales by 20%, the fees may well be worth it.
Get started with customer financing for small business
Offering customer financing can make you look more professional, improve customer loyalty, and increase sales.
Best of all, your customers can get the services they need, when they need them. That brings bigger and better jobs within their reach.
Take the time to find out if consumer financing is right for your business. Talk to your customers, evaluate your costs, and find the right financing partner.