Pricing and Payments
How to Write an Invoice [Includes Invoice Template and Example]
November 30, 2023
7 min. read
Knowing how to make an invoice is the first crucial step to getting paid for your hard work.
When your client receives a professional-looking invoice, it reflects well on your business. You build trust with customers and you also encourage them to pay in full, on time.
Keep reading to learn how to write an invoice for a job that will impress your clients and help you get paid faster. Or, enter your client, company, and job details in our free invoice template to send a professional invoice in minutes.
Here's how to make invoices for jobs:
For more advice on creating service invoices, hear from this experienced business owner:
What is an invoice?
An invoice is a statement of what your customer owes you after you complete a job or service visit. It describes what products and services your company provided, how much they cost, how much is due and when, and how your customer can pay you.
Follow the instructions below to learn how to write up an invoice in seven steps:
1. Start with a professional layout
A professional invoice template clarifies charges for customers, boosts your business's credibility, and helps establish trust with your clients.
Some people download invoice templates into Word or Excel—but these can be hard to work with and take time.
Not to mention that the end product usually looks pretty bland. A better option is using an online invoice generator that comes pre-built with a strong layout you can use right away without worrying about formatting.
Pro Tip: With Jobber's invoicing software, you can add your logo and brand colors to your invoice to make it more memorable to clients and to help establish your brand.
2. Start with your company details and client information
Add your business information, including business name, address, phone number, and email to the top of the invoice.
This helps customers get in touch with you easily if they have questions or concerns. Even better—happy customers can use your contact info to refer you to friends and family.
Next, include your client's contact information, like name and address to make sure it reaches the right person. Be sure to include the service address on the bill too, if it's different from their mailing address.
3. Add a unique invoice number, the invoice date, and the due date
The three most important numbers on an invoice are the invoice number, invoice issue date, and due date.
Add these three items near the top and make them clearly visible.

The invoice number and invoice date help keep your records organized. This is important for filing taxes of course, but also for cases of a recurring invoice or multiple invoices to one client.
If you have an unpaid invoice that's been sitting with your client for a while, you'll want to be able to tell them which one you're talking about when you reach out.
The due date makes it clear when customers should pay for your services. Not every business will include one, but many do—it's a good practice to help you get paid faster.
With Jobber, your company and customer information, along with the invoice number and invoice date, are generated automatically every time. You'll never have to worry about forgetting or putting the wrong number on your customer bills.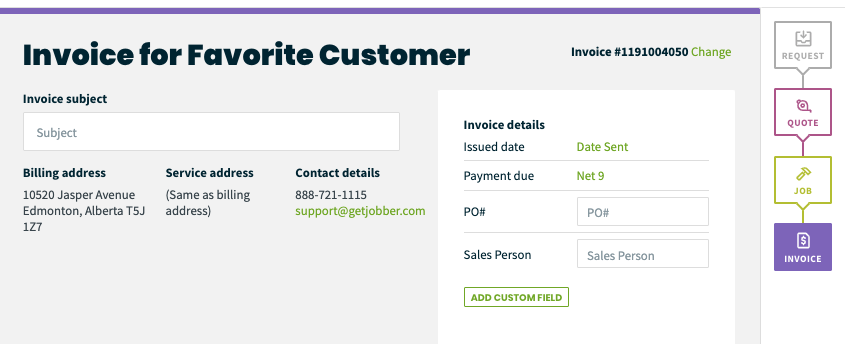 4. Write a description for each of the services provided
A line item is just a clear description of each service and/or product provided, along with their costs. In a column beside each line item, add quantities ('QTY') to show the number of labor hours, materials, or other units you're charging for.
When you name your line items, make it clear what your client is paying for. For example, instead of only writing "Lawn Treatment" as a line item, you should write "Crabgrass Control" or "Grub Control."
You might also include product names or types of materials, like the brand of dimmer switches you installed or the species of hardwood you used for a flooring job.
Descriptions underneath each line item help the client understand why the parts they're paying for are necessary for the job. If you sent a detailed, itemized quote to your client before the job started, copy those line items over to your invoice.
Your customer is more likely to pay an invoice if they know what they're paying for. Knowing how to write an invoice with clear line items helps your client pay right away without asking questions that may delay the billing and invoicing process.
5. Add up the total money owed
Add the totals of all your line items together to get your subtotal, and write it near the bottom of your invoice. A good invoice template or invoice software will calculate these fields for you automatically.
Then, calculate taxes, or discount pricing you've applied to the job, and write your total amount owed on a separate line. Make this number bolded or highlighted so that it stands out.
6. Include your payment terms and accepted payment methods
Payment terms are the details related to how you collect payment. This step is crucial for good customer service and avoiding possible invoice disputes.
The payment details at the bottom of your invoice should include:
The total amount due, including any applicable sales tax
The payment due date
Your late payment fees and policy
Any money-back guarantee or service warranties
A list of accepted payment options, such as debit, credit card, cash, check, bank transfer, or other online payment methods like Paypal.
READ MORE: How to collect payment from a customer, faster (with email templates)
7. Thank your customer for their business
Thank your customer for their business in a quick message at the bottom of the invoice.
You can add any additional information, such as an upcoming seasonal deal, your referral program, or a request for reviews or helpful feedback.
This is the very last thing they'll see before paying, and it's a great way to make them feel good about choosing your business.
READ MORE:Thank you note examples to show customers you care
8. Send your invoice via email or text
Save your invoice as a PDF that you can attach to an email or text message to send to your customer. Or, use Jobber's invoicing software to generate professional invoices that can be sent to your customers via email or text in just a few clicks.
What does an invoice look like
A standard invoice typically includes a header with the business name and contact details, a list of products or services provided with their prices, and the total amount due. It also often contains details such as invoice number, issued date, and payment terms.
Here's a cleaning service invoice example:
How to create an invoice using software
When you use field service invoicing software like Jobber you can generate a professional invoice, complete with accurate job details, that's ready to send to your customers—with one click.
Or, send multiple invoices at once with batch invoicing. Simply select all of the jobs you'd like to create invoices for and send them to customers in a couple of clicks.
Plus, Jobber automatically sends a customized email or text follow-up to customers, reminding them to pay their overdue invoice—so you can stop chasing payments.
Best practices for invoicing
Feeling confident about how to write an invoice? Here are a few final invoicing best practices that can help simplify your day-to-day and speed up your payment process:
Send your invoices online so it's easier to resend them, store them, and send invoice reminders to customers
Shorten your payment terms to 14 days so you can avoid late and unpaid invoices
Accept deposits and signatures on the spot to collect payment faster and improve cash flow
Make it easy for customers to pay by giving the option to pay online or by credit card on-site
Use digital invoice templates or invoicing apps to keep clean records
Creating invoices for your service business doesn't have to be complicated—especially if you use a free invoice maker like Jobber.
But leaving out essential pieces can lead to disputes, late payments, and looking unprofessional to your customers.
If you follow these expert tips on how to write an invoice, your invoices will improve your client relationships and make collecting payment easier.
Originally published in April 2019. Last updated on November 30th, 2023.