How to Price HVAC Jobs: 6 Steps to Turning a Profit
July 26, 2023
10 min. read
Pricing your HVAC services properly is what keeps your business running and growing, but it's tough to keep your prices competitive and consistent across all kinds of HVAC work (which is often unpredictable).
To stay profitable without driving customers away, you need to understand your costs, do competitor research, and mark up your jobs strategically.
Follow this HVAC pricing guide to learn how to set the best HVAC service prices for your business.
HVAC pricing guide for contractors:
1. Choose a pricing strategy
There are two common methods for deciding how much to charge for HVAC jobs. The HVAC industry is divided on whether flat rate pricing or time and materials pricing is better.
Learn the pros and cons of each pricing strategy here before choosing what works best for you.
Flat rate pricing
With flat rate pricing, you set a fixed price for the job no matter how long it takes. Your flat rate should account for the costs of completing the HVAC job (like ductwork purchased and freon used), but you won't include line items for labor and materials on your estimate.
Flat rates reward efficient work—the faster you go, the more profit you take home. Plus, customers will know the exact cost upfront, with no surprises when the job is done.
On the other hand, some customers assume you're overcharging if there are no line items explaining your rates. An HVAC tech might also earn less than their regular hourly rate if a job takes longer than expected.
HVAC flat rate pricing is usually ideal for these types of work:
Common repairs: Repairs like refrigerant leaks and thermostat malfunctions are usually straightforward and predictable. Costs for these jobs are easier to calculate and factor into a flat rate.
Routine maintenance and inspections: These follow a standard operating procedure, whether that's on your HVAC inspection checklist or memorized from years of experience. You won't have unexpected work that eats into your labor costs (you'll charge separately for any repairs or replacements).
System installations and replacements: These include the cost of a brand-new HVAC system, which depends on supplier prices—and those are out of your control. Add your labor and overhead costs on top of that price to get your installation rate.
Set flat rates for all your services and add them to your HVAC pricing list to save time when estimating jobs. Include a price range for every possible job, from high-efficiency furnace installations to a simple thermostat replacement.
Time and materials pricing
The time and materials method is pricing a job based on the time it takes, the contractor's hourly labor rate, and the cost of the materials used. You then add markup to your materials and to the total cost to get a final price.
Here's how time and materials pricing is usually calculated:
Total cost = hourly labor rate + (cost of materials x markup) + overhead + profit
Pricing by the hour lets you compensate technicians for the exact amount of time a job takes—and it shows customers exactly what they're paying for.
However, the longer a job takes, the more money it will cost the homeowner. A technician who's slow or makes mistakes on the job will drive up your invoice total, and getting paid for the job hourly doesn't incentivize faster work.
Time and materials pricing is best suited for these types of jobs:
Complex or unusual repairs: It's harder to estimate the labor hours it'll take to diagnose and repair less common HVAC system problems. Charging by the hour ensures you're compensated fairly for the extra time and specialized skills you need for the job.
Custom installs: Pricing by the hour helps you profit on labor that's difficult to predict ahead of time—think systems that need custom sheet metal ductwork or have unique architectural features.
Emergency calls: Without an initial inspection to understand the root cause of the problem, emergency HVAC service calls can be time consuming and complicated. These calls also take time away from planned work and can happen after hours, so get paid appropriately for this premium service.
2. Research competitor rates
Find out what average HVAC contractor prices look like in your area by calling or requesting estimates from competitors. Be sure to review both new and established HVAC businesses to get a sense of how pricing varies based on experience.
Browse competitor websites and take note of the services they offer—and how similar they are to yours. Pay attention to things like:
Whether they offer residential or commercial services (or a mix of both)
What size jobs they focus on
Size of the company
How long they have been in business
Established, commercial-focused HVAC companies may charge higher rates because they need more equipment or employees. Alternatively, small, residential HVAC startups may offer lower rates because they have less overhead.
If you're just starting out, try to price yourself somewhere between the highest and lowest pricing. If you have a specific market in mind, like high-end customers, set your pricing for the market you want to reach.
Keep an eye on what your competition charges even after you've set your service pricing. As market rates change, you'll have to adjust your own pricing.
Average HVAC service prices
The following costs are typical ranges that HVAC companies charge in the United States, according to data from HomeAdvisor:
| | |
| --- | --- |
| HVAC Service | Typical Cost Range |
| Furnace installation or replacement | $2,700–$6,400 |
| Furnace repair | $125–$355 |
| AC installation or replacement | $3,800–$7,500 |
| AC repair | $150–$450 |
| Heat pump replacement | $4,200–$7,300 |
| Heat pump repair | $160–$646 |
| Boiler replacement | $3,700–$8,200 |
| Boiler repair | $188–$639 |
3. Calculate your job costs
Knowing how much you need to spend helps you cover those costs and turn a profit with your pricing. Your costs can be divided into three categories: labor, materials, and overhead.
Determine your HVAC labor rates
Your labor rate is how much you pay yourself, your contractors, subcontractors, or employees for a job. To ensure you're paid fairly for your work, factor this number into your cost estimate no matter which pricing strategy you use.
Here's how you can calculate your total labor cost for a job:
Labor hours x hourly labor cost
To calculate labor hours: Multiply the time spent on a job by the number of techs you need on the job. (E.g., 3 hours x 2 people = 6 hours)
To calculate your hourly labor cost: Add up each HVAC technician's hourly salary, plus taxes, workers' compensation, and any other employee-related expenses. 20–30% is a reliable markup for an hourly labor cost. (E.g., $22 + 20% = $26.40)
When you multiply your labor hours by your hourly labor cost, you'll get a total labor cost you can add to your final cost estimate. (6 x 26.40 = $158.40)
To get the most reliable estimate on how long a job will take, look at your timesheets for past jobs. HVAC job management software like Jobber lets you see pre-built time tracking reports showing hours worked in the field, work history, and job notes: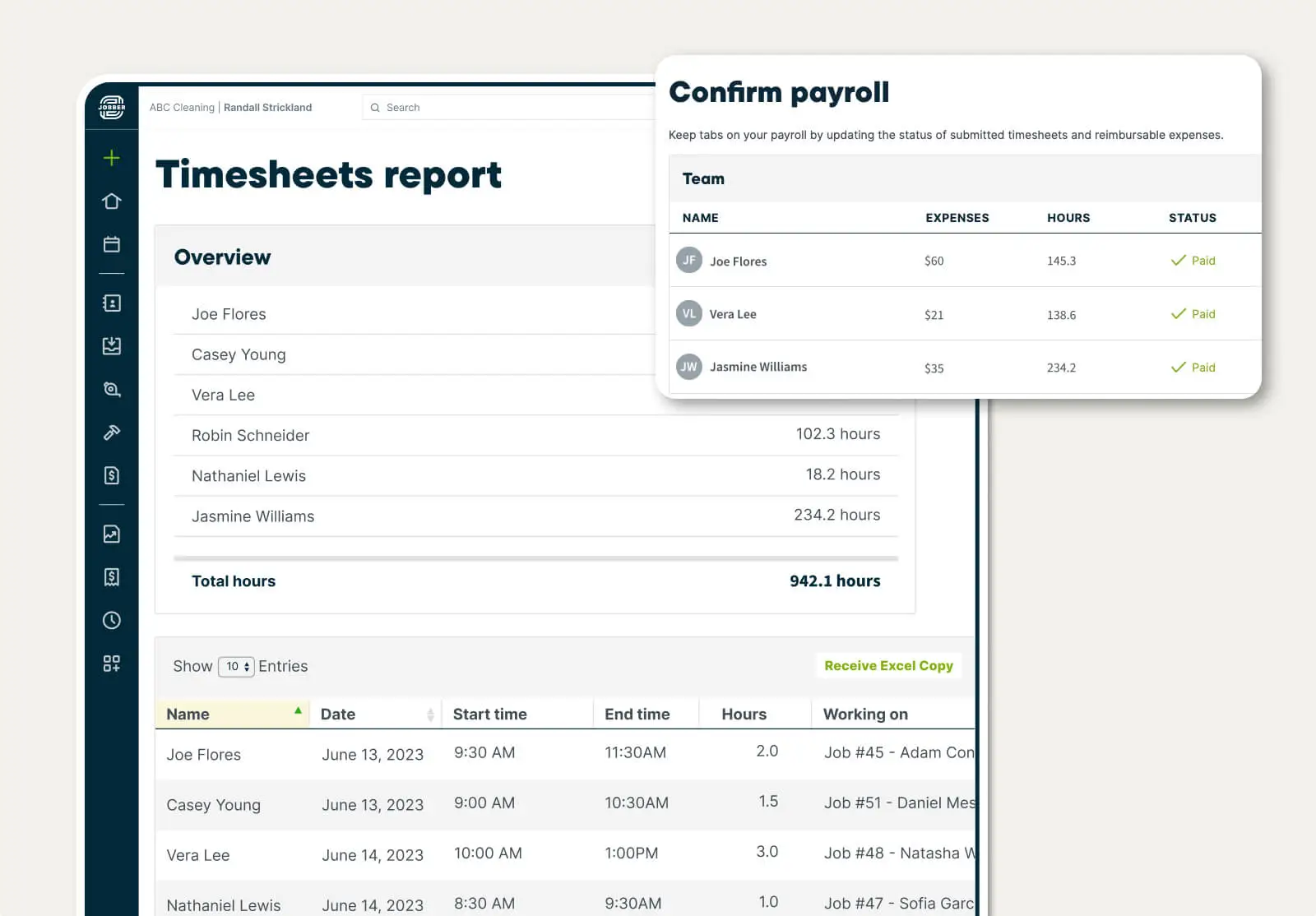 Calculate material costs
Material costs include the supplies you need to complete an individual job—think new equipment (like an AC unit or thermostat), replacement parts (like fuses and drain pans), or brand-new HVAC tools.
Once you have a clear scope of the work:
List all the materials you need for the job
Add the cost of each material
Add markup to each material cost
Adding markup to new materials you purchase helps you offset overhead costs without cutting wages or adding huge hourly labor rates to your HVAC estimates.
Follow an HVAC parts markup chart to get started. The average markup on HVAC equipment is between 25 and 50%, and 100% or higher for spare HVAC parts and materials.
Pro Tip: Use expense tracking software to keep a record of parts and other job-related materials. Jobber automatically calculates profitability for each job based on every on-the-job expense you've tracked.
Calculate overhead costs
Overhead is the combined cost of all the things you need to run your HVAC company. Overhead costs are not specific to an individual job and include expenses like vehicle leases, licensing fees, cell phone bills, HVAC business insurance, office space, and uniforms.
Your overhead costs are likely monthly or annual, so it can be hard to calculate what your overhead will be for one specific job. Estimate overhead costs for one specific job by finding your hourly overhead rate.
To calculate your overhead costs per hour, use this formula:
Total monthly overhead ÷ # of billable hours per week
Calculate your monthly overhead fees (E.g., $8,000).
Determine the number of weekly labor hours worked (E.g., 400 hours).
Divide your weekly overhead cost into hours worked for an hourly overhead cost ($8,000 ÷ 400 = $20). This means that for every labor hour, you need to charge $20 to cover that cost.
Multiply the hourly overhead cost by the number of labor hours for the job ($20 x 260 = $5200)
4. Add markup to your total cost estimate
Add your material, labor, and overhead costs to get your total cost estimate. This estimate is approximately how much you'll spend on the job.
Then, add markup to this total. Markup is how much you charge on top of your costs to meet your target profit margin for the job.
HVAC businesses typically add markup to materials and services separately. For example, you might buy parts in bulk and charge a markup on them, while you also add markup on top of labor and overhead.
To decide the total price you should charge for your HVAC work:
Make your total cost estimate (material + labor + overhead costs)
Choose your desired profit margin
Calculate your markup
Cost estimate + markup = total price for the job
Let's say your costs add up to $3,600, and you're aiming for an operating profit margin of 25%. That means the cost of your job should make up 75% of the total price.
To calculate the total price, use the formula:
Price = Cost ÷ (1 – profit margin)
So, the total price you should charge to achieve a 25% profit margin will be:
Price = $3,600 ÷ (1 – 0.25) = $3,600 ÷ 0.75 = $4,800
You'll need to charge a markup of $1,200 on top of your cost of $3,600 to reach your 25% profit margin.
What is the ideal profit margin for hvac companies?
The ideal profit margin for HVAC businesses is typically 20% or higher—but it depends on your goals, your service location, and what kinds of services you offer.
Figure out how much you need to profit annually to pay yourself and your crew competitive wages, buy and maintain quality equipment, market your services, and operate your business how you want to.
5. Factor in taxes
To cover your business taxes, add them in when you're charging for HVAC work. You have two options when it comes to quoting your customers for your HVAC services:
Include taxes in your pricing
Charge taxes separately on each invoice
Most businesses choose to list taxes as a separate line item on each quote or invoice because it's easier to calculate and manage. That means setting a specific price for a service, like $80 to repair a flame sensor, and then charge taxes on top of it.
If you decide to include taxes in your pricing, you need to make sure they don't end up cutting into your profit, especially if tax rates change.
6. Handle customers who negotiate
Eventually, you're going to come across a client who wants a deal. But whether you can give one to them or not depends on a few factors.
Before you offer discount pricing to a customer, you should consider:
How much you'll profit on the job
If you can offer an upsell at discount prices instead
If you can offer a different service within their budget instead
Next, figure out why they're asking for one. Are they on a tight budget, or are they just hunting for a deal?
If the customer is on a restricted budget and can't afford to go over a certain amount, consider how you can downsize the job to help them out. That might mean cutting back on some services or using lower-cost materials.
If they just want a discount for the sake of getting a lower price, try keeping the base service the same but upselling an additional service at a discounted price. For a furnace repair, for example, offer your customer a cleaning service for less than your usual price.
This way, you still get paid for the initial job (which is where you likely have the least wiggle room), and the customer feels like they got a deal.
Build an effective HVAC estimate
Understanding how to estimate HVAC jobs and send detailed quotes will help you win jobs, set clear expectations for your customers, and drive profit.
A detailed quote should describe all the work you'll do before, during, and after the HVAC service call. It also needs to look professional and include you and your client's contact details, your company branding, terms and conditions, and any special discounts or rates.
Easily add that level of detail with quotes in Jobber—and when you've built your quote, it's easy to send it to clients and get approval online.
Originally published in November 2020. Last updated on July 26, 2023.