Free HVAC Installation Checklist (and How to Create Your Own)
January 27, 2023
6 min. read
When you use an HVAC installation checklist before and during your heating, cooling, and ventilation system installs, you'll prevent missed steps and complete the job in less time.
To keep your installs consistent, start by downloading our HVAC install checklist template. It covers the work you need to do before the installation—then a detailed task list for changing out different HVAC systems, testing them, and wrapping up the job like a pro.
Then follow our guide below to learn how to customize your own checklists and use them efficiently at the job site.
What's in our HVAC installation checklist template?
Our free installation checklist template starts with pre-arrival and pre-installation checklists. These include all the work and customer communication an HVAC contractor needs to do before a change-out.
The template has a detailed air conditioning, heat pump, and furnace installation checklist, including tasks for prep work, indoor and outdoor unit removal, electrical wiring, new unit placement, testing, and wrapping up the job professionally.
Guide to using an HVAC install checklist:
What your HVAC installation checklist should include
You have important work to do before, during, and after every install. Here are the sections you should include in your installation checklists—and questions to ask when creating these checklists.
1. Pre-arrival and on-arrival tasks
A good arrival checklist gets you to the job site faster with all the tools you need. This checklist benefits your customers, too, by keeping them informed and prepared for your arrival.
Build your pre-arrival and on-arrival checklists by answering these questions:
Do your customers or dispatchers send you notes and photo attachments about their existing HVAC units beforehand?
Will you need to collect information about the customer's property while onsite? Or is it stored in your client management software (CRM) before the job starts?
How will you share new unit warranty and service warranty information with the customer? Do you include warranty details in your HVAC estimates?
Who sends appointment reminder emails to your customer before the job begins? (i.e., installer, dispatcher, or service manager)
Which HVAC tools, equipment, and spare parts will be loaded into your vehicle?
What protective equipment will you use at the job site? (e.g., PPE, drop cloths to protect floors)
READ MORE: Free HVAC parts markup chart [+ calculation guide]
2. Pre-install inspections
Inspect everything at the job site—the workspace, existing HVAC unit, and new unit—so you know you can safely start the installation. Include these tasks in your pre-install checklist:
Do a site safety inspection. Your work environment should be safe for you and the customer's property. For example, keep combustible materials far from the furnace, and place a drop cloth to protect wood floors and carpets.
Troubleshoot the existing unit for damages, leaks, or other issues that mean their system needs repairs instead of replacement. Use an HVAC inspection checklist to find any issues that might have been missed during the customer's last HVAC service call.
Inspect the new unit to make sure there are no loose parts or severe shipping damages. There should be room in your checklist to report any faults—then you can contact your distributor or office immediately.
3. New unit installation checklist
Every HVAC unit has different installation steps—but there's always prep work involved in the removal, placement, and wiring of a system.
Answer these questions in your checklist no matter what you're installing:
Safety tasks: What do you need to remove, shut off, and unplug before you start removing HVAC equipment? (E.g., shut off the power supply, disconnect electrical wires, evacuate the refrigerant from the air conditioner)
Removal and preparation: What components of the HVAC system need to be removed, replaced, newly built, heat protected, or cleaned? (E.g., add a new composite pad for an AC installation, disconnect upper ductwork, clear out condensation lines)
New unit placement: Which components of the new HVAC system should you install in what order? (E.g., evaporator coil, refrigerant lines, heat exchanger, programmable thermostat)
Electrical wiring: What regional and federal regulations do you need to follow for proper electrical installation? (e.g. National Electrical Code, Canadian Electrical Code)
4. HVAC post-installation checklist
A post-installation checklist helps you wrap up the job smoothly. That includes testing that the new HVAC unit works properly, closing out the job, and leaving a great impression on the customer.
Here's what your post-installation checklist should include:
Cycle the HVAC system to see if it's working properly. Listen for unusual noises, test thermostats, and take note of any issues and rework you need to complete.
Record measurements to see how the new system is performing. Include pressures and temperatures for gasses, refrigerants, and suction and liquid lines. Also note refrigerant charges, high- and low-voltage current measurements, and motor amperage for blowers and fans.
Clean up the site and remove all garbage and work materials. Leaving the customer's property clean is part of delivering a professional, positive customer experience.
Do a system walkthrough to explain what's installed and show your customer how to operate their new HVAC system. Explain how they should maintain the system (e.g., replace the air filter regularly for good air circulation) and how an HVAC maintenance contract can help them keep it healthy.
Invoice the customer and collect payment. In Jobber, you can convert a customer's initial estimate into a professional HVAC invoice complete with accurate job details and convenient payment options. That way, they can pay on the spot and you can get to the next job.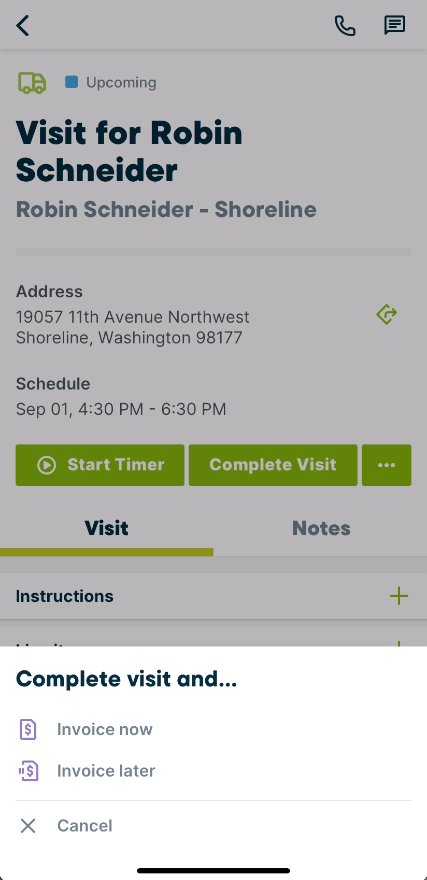 Why you need an HVAC installation checklist
Using an installation checklist protects you from missing steps during an HVAC system change-out. Even the most experienced HVAC technician or installer can forget things, especially when tired from working long days.
Here are more benefits to using an install checklist:
Keep work consistent across installers. If you're running an HVAC business, equipping your installers with checklists ensures the job is done right every time. You'll avoid costly callbacks and customer complaints about flawed installations.
Impress your customers and win their trust. When you finish an install, give your customers peace of mind by showing all the tasks you've checked off. Checklists show that you're an organized and professional installer.
Get to the next install faster. Checklists keep you on track and can save you from time-consuming missteps. Reduce the risk of rework, and you'll avoid getting stuck on one property and delaying your day's schedule.
READ MORE: Better scheduling led to this HVAC business' most profitable year
How to use editable online checklists
Make it easier to edit, customize, and share your HVAC installation checklist with your customers or team by building it online. You'll be more efficient on installation jobs by checking off tasks from your smartphone or tablet.
Create custom site inspection checklists in Jobber to keep a digital, shareable record of the tasks you've completed.
Then give a copy of your completed checklist to every customer and prove your track record of installing systems smoothly.
Your impressive work and professionalism could win you another lifelong customer.