Pricing and Payments
What are Payment Terms on an Invoice? Examples and Definitions
September 2, 2021
7 min. read
As a small business owner, you already know how important it is to get paid in full and on time for the home services you provide. Prompt payments improve your cash flow and keep you from having to chase down past due invoices.
But how do you get your clients to pay you by their invoice due date and for the full amount of the bill? Using payment terms in your invoices is a great place to start.
What are invoice payment terms?
Payment terms tell clients when and how to pay you. They also outline what happens if payment is late. Good invoice payment terms and conditions should include:
The invoice date
The total payment due
The payment deadline
Accepted payment methods
Payment instructions
Invoice payment terms can also include information about early payment discounts and late payment fees.
Using payment terms in your invoices ensures that clients understand their responsibilities when it comes to compensating you for the services you provide.
READ MORE: How to write a bill for your clients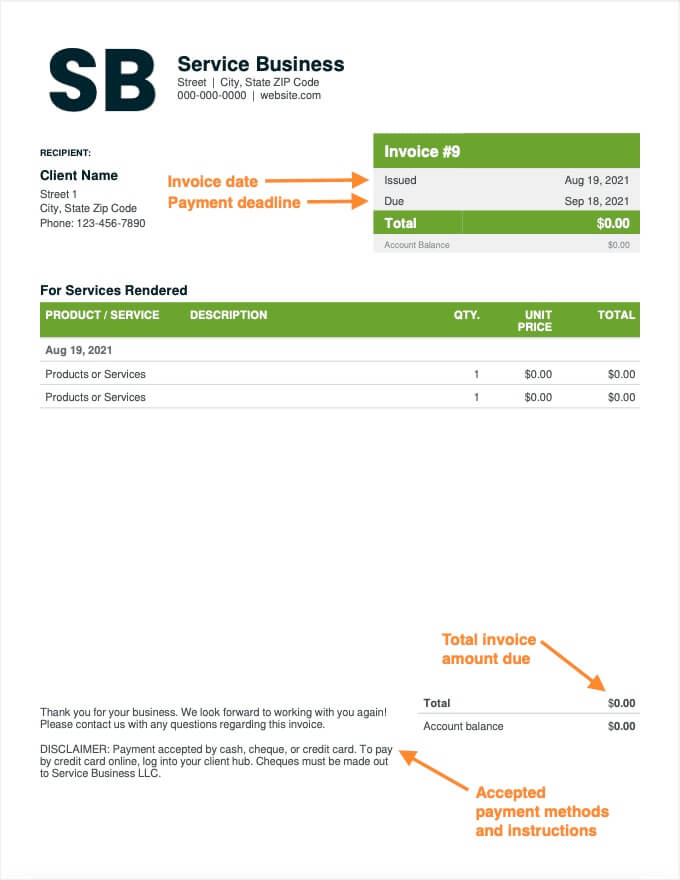 Standard payment term examples
Due dates are one of the most important payment terms for you to include in your invoices. And while it may seem as simple as including payment dates in your bills, there's actually more to it.
The due dates you choose for your invoices affect your billing cycle and cash flow.
Here are some of the most common payment terms home service providers use when it comes to billing cycles and due dates.
PIA (Payment in Advance)/CIA (Cash in Advance)
PIA and CIA refer to invoices that require payment of the total invoice amount before a job begins.
Many home service providers request payment in advance so that they can avoid issues like late and nonpayments in the future. They're also helpful during jobs that have unexpected delays that halt or suspend the work since you won't be left waiting for payment on a job that relies on a client to move forward.
READ MORE: How to offer financing to customers as a small business
Net 7, 14, 30, 60, 90
Net payments refer to the number of days a client has to pay an invoice after it has been received.
Net 7 means a week later, net 14 means two weeks, and net 30 means a month. After the date passes, interest charges and late fees may be applicable.
Most home service providers don't use longer payment terms, like net 60 or net 90 unless they service large commercial clients.
EOM (End of Month)
EOM payments are due at the end of the month in which they were sent.
For example, regardless of whether an invoice was sent on November 2nd or November 21st, it would be due at the end of the month using an EOM payment term.
COD (Cash on Delivery)
COD invoices mean that payment is due as soon as a job has been completed.
For example, if you are a landscaper and you use COD invoicing, a client would owe you for mowing their lawn immediately after you finished.
READ MORE: How to accept credit card payments on your phone
Stage Payments or Progressive Payments
Stage payments are made at predetermined stages during large projects. They need to be agreed on by you and your client in advance and are typically used for big or ongoing projects.
For example, if you estimate a project will take three months to complete, you could request payment each month for the work that has been completed.
Or, you could bill after specific project milestones.
READ MORE: Recurring billing definition, types, and how to get started
Percentage Upfront
Percentage upfront means that you require a deposit before any work begins. They're usually around 50%, but some service providers ask for more or less depending on factors like the value of the job and cost of materials.
MFI (Month Following Invoice)
MFI means that payment is due a month after the invoice was received. For example, if you sent an invoice on May 3rd, it would be due on June 3rd.
Contra
A contra payment term is specific to jobs that require materials or supplies. The client is expected to pay for the cost of these supplies upfront, either through you or directly to the supplier. This is common when the supplies are particularly expensive or the client can get a better deal by making the purchase themselves.
Once the supplies have been purchased, the invoice is reduced by the cost of materials.
READ MORE: What to include on an invoice
Why are payment terms important for your business?
Payment terms come with a lot of handy benefits for your accounts receivable process. From helping you to get paid on time, to backing you up in a dispute, they outline and guide how payments are handled between you and your clients.
Payment terms are important for your service business because:
1. They encourage prompt payments
The more clear you make your payment terms, the harder it is for clients to misunderstand them. By including straightforward and consistent information about payments in each invoice, clients are more likely to follow your instructions instead of setting your invoice on the backburner.
For example, it's hard for a client to argue that they didn't know payment was due at the end of the month if it was clearly stated in your invoice's payment terms.
But, without payment terms, a client won't know when or how to pay, let alone whether they'll face penalties if they miss the payment date.
2. They keep money in your pocket
By using the right payment terms for your service business, you're more likely to stay cash-flow positive. When clients pay on time and in full, it ensures that you have the funds to pay employees, maintain equipment, and cover your own bills.
This keeps you from having to dip into your personal bank account to stay out of the red.
READ MORE: Outstanding invoice guide: how to prevent overdue payments
Payment terms help to make your income more predictable, giving you a chance to plan ahead, cover your expenses, and rely on a consistent payment schedule.
3. They clarify expectations
The invoice terms you include should be clear enough that they don't leave any room for confusion or misinterpretation. They need to give a client all the information they need to make a payment to you on time without having to ask any questions.
They're also a good way to clarify your expectations and the client's responsibilities.
For example, if you expect payment upfront, including details in your payment terms helps you make sure that your clients know they have to pay you before any work can begin.
If you don't make that known, your clients won't know what's holding up the work and may lose interest in your services altogether.
4. They make accounting easier
When you have clear payment terms that outline your preferred payment methods and due dates, your invoices are much easier to track. Finding out whether a client is overdue is as simple as looking at the due date on their invoice.
This saves you from sending out payment reminders too early or arguing with a client about whether or not the late payment fee is valid.
READ MORE: 5 steps to improve your accounts receivable management
How to use payment terms so you get paid on time
To use invoice payment terms to improve your chances of getting paid in full and on time, they need to be clear, consistent, and concise. You can fit a lot of information into a simple line that gives clients all the information they need. For example:
Please make payment in the amount of [0.00] for invoice number [001] by [date] via [PayPal, credit card, etc.].
In one line, you've told them the invoice number, the total amount due, when to make payment by, and the payment methods you accept.
If you charge late fees or interest charges once a client passes their due date, add another line that says:
Payment made after [date] will be subject to [interest rate/late fee].
Or, if you incentivize early payments using discounts, add:
If payment is made on or before [date], it will be eligible for a [percentage, dollar amount] discount totalling [0.00].
It's important to keep your payment terms consistent so that you and your clients are always on the same page. Once you choose standard payment terms, try to stick with them.
This will help you to collect payments faster by:
Providing clients with all the information they need to make a payment
Setting consistent payment schedules across clients
Outlining consequences for late payments
Incentivizing early payments with discounts
Best practices: invoice etiquette and payment terms
Now that you know what invoice payment terms are and how to use them, here are some tips to help you get started:
Choose and use consistent payment terms
Enforce late fees and interest charges on late payments
Send professional invoices
Provide multiple payment methods
Offer incentives for early payments
Be polite and clear in your wording