How to Get Your First 100 Lawn Care Customers
January 6, 2023
10 min. read
The sooner you get lawn care customers, the quicker you can break even, turn a profit, and grow your business.
But how exactly do you get new customers when you're just starting a lawn care business?
There are a few simple ways to get your customer list started. Here's how to get lawn care customers fast with 6 short-term marketing strategies.
Plus, learn from three green industry experts to share the best (and cheapest) ways to get your first 100 lawn care customers in our Ask a Business Mentor series:
1. Advertise to family and friends
Reaching out to family and friends is often the first step for many small business owners, regardless of industry. Since you don't have a reputation as a business owner yet, it's easiest to get your first customers from people you already have relationships with.
There are a few other great reasons to start with family and friends:
It's less work. Your friends and family are more invested in your success than anyone, so it can be a lot easier to sell to a relative or family friend than a total stranger. Reach out to your network, to find people who are enthusiastic to help you promote your business.
It helps you build confidence. Your personal connections likely won't criticize you as harshly as new customers. There's also a good chance you can ask them for a positive online review.
It's good for cash flow. The revenue you make in the first few months is critical to your long-term success. When you desperately need income in your early days, family and friends will be the first people to choose you over a large business.
When it's time to start promoting your business, put out announcements on the social media channels where you interact with your family and friends—whether that be LinkedIn, Twitter, Facebook, or Instagram.
You could post a Facebook announcement like this: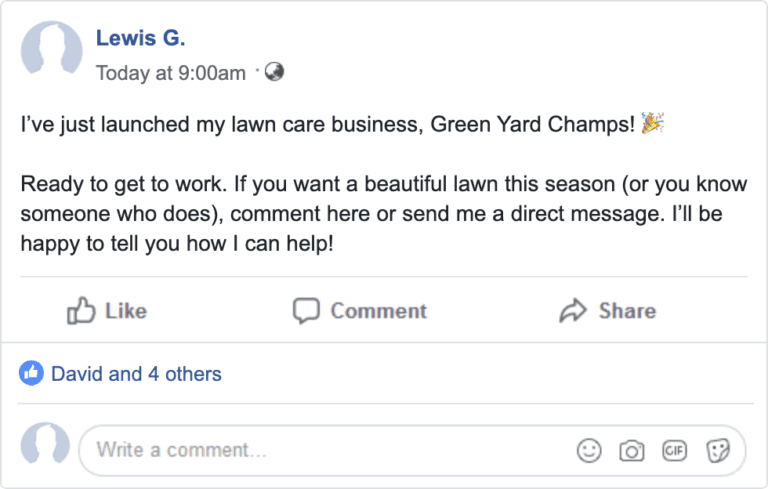 "Don't be afraid to let everyone know," says Jason Creel. "Put it on Facebook, anywhere, but let all your friends and family know you're starting a lawn care business."
Check out the rest of Jason's advice on how to get lawn care customers below.
2. Use online classifieds
Online classifieds are websites where people post short advertisements (either paid or unpaid). Users can either post services they're offering, or services they're in the market for.
There are so many online classifieds to choose from, including eBay Classifieds, Craigslist, Angie's List, and even Facebook Marketplace.
Admittedly, finding and filtering through potential customers on the internet this way can be a painstaking process. Also, some classifieds like Craigslist have a bad rap, with dodgy sales, scam artists, and questionable job postings.
The shortcomings of the platform mean it's easy for you to stand out and win business. Lanier Lawn Care is proof of that—they've gained a couple of clients through Craigslist without any hiccups. You can do the same.
Just send a simple email in response to any request for lawn care services. Here's a basic and effective email structure you can follow:
Introduction. Quickly introduce yourself and the context of your email.
Your offer. Explain the service you can provide based on the request in the classified ad, plus any additional lawn care services you can offer.
Benefits: Detail the value your service will provide (e.g., saving the customer time so they can do more of what they love).
Getting your foot in the door: Get the prospect to agree to something small first, like a 10-minute call, before having them agree to getting a quote for your lawn care services.
Call to action: Make sure the prospect responds to your email by asking them a question or giving instructions to get started.
Example of a classifieds email response
Hi Jerry,
I'm contacting you about your Craigslist post asking for help from a lawn care professional. My name's Lewis, I run a lawn care company here in Denver, and I'd love to help you out.
If you want to make your lawn look spectacular, I can provide affordable mowing, fertilization, mulching and weeding. You're probably a busy person and it's time consuming to take care of your lawn, so I'm happy to take on that responsibility for you!
When was the last time you had your lawn looked at? You can give me a call at 555-1122 for a quick chat if that's easier for you.
Sincerely,
Lewis
3. Go door to door
People say "getting your foot in the door" for a reason—meeting people face-to-face at their doorstep is an effective way to get attention for your business. A positive first impression in person is way more influential than one over the phone.
You might not always get that facetime, though, so try both of these door-to-door strategies
Hand out flyers and talk to prospects
Handing out lawn care flyers can take a lot of your time, but when you get facetime with a prospect, you have the time to connect emotionally. If you manage to get facetime with a prospect, you stay professional and smile.
"A smile gets things started off on the right foot," says Chris Senger, the founder of Mow Town Edmonton in Alberta. "Always smile, even when you are talking to someone on the phone. People can actually hear a smile. As goofy as it sounds, it works."
If you're pressed for time but still want to hand out flyers, try creating tear-away flyers that you can pin to sandwich boards in public buildings.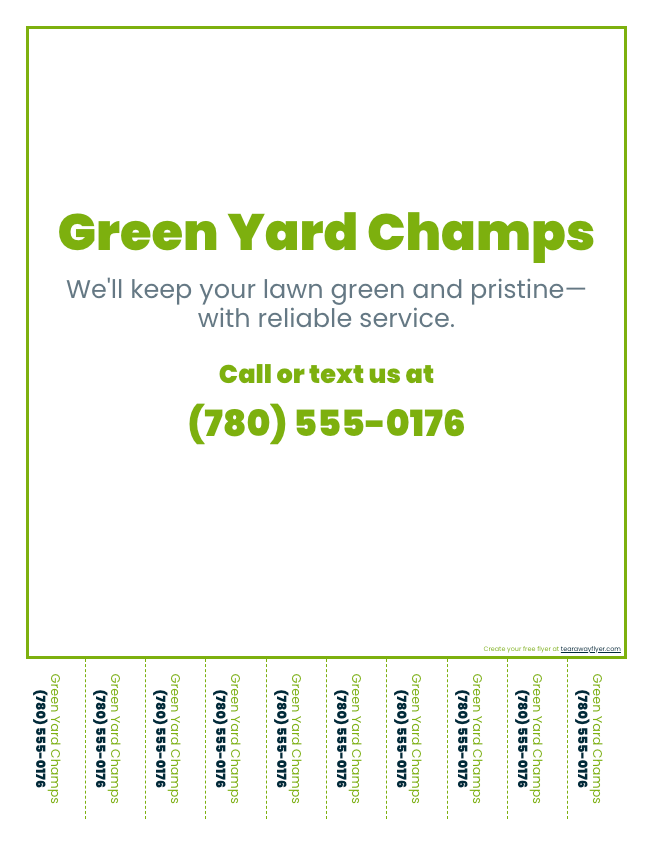 Use door hangers
Using door hangers is the least time-consuming door-to-door option because you don't have to talk to every prospect you give them to. But it will take some extra time to write great content that converts customers.
As Steve Roller, a former lawn care business owner who's now a writer and business coach, explains: "I always found that the message and offer made a bigger difference than the glossiness/overall look of the piece."
If you want to experiment with door hangers, Steve recommends that you use a standard letter-sized sheet of paper (8.5″ x 11″) folded in half, then put it in a plastic bag door hanger.
Using free online design tools like Canva, you can pull from hundreds of templates to design a one-page door hanger like that—without professional design experience. Or, you could pay a small fee for a design & printing service to make a more traditional door hanger, like the one below: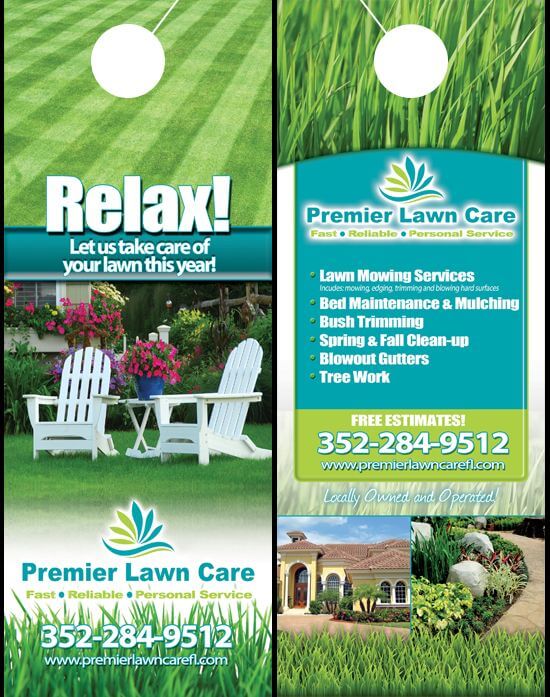 4. Use direct mail
Direct mail is an inexpensive way to get a fantastic return on investment. It gets your lawn care business name straight into people's homes without having to interact with them. (And it saves you from going door to door in the snow to sell your winter services.)
Keep in mind that most people's inboxes get flooded with direct mail, so response rates are often pretty low. If you choose this method, send plenty of letters.
The success of your mailers will largely depend on two factors:
The content of your letter, which should be conversational, easy to understand, and include a valuable offer (like discount pricing) and call-to-action.
The quality of your list. A great message is pointless if you send it to customers who are not in the market for your services. When you create your mailing list, make sure they're all residential homeowners in your local market. Use these tips from Chron to build a relevant direct mailing list.
Postcard marketing is a more creative approach to direct mail that can help you stand out. Postcards can be incredibly eye-catching and cost-effective, and they're nostalgic items that add a bit of emotional value.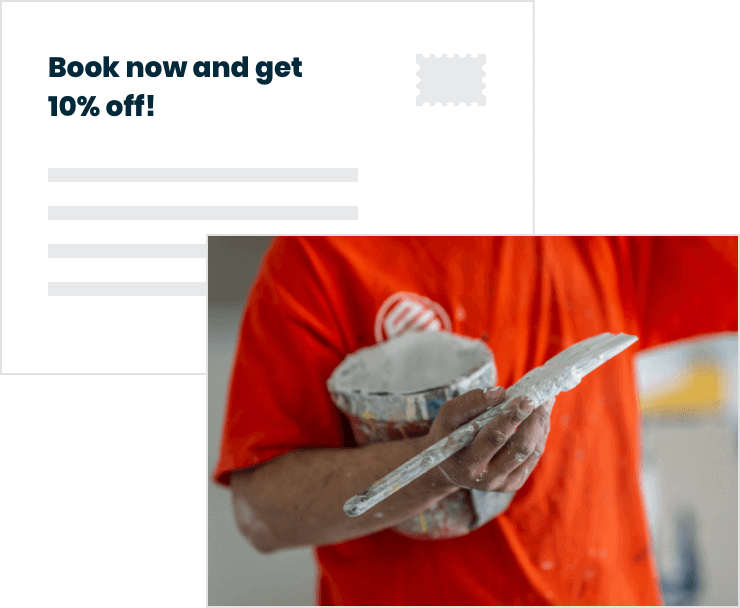 Jason Creel uses direct mail postcards to promote his weed control and fertilization services. His postcards grab attention with a short and sweet tagline on the front, and go into depth on the back with a list of services and a customer testimonial.
READ MORE: How to start a weed control business
It's easy to create personalized postcards like Jason's with the right marketing tools. When you use Jobber and Mailchimp's postcard marketing integration, you can design and send email postcards that land right in people's inboxes and grab attention.
5. Join Facebook groups
Local Facebook groups are a great place to find prospects in your area. Search Facebook for groups dedicated to lawn care, landscaping, and home maintenance so you can connect with prospects and build brand awareness.
It's also a good idea to join groups for small business owners to spread the word about what you do!
When you see someone post a lawn care work request in these groups, politely make contact, explain your offer, and suggest a phone call or in-person meeting so you can give a quote.
Encouraging an in-person meet-up could help you stand out from other lawn care businesses that only post a link to their website and wait for clients to respond. Just make sure you've set up a Facebook page for your business before you respond.
Over time, as you interact in these groups and get some clients, you might find clients mentioning you in posts and recommending your services to other prospects.
READ MORE: How this service business gained hundreds of customers using Facebook
You should also consider advertising on Nextdoor, a social network that helps local homeowners find service providers like you.
6. Set up Google Local Services Ads
If you're willing to spend a bit more money to get early sales, Google Local Services Ads are a great option.
These simple ads show up at the very top of the Google results page when people in your area search for lawn care services. Potential customers can contact you directly from Local Services Ads—no need to send you an email.
The best part: you only pay when someone contacts your business. This is a great alternative to the pay-per-click model that other types of Google ads use—you only pay for actual leads.
Costs per lead vary by region and industry, but LSAs let you set weekly and monthly budgets so that you never spend more than you plan to. When you connect Jobber's lawn care software with Local Service Ads, your leads can book jobs directly from your ad in just a few clicks.
READ MORE: 12 FAQs about Google's Local Services Ads
7. Turn existing customers into ambassadors
When you're out of ways to promote your business, let your happy customers do it for you. Here are a few ways to make your customers ambassadors that help you get more business:
Set up a referral program
Many businesses have a customer referral program that offers a special service or discount to customers who refer people they know. Referral programs work best when you have well-prepared scripts to ask for referrals, and when you listen to your customer base to find out what a valuable incentive would be.
Referrals aren't just proven to be effective at getting new clients—they're the best way to get quality clients who are more likely to stay with you, since they're choosing you based on recommendations from people they trust.
Collect feedback
Social proof is a must-have tool in your marketing and sales. Praise and testimonials from your existing customers will be highly effective at attracting new customers. It's rock-solid proof that you deliver quality service.
One of the best ways to ask for testimonials is to ask for genuine feedback. Don't just ask for praise from your customers—if you show them you're willing to hear how they really feel, they'll be much more willing to give their feedback.
It's also important to make it easy for customers to give you instant feedback on a job. A few days after the job, write a sincere email asking them about their experience. In this email, you can include a link to fill out a Google review or send them a feedback survey to prompt a response.
Use testimonials in your marketing
Once you get some positive feedback, use it (with permission from your customers, if it's not already public on Google) in all your marketing. That includes your website, social media, flyers, email signatures, and anywhere else that you promote your business.
You've figured out how to get lawn care customers fast—what's next?
Getting your first few clients when you're a new lawn business owner can be hard when no one's ever heard of you. But you can increase your odds of success by focusing on the right mix of marketing strategies.
Just make sure that in your rush to get new customers, you don't forget to take good care of them and treat them all like VIPs. The only thing better than getting new customers is having lifelong, satisfied customers.
Once you figure out how to get lawn care customers fast in the beginning, it'll be easier to focus on expanding your services and slowly investing in your long-term growth.
From then onwards, you'll also need to send professional quotes and invoices, track important job details, communicate arrival times, and make it easy for your clients to pay so they can become repeat customers—which you can accomplish with lawn care software like Jobber.
Originally published July 2019. Last updated January 2023.