How to Get Painting Contracts and Grow Your Business
March 24, 2022
14 min. read
To run a successful painting business, you have to consistently find painting work and keep your cash flow healthy.
Knowing how to get painting contracts can be tricky when you're just starting out—thankfully, there are so many ways to get painting leads and turn them into customers.
We'll share ten effective, low-cost ways to get painting jobs so you can make more money and grow your business.
Learn how to get painting jobs and make more money:
1. Choose your target market
Before you spend lots of time and effort on marketing, you need to figure out who you want to get painting contracts from. Start by deciding if you want to focus on residential or commercial painting clients.
Residential clients are people who want their homes or fences painted. They won't typically be long-term clients, since most will only have one property to paint.
If you have more experience in painting homes and you want to work with individual clients and take your time, choose residential painting as your target market.
It can be hard to find homeowners solely through word of mouth, so you'll need to advertise in as many places as you can. Narrowing down your audience will help you choose the right marketing tactics and channels.
To figure out who your ideal residential client is, answer these questions:
What's their age, gender, family status, location, and salary?
Where do they spend time online?
Why are they looking for professional painters instead of doing it alone?
Commercial clients need painting done in condo buildings, offices, community centers, retail properties—anything else that isn't a home.
They can offer longer contracts (e.g., painting four separate retail spaces in a 3-month period), and they'll usually have strict deadlines.
Target commercial clients if you have more experience with large-scale painting projects—and if you like fast-paced environments. You could work many different types of commercial jobs, so answer these questions to narrow down what opportunities to target:
What kind of properties do you want to paint?
Do you prefer painting new constructions or renovations?
Are you willing to paint on scaffolding and work in dangerous environments?
Are you more experienced painting interiors or exteriors?
2. Print door hangers and flyers
Print advertisements can help you spread the word about your services at a low cost. Spread out door hangers and flyers in the neighborhoods where you want to get painting contracts.
Door hangers are flyers that fit around a front door handle. They're hard to ignore and cost pennies to print. Work with a freelance designer or print shop to design an eye-catching hanger that shows off the best of your business.
⚠️ Before you start door hanger advertising, check with your local city office to make sure you're not violating any bylaws.
A tearaway flyer is a letter-sized paper ad with small, tearable pieces at the bottom that have your company contact information. Effective tearaway flyers can help you win painting contracts with very little money spent.
These are perfect for community bulletin boards, mail lockers, and advertising spaces outside of restaurants and other businesses.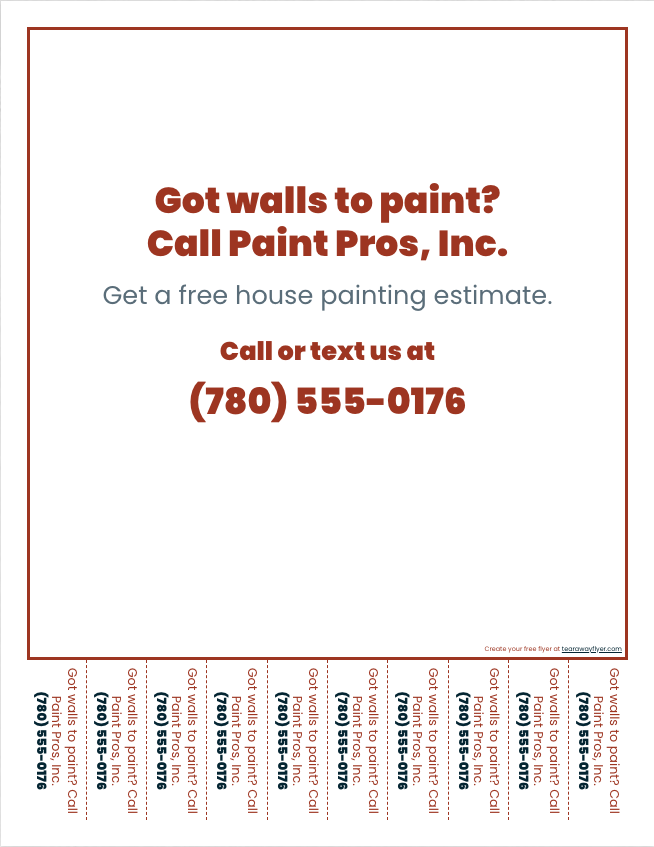 To turn painting leads into clients, your door hangers and flyers should clearly state the value you offer and why you're the best painter for them. Whichever type of print advertising you choose, it should include:
Your painting company name and logo
Your contact details (email, phone number, website)
Your brand colors
A list of your painting services
Your company's slogan or mission statement
A real photo of your team or some of the work you've done
An offer for a free estimate or consultation
Your status as a licensed and insured painting business
3. Use your vehicle and uniforms for marketing
Billboards may be out of budget for your small business—but you can just as effectively promote your business wherever you go by branding your vehicles and uniforms.
A truck or van that's branded with your company's name, services, and phone number can attract interest wherever you drive. Plus, if it has a memorable tagline or value proposition that makes your business look appealing, someone just might call you for an estimate!
Here's how to get painting jobs by making a vehicle wrap or decal:
Measure your vehicle to make sure you print the right size. You can either print a wrap that goes around your entire vehicle, or a decal that covers one section (like the rear window or a side door).
Design an eye-catching wrap or decal that includes your business name, logo, slogan, and contact details. You can work with a local designer to make sure it's attractive and easy to read.
Get it printed at a local print shop. Some shops can install vehicle wraps for you. If they have a deal for buying decals in bulk, order several and pay people to place your branded decals on their vehicles. This will help increase your brand exposure.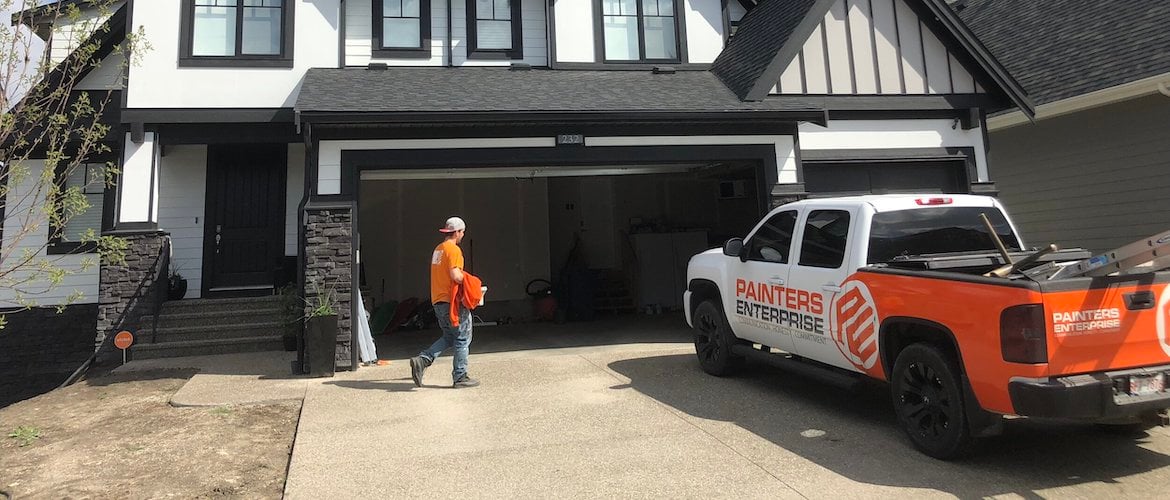 READ MORE: How to build a brand for your service business
You should also brand your uniforms in the same way. To get uniforms that attract attention to your company, you should:
Choose shirts, hats, or aprons that match your main brand color.
Add your company name and logo (create a logo with a free design website like Canva).
Include your phone number and write "call for a free estimate" somewhere that's easy to see.
Send your design to a printing shop and order your uniforms in bulk.
Make sure your team wears their uniforms to every job.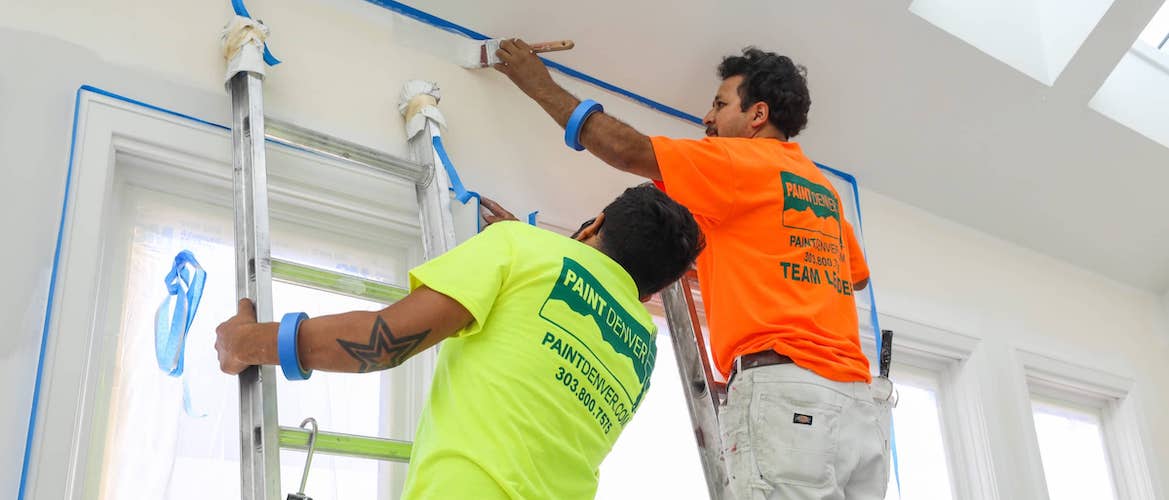 5. Advertise on Google
Your commercial and residential leads have one big thing in common: using Google to find what they need. Take the time to set up your presence on Google and use their low-cost advertising options.
Set up a Google Business Profile
Creating a Google Business Profile is one of the simplest ways to build an online presence and start attracting painting leads. A Business Profile shows your company contact info, location, customer reviews, frequently asked questions, and photos when someone searches your company on Google.
When potential clients search for painting businesses in your area ("painters near me"), they'll also be more likely to find your business when your Business Profile is set up.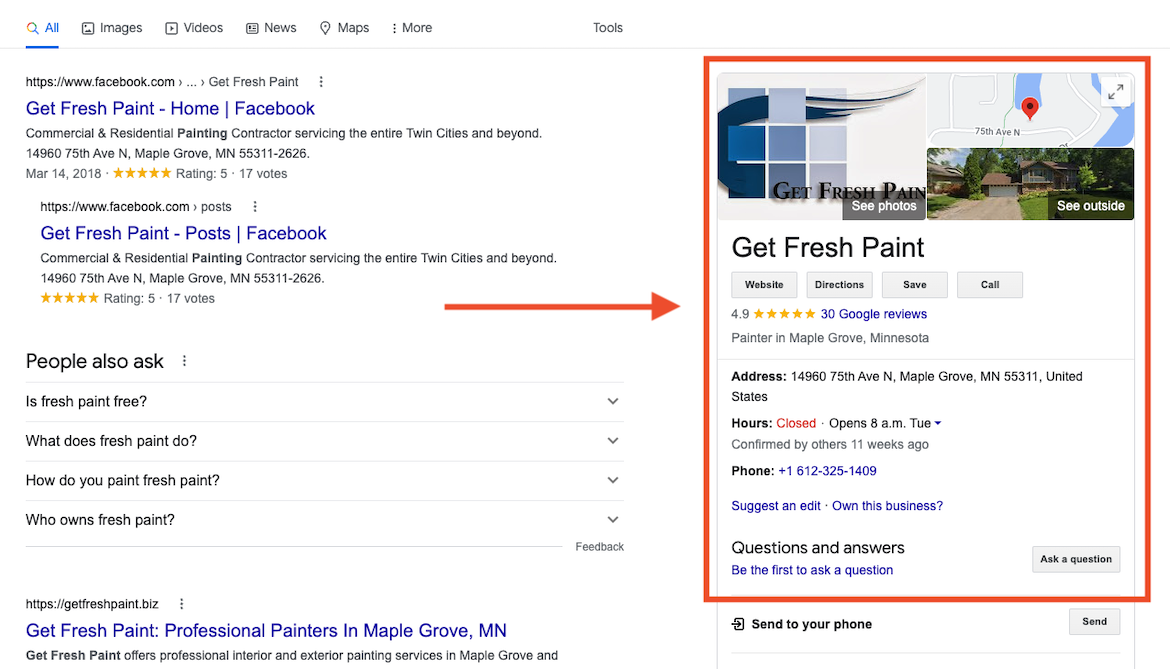 Follow these instructions to claim your Business Profile on Google. Make sure you set your business category as "painter" or "painting contractor."
Use Google Ads
Google offers the largest online advertising platform in the world. You can advertise your website to any location, set specific objectives, and let Google Ads offer suggestions for the best ad formats.
With Google's search ads, you can target specific keywords or phrases (like "painting company seattle") so that when someone searches these terms, your ads appear.
Google uses a pay-per-click (PPC) model, so you'll need to bid on your target keywords and compete with other companies for advertising space.
6. Use lead generation sites
Wondering how to get house painting jobs from the people who need them most? Lead generation sites help homeowners find you online when they have specific jobs to be done. It's a great way to find painting work with less effort than paid advertising.
All you have to do is set up a company profile, and you can attract people who are searching for painting services in your area. Get started on one or two of these lead generation sites:
Angi: Formerly known as Angie's List, Angi matches homeowners with contractors who can do home renovation, repairs, or maintenance projects. It's great for painters since it's designed for service providers who rely on smaller cost projects and one-off jobs. Angi offers free and paid membership options.
HomeAdvisor: This one is similar to Angi, but better suited for bigger and more costly jobs. Contractors can pay $300–$350 for an annual HomeAdvisor membership, and anywhere from $15–$100 per lead.
Thumbtack: Thumbtack for contractors helps home improvement businesses attract leads. Homeowners can use the platform to make a post for the work they need done—then they can connect with painters like you in their area.
Nextdoor: Advertising on Nextdoor can also put your painting business in front of local homeowners or businesses that need your services. Use Nextdoor to introduce your business to your local community, post ads, and build a strong reputation.
Porch: This site matches contractors with real estate-based services like moving, buy-and-sell home preparation, and repairs—making it ideal for finding painting leads.
READ MORE: The best lead generation websites for contractors
7. Build long-term relationships with existing customers
Look to your current customers for repeat business and recurring painting contracts. To impress customers and encourage them to book you again, you need to go above and beyond what the average painting business does.
Here's how you can nurture clients to get more painting contracts:
Show your gratitude. Send thank-you notes to every client after every job. When customers feel appreciated, they're more likely to book you again—or even refer you to family and friends.
Use email marketing. Every few weeks, introduce your commercial clients to new offers and showcase your most recent work. If you stay in their inbox and in their minds, you'll be the one they think of when they need a painter again.
Offer add-ons and incentives. When you send an estimate to a new customer, sweeten the deal with an offer that saves them money or enhances the job. Try incentives like a five-year exterior warranty or a 25% discount on the job when they sign a contract.
Get customer feedback. Sending customer feedback surveys shows you're attentive to your customers' needs and willing to improve. Those qualities make a trustworthy business that commercial clients will want to book again.
If you work hard and set high standards, you'll gain even more traction through word of mouth when your clients rave about you.
READ MORE: 10 simple ways to increase revenue from existing customers
8. Start a referral program
Word of mouth marketing costs nothing—so work hard to get referrals from your customers! Build a basic referral program that rewards your clients for helping you find painting work.
Here's how to get started:
Talk to your past referral clients. Who referred them to your business, and why? It might be because you offered great paint recommendations, or because you do fence painting when your competitors don't. Once you figure out where your best clients came from and why they chose you, you can build a specific and targeted strategy for getting more referrals.
Choose a referral reward. Reward the clients who send new business your way. Pick a reward based on what's in your budget and what you think your clients will appreciate most. For example, you could offer a gift card for a store they love, or a discount on your next paint job.
Promote your referral program. After each visit, you could leave a card or send a follow-up email reminding clients to refer you to a business partner, colleague, or friend. You can use a field service CRM like Jobber to keep track of who your happy clients are and get them on board with referrals.
READ MORE: How to start a referral program: 4 simple steps to success
How to get commercial painting contracts
9. Attend trade shows and industry events
Meeting other contractors and tradespeople face to face is the best way to build relationships that could get you painting contracts.
Attend networking events, conventions, and trade shows in your area—they're great places to connect with construction business owners and carpenters who could subcontract your company on bigger jobs.
Wherever you go, here's how you can make strong impressions on potential clients and how to find painting jobs to bid on:
Rent a booth. Promote yourself at trade shows and conventions by registering as an exhibitor. With a booth, you get to showcase your work and talk to potential clients about your services. Collect email addresses so you can contact potential clients afterwards.
Share your business card. Make sure the people you meet stay connected with you. Business cards are cheap, and they can leave a strong impression when done right. Add a line to your card saying that you offer free estimates. If you have a website, include a QR code on your card so people can easily scan the code and visit your site.
Start genuine conversations. It's tempting to make the perfect sales pitch to everyone, but most people don't like to be sold to. Be yourself and make friendly conversation—let people get to know you as a person, first. If a potential client likes and trusts you, they're more likely to do business with you (or at least refer you to someone else)!
Your city or town probably has a local construction association, as well as trades associations for electricians, plumbers, and carpenters. Many of these groups host events where you can connect with potential contracting partners.
Visit these websites to find construction and trades associations in your region:
You can also join Business Network International (BNI), a networking organization for all industries that can connect you with painting leads in your region.
10. Build business partnerships
You can build mutually helpful partnerships with non-trade businesses, too. Knowing how to get commercial painting jobs from business partnerships can help you win profitable, long-term contracts. Here are some types of businesses you can connect with:
Property managers. Whether they manage apartment buildings or offices, property managers will always need reliable painting contractors. If you can't reach local property management companies over the phone, visit their offices and introduce yourself in person.
Construction companies. Reach out to construction companies and builders on Facebook and LinkedIn. Larger construction companies look for "production painters" who can paint quickly for remodels and new constructions—so introduce yourself as a production painter that's ready for hire.
Interior designers. Residential and commercial interior designers often work with a general contractor to complete the project. Either the designer or their contracting partner can hire subcontractors for more specialized trades work, including painting. Look for interior designers on social media—especially on Instagram.
Professional house flippers. People who flip houses for a living will always need painting contractors for their projects. Search job board websites for painting subcontractor postings and ask all the tradespeople you know if they have house flipping contacts.
Real estate agencies. Building personal relationships with realtors can get you closer to getting painting contracts. If they don't need commercial painters, they could connect you with some of the homeowners they work with. Stop by local real estate offices, leave your business card, and do everything you can to make your company stand out.
Using LinkedIn to connect with businesses
Introducing yourself to potential business partners in person isn't always easy. Here's how you can connect with them on LinkedIn and start building relationships:
Search for businesses in your area. Type "interior designer," "realtor," or "general contractor" in your LinkedIn search bar. Then, you can add filters for locations (e.g., Denver, Colorado) and service categories (e.g., Home Improvement) to narrow down your search.
Follow their company page and engage with posts. Show interest in your potential partner's company and start building the relationship by liking and commenting on their posts. This helps you make a positive first impression before you connect with their staff directly.
Connect and send a friendly message. When you connect with a LinkedIn user, send a friendly message introducing yourself—but don't try to sell your services right away. Make a simple introduction for now, and continue to grow your relationship slowly by engaging with their posts.
Follow up with an opportunity. Once your LinkedIn contact has interacted with you a bit on their company page, take the time to write a personalized message that introduces the services you can offer. Don't forget to include a discount or other incentive you can offer.
Keep experimenting and getting more contracts
Getting painting contracts takes a lot of work and experimentation—but it's easier when you understand your target clients, build strong connections with local businesses, grow your relationships, and advertise on the right channels.
Start out small and see what's working best for your business. Once you know how to get painting jobs consistently, you're set up for success.