How Pest Control Ads Helped this Business Achieve an ROI of 735%
February 15, 2021
14 min. read
When it comes to pest control ads, it's best to speak to the pros.
We spoke with an entrepreneur who's been able to achieve a 735% ROI on his Google Ads for his pest control business.
Read on to hear how he did it, plus get the tips you need to find your own success with pest control advertising.
Let's jump in!
My name is Jarrod Warkentin, owner of Spartan Pest Control based in Calgary, Alberta, Canada.
I've been in the pest control industry for over 10 years as an owner/operator focusing on both residential and commercial clientele.
How did you get started in pest control?
I started working for a large pest control company in 2010 where I learned the basics of residential and commercial pest control services. Less than two years later I took the leap and started my own pest control company.
Spartan Pest Control has been in business since 2012 serving thousands of happy customers over the years. I would attribute the company's success mostly to my ability to understand different marketing methods, applying them to the industry, and learning from all of my mistakes.
How would you describe Google Ads to a business owner who's never tried them before?
Google Ads (previously Google AdWords) is best described as a service-based business' best friend. It allows customers to see your ad at the top of results or map listings. One of the reasons why Google Ads work so well is because you only pay when a potential customer clicks on the ad or link. That's one of the reasons why I'd recommend Ads above most other marketing options.
Gone are the days of the 15lb phone book and naming a company "AAAAA Exterminators" to be first under the "Pest Control" section. If you want to succeed in the Pest Control industry today, you need to be online.
The pest control industry is only becoming more and more competitive as new businesses pop up. You need to be at the top of results to get the exposure required for growth and expansion. This is especially important for new start ups and Google Ads helps you get there.
For businesses looking to grow in 2021 or businesses who are new to pest control business technology, Google Ads should be one of the main focuses moving forward.
With a little bit of research, you can set up your own campaign and see results quite quickly. Most "gurus" or SEO agencies that offer an ads management service cost a lot of money, they often take your budget and add 25% – 30% in fees. Everything they do can be found online: free resources like YouTube, forums, or articles like this one. Ask your network too. Chances are someone you know understands how to use Ads and might be able to help.
Once a customer books, you have that customer's trust and loyalty. They know who to call should a pest issue come up again. We have several repeat customers who call us for a variety of pest issues, even some from our first year in business.
What results have you been able to achieve with pest control advertising?
During the first few years in business, about 90% – 95% of revenue came from Google Ads and the Google Maps listing.
In the pest control industry, jobs are priced anywhere from $75 – $1000+, depending on the treatment and current pest issue. For example, a wasp nest typically goes for $115 + Tax. With the help of Google Ads, we were only paying $1.65 per click, and we had a conversion rate of around 12% with a campaign aimed towards wasp nest removal. This worked out to every 7th to 9th click turning into a paid job making the average ROI around 735%.
Remember: These numbers can fluctuate and they really depend on the CTR (click-through rate). It all comes down to the ad's template, target audience, location, budget, keywords, and more.
Can you share a template of your most effective pest control ad?
Setting up an ad is simple; the tricky part is to design the ad in a way that entices potential leads to click. The best way to do this is to create an effective CTA (call to action) with relevant information on a specific service or a specific pest.
Here is an example of an effective ad we used aimed towards customers looking to have a Wasp nest removed as soon as possible:

A few things to note:
URL Path: Notice the URL example after the website (wasps-hornets). It's always good to direct an ad to a specific landing page on your website. This allows for better conversion tracking and displays relevant information right away to the customer on that specific pest.
Headline: Wasp & Hornet Control | Nest Removal. The main headline should include the pest and service offered. Based on experience, most calls are for wasps. But in cases where a customer identifies hornets, this ad covers both services. They're similar services and it will lead to an increase in clicks.
Description: There are a few important things here:

Include the city name where you offer services so you can attract local customers. It's important because Google will display your ad to relevant leads in the right area.
Not many pest control companies advertise their pricing, but it can be a great way to find customers with intent and to give them a sense of transparency. Make sure to list pricing on the landing page with a description of service, guarantee, and a call to action.
Mentioning a quick response time option on the ad is a great way to land more jobs during peak season. Wasps and hornets are often a service call that customers need help with immediately. This could be due to small children in the area, fear, or possible allergic reactions.
It's important to reassure potential clients with service guarantees and customer satisfaction. If a customer trusts your business, they are more likely to hire you. Most reputable pest control companies have a refund policy and/or a season guarantee. Displaying this can gain the trust from someone who has never used your services before.
Lastly, a call to action (CTA). "Call Now" or "Contact Us Today" shows you're ready to assist with a customer's request and it prompts them to make a decision. Point the URL directly to a landing page with service details, contact information, email, phone, and an online quote request. Aim to provide the most information, in a short amount of time. Including a few contact options will generate more leads, resulting in an increase to sales.
Pro Tip: Create 2 to 3 ads targeting the same pest or service. You will start to see which ones outperform the others.
Adding extensions is good, but we found it worked best when used with a generic ad pointing to the home page. Extensions like "About Us" "Rodent Control" Wasp Control" "Pest Programs" etc. If the ad is focused on a targeted pest, send them to a specific landing page on your website for conversion tracking.
READ MORE: 10 real pest control websites to inspire you
What types of campaigns do you use? What did you learn along the way?
Understanding Google Ads is 90% of the battle, the other 10% is providing the actual budget.
I've heard stories about small service businesses spending thousands of dollars on ads only to receive a negative ROI due to the wrong settings and lack of research. If a campaign is set up incorrectly it can end up costing more to display the ads over the actual revenue returned.
There are two main types of goals we use for pest control when creating a campaign:
Leads
Website Traffic
The campaign type we often use is "Search". This will show your ad on top of Google's organic search results. This is what drives the most clicks when potential customers are looking for exterminators in their area.
What do you need before you set up pest control ads?
First and foremost, any goal needs to be realistic. Starting a marketing campaign with Google Ads and expecting to become the Pepsi of the pest control industry overnight is unlikely.
You need to have a few things in place before jumping into Ads and spending your hard-earned marketing budget.
Start with:
Website – A website is the face of your pest control business when you aren't. Make sure you have an optimized website aimed towards your services so customers can learn more about what you do. Websites can take a lot of time to build, this is best outsourced if funds are available. If they aren't, a popular option is WordPress but it does take more time to learn.
Keyword Research – Research which keywords you want to include in your Google Ads Campaign. This also includes the pest control keywords you should exclude! You can get this started in Google's Keyword Planner tool. Targeting the right keywords can be the difference between positive or negative ROI. If you don't offer gopher control, add "gopher" to the negative keywords list to ensure customer calls looking for gopher control are reduced.
Competitor Research – What do your competitors' ads look like? Take note of the layouts they're using and follow the success of the ads.
Communications – Make sure your phone, email, voicemail, and all other customer communications channels are fully operational. The last thing you want is for a customer to leave a voicemail or send an email and you miss it because of a technical problem.
Dedication – The best advice I can give is to stick with it, dedicate yourself to setting up the ads, and watch YouTube videos on a specific area of Ads to learn even more. Google Ads may be a long game but it can also be very rewarding for your business!
What's the difference between Local Services Ads and Google Ads?
Local Service Ads are another type of ad that Google offers. They are more aimed towards pairing a local lead with a local company.
READ MORE: 15 questions about Google Local Services Ads answered
Trust is important to customers and in many cases, they have more trust in Google than your website. Google Local Services has a feature called Google Guaranteed, where the business must apply and be approved (background check) showing a green checkmark and "Google Guaranteed" text under their business name.
If the customer is unsatisfied or if they received work that was not as described, they can receive a refund up to $2000 (lifetime) directly from Google under their sole discretion.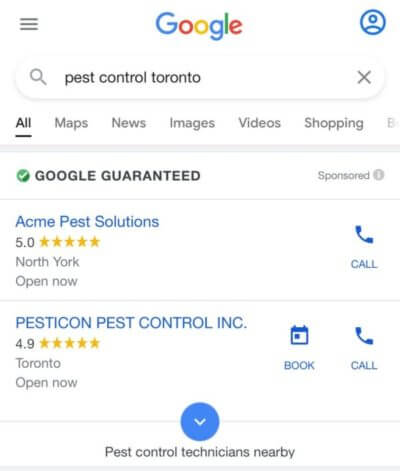 The benefits of Local Services Ads for pest control businesses:
Dispute fraudulent, spammy, or poor matches for a full credit
Ads are included in voice search responses – With over 20% of all searches coming from voice, this is a great way to keep customers calling
No ads or keywords to manage
Highlight your positive reviews to potential customers
More exposure
Great addition to Google Ads — We use both LSA and Google Ads, but focus more on Google Ads due to proven results.
Pro Tip: When it comes to marketing, putting all your eggs in one basket isn't always the best. You want to test the waters and find which methods work, and which ones don't.
How much should pest control owners spend on Google Ads?
You can spend between $250 – $10,000,000 per month. But your specific Google Ads budget depends on some important factors.
Here are just a few:
1. Current Income
What can you afford to spend over 3 – 6 months while still being able to run your business? Keep in mind, for a successful campaign you want at least 80 – 120 days of consistent ads to see how they perform. You can then adjust and gauge the ROI for future ads and increase spending as needed.
A small budget of $100 per month won't give the most accurate data but $100 per week could.
Average CPC (cost per click) for high competition keywords can be anywhere from $3 – $20+ per click. The best way to work with a smaller investment is to:
a. Adjust the maximum CPC budget

b. Target exact match, long-tail, low competition keywords for less than $1.00 per click
2. Google Ads Knowledge
The biggest mistake you could make would be to dump $100,000 into Ads without understanding how they work. Previous bidding history, conversions, keyword tracking, ROI, CPC, bid adjustments, and display times are just a few things you need to understand before making a huge marketing investment.
It's best to start small and see what works. We went through 15 -20 different campaigns with targeted locations, audiences, and keywords looking for ads that convert. The good news? YouTube is a great source of additional knowledge on Google Ads. There are hundreds of free and informative tutorials on everything needed to run an Ads campaign from start to finish.
3. Growth
Ask yourself these questions before you get started:
– Can your business handle more customers?
– Do you have trained staff ready to absorb a 20% – 50% increase in business based on budget spent?
– Do you have someone available to answer the phone and online quotes as soon as they come in?
If you're going to run ads, then the business needs to be able to support them not only financially, but also in the day-to-day operations. If customer service declines and service wait times increase causing customer frustration, will Google Ads be worth it for you?
How much did you spend on Google Ads when you first started, and how much do you spend now?
In the first 2.5 years of business, we spent just over $57,000 on Google Ads. About 70% of the budget was spent during summer months when insect activity is high and Google searches were high.
This may sound like a lot but spread out over 30 months it works out to less than $2000 per month. This $2000 per month often brought in 8x to 9x returns, and in some cases 15x to 20x depending on the campaign, targeted pest, and job value.
The benefit of being in business for so long is that leads start to become more organic by word of mouth referrals, B2B referrals, Google rankings, etc. Our ads budget at the start was bigger than it is now.
Our ads helped us gain a sustainable customer base. Once that happened, we shifted our focus towards organic SEO and ranking on the first page of Google. SEO is a long-term strategy and is extremely important. Ads is a strategy that provides instant results; however, you will have to always pay for those results.
A mixture of Organic SEO, Ads, and Google Local Services is the best solution for most businesses and will surely prove to be an amazing investment.
What's the biggest mistake you've made with pest control advertising?
If I could go back in time and make one change while marketing with Google Ads it would be adding "Negative Keywords" to every campaign. With negative keywords, you can exclude certain search terms from your campaigns. That means you can focus only on keywords your potential customers will be looking for.
Other negative keywords I'd suggest adding to your list to help boost conversion rates:
"Free"
"Cheap"
"DIY"
"How To"
"Pictures"
You sell a service. By adding keywords like those you can filter out people who have no intention of paying for pest control or are only looking for informational articles.
It's also possible that someone looking for a job in pest control might click on your ad and cost you money.
Here's a list of employment-focused negative keywords to use that can help reduce the chance of that happening:
"Hiring"
"Employment"
"Employer", "Employers"
"Job", "Jobs"
"Occupation", "occupations"
"Career", "Careers"
"Full time", "Part Time"
"Work"
"Resume", "Resumes"
"Salary", "Salaries", "Pay"
Negative keywords can save lots of money and ensure your marketing budget is spent on customers with the right intent.
FREE TOOL: Try our free pest control receipt template
Best practices for pest control ads
Uncheck "display network". This will only show your ads on Google and not other partnered websites. Display network is good for selling items or retargeting with tracked cookies —not so much in an industry where customers call if they have an issue and need it dealt with immediately. We found it saved us money and brought in higher quality leads by only allowing the ads to display on Google.
Double check the timing and location of the ads. If you work in Tampa, you want customers in and around Tampa, not from Miami.

3. Use the "Pause" campaign function on the Google Ads app to make sure you are available when the ads are running. For example: You have a 90-minute mouse job and won't be available by phone or email. Pause the campaign about 15 min beforehand so Google doesn't display your ads while you are with a client. The last thing you want is a customer to click on your ad, cost you money, they don't get a reply from you, and book with your competition. You can also set custom days and time slots for the ads to auto run. If you have someone answering the phones, make it so that the ads won't display during their lunch hour. This reduces the chance of missed calls, resulting in a poor customer experience. It's important to pause it 20 – 30 min before to give Google enough time to make the changes.
What are the biggest lessons you've learned about pest control advertising and growing your business?
One huge lesson is: marketing tactics that work for one industry may not work as well for the pest control industry. And if they do, the costs are almost never justified.
The whole point of marketing is to create brand awareness and build trust with potential leads in your area. And what's the best method with quick results and good ROI? Ads. Brand awareness is essential in almost every business. But, what's equally important is that your business shows up in the search results.
Put yourself in your customer's shoes: if you found mouse droppings in your bed and needed an exterminator right away, what would you do? Search the newspaper between the sports and comic section? Wait for that flyer in the mail to get 10% off?
Most people would use their phone, iPad, or computer, and search "Pest Control [city]" or "Exterminators in [city]". Those other traditional methods are great for big companies with a budget who can afford to target multiple streams of advertising, but the methods that work best for small or medium businesses are Google Ads, Local Services Ads, and organic SEO.
Thanks to Jarrod for chatting with us and sharing his tried and true advertising tips for pest control businesses! Learn more about Jarrod and his business by checking out his website, Spartan Pest Control.