How to Bid Plumbing Jobs and Win More Work
March 9, 2022
7 min. read
Knowing how to bid plumbing jobs can help you win more clients and land bigger and better jobs for your business.
But simply submitting a bid won't guarantee you the job. You need to sell your plumbing services and convince a prospective client that you're the best person (or team) for the job.
To help you write winning plumbing bids, we'll go over:
Guidelines for how to bid plumbing jobs
The purpose of a plumbing bid is to provide the prospective customer with two pieces of information: how much the job will cost to complete and why you're the best plumbing company for the project.
Follow these guidelines to submit your next winning bid.
1. Understand your client's expectations
To submit a bid that takes into account the full scope of plumbing work (including labor demands and required materials), you need to have a solid understanding of your client's expectations.
Review your client's invitation for bid (IFB) or any documentation they may have sent that outlines the scope of work, timelines, and submission requirements. Ask for clarification if needed to make sure you get started on the right foot.
2. Price out your materials and labor
Once you've determined the project requirements, you're ready to price out the cost of materials and labor. Accurately pricing out both your materials and labor for the job will help ensure the job remains profitable for your plumbing business.
These costs will vary depending on the job type (new construction, service repair, remodeling) and your client's expectations.
For example, if you're bidding on a remodeling plumbing job and your client is looking for high-end finishes, you can expect to pay more for fixtures like faucets or showerheads.
On the other hand, if you're bidding on a new construction project that requires excavation or the installation of drainage systems or catch basins, your bid will include much higher labor costs.
JUMP TO: How to accurately estimate costs for a plumbing job
What can affect the cost of plumbing services?
Before including your cost estimate for time and materials on your plumbing bid, consider:
✔ The size, scope, or complexity of the plumbing system
✔ The markup you need to charge to pay yourself and keep your business's doors open
✔ Industry standards for a plumber salary in your region
✔ Compensating plumbers with specific plumbing licensing (eg., master plumber, journeyman plumber)
✔ The travel time it takes for your team to get to and from the job site
✔ Additional expenses that keep your business running, like plumbing marketing, business equipment, and insurance
3. Pitch your business
Give that prospective client a clear reason to pick you by including what sets your business apart from the competition.
This may be the specific plumbing certifications your technicians may have, any awards your business has won, a service guarantee, or even outstanding customer service.
To pitch your business, add your company's tagline to your bid, share testimonials or images of completed projects, and demonstrate your attention to detail by creating a professional plumbing bid.
4. Use technology to create and send your bids to clients
Using technology can make your plumbing business look more professional to potential clients. It also helps to automate your processes and make it easier for clients to approve bids and pay deposits when they're ready to move forward.
The right field service software can help. With Jobber, your plumbing business can:
✔ Send professional quotes and bids to potential clients
✔ Convert bids or estimates into work orders and schedule new plumbing jobs
✔ Send automated reminders and on-my-way text messages
✔ Keep customer details at your fingertips with our field service CRM
✔ Track time and expenses on plumbing jobs
✔ Automate your invoicing and get paid faster
FREE TOOL: Create an accurate work order with our free generator
How to accurately estimate costs for a plumbing job
Pricing is a major consideration for clients, which is why plumbers need to provide an accurate estimate on their plumbing bid.
Here are some tips to help you learn how to price a plumbing job:
Estimate your labor needs
Use the scope of the plumbing job to determine how many workers you'll need to get the job done. Then figure out how long you expect the job to take to determine your total number of labor hours.
For example, if you need two technicians and you expect the plumbing job to take a day to complete, your total labor hours would be 16. (Two technicians x eight hours)
To estimate your labor costs, use this formula:
Total # of labor hours x Hourly rate
If we use the same example from above, and the hourly rate of $65, your estimated labor costs would be $1,040 (16 x $65).
Price out your materials
Determine all of your material costs, including taxes, that will be needed to complete the project.
Take into account any special plumbing tools or plumbing gloves you may need to purchase and other consumables you will use to get the job done.
For example, if you're bidding on a bathroom remodel, some of your material costs will include:
Bathroom fixtures (like a sink, toilet, tub, or shower)
Cabinets
Faucets
Flooring
Paint and primer
Drywall and cement board
Tile and grout
Caulking gun
Silicone sealant
Write out all of the materials you'll need, price out each item individually, and add them up to get your total materials cost.
READ MORE: How to make a quote for a job: free quote template and examples
Add on all other expenses
It takes more than just materials and labor to keep your business running smoothly. These additional expenses are called overhead costs, and may include:
Licenses and permits
Insurance payments
Plumbing van maintenance and fuel
Marketing costs
Office rent payments and utilities
Administrative software and office equipment
Add these monthly expenses to determine your monthly overhead costs. Then use this formula to figure out your hourly overhead rate:
Total monthly overhead costs ÷ # of billable hours per month
For example, if your monthly overhead costs are $4,000, and you typically bill 680 hours a month, your hourly overhead costs would be $5.88.
To calculate your overhead costs for your plumbing bid, multiply your hourly overhead rate by your estimated labor hours.
16 (labor hours) x $5.88 (hourly overhead rate) = $94.08 (total labor costs for the bid)
Once you've priced out the plumbing job, add 3% to your total estimate to give yourself a little wiggle room in case you run into any complications on the job.
Pro Tip: Use Jobber's plumbing estimate template as your plumbing bid template. It'll help you detail all job costs and send professional bids to potential clients.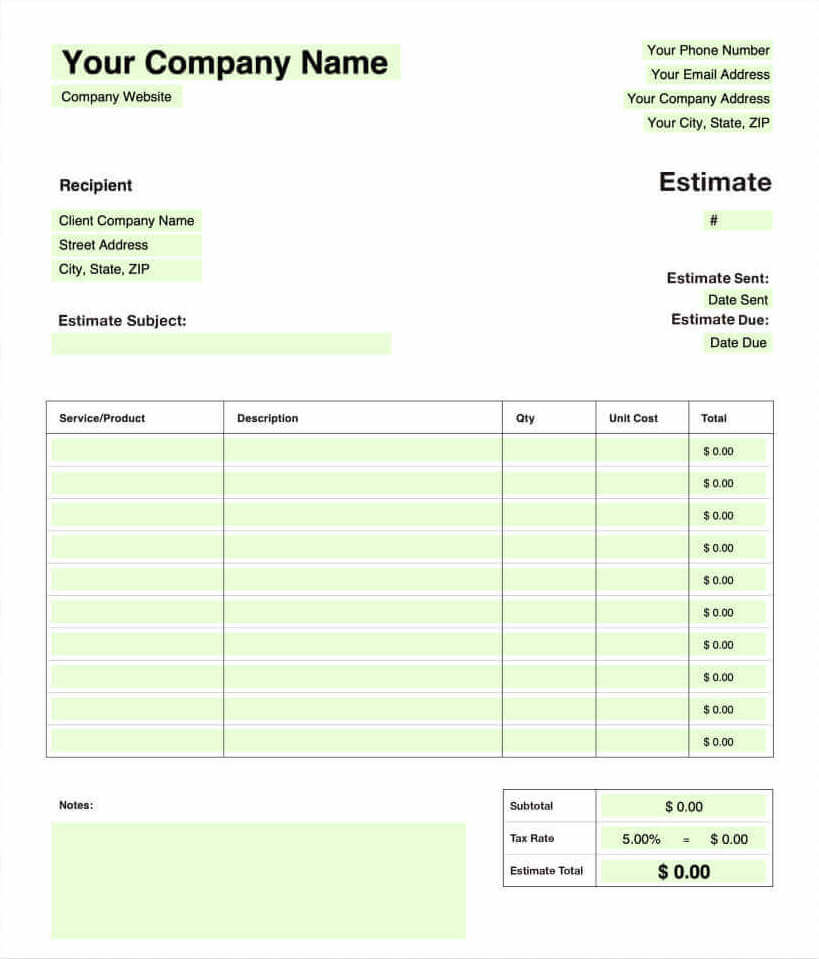 Plumbing documents you need to include
Plumbing contract
A plumbing contract can protect your business from potential disputes and make sure you're compensated for your services. It should outline the scope of work, the services you'll provide, and the costs associated with this work.
Drawings or blueprints
Plumbing drawings and blueprints show you the exact specifications of the job, can help you provide exact material costs and labor costs, and identify any potential challenges you may face on the job.
Pro Tip: Check with the builder or homeowner to see if they have a copy of the existing plumbing drawings.
Plumbing takeoff and pricing
Your plumbing takeoff is a detailed summary of everything you need to get the work done, like materials, plumbers, and subcontractors. The drawings or blueprints you collect will be a helpful guide when creating your plumbing takeoff sheet.
For example, you can use colored pencils on your blueprints to make note of pipe lengths, fittings, and fixtures you'll need to create an accurate takeoff. You can also highlight any specialty fixtures or elements that may require special tools or subcontractors to install.
Then create a spreadsheet to capture every detail like materials or labor needed, quantities, lengths, and prices of each.
Different kinds of plumbing job bids
There are three different types of jobs you may be asked to bid on:
1. Remodel plumbing bid
This type of bid may be for residential or commercial clients who are looking to remodel a specific room or entire building that contains a great amount of plumbing, like a bathroom, kitchen, or laundry room.
Pro Tip: Make sure to schedule a pre-bid meeting with a walkthrough of the site if you can. This will give you a better understanding of just how much labor and materials you'll need for the plumbing project.
2. New construction plumbing bid
New construction plumbing bids will most often be requested by commercial clients or residential builders. They require the greatest amount of consideration to bid, as you'll need to plan and install brand-new plumbing systems to make sure the new building has running water.
3. Plumbing service bid
You may receive a request to bid plumbing services from government agencies or property managers looking to award a service contract to the right plumbing company.
If you win this bid, you'll be responsible for handling all plumbing services for this client for the duration of the contract.
READ MORE: The 6 main types of plumbers and the plumbing services they offer
Send professional plumbing bids with Jobber
Whether you're just starting your plumbing business or you've been in the industry for years, sending professional plumbing bids can help you win more jobs and grow your business.
With Jobber, it's easy to send quick and professional bids, schedule plumbing jobs, and automate your invoicing to get paid faster.