13 Plumbing Marketing Ideas to Get More Business
October 3, 2022
10 min. read
A successful plumbing marketing plan will attract the many different types of plumbing customers—whether they are in a panic from a burst pipe or other plumbing emergency or doing their research to find a plumber to take on a bathroom installation.
While there's no one-size-fits-all strategy to help you attract both customers simultaneously, there are a number of plumbing marketing ideas to help you reach the right customers, at the right time.
Learn how to grow a plumbing business with these 13 plumber marketing tips to win more jobs.
1. Claim your free Google Business Profile listing
Claiming your Google Business Profile will help your plumbing business appear on local search results, grow your business website traffic, and makes it easier for a potential customer to find your services.
Your Google Business Profile gives visitors a snapshot of your business and services, including your contact information, logo, service area and hours, client reviews, and pictures.
Here's what your Google Business Profile will look like when a new customer searches for a plumber in your service area.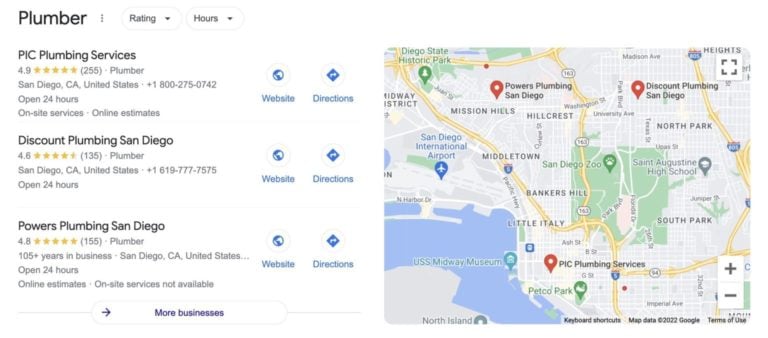 2. Build a plumbing brand your customers will recognize
Building a brand for your plumbing company is the best way to impress and attract potential customers.
(It's also the easiest way to stand out from your competition.)
Once you've decided on the visual elements of your brand (like logo, fonts, and colors) make sure to use them consistently throughout your plumbing marketing efforts to help new and existing customers recognize your business.
3. Advertise your services with Google Ads for plumbers
Investing in Google ads puts your company in front of potential emergency or installation customers who don't have the time to browse multiple plumbing companies before making a decision.
There are two types of plumbing ads that you can use to advertise your plumbing business on Google.
Local Service Ads
Local Services Ads appear at the top of Google's search results page, just above the organic results. Plumbers with a defined service area can use Local Services Ads to target consumers in their specific neighborhoods.
When someone googles your services (e.g., "emergency plumber in Brooklyn"), your ad will appear with your plumbing company name, Google rating, service hours, and a link to your website.
Search ads
Search ads also appear at the top of Google's search results page and include a headline, description, and URL that sends users to your website to learn more or request a service.
4. Send service reminders and offer deals with email marketing
Email marketing for plumbers can be an effective way to keep your business top-of-mind for customers who may need your services down the road.
To make this digital marketing strategy work for your plumbing business, think of specific topics or calls to action (CTAs) that will resonate with your audience.
For example:
Remind customers of required/recommended maintenance (e.g., preventative plumbing maintenance)
Share helpful information or plumbing tips to build brand loyalty (e.g., how to shut off your water or signs of a failing water heater)
Offer seasonal reminders to help customers keep their plumbing running smoothly (e.g., ways to avoid a burst pipe in the winter)
Pro Tip: Use Jobber's Mailchimp integration to design and send professional email campaigns to your contact list.
5. Get targeted plumbing leads through lead generation websites
Listing your plumbing business on lead generation websites can put you in front of consumers who are actively searching for your plumbing services—with little effort on your part.
These platforms are best if you offer maintenance services or bathroom or kitchen remodels. Just bid on the jobs you want and send quotes to prospective customers.
You can also use lead sites to collect customer reviews and improve your brand's reputation.
Pro Tip: Many of these sites run on a pay-per-lead or subscription model, and costs can add up quickly. Make sure to set a monthly budget, and define your plumbing service area and service offerings to get quality leads for your plumbing business.
READ MORE: Thumbtack for contractors: a complete guide to the lead generation platform
6. Turn your plumbing website visitors into potential customers
Your plumbing website is like a digital business card and the command center of your business's online presence.
Here's an example of a plumbing website that includes all the necessary elements.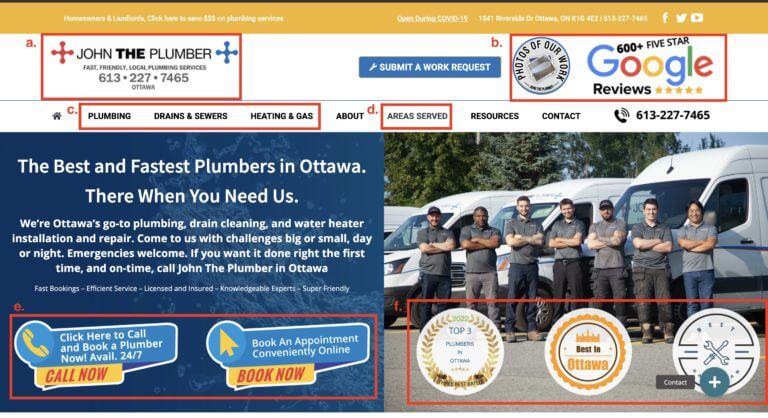 To get more plumbing leads through your website, make sure to include content like:
a. Your business name, logo, and contact information
b. Before and after photos and testimonials to vouch for your work
c. The plumbing services you offer
d. The locations you serve
e. An easy way to request work or book services online
f. What makes your business different (plumbing certifications, awards, and accreditations)
Optimize your website for search engines
Local SEO (search engine optimization) is a digital marketing strategy used by small business owners to rank higher on a search engine results page.
You can choose to optimize your website yourself or hire an agency or freelancer who specializes in SEO services.
Here's how to add plumbing SEO to your website:
Make your business name, contact information, and service area visible on every page of your plumbing website
Include key terms or phrases a customer would use to search for your services, such as "residential plumbers," "plumbing emergency services," or "24-hour plumbers."
Register your website with local directories like Google My Business, Yelp, or Bing Places.
Pro Tip: Use Google Analytics to track the performance of your website, like how many visitors your site is getting and how long people are staying on your site.
7. Set up your Facebook Business page
To market your plumbing business effectively, you need to reach potential customers where they hang out—this is where social media marketing comes into play.
With 2.9 billion monthly active users, using Facebook as part of your marketing strategy will put your plumbing business in front of thousands of potential customers.
If you're just starting your plumbing business, or have not yet created an account, start by setting up your business page.
Then optimize your Facebook business page to include information about your plumbing business, your team, images of completed jobs, and customer reviews.
Share images, videos, and other plumbing content
Use your Facebook business page to share content relevant to your plumbing business, like:
Helpful DIY videos
Before-and-after images of your plumbing jobs
Blogs or plumbing industry news
Special deals on your plumbing services
Pro Tip: Once your social media account is up and running, use Facebook's paid ads to target your specific audience (by neighborhood, age, or income) and reach new customers faster.
8. Build trust with positive customer reviews
As a plumber, whether the job is to fix a plumbing emergency or install a new plumbing fixture, you're likely entering a customer's home in unpleasant or stressful situations Before they invest in your services, they need to trust your business.
Boost your reputation by asking for positive online reviews from happy customers. Then promote them with tools like:
A review or testimonials page on your website
Posts on your social media platforms
Marketing materials like van wraps or flyers
Take Modern Plumbing, for example. Within a short three-year span, they racked up more than 250 glowing reviews, helping them rank above their competitors on search results.
9. Win more referrals with a customer referral program
Your best customers can also be your plumbing business's best advocates. Start a customer referral program to turn great customer service into a plumbing marketing strategy for your plumbing company. Here's how:
Provide exceptional customer service
Give your clients something to talk about when referring potential customers to your business by providing a high level of customer service.
As a business owner, plumbing software can help you respond quickly to emergency calls, impress your customers, and streamline your business. It can also help you:
Know who and how to ask for a referral
Be selective with who you ask for a customer referral. If you received complaints from the client or had pushback on your pricing, you're better off thanking them for their business and moving on.
A good rule of thumb—only ask customers who have offered positive feedback or thanked you for a job well done. Happy customers are far more likely to refer friends and family members to your plumbing business.
You can ask customers for a referral in person when the job is done, in a follow-up email, or even with an extra line of text on your plumbing invoice.
READ MORE: How to start a referral program—4 simple steps to success
Offer incentives to sweeten the deal
Encourage customers to refer family and friends by offering small rewards like discounts on future services, branded products, or gift cards for every successful referral.
Pro Tip: Don't limit yourself to referrals from your customer base. Get referrals from other plumbers, too. Reach out to your local plumbing community, share leads, and watch your business grow.
10. Create and share expert plumbing content
Create interesting, educational, and shareable content that positions you as industry experts and keeps your services top-of-mind for prospective customers.
Start by writing a list of topics for what you know best. Then choose whether you want to write a blog post or video to address the subject matter.
Plumbing blogs
A blog post allows you to go into greater detail about a plumbing topic—for example, "common DIY plumbing mistakes and how to fix them."
Create a blog webpage on your plumbing website and update it regularly with new content to educate and empower your customers.
Pro Tip: Get more content inspiration by checking out the best plumbing blogs and resources.
Plumbing videos
Video marketing can help your plumbing business reach a wider audience and demonstrate the solution to a plumbing issue—like "how to light a water heater pilot light."
You don't need a full camera crew to create an effective plumbing video. Use the camera on your smartphone to:
Livestream an installation or repair on Instagram or Facebook
Record demonstrations or product reviews
Answer frequently asked questions
Then share your videos on your social media platforms, your plumbing company's YouTube channel, and your website.
11. Reach out to a homeowners association (HOA)
Get in touch with HOA's in your service area and tell them about your business and plumbing services. If they're not already partnered with a plumbing company, ask them to give you a call first the next time a plumbing emergency arises.
Pro Tip: To find homeowners associations in your area, search "HOA's in [town/county]".
12. Partner with a local builder
Connect with local builders to see if they have any upcoming projects that will need water systems to be designed and installed.
Share your knowledge, experience, and pricing to see if your plumbing company will be a good fit.
13. Get new or repeat business with alternative marketing methods
Depending on your service area and target demographic, blending online and offline marketing strategies may be the most effective way to get new leads or repeat customers.
Here are a few offline marketing strategies to consider for your plumbing business.
Leave behind fridge magnets with your name, logo, and contact details. This can be a great reminder for customers who may need your services again down the road.
Van wraps are like mobile billboards—promoting your business to new customers in your service area as you and your technicians drive from job to job.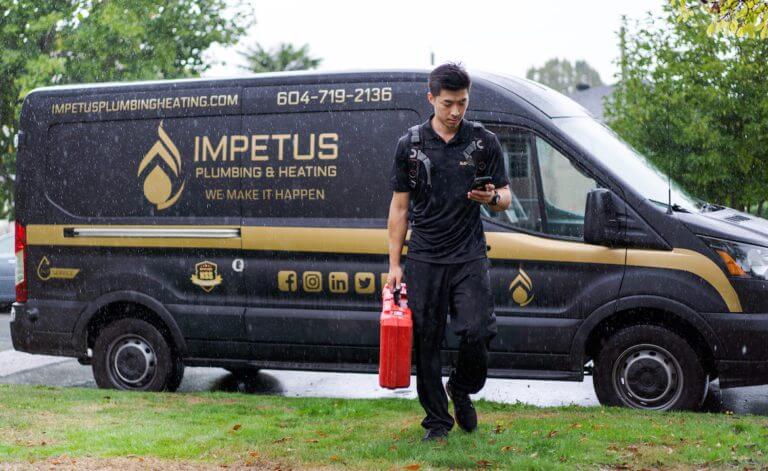 Place branded stickers on any plumbing equipment you install or repair so your customers know who to call quickly for a fix or routine maintenance.
If you're just starting your plumbing business or offering your services to a new neighborhood, delivering flyers door-to-door can help get the word out. This can also be a useful marketing tactic if you have a special deal on or if you want to promote a popular seasonal service.
Pro Tip: The key to offline marketing is providing customers with all the information they need in one place. Make sure to include your logo and branding, contact information, plumbing services, and what makes your business different from the competition. You want to make it as easy as possible for customers to get information and get in touch with you.
READ MORE: Plumbing business cards: your guide to design, printing, and distribution
Grow your plumbing business with Jobber
Whether you're just starting your plumbing business, or you're already the local go-to plumbers in your target market, online marketing (and a few alternatives) can help you get new leads fast. And for many prospective customers, time is of the essence.
With plumbing software like Jobber, it's quick and easy to send plumbing estimates, convert them to jobs, schedule service appointments, and invoice for a job well done—all with just a few clicks.
Originally published March 2019. Last updated on April 29th, 2022.