Plumbing Ads: Tips to Attract Customers [With Examples]
February 9, 2022
9 min. read
If you're looking to attract new customers, re-engage customers who booked one-off jobs, and grow your plumbing business, ads are a great place to start.
Digital ads let you target a specific audience, maximize your budget, and test what works and what doesn't to create a winning marketing strategy for your plumbing business.
Use this guide to learn the best channels plumbers can use for digital advertising and tips for creating effective plumbing ads for your business.
Boosted post vs. Sponsored Ad
A boosted post is a post on your Facebook timeline that you add money to in order to target your specific audience.
A sponsored ad is created specifically through Facebook Ads Manager and allows you to customize your message, your audience, and your call-to-action in order to reach your business goals.
READ MORE: 10 ways to optimize your Facebook business page
Example of Facebook Ads for plumbers
Griswold Well & Plumbing Services uses humor to address a common customer pain point in this Facebook ad. Then, they give users the option to learn more or call to book a service.
Pro Service Plumbing uses its Facebook page to promote and post time-lapse videos of services, share valuable content, and even recruit new plumbers for their business.
It's easy to turn one of these posts into a Facebook ad by boosting it for as little as $1 a day.
Instagram advertising
Instagram is strictly an image-based social media platform. To stand out among posts from other businesses, you'll want to use strong images and videos that tell a story of the work you've done for past clients.
Example of Instagram Ads for plumbers
Impetus Plumbing uses Instagram ads to highlight positive reviews and gain trust in their business.
Here's another example from Butler Plumbing of a post that can work well as a boosted post or ad. It has an image of a real boiler they repaired, addresses a specific customer concern, and includes a clear call to action ("Contact us") that tells the customer how to get in touch.
Google's Local Services Ads for plumbers
Google's Local Service Ads are digital ads that appear at the very top of Google's search results page when people search for a specific service in their area (like "plumbers in Chicago").
Local Services Ads run on a pay-per-lead model, meaning you only pay when a potential customer contacts you for a service.
Plumbers can use Local Services Ads to:
Promote your business for the first time
Attract new, local customers and book more jobs in your area
Make the most of a small advertising budget
Example of Google Local Service Ads for plumbers
Local Services Ads will include your plumbing company name, your Google rating, your service area, operating hours, and your phone number. You'll also have the Google Guaranteed badge on your ad that shows your business has been vetted by Google.
These are the easiest ads for plumbers to create, as they don't require graphics or text.
Google Search Ads for plumbers
Search Ads appear at the top of Google's search results, between Local Services Ads and organic (unpaid) results.
With Google Search Ads, you bid on specific keywords or phrases you know your customers use to search for your services. These search terms could be:
Plumbing service
Plumbers near me
Emergency plumbing services
Drain cleaning
Plumbing repair
When someone searches one of these terms, an ad for your plumbing business will appear. Search ads run on a cost-per-click (CPC) model, which means you only pay when a potential customer engages with your ad.
Plumbers can use Google Search Ads to:
Target customers actively looking for plumbing services
Maximize a larger marketing budget
Reach a bigger audience
Example of Google Search Ads for plumbers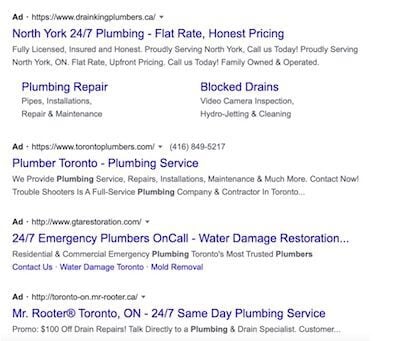 Your Google Search Ads will include:
A headline that includes the keyword a customer is using to search for your services
A description that shares the unique value of your plumbing services
A call to action that encourages users to click on your webpage
A URL that brings potential customers to a page where they can learn more or book your services
Google Display Ads for plumbers
Unlike search ads that appear on the results page for a user searching your services, Google Display ads appear as graphics, banners, or videos to relevant consumers as they browse the web.
With Google Display Ads, you can target a specific demographic, interests, and even users who have interacted with your plumbing website before.
Plumbers can use Google Display Ads to:
Increase traffic to your plumbing website
Grow your plumbing business's visibility online
Your Display ad should include your company name, logo, message, relevant imagery, and a concise call to action like "learn more" or "schedule an appointment."
Pro Tip: To make the most of your Google Ads investment, it's crucial that you track the performance of your ads, and make adjustments as necessary.
JUMP TO: Here are a few key metrics you should be tracking
Whether or not you decide to experiment with Google Display Ads, you should have a Google My Business profile. It ensures you're found on Google Maps by potential customers in your area and best of all, it's free.
READ MORE: How to get free website traffic with Google Business Listings
Advertising on lead generation websites
Lead generation websites are a popular way owners can market their plumbing business. These platforms help connect you with consumers who're actively searching for your services.
Thumbtack
Thumbtack for contractors works in two ways:
Homeowners can search for plumbers who may be a good fit for their job
Plumbers can choose the type of leads they want to pay for by adjusting their target preferences

Traditional advertising for plumbers
Depending on who your target customers are, physical ads may be the way to go.
For example, if the residents in your service area are primarily older adults, using traditional advertising methods may be a more effective choice than Facebook ads.
Send postcards to properties in your service area
Postcards are easy to create using Mailchimp's free templates. They're also affordable to distribute since you can mail them out in bulk.
Here's a great example of postcard marketing from Modern Plumbing and Heating. The photo of Master Plumber Raun Grover and his son adds a nice personal touch to the ad.
In exchange for the advertising, Pure Plomberie enters their customers in a draw to win a gift card from a local restaurant.
Plumbing ad tips to get started
1. Understand your target market
Whether you use Facebook ads, Google ads, Thumbtack, or lawn signs, you'll need to define your target audience first.
Write down everything you know about your current and best plumbing customers, including:
Which neighborhoods do they live in?
What type of home or business do they have?
How old are they? Do they have a family?
What is their income bracket?
Where do they spend their free time? (Online? On Facebook or Instagram? Or in person at a local library or community center?)
What kind of plumbing services do they usually need?
The answers to these questions will help you create ads that speak to your audience.
2. Know what makes your plumbing business different
Think about why your current customers choose your business for their plumbing needs.
What makes you stand out from the competition?
This is called your unique selling proposition (USP). Write down your USP in a few words or a sentence, and include it in your plumbing ads.
3. Define your advertising goals
Understanding your marketing goals will help you design an effective advertising campaign and choose the right platforms.
Here are a few examples of advertising goals you may have:
You have a new service or product to promote
You have just started your business and need plumbing leads fast
You have expanded your business into a new region and need to stand out from the well-established competition
Then consider which advertising channel will be most effective to reach your goals. For example, if you are looking to grow your brand awareness, Display Ads are a great option. If you need leads fast, Google's Local Service Ads or Search Ads may be a better fit.
4. Design your advertisements
Use these tips to create a professional ad for your plumbing business:
Keep your design simple by focusing on one message (e.g., a product or service, a testimonial, or before and after photos)
Use Canva's free templates to design a professional plumbing advertisement
Add a call to action that encourages consumers to visit your website or call to book your services
Choose your brand colors and use them for all your ads to stay consistent and memorable
5. Set your advertising budget
To set your advertising budget, you should know how much you're able to spend to get a new lead. This is your customer acquisition cost (CAC).
Next, consider how many new customers you need each month.
Do this quick calculation to get your monthly advertising budget:
CAC x desired number of new customers = monthly ad budget
Remember, once your budget is set, stick to it. Advertising online can get pricey very quickly and you don't want to spend more than you can afford.
6. Track your plumbing ad campaigns
To make the most of your plumbing advertising, you'll need to track your ad's performance and results.
This will show you if you're achieving your goals, and what advertising channels work best for your plumbing business.
Here are a few key metrics you should be tracking:
Click-through rate (CTR): Indicates how effective your ad is at engaging your audience
Cost per click (CPC): The amount you spend every time someone clicks on your ad
Cost per conversion: How much it costs to get a new customer through an ad
Conversion rate: The percentage of users who interacted with your ad before becoming a customer
Impressions: The number of users that view your ad
Social engagement: This could include likes, shares, or saves of a social post. This indicates how users are engaging with the ad
Overall return on investment (ROI): The total amount of revenue gained from your ads
Add plumbing ads to your marketing strategy
Plumbing ads are only one part of your marketing strategy. But if done effectively, they can grow your brand awareness and bring in more business.
To round out your marketing efforts, you'll want to improve your ranking on search results with SEO for plumbers and find other ways to generate more plumbing leads.
Originally published July 2020. Last updated on February 9th, 2022