Pressure Washing Flyers: Examples and Tips to Get More Leads
December 21, 2020
8 min. read
What kinds of power washing flyers are there?
There are three main types of flyers for pressure washing services:
Power washing postcards are about 4×6 inches and are ideal for mailboxes, doorsteps, and windshields. They can have a wide reach and can be customized to specific neighborhoods, communities, and customers. But, because you have to leave one at each home you want to advertise to, printing costs can be high.
Power washing tearaways are larger (about 8.5×11 inches) and feature a more general ad above tearaway contact information. These are perfect for community bulletin boards and mail lockers as well as outside of stores and restaurants (with permission). They have a smaller reach than postcards but are less costly since one poster provides your contact information to 10 or so potential customers.
Power washing door hangers are similar to postcards but are printed and cut to fit on a typical front door handle. Their costs are similar as they are left at individual homes but have a similarly wide reach and can be tailored for certain communities or promotions.
What should I include on a power washing flyer?
Pressure washing flyers can vary in terms of appearance. Some are colorful and professionally designed while others are more basic and offer standard information. Regardless of which you go with, your pressure washing flyers should always include:
Your business name
Contact information, including your website and phone number
A brief explanation of your power washing services
How to book an appointment (online or by phone)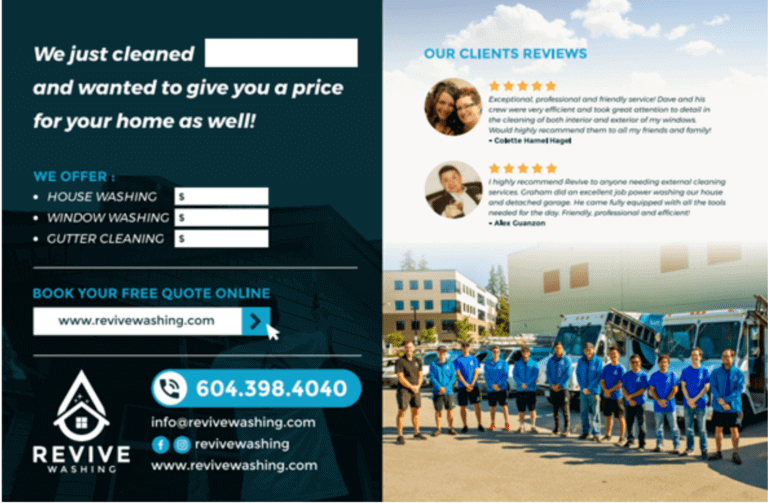 Other optional additions include:
Your business logo and brand colors
An image
A promotion or discount
Whether you offer free quotes
A clever tagline
Pro tip: Don't include the prices for your pressure washing services on your flyers, as that varies from job to job.
Most importantly, keep your flyer simple and make sure it's easy to read. When a prospect is looking at your flyer, they should understand how to contact your and what you offer instantly. A good marketing rule of thumb is to keep it simple and visually appealing.
For a simple tearaway flyer, you don't need to include more than the basics. But for a targeted postcard or door hanger, you may want to invest more time into the design and content of your flyer.
Top-notch power washing flyer examples
Power washing flyers come in all different shapes and sizes. From basic designs with straightforward information to professional designs and promotions, which you choose to use depends on your budget, marketing goals, and your brand.
Let's take a look at some examples to find out which is right for you.
1. Revive Washing's postcards
Revive Washing is a successful power washing business that offers different services depending on the time of year. Here's their springtime postcard:
Notice anything special about the front of the postcard? The message targets 'task elimination', which is something many homeowners need help with while spring cleaning.
Now here's a look at the back of the same postcard:
The ability to customize the message really makes it stand out. From including a recognizable name, like a neighbor, to a customized quote based on their visit to the property, it makes their quotes personal and professional.
Plus, it includes additional information, like testimonials, links to social media, and booking instructions.
Here's what their flyers look like heading into winter: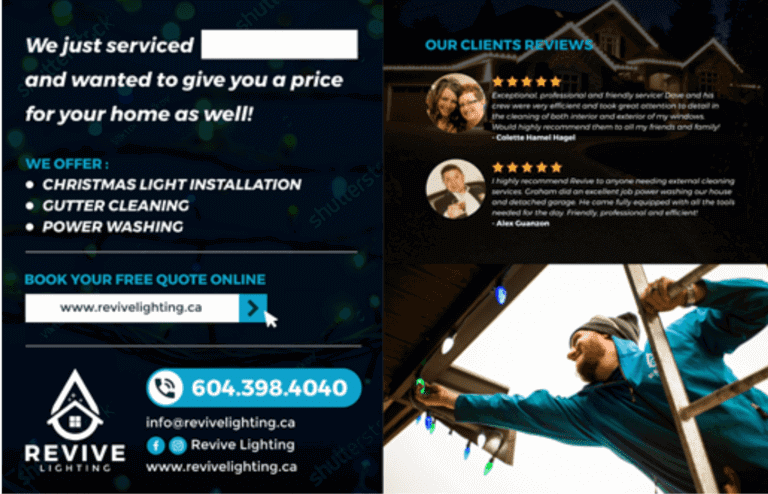 Notice that the services have changed slightly to include holiday light installation, and the image has also been updated. These changes might be small but they're significant.
This is an effective way to tailor postcard designs to each season, targeting different services clients may need throughout the year.
Pro Tip: Looking for something less pricey? Digital postcards save on print and distribution costs while still marketing your business to clients.
2. Jobber's free tearaway poster template
Next, we have a simple tearaway poster. It may look simple, but it actually includes a lot of important information. Just from looking at this poster, customers can see:
The business name and website
The services being offered
Free consultations are provided
Booking instructions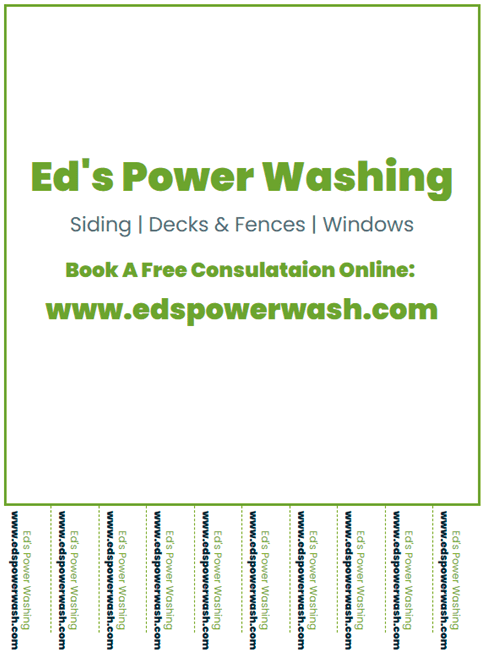 Plus, this poster can be used by 10 different customers, saving a ton on printing costs compared to printing and delivering postcards to individual homeowners. They can also be designed and printed at home, which makes replacing them a breeze.

This door hanger demonstrates exactly what a pressure washing service can do by showcasing before and after pictures of two different jobs. This hopefully gets homeowners thinking about how their own properties look, encouraging them to improve their curb appeal.
It's also a clever way to highlight other services that you want to offer or promote. For example, house washing and concrete cleaning may be relatively quick and easy jobs for you to target during the spring or summer, helping you to encourage volume and making a name for yourself with a ton of different homeowners.
Plus, they include all of the information they want to highlight, including how to online book, their website, business name and logo, and a callout letting customers know it's a family business.
How can I use power washing flyers to grow my business?
Flyers are a great way to grow your power washing business business by:
Targeting specific neighborhoods and communities
Building brand awareness
Promoting service packages
Casting a wide advertising net
Targeting specific neighborhoods
Having multiple clients in a specific neighborhood or community saves money on gas, cuts down on travel between jobs, and helps to build your local reputation. Flyers targeted to certain communities can help to increase the number of clients you get from a given location.
Let's say there's a neighborhood in your town where all the homes were built with wood stairs leading up to the front door. You know those stairs could use a cleaning, but the homeowners may not even realize it. Handing out flyers to all of the homeowners in the area is sure to generate new business, and they'll all be within the same area, saving you time and money.
Building brand awareness
When you're just starting a pressure washing business, it can be a challenge to get your name out there. Flyers can be helpful in spreading brand awareness, even when clients don't need your services.
For example, when a homeowner gets a postcard in the mail with your logo and business name on it, they're more likely to notice your service business brand. They might not need your services right now, but if they do in the future, they're more likely to give you a call.
They may even refer you to friends and neighbors who are looking for pressure washing services because now, thanks to your flyer, they know of a local business that offers them.
Promoting service packages
Flyers let you advertise service packages and discounts to large groups. You can target specific neighborhoods where residents may benefit from similar services, like siding washing, deck and fence cleaning, and window washing.
FREE TOOL: Use our free pressure washing invoice template
Casting a wide net
Flyers get tons of eyes on them, from passersby in the grocery store to individual homeowners. On top of that, there's a good chance of word-of-mouth promotion from people who noticed your ad and have a friend or family member looking for power washing services.
Pro Tip: To get an idea of how effective your flyers are, ask your clients where they heard about you when they first book a service. You can keep note of this and track it in your power washing CRM.
Not every person who sees your flyer will turn into a customer (you can expect about a 3% return), but it's a perfect opportunity to get your name in front of potential customers at a relatively low cost.
Using pressure washing flyers for promotions
Communicating a promotion or package can be tricky if you don't know where to find potential customers.
Flyers get the word out to so many different people about your service packages and group discounts. It's impossible to know which services each individual client may be interested in, but many may find it hard to resist a deal.
Use pressure washing flyers to promote things like:
Service packages: If you're washing residential siding, offer to clean compost or garbage bins at a discounted rate.
Group discounts: If you target a neighborhood, you can offer a discount per so many customers. Say 15% off for a minimum of 10 customers. This can incentivize clients to work together and get you more business.
First-time discounts: For every first-time customer, consider offering an additional service or small discount, like 10% off a standard service.
Free quotes: Most businesses offer free quotes, but not all customers know that. Highlight that you'll come take a look at their project for free as a way to generate goodwill and promote yourself. Be sure to attach photos to your quote so they know what to expect from you and so that they understand what they're paying for.
Once you do generate a lead from one of your power washing flyers you can use Jobber to manage them, all the way from booking and quoting to invoicing and payment.