Pressure Washing Marketing: 13 Ways to Grow Your Client List
June 29, 2023
7 min. read
Knowing how to market your pressure washing business is key to standing out from your competitors, getting new leads, and ultimately growing your business.
And there's no shortage of pressure washing marketing tactics to choose from.
To help you get more pressure washing contracts, we've compiled a list of our favorite marketing strategies and easy tips to help you get started.
You can also watch this video to get marketing advice from pressure washing business experts:
Try these 13 pressure washing marketing strategies:
Want some inspiration from experienced business owners? Check out this episode of Ask a Business Mentor to get even more ideas for low-cost marketing strategies:
1. Create a brand potential customers will recognize
Building a brand helps you stand out from competitors, tells potential customers you're professional and trustworthy, and makes your business memorable.
Here's how to build your pressure washing brand:
If you're just starting your pressure washing business, pick a business name and slogan that is short, memorable, and accurately reflects your services and values.
Choose colors and fonts that will appeal to your customers and match your business values and services.
Create a logo that includes your pressure washing business name, an icon, and your brand colors and fonts.
Design marketing materials, like business cards, pressure washing flyers, vehicle wraps, or employee uniforms to promote your business.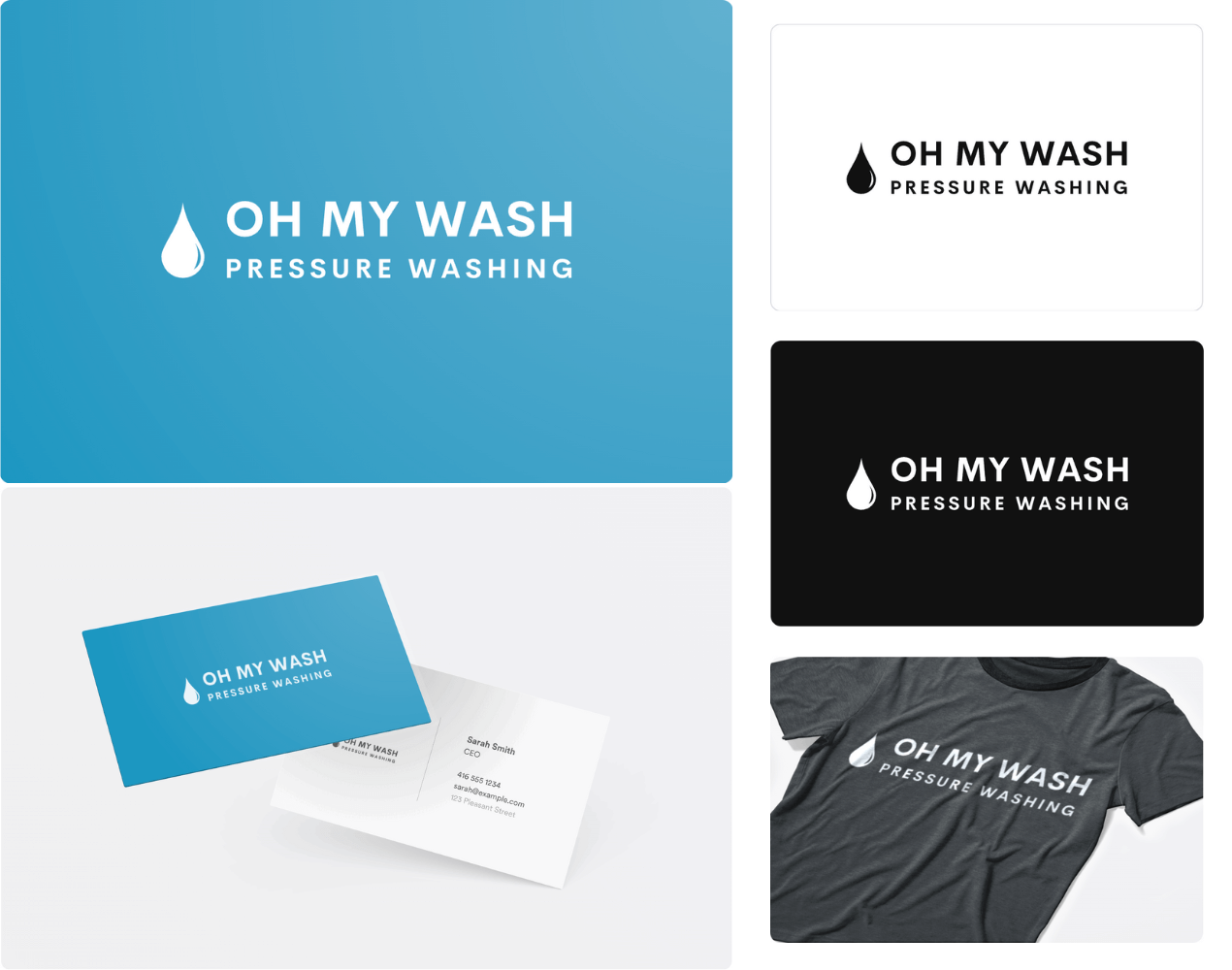 3. Create useful and interesting video content
Video marketing is a useful strategy to reach a wider audience and educate customers about the benefits of your pressure washing services.
You don't need a camera crew or production studio to create high quality video content. All you need is a mobile device to:
Connect with your audience in real time with Instagram Live and answer questions about your business or pressure washing services
Create and share Instagram Reels or TikToks of pressure washing jobs
Share helpful tips on how often you should clean your house or driveway with longer YouTube videos
4. Build a pressure washing website
Your pressure washing website is one of your most important marketing tools. It's an online business card that tells visitors what services you provide, what areas you service, and why they should work with your business.
It's also often the first impression a potential customer will have of your business.
At the bare minimum, your home service website should include:
Your name, logo, and branding
Your contact information
The services you offer
The area you serve
A call to action (like "request a quote") that tells visitors what they should do next
You can hire a freelancer to build your website for you, or do it yourself with website builders like Wix or Squarespace.
5. Get found online with pressure washing SEO
Search engine optimization (SEO) helps your pressure washing business appear higher in the list of Google search results and makes it easier for potential customers to find your services.
You can hire a freelancer or agency to optimize your website, or get started yourself with these tips:
Include terms or phrases customers would use to search for your services online, like "pressure washing in [CITY]" or "house washing in [CITY]"
Make sure your website is easy to navigate, quick to load, and mobile friendly
Set up your free Google Business profile to appear in Google Search and on Google Maps
Share your industry knowledge by writing pressure washing blogs that answer commonly asked questions, like "can you power wash windows?"
6. Win new and repeat business with email marketing
Sending email campaigns is an effective way to encourage leads to invest in your business, or keep your business top-of-mind for existing customers who'll need your services again down the road.
Use email marketing to:
Offer discounts or promotions to win new or repeat customers
Send a monthly newsletter to share helpful tips and company updates
Let customers know about new service offerings, like window washing or deck restoration
7. Invest in Google paid pressure washing advertising
Google Ads put your business front and center when a potential customer searches for a pressure washing business online.
Local Services Ads target customers in your defined service area. They appear at the very top of a search results page when a potential customer searches for local pressure washing services.
Google Search Ads target potential customers searching for keywords related to your business, like "pressure washing in [CITY]" or "power washing services in [TOWN]".
These ads appear just below the Local Services Ads and above the unpaid results.
9. Ask customers to leave positive reviews
A collection of positive reviews helps you stand out from your competition and show potential customers that they can trust your business. It's also a free and easy strategy to implement.
Simply ask customers for a review in person, in an email, or with a text message, after the pressure washing service is complete. Then share positive reviews on your website, in social media posts, and on flyers.
READ MORE: How to respond to negative reviews (with expert examples)
10. Use vehicle wraps to attract customers on the road
A truck decal or van wrap is like a rolling billboard for your pressure washing company. It tells potential customers who you are, what services you offer, and how to get in touch to book a new job.
Your van wrap or decal should include your business name, logo, slogan, and contact information. You can design it yourself, work with a freelancer, or get a print shop to create it for you.
Pro Tip: Use your brand colors and fonts on your vehicle wraps to make sure your branding stays consistent and memorable.
11. Print and distribute flyers or door hangers
Promote your services to businesses and homeowners in your community by delivering pressure washing flyers or door hangers.
Or, create your own tearaway flyers to place on community bulletin boards in local libraries, grocery stores, gyms, or community centers—just make sure to ask for permission first. 
Pro Tip: To encourage potential customers to act, include a time-sensitive offer on your flyers and door hangers, like 15% off a specific service until the end of the month.
12. Find new customers on lead generation sites
Lead generation sites like Thumbtack, HomeAdvisor, and TaskRabbit help you connect with customers and grow your business. These sites match you with new pressure washing leads in your area.
Depending on the site, you'll be charged per lead, or on a subscription basis.
Here's how to get started with lead generation sites:
Pick the best lead generation site for your power washing business
Create a business profile that includes the services you offer and your service area
Set a monthly advertising budget to keep from overspending on leads
READ MORE: Thumbtack vs. Taskrabbit: which lead generation service is right for you?
13. Connect with people in your community
Building relationships with other community members helps your neighbors think more highly of your pressure washing business.
Here are a few tips to build better relationships with your community:
Use NextDoor to connect with your neighbors and advertise your business
Create a Facebook group to share pressure washing tips with your community
Support your community by sponsoring a local youth group or sports team
READ MORE: 10 home service businesses giving back to their communities
Why marketing is important for a pressure washing business
Knowing how to market your pressure washing business helps you:
Grow your brand awareness to reach new customers
Educate customers about your unique pressure washing services, like soft washing, power pashing, gutter cleaning
Maintain your business's presence in the pressure washing market and stay top of mind for customers
Keep existing customers engaged with your business
Increase sales and grow your business
Now that you know your options, you're ready to build a marketing strategy that works for your business.
But don't try tackling all of them at once—choose a few you think will help you reach your ideal customers and adjust your marketing strategy as your business grows.